If you live in the northern part of the northern hemisphere, you may be looking out the window at some very cold weather. At the same time, other people are looking out a wide-open window at blue skies, warm sun, and swaying palm trees.
Some of those people in warm beach towns are spending less per day than you are just to get by too, sometimes much less. That's because they're in the cheapest beach towns to escape to.
The problem is, you've got to fly to get there, so that limits the budget options and if you don't have much vacation time, long flights can limit the time options too.
If you're British or German, you've got lots of options open from your airports to Asia, the Middle East, and Africa. Since about 2/3 of my readers are from the USA and Canada, however, I'm going to focus on where you would reasonably go for two weeks or less from one of our airports. So for the cheapest beach towns, we'll start with cheap flight options.
Cheapest Flights From Cold Places to Warm Ones
There's a reason Mexico is the most popular destination for Americans by a long shot. It's close and it's got hundreds of air connections. You can often get to a beach area of Mexico for about the same price as a long domestic flight. Here are few examples from Skyscanner: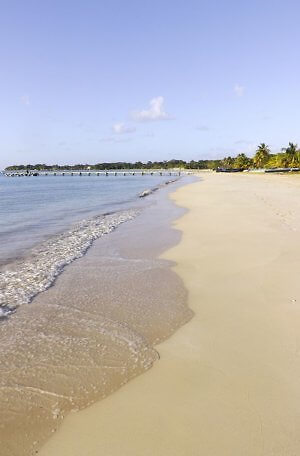 Round Trip From Chicago: Cartagena $278; Puerto Rico $157, Dominican Republic $305, Nicaragua $261, Belize $272, Cancun $226, Puerto Vallarta $367, Merida $274.
Round Trip From Toronto: Huatulto, Mexico $362; Mazatlan $381; Ixtapa/Zihuatanejo $350; Roatan, Honduras $528; Costa Rica $317, Panama $424.
Round Trip From Minneapolis: Cozumel $417; Los Cabos $407; Puerto Vallarta $404; Costa Rica $373; Cartagena $378 …or Miami for $197.
Naturally, you're not going to get the absolute lowest fare if your dates and times are inflexible, but if you keep the travel variables open you should be able to get close.
Remember that not all airlines are on Skyscanner or any other search site. You'll have to go directly to the airline site for some of them, including Southwest. Plus there are several budget airlines serving Mexico.
Cheapest Lodging Costs in Seaside Towns
It's all well and good to get a cheap flight to Grand Cayman or Turks & Caicos Islands in the Caribbean, but any dollars you saved on airfare are going to be swept out to sea when you pay your room bill. These are expensive destinations catering to people with plenty of money to throw around, so you need to look elsewhere.
If you're on a vacation budget and want to get the best value for a few grand, your best bets are going to be the places with the most rooms to fill. You'll find good all-inclusive resort rates in the well-known spots like Cancun, Puerto Vallarta, Punta Cana, and Jamaica. Or you can sail away with 5,000 other people on a cruise ship.
If your tastes veer to independent travel instead, you've got a lot more options. You might have to fly to a capital city and then take a bus to where you're going, but you'll find plenty of cheap lodging once you get there. Hostels and some cheapo indie hotels you find on your own are going to be even less than these February rates from HotelsCombined or Trivago below, but this will give you an idea. Once you've looked at hotel prices, you can then check Vrbo also to see if an apartment will work out better.
San Juan del Sur, Nicaragua – 17 hotels/guesthouses for $50 or less per night double, some including breakfast.
Little Corn Island, Nicaragua – 10 hotels/guesthouses for $50 or less per night double.
Puerto Escondido, Mexico – Hostel for $11, 3-star with pool $21 or $27, places like this for around $50:
Mazatlan, Mexico – 19 places to stay for $35 a night or less.
Santa Marta, Colombia – $14 hostel with a pool, 25 hostels $18 or less, 12 4-star hotels under $100.
La Ceiba, Honduras – 3-star beach resorts for under $50.
Bocas del Toro, Panama – 23 hotels with double room $65 or less.
Montañita, Ecuador – loads of hostels and surf camps, 3-star hotels under $50, and this place for $79 per night:
Where to Eat and Drink for the Least
Being on a strict budget is no fun when you're traveling and want to party or eat at a good restaurant. If you pick the right destination, that's no problem. The countries outlined in The World's Cheapest Destinations are not going to break the bank when it's time to eat out or hit the beach bar.
You can get $1 beers in a bar in Nicaragua, eat a full meal of the day in Mexico or Ecuador for less than $5, or get a nice restaurant meal with a drink or two for $10 or less in Colombia. Panama has some of the cheapest cocktails and bottles of wine in the world, both in stores and at restaurants. (I'll be back there in a few weeks, so watch for an updated post with specific prices.)
I hope this article has given you some ideas for some of the best bargain beach getaways for your vacation escape. See that book mentioned above for detailed rundowns on all the countries mentioned in this post on the cheapest beach towns for a winter break, but here are a few posts from the past that give you info on actual prices.
Yes, There are Still Cheap Beaches in Mexico
Cheap Place to Booze It Up: Panama