Where do Americans travel when they go overseas? For international vacations, which regions and countries are the most popular?
While the changes are usually not dramatic year-to-year, the favorite destinations can change a lot over time. This is one of those questions that everyone thinks they know the answer to, but they're often wrong. You can be especially misled by what you see on the covers of magazines since that's often based on who is spending the most on advertising, not where people are really headed.
The Most Popular Continents Where Americans Travel
We citizens of the USA have it pretty good when it comes to what's available on our own soil. While Europeans like to look down at us for the low number of passport holders (finally nudging past 1/3), you really could spend your whole life on American soil and see a crazy amount of variety. Just compare Alaska and Florida, the Grand Canyon and Hawaii, Atlantic beaches and the Rocky Mountains.
Still, around 67 million people left the USA on a journey in the one-year period through last October. Flying is no fun these days and flights halfway around the world can be expensive, so it's probably no surprise that North America was the top continent. Mexico has seen the biggest growth in American tourists over the past decade, getting almost as many visitors as the rest of the world combined! They've passed 25 million per year. You can discount some of that because of work trips, Mexican-Americans going back and forth, etc., but still, that's a huge number.
Canada got 11.6 million visitors, which is also impressive. In fact it was more than the entire continent of Europe—and Europe is the top continent after North America. This is a dramatic turn of events because when I first started writing about this subject a decade ago, Europe got more visitors than either Mexico or Canada and by a pretty wide margin. Perhaps the overtourism crush of crowds is the most popular places is having an effect because the past few years have been great ones for the value of the dollar against the euro. Travel there was up 16%, compared to 9.6% worldwide, probably as a result of lower prices all around.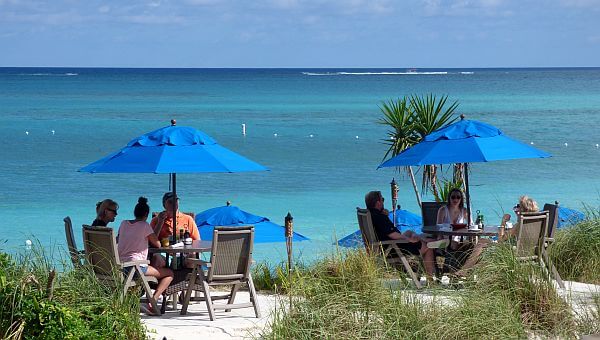 The Caribbean isn't the go-to spot it once was when that was an almost automatic choice for a Honeymoon, so while its growth wasn't as high as some other regions, it still got close to 10% of all vacationers from the USA.
Next up was Asia, with 4.2 million visitors, then Central America with 2.3 million. Both saw lower growth than the average. South America actually saw a decline year over year. That is perplexing to me since the value of the greenback was so strong during that period in Colombia, Peru, Chile, and Brazil. Apparently not enough people are reading my blog.
With 1.7 million visitors, the Middle East actually received more Americans than South America—go figure. This while the whole Muslim ban and no laptops rules were in force sometimes. Tour groups to Israel and Jordan perhaps?
Oceana and Africa only got a smattering of visitors: by comparison 549,000 and 308,000 respectively.
Which Countries Get the Most American Tourists?
As mentioned earlier, our neighbors of Mexico and Canada benefit from their proximity and good air connections. More than half of all passport swipes are in those two countries.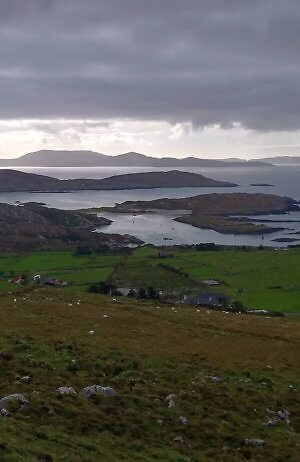 After that, you would have to do days of research to figure out who's on top because no organization that I'm aware of tracks where Americans travel from our end. Only the destinations themselves track who is coming from where, and not always very methodically. In other words, the USA doesn't know how many people we're sending to Chile each year, but Chile itself does. (It's around 200,000 people, in case you care.)
We do know the five most popular countries in Europe overall though for total visitors. Those are France, Spain, Italy, UK, and Germany. Based on numbers I've seen, you could sub in Ireland, take out Spain, and you'd probably have a rough top-5 for Americans.
In Asia, the top-5 destinations are Thailand, China, Hong Kong, Japan, and Macau. For that list, you can safely take out Hong Kong and Macau (mostly Chinese visitors) and put in India and South Korea. The former because there are so many Indian-Americans working in the USA, the latter because of business trips with a vacation tacked on.
Central and South America are highly dependent on airline connections and the time it takes to get there. Here the World Tourism Rankings are hopeless because they throw in Caribbean Islands and Mexico to a big pile called "Americas." Based on the independent numbers I have seen countries themselves produce though, the top-4 most visited south of Mexico would be Costa Rica, Peru, Belize, and Argentina. After that it's a close fight between Guatemala, Panama, Ecuador, and Brazil.
So there you have it, where Americans travel in this day and age. What will it look like 10 years from now? Who knows, but probably a lot of these will still be in the mix.