If you want or need to travel in the summer months, are there any places you can go that are a bargain?
Well it's certainly the toughest season for traveling for cheap, no doubt, but if you open up your horizons you can find plenty of places to enjoy summer vacation spots on a budget.
In the northern half of the planet—which happens to be much more populated than the southern half—this is when the kids are on vacation from school. Parents who have kids anywhere in the range of kindergarten to college are looking to travel in the summer if they want to do a family trip.
This is also when the people working at those schools have the most vacation time too: teachers, college professors, admin workers, school bus drivers, the cafeteria ladies. It's when businesses in Europe are most likely to shut down and in countries like Italy, it's when everyone heads to the beach. Sometimes for an entire month.
So if so many more people are taking vacations then, how do you avoid high season prices on flights and hotels?
This is one of the subjects I tackled in my book Make Your Travel Dollars Worth a Fortune and it's one I still get asked about a lot. Fortunately, you can still find plenty of bargains around the world in June through August. You just need to be more flexible and go beyond the places that first pop into your head. Especially if those places are near the water and are family-friendly.
You need to think like a contrarian traveler to avoid the herds. Here are a few alternative ideas on different continents.
North America, Caribbean, and Central America Summer Breaks
If you don't want to pay the highest prices of the year, don't head to the area around a U.S. national park, to a mid-Atlantic beach area, or to a popular tourist city that's too cold to enjoy in the winter. As in avoid Yellowstone, Myrtle Beach, and Montreal. The good news is, there are still summer bargains in North America if you know where to look.
Enjoy The Rest of Canada
Sure, it's mobbed in Banff and Quebec City, but Canada is the second largest country in the world by land mass and only has about 36 million people living there. Most of those people are living below the 55th parallel, a couple hours at most from the U.S. border.
Its national parks aren't nearly as crowded as the U.S. ones and if you go beyond the well-known tourist centers, you can find reasonable hotel rooms and lake houses all summer long. For getting into nature, I'd strongly advised heading north to one of these less populated areas rather than competing with the big crowds at full campgrounds in the USA.
Canada is not known for cheap international flights, but from some U.S. cities you can find sale combinations that put those routes close in price to domestic fares. Plus there's often good availability for cashing in frequent flier miles.
Small Town USA
Sure, everyone and their brother seems to be traveling around the USA in the summer, especially around the government holidays, but some destinations don't feel much of the love. If there's a town within a few hours of your home that nobody ever talks about or writes about, it's probably a great value. Check it out and see.
Nearly every town of any size has things to do, interesting places to eat, and probably even a brewpub these days. Just because they don't have a big tourism marketing budget doesn't mean there's not plenty to keep you occupied. Plus lodging prices will probably be more reasonable than in the spots that are mobbed. Go explore!
The Caribbean and Mexico in Summer
The islands of the Caribbean may be well-known, but their high season is when it's cold up north, not during the summer. The more capacity a resort area has, the more likely you're going to find cut-rate package deals in the summer. This is especially true at the all-inclusive places. So look for Caribbean resort deals at a site that specializes in those, checking the Dominican Republic, Jamaica, and Cancun/Riviera Maya.
A bunch of huge new hotels have opened in the Bahamas too, which is going to mean lower occupancy across the board there. Many others in the region spent millions in renovations while the pandemic forced closures and they want to fill those rooms back up.
Tropical storm season officially starts in August, but most of the serious storms hit September through November. So you're usually going to be fine in Summer, but you can't be sure. Get comprehensive travel insurance in case.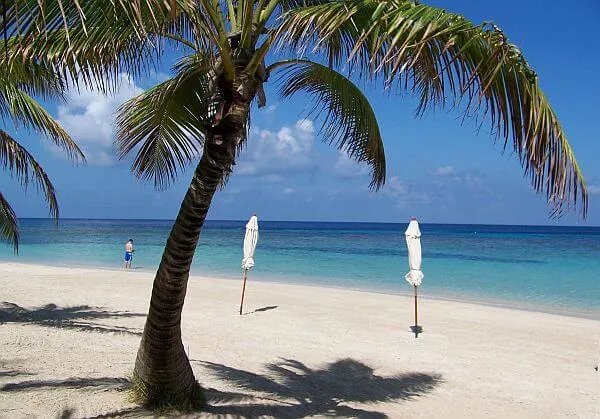 For the interior of Mexico away from the beaches, the high season is still winter, even in the highlands. There are just fewer tourists in summer, from Oaxaca to Merida, Puebla to Guanajuato. This is the time when domestic tourists are filling the beach resorts, so prices can literally be half of what they are between January and April.
It's a little hotter and there's more chance of a shower, but the water is also warmer, so it's a nice trade-off.
Search Caribbean and Mexico Vacation Package Deals
Central America Summer Travel Deals
It's rainy season in Central America in the summer, but that means different things in different places. You're unlikely to see constant rain all the time in cheap destinations such as Guatemala and Panama, plus this is a great time to head to one of the best-value scuba diving destinations on the planet: Honduras. That's a beach there pictured above.
Look for great deals in interior locations (Lake Atitlan, Tikal, Copan, Grenada), as well as the beaches of Nicaragua and the island of Roatan in Honduras.
South America in Our Summer
Our summer in North America is their winter in South America, so you can actually pack your skis and head to the slopes from late July on in Argentina and Chile. Their school break is in January, so you're not competing with local families for hotels if you bring the kids.
It's not really beach weather except in Colombia and northern Brazil though, plus this is not the time to hiking in Patagonia. Most of the places to stay there are closed for the season.
That leaves plenty else to do though, from Easter Island to the Galapagos, from Buenos Aires to Cartagena. You'll generally find the best values in Ecuador, Bolivia, Colombia, and Peru, though there's a big caveat with Peru. Due to its international appeal and weather patterns, summer is definitely high season in Cusco, the Sacred Valley, and Machu Picchu. Don't expect to find any bargains there between May and September. You could still have Kuelap and Gocta Falls to yourself though and the Colca Canyon never gets all that crowded.
My recommendation if you have a few weeks or more? Explore Colombia then head down to mainland Ecuador. If you have already been to Peru before, then visit other parts of the country like the Colca Canyon, Arequipa, or Lake Titicaca. For the cheapest prices on the continent, pay the high visa cost and spend some time in Bolivia.
Summer Travel Bargains in Asia
Back when Southeast Asia wasn't so popular, it didn't matter much which time of year you visited. Now that so many people have discovered the region, however, it gets flooded with vacationers over the summer. This is especially true for the beaches of Thailand, Malaysia, and Vietnam, as well as and the Ankor Wat complex in Cambodia. You might have to get a bit off the beaten path to avoid the crowds.
If you travel on a budget, it's still easy to find bargain lodging in Southeast Asia. Any time of year, Bangkok is one of the best hotel deals on the planet. Same for all of Vietnam. If you can find a flight deal, then sort out the rest later. Just be prepared for heat like an oven, however, in some of these summer vacation spots. It frequently topped 100F degrees when we were there in June when I visited with my family once.
Indonesia straddles the equator and a good number of that country's vacation visitors come from Australia and New Zealand. As with South America, the seasons are reversed there, so our summer is not their summer. That means it can be pricier in Bali in January than it is in June. The same goes for Fiji and some other islands in the South Pacific.
India and Nepal are a bargain all year, but summer is not the high season. It can be deathly hot in parts of India during the summer, so you probably want to head north to the Himalayas or to Nepal. In the latter the high seasons are May and October/November. Just do some weather research as it can vary a lot between regions. Oh, and there weren't a whole lot of tourists in Kyrgyzstan when I was there last summer…
Are There Summer Travel Deals in Europe?
In some ways, Europe is even tougher than the USA for summer vacations. Europeans get more time off and they aren't afraid to take it, especially when it's beach weather. Plus there are so many throngs of people coming there from all parts of the world that some cities are having serious struggles with overtourism. Those problems went away in 2020 and 2021, then came roaring back with a vengeance.
So where are the reasonable summer vacation spots in Europe if you go if you must go in the summer?
You really need to think like a contrarian traveler. If all the sheep are going to Paris or the Mediterranean coast, you need to pick a small dot on the French map and head there. Go somewhere in Sweden besides Stockholm. Get out of Prague after a night and spend your Czech time elsewhere. Get the cheapest flight to a big city, then go elsewhere.
Or better yet, go somewhere that really wants and needs your business. When I did a bike trip through the Balkan countries one summer, Dubrovnik was crazy crowded. But literally a bike ride's distance away in Bosnia, towns had almost no tourists. In Mostar there were a lot of day-trippers, but the restaurants were half-full at night. The Bay of Kotor was packed with cruise ship passengers, but in Ulsinj I got a room for less than $20 a night. If I had visited the eastern part of the country, I may have been the only traveler in town in some spots.
I felt like I was the only traveler in town in parts of Albania. You won't see parking lots full of tour buses there. (And if you're American, you can stick around for a year.) I'm putting my money where my mouth is in June and spending a week in an Albanian beach town. My Airbnb there was less than half what a comparable one would have been in Corfu, a short ferry ride away in Greece, which gets packed.
The Black Sea beaches of Bulgaria may be jammed, but get into the mountains and you can walk for miles alone and stay in cheap mountain huts. The river cruise boats are stacked four deep on the Danube in Budapest, but you don't have to go far in Hungary before you can find $ 30-a-night apartments for rent next to a vineyard or a lake. Or head to Slovakia, to Romania, to some place you've not seen 1,000 times on Instagram.
Which brings us to the main lesson for summer travel bargains: see where everyone else is going, then do the opposite.
What are your go-tos for summer vacation spots on a budget?