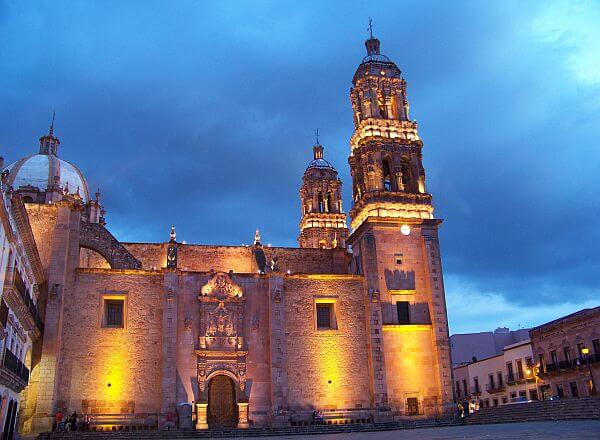 How cheap is Mexico for budget travelers? Well, not in the bargain basement, but it's one of the best values in the world. Plus you can fly there for a reasonable price and stick around for six months if you want.
Way back in 2005 I wrote a post about how Mexico wasn't a featured country in my book The World's Cheapest Destinations, but it was still quite a bargain. Now the whole country of Mexico is cheaper in 2021 than it was then thanks to exchange rate differences. It's now in the 5th edition of that book.
Back then I owned a little beach house on the Gulf Coast near Merida that we put $45K into and used for years as our getaway vacation home. When we sold it a in 2014, we basically broke even. It's still dirt cheap to buy a house around there. Eventually, we bought a much bigger four-bedroom house with a view in Guanajuato for $85K. It's hard to overstate how much lower real estate prices (and taxes) have on other prices too. Combine that with relatively low wages, and it means you will find quite an arbitrage opportunity if you're coming from a wealthier country with dollars or euros.
The answer to "How cheap is Mexico?" depends a lot though on which Mexico. You have to go to the right places, to get a real bargain, the areas where there aren't so many free-spending foreigners that the system has gotten out of whack.
Resort Mexico vs. the Real Mexico for Cheap Travel
Many short-jaunt tourists come back from a vacation in Mexico saying that the country isn't really all that cheap. In a way, they're right, but it all depends on where you go and which Mexico you are seeing.
If you spend all your time in places that cater to tourists from Canada, the US, and Europe, you will pay prices that are meant for…well, people from Canada, the US, and Europe. It's pure supply and demand: if the resorts, excursion companies, and restaurant owners in those areas can get planeloads of people to pay prices close to what they would pay at home, that's going to be the price that is charged. So if you go to a resort in Cabo San Lucas, Puerto Vallarta, or Cancun, you won't save much over what you would pay to go on vacation at home. You'll just have a higher staff to guest ratio and good booze flowing freely from the all-inclusive bar if you went for that option.
The only way to really get a good room discount at a Mexican tourist resort is to buy a discounted package deal that includes airfare, or get seasonally discounted package or room from one of the online agencies like Expedia. You can then shave your costs significantly more by taking local transportation instead of expensive tours and by eating at restaurants where the locals eat instead of where the tourists eat if the package is not all-inclusive. (As a bonus, the food will be more interesting too.)
If you get away from the resort areas, however, it's a whole different story. This Mexico, away from the beaches, is far more reasonable and naturally more authentic. In areas such as Merida, Guanajuanto, and Oaxaca, it's quite easy to find a basic hotel room with air-con for US$25 a night, or an interesting inn with lots of local color for less than $60. There are apartment rentals in this range too. I have personally found places to stay in this range all over the country when traveling with my family, from San Cristobal de las Casas to Puerto Escondido to Real de Catorce to Guadalajara.
At the current exchange rate of 19 to the dollar, you can easily find cheaper hotel rates than when I wrote the original rundown in 2005. Throughout the interior it's around $12-25 for a budget place (private room with bath, not a hostel bed.) There are loads of choices if your budget is $25-$60 for a mid-range hotel. It's frequently $40-$90 for the equivalent of a 4-star hotel. Here's a snapshot of a few deals in Puebla from HotelsCombined. We stayed at that first one. It's a gorgeous hotel.
Compared to backpacker favorites in Latin America such as Guatemala, Bolivia, and Ecuador, this may not be a screaming bargain at the budget level, but it is certainly quite a deal for mid-range travelers. The Mexican peso/dollar exchange rate has been declining for years now and it's going to take a lot of fundamental changes to reverse that trend. So in a sense the question of "How cheap is Mexico?" depends on your historical perspective and what you're comparing it to.
Daily Travel Costs in Mexico
Food, drinks, and transportation are also good values. I've found most tourist restaurants and seafood restaurants to be 25% to 60% less than a comparable place would cost in the US for a similar-sized city. At typical neighborhood restaurants and market stalls, however, you can get a good-sized filling lunch for 30 to 50 pesos-less than $3. You can fill up on snack plates of tostadas, tacos, gorditas, or panuchos for even less. (If you're in Guanajuato City, check out this Guanajuato Tour focused on street food that I started years ago.) For food, you can get a great value as either a budget traveler or someone willing to splurge.
If you shop locally and cook yourself, prices are reasonable, especially if you stick to local goods and what's in season. For a buck you can get a whole kilo of oranges, two kilos of seasonal vegetables, a dozen eggs, a kilo of fresh tortillas, a half kilo of avocados, or a half kilo of local cheese. (One kilo equals 2.2 US pounds.) Pork chops are four dollars a kilo and they practically pay you to carry the cilantro away: less than 20 cents per bunch.
Beers are generally around $2 – $2.50 in a bar or restaurant, $3 – $4 a six-pack in a store. (And that's for good beer, not watery swill. Craft beers are more like a buck a bottle or more.) U.S. demand has driven up tequila prices, but you can still get a 100% blue agave bottle of tequila for less than $12. Rum can be even cheaper.
Buses that travel from city to city aren't dirt cheap unless it's the slow local bus, but the express buses are quite comfortable and are definitely a good value. They have ample legroom, air conditioning, and even bathrooms and refreshments at the top end. A first-class bus will be $20 to $40 for a trip of three to six hours—with lots of legroom and Wi-Fi.
If you are a backpacker on a bare-bones budget, Mexico is not the best choice in the Americas. Offsetting this somewhat is the fact that flights are often cheap. (Check prices from your city here.) I have gotten a one-way flight from Nashville and Tampa to Cancun for under $200, taxes included, and have gone all the way to Mexico City round-trip for $379. In cities served by a Mexican budget airline, it can be even less.
How cheap is Mexico? Well it depends a bit on how you travel and where you go, but if money is really tight, hop a cheap flight to Mexico and go overland to Guatemala or fly directly to there or further south. If you are not squeezing your pennies, however, the country offers plenty of deals. Get out of the resort areas and go exploring and you'll be surprised at how far your money can go.