As I write this, most everyone in the world has been sheltering in place for two months or more and almost nobody is traveling from place to place. As the summer vacation season rolls around though, people are getting antsy.
Is traveling safely going to be possible in this environment? What will that look like?
In monitoring dozens of articles on this subject and looking at surveys, there are a few different camps emerging in answer to that question. Some people will hop on a plane and fly across an ocean without a second thought, while others say they're scared to go anywhere in any fashion until there's a vaccine or a treatment in place. Roughly two-thirds of Americans fall somewhere in the middle though. That majority is ready to venture out cautiously, in a way that's not going to feel risky.
What most sensible people will be trying to avoid are big crowds, strangers crammed in small spaces, and situations that seem "germy," for lack of a more technical term. (When Allegiant Air recently surveyed its own customers on when they were next going to purchase a flight, 60% indicated it would be six months or more.) After being cooped up, many are itching to get into nature.
There are some tactics to consider this summer that will give you a change of scenery–for real, not virtually on a screen–but without posing an undue risk to your health. Here are my tips on traveling safely this summer.
Safe Travel in an RV
Imagine if you could shelter in place, not mingling with crowds, but you could transport your home to some beautiful setting in nature with hiking trails nearby and ways to sit outside under some trees?
RV travelers have been doing just that for decades, for fun rather than out of necessity. You pack up the recreational vehicle (or campervan), park it at a designated campground or RV park, then move on to another place when you want another change of scenery. You've got everything you need with you and you can probably keep working where you park since most places you'd spend the night have WiFi as well.
One of the big disadvantages for this type of travel has been the big gas bill when it's time to fill up, but now fuel prices are hovering around record lows due to low demand and most travelers say they're only planning to venture a few hours from home anyway.
If you've already got your own big camper set-up or a friend has one you can borrow, great. Just stock up on supplies, sterilize everything, and take off. If you don't have one and aren't planning on laying out a huge sum to buy one, you can just rent a RV instead and just return it when you're finished.
There have long been companies renting out their own fleet of RVs, but now you can rent one from almost anywhere thanks to the sharing economy. Since you're renting from the actual owner, most of your money is going to a real person and this keeps prices at a market rate that's of mutual benefit.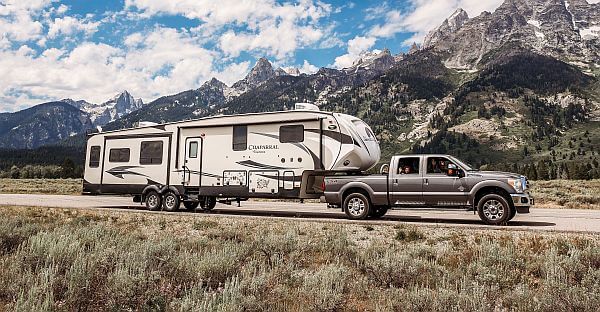 Through this platform, you can get anything from a small pop-up camping trailer to a giant RV bus that look like it should have a touring rock band inside.
When I pulled up options around where I used to live in Tampa Bay and added in all the fees, I found a 2016 Heartland one you tow that sleeps six for $95 a night, with delivery included. I found a Coachmen Freelander sleeping six that you drive for $145 per night, plus a variety of camper vans for a shade more than $100 per night. The fees cover, among other things, cleaning, roadside assistance, and insurance.
With this kind of travel, you can stay reasonably isolated as a couple or family the same way you did at home. Your pet can easily come along for the trip, with no worries about finding a pet-friendly hotel and paying extra fees. It's easy to properly budget when traveling by RV because this option rolls transportation, a place to sleep, and a kitchen into one package. Add gas, food, and parking fees and you've got your total expenses estimate done.
As I write this, some of the national parks have announced opening dates, some of the state parks are back open again, and private campgrounds are making opening announcements as well. RVShare publishes a continually updated guide to which state parks and national parks are open throughout the USA. Just understand that "the new normal" is not going to look like the old normal. there may be restrictions on which services are available and social distancing guidelines will likely remain in place all summer.
Cabin Rentals and Camping
Road trips are high on the list for many people tired of looking at their own four walls. If you'd rather drive your Prius somewhere and take in nature without a lot of baggage, consider a cabin rental in the forest, in the mountains, or by a lake.
The toughest cabins to come by in normal times are the ones at national parks, though this year it might be a little easier to get a reservation if you act now. The next toughest are state parks near major metro areas. If you come up empty there, check the less popular parks that are a few hours from a city. These tend to have more availability. Then there are private ones for rent all over, which takes a bit more digging on your favorite search engine.
Don't forget the "glamping" options either. Sometimes what's for rent will not be a cabin, but rather a spacious tent, a treehouse, or a yurt.
Or you can throw the tent, sleeping bags, and cooking gear in the car and head for the mountains. It's hard to think of a safer vacation scenario than sleeping in a tent with nobody around for miles. There are plenty of parks and national forests where you can camp in the backcountry if you follow the rules, plus other areas with "primitive camping" spots well removed from where the self-contained camping units are plugging in. You usually have to hike a bit to get to them, but you won't worry about being too close to others.
An in-between option is how I spent many of my childhood summers: in a Coleman pop-up camper. Besides that design, which is still popular, others have come along the past couple decades that are lighter and sleeker. Even if you have a small car, you can install a trailer hitch and haul one of these light ones behind you for a camping experience off the ground.
Villa Rentals and Country Homes
It doesn't take a crystal ball to see that people aren't going to be rushing for the biggest cities this summer and vacationing the same way they did before. House and villa rentals will probably still be popular, but not the neighborhood apartments that got so much of the action before. This summer it might be wise to look for a house by the water somewhere with a good distance from its neighbors, perhaps a little house in the woods where you can shelter in place in a calmer spot and collect your thoughts.
If you belong to a home exchange program, you've got other options to explore where you can rent for nothing by offering your own place up as well.
Most of the organizations that act as the go-between for rentals or exchanges are publishing guidelines and requirements to allay customer fears and make sure everyone can travel safely on vacation. We're seeing much more stringent cleaning protocols, even a "buffer time" between rentals so someone isn't going in the same day someone else left.
Isolated Hotels and Inns
Hotels have suffered a huge hit lately and are eager to lure back guests. Nearly all of them have doubled up on their cleaning and sterilization regimens since their potential customers are worried about traveling safely, but don't be afraid to call and ask a manager what's being done before you book.
Keeping with the trends we're seeing in surveys, isolated country inns and small boutique hotels outside of the big cities are probably going to bounce back faster than Las Vegas convention hotels with 7,000 rooms. Any place with more than a few rooms is going to face challenges though in keeping everyone six feet apart at all times, including the staff. Places with plenty of space to roam are probably the safest bet.
No matter how you plan to vacation, take all the precautions you've been taking when you'll inevitably be around other people: masks, hand-washing, and sanitizing are still going to be vital.
What do you think? What are your plans for safe travel this summer in the USA or where you live?