When you move abroad, it's a big, life-changing event, much more complicated than buying a new car or deciding whether to date someone or not. There are some similarities to both though decisions though: you have to find the place that speaks to you, that appeals to your heart.
Each year I publish a long post on the cheapest places to live on this planet. Follow that link for the latest. Invariably people stumble upon it through a search and start asking variations of "Where should I go live?"
The problem is, I can't answer that without a very long consulting session to ask you 20 questions. In the end though, nobody can really answer that question but you. The last step required is actually going to a place and having enough to compare it to that you know if it feels right.
I moved back to Guanajuato, Mexico in late 2019, the third time I've made this my home. This time it's our permanent base, now that I've sent the daughter off to college. We still have a permanent address in the USA for banking and taxes, but this is our real home and it feels like home.
I've traveled all over the world, to many dozens of countries, so why this particular place? What made this one the one?
Just like the "How did you meet your wife" question couples get all the time, this answer has a story behind it.
For much of my travel writing career, I reviewed hotels in various countries for a trade publication used by travel agents. I did this from Guam to India, Egypt to Argentina, Kentucky to Kathmandu. Each time I would wonder in the back of my head, "Could I live here?" Sometimes the answer was an immediate no, sometimes there would be one factor or another that disqualified it.
In the late '00s I got an assignment to do this hotel review gig in three places in Mexico: Mexico City, San Miguel de Allende, and Guanajuato. The first two were fun, they were fine, but I couldn't picture myself staying in either more than a week. Within 24 hours of arriving in that last one, however, I sent an e-mail to my wife saying, "I've found the place we should move to."
"You just got there!" she replied.
"Yep, but this is the one," I insisted. "I can tell already."
Sometimes a Place Just Feels Like "The One"
See, we'd been seriously talking about moving abroad for a year, but weren't really sure where. A Spanish-speaking country in Latin America was about as much as we had decided. We got to that point by discussing time zone considerations, flight connections to get back home, the ease of getting residency, climate wants, and other factors that we could write down on a piece of paper. We had talked about Argentina, Ecuador, Nicaragua, and other places, but after visiting Guanajuato I was ready to throw all those out the window.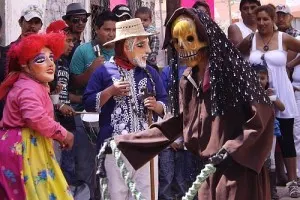 A few months later we took a two-month vacation during the summer school break, through Mexico and Belize. One month of that was spent in a rental apartment in Guanajuato, shopping for food locally, taking Spanish lessons at Escuela Mexicana, and seeing if my enthusiasm was shared by the wife and daughter. It was, so the trial run outcome was a plan to move back a year later.
We spent a year living the Mexpat life, renting a furnished four-bedroom place for $800 a month including utilities. We loved living in another country again so much we eventually bought a house (four bedrooms, $85K in almost move-in condition).
Later we returned for two years and got some work done on that house, putting down tile, completely renovating the kitchen, and rewiring the electrical for another $20K total. My daughter went to school in Spanish only again got truly fluent. I didn't, but the learning process continues. Now we look to the surrounding mountains in one direction and have this view every day at sundown in another:
To Find the Place That Speaks to You, Travel Around
So why did this place speak to me, and to my spouse? Data-driven types always want the items they could put on a spreadsheet, which is why International Living does some serious number-crunching each year for its "best places to retire" round-up. People are used to finding out anything they want online, so they assume they can do the same for the perfect place to live.
Those factual things do matter, so here are the ones for where I live, besides the obvious cost of living savings you get almost anywhere in Mexico. It's a mostly pedestrian city, with traffic going through tunnels first built to divert water. It was founded in the 1500s, as a silver mining city, so there's lots of great architecture spanning hundreds of years. There are almost no straight lines in the curvy layout, which is unusual for a Spanish colonial city, and colorful houses cascade down the hills, reached by narrow alleys like you see in medieval Europe. The weather is divine, at 6,500 feet it seldom gets too hot or too cold. There's sunshine around 340 days per year.
This is a university town, which keeps it lively, plus in normal times there are multiple cultural activities and shows every week. There's a resident symphony in the city for culture, but college students mean cheap eats and cheap drink prices as well. There's an international airport 40 minutes away served by nine airlines and on a bus ride of five hours or less I can reach Guadalajara or Mexico City for more direct flights.
Put all that together and it looks great on paper. I've got the head factors and the wallet factors covered. But the real reason we moved here? It just feels right. That's the heart factor that is almost impossible to work out without visiting.
The reason I sent that first e-mail back to my wife more than a decade ago is because it felt right to live here. I was enamored with the city and it didn't feel like any other place I had ever been to. I've since been all over Mexico and I could live in a whole lot of other places. I wouldn't like any of them as much as I like this one though. They just don't have the same feel. They don't speak to me the same way.
You can't get "feels right" from any number of books, articles, or pros/cons lists. You need to go, to spend some time, to live like a local for a bit.
In other words, to live abroad you first have to travel abroad. There's no shortcut for that. You can't just read my blog posts and say "That's it, I'm moving to Guanajuato." (Please don't – my fellow foreign residents here will hate me if people start moving here sight unseen like they do for gringolandias like Lake Chapala and San Miguel de Allende.)
Sure, spend plenty of time doing research on moving abroad so you can narrow down the options based on your head list. Take expensive countries off your list if you are going to need to get by on a budget—the wallet factors. To see which places make your heart flutter, however, you need to have feet on the ground before you decide where to move abroad.
If you think you don't have enough money to travel around the world to scope places out, you're probably wrong. By making some tweaks to how you pay your bills, for starters, you can probably fly anywhere in the world a few months from now for almost free. You can probably go spend a few weeks or two months abroad doing trial runs and spend less than you do on your monthly utilities and bills.
Meanwhile, for regular insights, get on the cheap living abroad insiders e-mail list and join 10,000 others getting monthly updates.