In Latin American capital cities, how much does a couple have to spend to get a relatively nice hotel room? Where can two people get their own room with a private bathroom for $40 or less? From Mexico down through the last countries in South America, you can easily find one in most of the big cities, actually.
I'm updating The World's Cheapest Destinations book for the 5th edition, and prices are surprisingly similar to the last time I updated it years ago. Inflation hasn't been too bad in most countries, plus the U.S. dollar is relatively strong from a historic standpoint. So if you're heading south from the USA, you won't have to spend a lot to bunk down in most countries, even in the capital cities.
It can cost you less to travel than it does just to exist at home, and that's partly because the cost of travel can be a lot less than your current expenses for housing, auto(s), utilities, and groceries. Many people who haven't traveled much have a hard time grasping that concept because when they think of "travel," they think of $200 hotel rooms, meals out in U.S.-priced restaurants, and the local costs of taxis or rental cars to get around.
Prices drop substantially in many countries though, even ones that use the U.S. dollar like Ecuador and Panama. If you think about it, $40 times 30 days is $1,200—less than what a lot of urban couples in the USA or Europe spend on rent. Plus in this case you've got no utility bills and you don't ever have to vacuum the carpet, empty the trash, or wash the sheets.
Here's where you can bunk down for the night for $40 or less double at a decent hotel in Mexico, Central America, and South America, with at least one example to check out in each destination to get an idea what to expect.
There are some cheap destination omissions though. I've left out the capital cities where you don't really want to stick around, like Guatemala City, Managua, San Salvador, and Tegucigalpa. I also left out the ones that don't get many visitors, like Asuncion and Cayenne.
Mexico City Cheap Hotels
I've told anyone who will listen that Mexico City is the best urban vacation deal in North America and it looks like word is finally starting to get out. You will see it on all kinds of "hot destinations to watch" lists for the coming year since travel editors have finally woken up to the place. There are good hotels in all price ranges and twice I've gotten one in a great location there for $25 or so.
You can get a hostel bed for less than $15, but for a nice double room, check out Selina Mexico City (pictured above) for $35 a night downtown or Real Salamanca for $35 a night in Condesa. There are dozens more below $40.
San Jose, Costa Rica Lodging Deals
In most respects, Costa Rica is no bargain, but hotel prices are actually quite good in the capital since the only foreigners spending more than a night there are those visiting someone they know, doing business, or getting dental work done. Apartments through Airbnb are actually the best deal if you want a specific neighborhood. Otherwise, you can find a range of hostel beds under $20 or decent double rooms under $40.
For examples, check out Casa Lima Bed and Breakfast I found for $34 a night or Hotel Sura B&B for $35 a night, also including breakfast.
Panama City Hotel Bargains
The capital city of Panama, pictured above, is a bustling business center and the "crossroads of the Americas." It's worth spending a couple nights here before or after your adventures around the rest of the isthmus. This is one of the cheapest places in the world to go out drinking, thanks to its lack of sin taxes, and there's a long walkway between the business district and the oldest part of the city, Casco Viejo. They've even got a subway now.
Two of you can get a private rooms with breakfast at Bodhi Panama City, near the historic district, for $28 a night. Or stay at Mediterranean Dreams in the business district for $35 a night.
Bogota Bargains in Colombia
Bogota is another city that doesn't get much attention, with tourists just passing through on their way to Cartagena, the Coffee Triangle, or Medellin. There is good food and nightlife here though, plus it's worth checking out the Gold Museum and seeing the artist Botero's work on display. It's great if you're in the city on a Sunday, when a main thoroughfare is shut down for joggers and cyclists to move without dodging traffic.
There are plenty of bargain apartments on Airbnb, but for short hotel stays check out Expo Suites Parque Bavaria for $36 double with breakfast or 3-star Hotel Fontibon on the way to the airport for just $19 with breakfast. If you're by yourself, there are loads of hostel beds in Bogota for less than 10 bucks. See Booking.com for that.
Hotel Deals in Quito
The historic center of Ecuador's capital city was one of the original UNESCO World Heritage sites to be named when that organization got started. It's a great area for strolling around, with some good museums, stunning Spanish Colonial churches, and interesting neighborhoods to explore. It's also one of the best capital city bargains in the world. Prices haven't gone up much at all since this rundown on prices I did in 2014.
This is a city where you sometimes see 5-star hotels going for less than $100 a night, so there are bargains aplenty. You can find lots of private rooms in hostels for $20 or less for two. Step up a little though and you can get the view above from Casa Vista Hermosa. A triple is $22, a 2BR suite is $25, and a family suite for 4 is $30. Or search for others in the city and you'll find plenty for $35 a night or less including breakfast.
Lima Lodging Values
There are so many great things to do and see and Peru that Lima seldom rates more than a night or two from most travelers. While it's often gray and overcast here and the historic center isn't as appealing as that of Quito or Buenos Aires, there are some good reasons to stay here. At the top of the list would be the restaurants. This is the top foodie destination south of Mexico City, with lots of restaurants that make world best-of lists. There's also a good nightlife scene (including casinos), good shopping, and plenty of pretty neighborhoods for strolling. Plus it's one of the cheapest Latin American capital cities for lodging.
There are often a dozen hostels here offering beds for $10 or less per night, so hanging around Lima won't hit your budget too hard if you're on a shoestring. To go up a few notches, two can stay at Barranco Lodge for $36 including breakfast or at Quinta de la Amat in the center for $32.
Sleep in the Highest City for Less in La Paz
If you know the highest capital city in the world, you might win a bar bet or notch a win on Jeopardy. That would be La Paz at 12,000 feet in Bolivia. It's a frenetic city that travelers often forsake soon after landing, heading to attractions like the Salar de Uyuni in the south instead. But this is one of the cheapest capitals in the world if you stick around a bit, with hostel beds for just $6 a night and private rooms with a shared bath for as little as $14.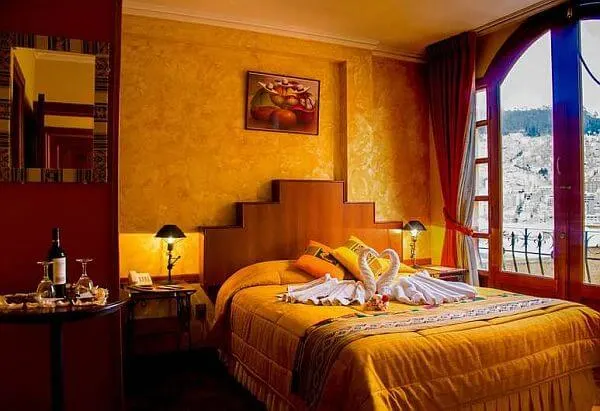 If you want to splurge a little though, $40 or less will get you a nice place to sleep here. Check out Las Brisas Hotel (pictured above) for $32-39 double or Hotel Nuevo Sol for $37 with breakfast to see the bang you get for your buck in Bolivia.
Bunk Down in Brasilia
After that highest capital in the world trivia question, you can also feel smart and smug if you know that the capital of Brazil is not Rio or Sao Paulo, but rather Brasilia. Some see this purpose-built capital as orderly and nice, others see it as soulless and dull. I haven't been there yet, so I can't take sides. I do know that this is one of the easier places in Brazil to find a good hotel deal. The highest-rated hotel attracting those doing government business goes for less than $120 per night and many chain hotels come in around $50.
For $29 a night you can get a room in the 3.5-star S4 Hotel with a swimming pool.
Under $40 in Montevideo
Montevideo is the capital of Uruguay, always playing second fiddle to its own beach area and nearby Buenos Aires across the water. This is a safe capital city with good food and wine though and the most liberal national marijuana laws south of Canada. Flying here direct isn't easy on a budget, but you can take a ferry from Argentina to come overland.
Hotels are a great deal overall in Montevideo if you're on a vacation budget, with some of the luxury ones running 1/3 what their counterparts cost in B.A. There aren't a lot of really low-end places, but in the sweet spot of $40 to $75 is where most of the properties reside. For a good value, see Hotel Alvear for $39 double including breakfast or get a private room in one listed as a hostel for the same or less.
Buenos Aires Bliss for Under $40 a Night
Argentina is continually lurching from crisis to crisis and after getting a tad expensive in 2017, it's back to being a bargain again—for now. Most hotels have been priced in dollars for a long time to insulate the industry from the peso swings, but since there's a sizeable domestic travel industry as well, rates do drop when local demand goes down. That means the best deals tend to be at the low end rather than the high. Check the apartment rental prices here too on Airbnb and Vrbo, where you'll find plenty to choose from under $40 a night.
There are a few hostels going for less than $12 a bed, or private doubles with a shared bath in hostels for under $20. You can actually strike a better deal by booking direct and avoiding the online travel agencies, especially if you'll pay in dollars or euros upon arrival.
For hotel examples thought, check out Art Factory on Tap for $30 ($41 triple) or La Perla Buenos Aires for $35 with continental breakfast. It's important to pay special attention to user ratings in this city: some of the cheapie places have especially bad ratings on the booking sites and TripAdvisor.
Santiago Hotel Deals
Depending on the current status of their currency, Chile is often the most expensive place to travel in South America. It costs a lot to get there from almost anywhere and then prices seem higher than they should be for many goods and services. Wine is always a good deal though and Santiago hotel prices are usually reasonable thanks to healthy competition. You can actually do day trips to ski resorts, wineries, and Valparaiso from here if you want, so Santiago de Chile can be a good base.
You can find hostel beds as low as $10 a night, but to get a double hotel room with a private bath you have to open your horizons a little here. You'll normally be booking at a place with "hostel" in its name or an apartment place with "aparthotel" or "departamentos" in the name. There are a few exceptions though, like this wild-looking Si Hotel for $35 a night double with breakfast.
So there you have it, plenty of Latin American capital cities where you can get a room for $40 or less per night. Happy travels!