Even if you're a budget traveler, you will probably get an urge to splurge for a nice hotel now and then to feel like a real human again. Or you may just want to get pampered after so many sacrifices in comfort for weeks or months on end. That upgrade may be out of your range in an expensive destination where 5-star hotels command top dollar, but in cities with the cheapest hotels, luxurious hotel splurges are not going to require months of work to pay off. There are some markets where "5-star cheap hotels" is not as much of an oxymoron as you might expect.
Yes, I'm a cheap traveler most of the time when I'm on my own dime. If I can't cash in points for a free hotel stay at a chain property, I'll often skip that option in favor of a local bargain, like the $21 per night hotel I just booked one city over from me in Mexico. This list below includes only five-star hotels (well, by local ratings at least) and none of them are more than $150. Naturally, if you go down to 3- or 4-star level the prices will drop quite a bit. You'll have plenty of choices in double digits in these destinations.
The good news is, these spots that offer some of the cheapest 5 star hotels are all fun places to visit too. They're all in countries included in my book The World's Cheapest Destinations, now in its fifth edition. So when you walk out the doors of your luxury hotel with its luxurious accommodation—with someone in a top hat holding it open for you maybe—you'll have plenty to keep you occupied in the destination.
All nightly double rates listed for these high-end accommodations around the world are before taxes but at the refundable rate, in high season or shoulder season. You'll pay even less when crowds drop off. All are rated as 5-star locally, though of course they may not be deemed that by all international ratings agencies. Some countries and cities have higher standards than others.
Sharm el-Sheikh and Luxor, Egypt
I'm putting both of these cities in here together because they're two of the best values on the planet for popular tourist places and they're both in a country where almost everything is a good deal for travelers. You just have to put up with Egypt's legendary touts and hustlers now and then. Plus you want to come at the right time of year, when it's not an oven, so I checked rates in the height of their winter for what's listed. This way you know you're seeing the average cost for spacious rooms at the best time of the year to visit.
Many people who visit Sharm el-Sheikh are just going there and back home on a beach holiday or a scuba diving trip. But whether doing that or sticking around for a while, check the Sharm el Sheik visa requirements in advance to see if you need any paperwork. Once there, you'll find a sunny spot on the Red Sea where there are plenty of nice hotels to choose from with tantalizing rates and spacious guest rooms. Here are a few examples from January:
Four Seasons Resort Sharm el-Sheikh – $232
Sunrise Arabian Beach Resort – $115
Sultan Gardens Resort – $92
Luxor was the capital of the pharoah's empire for centuries and the Valley of the Kings contains many of their tombs. With ruins galore, this is included on nearly every tour of Egypt and it's a stop on both the train line and the Nile river cruises. Since there are plenty of hotels in Luxor serving a finicky stream of tourists—Egypt always seems to have one problem or another scaring people off—rates are perpetually a bargain. Take a look at these Luxor high-end hotel prices in January:
Sofitel Winter Palace Luxor – $149
Hilton Luxor Resort & Spa – $88
Pavilion Winter Luxor – $64
Bangkok and Phuket, Thailand
Bangkok is not necessarily the cheapest city in the world for hotels, but it's certainly one of the best values. That's because you're going to get terrific Thai service and good facilities for the price, with an amazing selection. In Bangkok you can expect refined five-star experience
If the air isn't filled with pollution, you'll likely have a nice view as well. This is thriving, modern, electric city that would be hard to get bored in and you've got all kinds of fun and great food at your fingertips.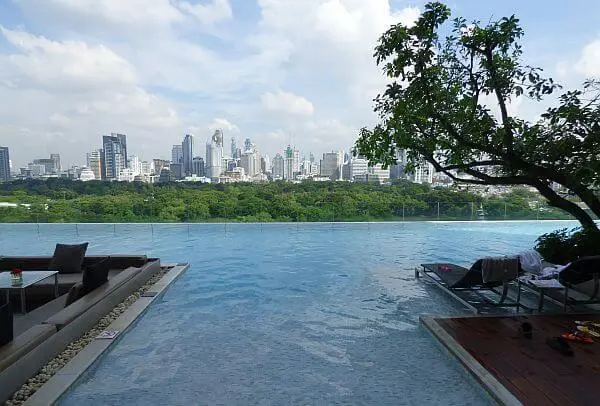 There are a few luxury hotels in Thailand's capital that can top $300, but it's a small list including the likes of The Four Seasons and The Oriental. Here are some sample prices for other 5-star hotels in Bangkok during the dry season in January. The first is where I stayed last time I was there, pictured above. How about that rooftop infinity pool!
SO/ Bangkok – $117
Shangri-la Bangkok – $138
Amari Watergate Bangkok – $80
A few hundred people a month search for "cheapest luxury all-inclusive resorts," according to Google, and in Phuket those people will actually find some worthwhile results. You can find a great place with private balconies facing the water and a large swimming pool. Here are some sample luxury hotel rates for two for Phuket in January high season:
Anantara Vacation Club Mai Khao – $275 all-inclusive in pool villa
Cape Panwa Hotel – $160 all-inclusive
The Westin Siray Bay – $201 all-inclusive
Or you can book with a reasonable amount of Hyatt loyalty points at the Hyatt Phuket by Kamala Beach.
Ho Chi Minh City and Hanoi, Vietnam
Vietnam just may be the best mid-range value in the world when it comes to hotels and although the cheapie ones aren't as cheap as in some other neighboring countries, you often get more for your money here, like maid service, breakfast, and towels at a place that's under $20 a night. This value extends all the way up to the luxury level as well, making Vietnam a country to put high on your list when it reopens if you're looking for a great deal. Meals are a standout bargain here as well and it's one of the cheapest countries for beer lovers.
Here's what you'll spend for a splurge in the commercial city or the more historic government one up north. Hanoi is the jumping-off point for the northern mountains and Ha Long Bay, while Ho Chi Minh City (Saigon) is the jumping-off point to the Mekong Delta.
Sofitel Saigon Plaza – $69 including breakfast
Hotel Nikko Saigon – $115 including breakfast
Intercontinental Hanoi Westlake – $96 including breakfast
Lotte Hotel Hanoi – $105 including breakfast
Search Vietnam hotel prices here.
Vientiane, Laos
Southeast Asian country Laos is a rare case where the capital city is not the most expensive in the country: that would be Luang Prabang. So spend a little time in Vientiane on the way in or out and take advantage of great hotel rates. This is a good place for an air-conditioned splurge and a hotel pool. Plus you can take an excursion out to surreal Buddha Park nearby.
Crowne Plaza Vientiane – $80 w/bkfst.
The QUBE Hotel & Suites – $77 w/bkfst.
La Seine Hotel – $109 with breakfast and free minibar
Siem Reap, Cambodia
The Cambodian tourist town near the ruins of Angkor Wat saw an explosion of visitors in the 2010s and the talk was all about overtourism before the pandemic came along. It'll take another Chinese swarm to get back to those levels but even when it's crowded, you'll find terrific rates.
Siem Reap is loaded with hotels, from backpacker level to luxury. Rates were already a bargain in their heyday and it'll take a while for all those empty rooms to fill up again.
Pay attention to reviews and pick carefully as the supposed 5-star hotels here range from $35 per night to $400 and most are independent properties. You will probably have a great hotel staff no matter what since labor rates are low, but you want to make sure the luxurious rooms look as good in person as they do in the photos.
Here's what you'll spend to visit Cambodia in the high season of 2022 and stay in a high-end place with a pool:
Metta Residence & Spa – $69
Golden Temple Boutique – $107 incl. breakfast & airport transfers
Victoria Angkor Resort & Spa – $104 incl. breakfast & airport pick-up
Search hotel prices in Cambodia.
Kuala Lumpur, Malaysia
Few would rank Malaysia's capital city as the best one to hang out in when visiting Southeast Asia, but KL does have some of the best high-end hotel rates in the region if you're passing through. It has a lot of budget flights landing here, so that's often reason enough to make it your first or last stop in Southeast Asia when borders open back up again.
Here are some tantalizing Kuala Lumpur hotel rates for a splurge in the dry season:
Hilton Kuala Lumpur – $84 w/bkfst.
Mandarin Oriental Kuala Lumpur – $149 w/bkfst.
The Ritz-Carlton Kuala Lumpur – $132
Search rates for your dates here.
Kathmandu, Nepal
Nepal is at or near the top of the list when people ask me, "What is THE cheapest travel destination in the world?" About the only thing that's not a bargain there is beer. (See Nepal travel prices here.) Kathmandu is a polluted, dusty mess these days for a whole host of reasons, but it's the gateway to the Himalayas and has some interesting historic areas to explore, like Patan and Bhaktapur.
Outside of the prime trekking months of May and October, you can still find a $5 double hotel room with hot water showers here and if you bump your budget up to $20 per night you'll get something quite nice, flashpacker level even. So there's a limit to how much the high-end places can charge: most of their guests at 5-star places are NGO workers or gullible tourists who paid 10 times too much for a hiking tour. Here are a few example deals:
Hotel Yak & Yeti – $76 including breakfast
Hyatt Regency Kathmandu – $120 w/bkfst.
The Soaltee Kathmandu – $72 w/bkfast (pictured below)
Search lodging rates in Nepal.
Guadalajara and Puebla, Mexico
First of all, Mexico City is a relative bargain compared to any major city in the USA or Canada. You can often book the JW Marriott or W Mexico City for under $200, or the brand-new Ritz-Carlton for under $350. (It's easy to find a double room somewhere for under $40 at the low end and there are hostels for a decent price.)
When you get into the next tier of Mexican cities in the interior, however, that's where there are fewer luxury travelers from places like New York City. There are fewer high-end business travelers and diplomats that are allowed to put the Four Seasons on an expense account. So you can find terrific values in the second-largest city of Guadalajara and the more popular leisure destination of Puebla.
Guadalajara upscale hotel rates are sometimes hard to believe, so stop in for a while if you're headed to tequila country in Jalisco. For example:
Hotel 1970 Posada Guadalajara, Curio Collection – $57
Quinta Real Guadalajara – $99
Intercontinental Presidente Guadalajara – $81 (my bathtub there pictured below)
Puebla has a Banyan Tree hotel now that could set you back more than $300, but if you don't need to be in the best of the best, here are some examples of Puebla hotel deals in places that are also quite nice:
Quinta Real Puebla – $88
Hotel Boutique Casareyna – $76
Intercontinental Presidente Puebla – $83
Panama City, Panama
Once upon a time, Panama City was an expensive place to book a hotel because there wasn't much competition. Then a flurry of new hotels opened, including a huge Hard Rock Hotel and a Riu high-rise with more than 1,000 rooms. Even before the pandemic hit, the largest hotels were seldom anywhere close to full, which kept a cap on rates. Those rates are now even more attractive now as visitor numbers have not gotten back to their peak.
Here are some of the standout deals at the high end in the capital of Panama, the hub for Copa Airlines:
Le Meridien Panama – $94
Bristol Hotel Panama – $105 (pictured below)
Waldorf-Astoria Panama – $149
Check hotel prices in Panama City, Panama.
Quito, Ecuador
There are many Latin American cities where you can find a decent hotel room for $40 or less per night double. If you want to step it up on vacation, however, one of the best hotel values on the continent is Quito, the capital of Ecuador in South America. This is where most flights to the country land anyway, so even if you're headed to the Galapagos or Cuenca, it's worth it to spend a couple nights here at least because meals and transportation are a bargain too and it's a great city for strolling.
There's not really a bad time to visit this high-altitude city on the equator, so just come when you want and you'll still probably find a lower price than you will in most cities in the region. Here are a few examples of hotel bargains outside of the three-month rainy season though:
Swissotel Quito – $81
Hotel Dann Carlton Quito – $143
JW Marriott Quito – $125
Check rates for your dates in Quito.
Sofia, Bulgaria
In some respects, Bulgaria is the best value in Europe at any budget level and Sofia just may be the cheapest capital city in Europe that you could visit while booking 5-star hotel rooms. It doesn't get the river cruise crowds of Budapest and Bratislava, nor the big crowds of visitors flying into Prague or Lisbon for a holiday weekend. If you're tired of cramped and basic European hotels when you're on the continent, this is a good place to pull out the credit card for a 5-star splurge at low rates.
Sofia Hotel Balkan, Luxury Collection – $149
Intercontinental Sofia – $119
Grand Hotel Millennium Sofia – $139
Note that you'll often find a great deal in the "Eastern Europe" countries that were part of the Soviet Iron Curtain. So you may find a great splurge for a good price for a night of luxury in Krakow, Bratislava, Budapest, or Bucharest, especially outside of the busy summer season.
Tirana, Albania
Few people could find Albania on a map, but it's a ferry ride away from Italy and has a similar climate plus some nice beaches. Americans can stay for a year on a tourist visa for the asking. So hang out a while after checking out these prices on the cost of living in Albania. The mellow capital city has plenty of hotel bargains across the board too, including at the high end.
Here are a few examples of Tirana hotel deals in the city center at the top of the scale:
Maritim Hotel Plaza Tirana – $146
Mak Albania Hotel – $109
Xheko Imperial Hotel – $111
Sarajevo, Bosnia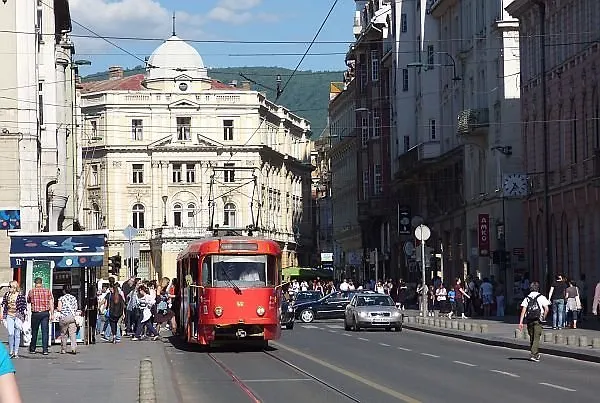 Sarajevo doesn't get nearly the crowds of the Croatian cities, but this former war-torn capital is now a pleasant place to explore for a few days before heading down to Mostar, to the mountains for adventure travel, or on to the country of Montenegro. After the previous strife, most of the hotels here are newly built and in good shape. With low real estate costs and labor costs, you'll get a lot for your money in this Balkan nation when it comes to five-star accommodations.
Here are rates at some of the best hotels in Sarajevo:
Swissotel Sarajevo – $129
Europe Hotel – $93
Malek Regency Hotel – $109
Find a 5-star hotel bargain in Sarajevo.
Where else can you find luxury hotel bargains?
Like I said, this is not meant to be a definitive list. It contains cities I'm familiar with and have stayed in, most of which appear in my book The World's Cheapest Destinations. The biggest omission on this list is a sad one: Istanbul. I lived there in my younger days and it's one of my favorite cities. It's now led by a dictator-for-life on par with Putin though. Under him, despite slim election victories, the government has veered far to the religious right and it's a skeleton of its old self when it comes to personal freedom and intellectual discourse. As a journalist, I'm scared to set foot in the place again until Erdogan is replaced or dies.
The resort city of Antalya was a great bargain in Turkey too, but there were devastating fires there in 2021 that destroyed a lot of property.
I've also left off bargain cities Riga, Vilnius, and Krakow, though I hope to visit all three someday, plus Moscow, which I don't.
I'm also not headed to Dubai anytime soon unless someone pays for my trip since it doesn't seem to have many inherent reasons to go there. Everything to see or do is man-made and most activities on offer can be done elsewhere at a better price. Hotels seem to be a deal though as long as you're not a shoestring traveler.
I've also left off some cities with toxic air that often show up on these hotel bargain lists, like Delhi in India and several big industrial cities in China. They're poster children for our climate crisis and don't need any more people adding to the carbon footprint, so skip them until they take drastic improvement measures. Head to Goa in India instead, which also has attractive high-end resort prices. Or to lesser-known cities there that have more domestic visitors than foreign ones.
Even if you're a budget traveler, a one-night stay at a fancy hotel with room service and minibar can do a lot to change your mood and recharge you for the next round of travel. When you look at the world's cheapest five-star hotel costs and then think about how long it will take you to earn that back when you're working, it doesn't seem so bad.
I didn't want to cram this post full of links to individual hotels, so just search the city on your favorite app or go straight to these and do a search.
Agoda (usually best for Asia), Booking.com (often best for Europe), Hotels.com, or Expedia. Or do a metasearch with HotelsCombined or Kayak.
Disclosure: This post contains some affiliate links, which means I get paid a small referral percentage if you follow one of them and buy something. It won't cost you any more than if you just do a web search and land on that URL, but it helps support this site so we can keep providing free content. Thanks for your support.
This post on the cheapest five-star hotels in the world was updated in June of 2023 by Tim Leffel, author of The World's Cheapest Destinations.