As I write this, every conversation among friends in the USA seems to touch on spiking housing prices, higher food prices, inflation, and supply chain problems. Some travelers who are back out on the road again aren't talking about any of this though. They're staying in budget hotel destinations and getting a room for two at $15 or less per night. Do that for a month and it's $450 tops, with no utilities to pay.
Back when I took off on my first round-the-world trip in the early 1990s, the two of us had a budget that averaged out to $15 a day. For two. That meant our lodging was often between $4 and $7 a night. In India and Nepal, we actually found places for a buck a night. The average went up or down depending on the country, but we managed to make it work over the long haul.
Here we are more than 25 years later and it's hard to find a $5 room anymore. It can still be done in some spots like India, but the new cheapie standard has risen with inflation, countries getting richer, and increased tourism. After all, something that cost you $5 in 1994 in the USA will now cost you $9.47 in 2022 dollars. When I visited Thailand back then, the country received around 6 million annual visitors. Before the pandemic hit it was closing in on 40 million. That kind of growth has a tendency to drive up prices.
There are still plenty of places around the world though where you can find a hostel bed or even a private room for cheap—as in $15 or less per night. Here are a few on different continents to give you an idea.
Asian Countries With Cheap Hotels for $15 or Less
India: a Top Budget Hotel Destination
India has plenty of luxury palaces to stay in, but it also still has the most cheapo places to stay in any country around. That's especially true if you get off the main tourist track where the short-term vacations are going. From Manali to the southern beaches, you can frequently find double rooms for less than $10 still.
In the popular backpacker beach area of Kovalum, there are usually at least 10 hotels listed on Booking.com for $15 a night or less double, including some that give you a view like this from your balcony:
Eternal Hotel Bargains in Nepal
Nepal just might be the cheapest country on the planet for budget travelers. Even if you pull up a booking site like Agoda, you're going to find crazy cheap prices on hotels. I found 12 double rooms with private bath in Pokhara for $15 or less in high season. Outside of that the availability and prices will drop both there and in Kathmandu. Then you can sometimes find a gorgeous place with a pool for $15 or less, especially if you look around locally. Many properties don't want to pay a 25% commission to a booking agency so they rely on word of mouth or local advertising to retain a margin they can live on.
Then when you go trekking in the mountains, it's not uncommon to pay two to four dollars a night per person, every night. Here's what ours in Ghandruk for that price looked like:
See my rundown here on travel prices in Nepal.
Vietnam Hotels for $15 or Less

The country of Vietnam offers some of the best values in the world on lodging at every level. I found 19 places on HotelsCombined for Ho Chi Minh City for $12 or less per night double, some of them including breakfast.
Plus here you'll often get things you've missed in other parts of Southeast Asia at the cheapies, like maid service and towels. Search prices here.
If you click either of those links and search, you'll find rooms like this one below that you can book right now for under 10 bucks: this one was $7 per night double with a private bathroom and daily cleaning. These days you don't even get that at a Hilton in the USA.
Cambodia Cheap Hotels
One of the cheapest places to live in the world is also one of the cheapest travel destinations. As with Vietnam, the cheap places in Cambodia are pretty nice, while if you splurge an extra $5 you can end up with a terrific deal. In a country where a 5-star hotel can be under $100 at times, you can find a 2-star place for under $10 or get a dorm bed at the "Siem Reap Chilled Backpacker" hostel with a pool for $3 a night. (Snag a $10 private room there and they'll pick you up at the airport for free.)
I said its hard to find a $5 double anywhere in the world these days, but Cambodia actually has hostels listed as low as $2 a night for a dorm bed and some of them have a swimming pool! Speaking of pools, how much would you expect to pay for this place below? Well if you don't mind sleeping with a fan instead of A/C, the Tropical Breeze Guesthouse is $8 a night for two on Agoda.
Despite being a tourist magnet, the area around Angkor Wat actually offers some of the best values just because of the heavy competition. You'll pay a bit more in the capital city, but you probably won't want to hang out there a long time anyway. Search Siem Reap hotel prices here.
Indonesia Hotel Bargains
When tourism returns in force to Bali again, it will be tough to find a bargain at the low end. There are too many vacationers and digital nomads moving back to Bali for prices to stay depressed. There are a lot of other islands in Indonesia without so many tourists, however, even in the best of times. Go to those places and it's like stepping back in time when it comes to hotel bargains.
You could travel from Sulawesi to Java to Sumatra without paying more than $15 per night for two. If you search on Agoda for Bukkatingi in Sumatra, for example, you'll usually find a dozen or more hotels and homestays that are $10 or less for a private room.
Yogyakarta, near two great wonders of the world, is even cheaper. You can still find $50 doubles there and if you bump your budget up to $6 or $8 you'll end up in a nice local chain hotel room from Oyo or Red Doorz.
Budget Hotels Under $15 in the Americas
Guatemala Cheap Hotels

If you look up prices in Guatemala on the internet, it might not seem that cheap. In a place like Lake Atitlan, however, half the guesthouses seem to still not have internet access, so they're not listed online at all. When I showed up and started looking around in San Pedro, I got a spacious room with hot showers and fast WiFi for $12 a night. This was the view:
This is one of those countries where you're going to have to do some hoofing around in person to find the great deals. It seems that when the hotels are listed on the booking sites, they're padding their rates to make up for the hefty commission they have to pay. It's going to cost you more in popular Antigua no matter what, but there are plenty of other spots in Guatemala with sub-$15 rooms.
Nicaragua for $15 or Less per Night

Last time I was on Ometepe Island in Nicaragua, I just rolled off the ferry and started looking around for a room. I found a single with air conditioning and hot shower for $7. Not the Ritz-Carlton, but I slept well here: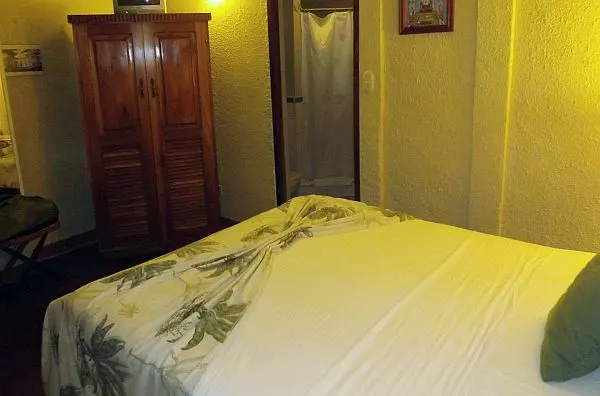 As with Guatemala though, two years without tourism has really mucked up the works for what you see online. There are only a few spots where you'll see sub-$15 double rooms listed. You're much better off looking around in person in this troubled land than to try to set everything up in advance.
You don't want to book too far ahead in Nicaragua anyway these days: you never know when things are going to slide downhill under the current dictatorship and turn into another Venezuela. We've seen this movie before…
Ecuador Cheap Hotels
In many cities in Ecuador outside the capital, there's only one hotel going for more than $100, so often the best values are in the middle rather than at the bottom. I just pulled up Quito on Kayak though and found a dozen cheap hotels with a private room for $15 or less a night.
You may only find a few in other locations, so if you're sticking around a while an apartment rental can be a better deal, especially in the beach towns on the coast. Or just book a place for a night and then check some hotels nearby on foot later. The math will be easy: they use the U.S. dollar in Ecuador.
Bargains in Bolivia
The cheapest country in South America hits you up for a reciprocal visa fee when you enter ($160 for Americans), but after that it's a bargain. I enjoyed my time in Sucre best and if you head there you can stay in Casa Treveris pictured at the top of this post for $12 a night in a double with a private bath—-or $9 in a triple with a shared bath.
You may only find two or three places online under $15 for other cities in Bolivia but again, feet on the ground will get you a better rate than the sites where the owner has to pay a fat commission for your booking.
Mexico Hotel Bargains
There are actually some spots in the interior of Mexico where you can find a hotel for less than $15 or less per night. I paid $19 for one recently in Leon because of an early bus out and passed on several that were under 15 bucks. If you search Guadalara, you might see a dozen or more at that price, quite decent places with A/C and a private bathroom.
It's tough to find deals like that at the beaches though, so be prepared to pony up more for those places unless you're booking a week or more.
A Hotel Room in Europe for $15 a Night?!
Most people would have trouble believing that you can stay anywhere in Europe for $15 double for a private room. That's because you can easily pay twice that or more for just a dorm room in a hostel in the greatest hits of travel like London, Amsterdam, or Paris. It's a different story in The World's Cheapest Destinations, however, so here are some examples.
Bargain Hotels in The Balkans
I found plenty of bargains when I visited the Balkans and I was so psyched about the prices that I'll probably spend a few months there next year. This year I rented an apartment in Bulgaria for 260 euros for a whole month in Bansko, which gives you an idea of your buying power.
If you surf around the Bulgaria listings on Booking.com, there are only a few hotels in the cities going for under $20 a night these days, but in the villages you can still find some sub-$15 ones. Apartment rentals for a week or more will easily average out to less than that at the low end. In the summer months, you can do multi-day hiking trips and stay in mountain huts. Just be advised the conditions vary greatly and you might need to bring supplies with you. Get more info at this hiking site.
In Bosnia, there are some dorm beds as low as $7 a night and decent double rooms for $15 or less. I paid $18 a night in Mostar when I was there, but then snagged a nice room with a balcony and a kitchen for $14 a night in Ulcinj, Montenegro. It had the view below from my balcony. (See more on travel prices in Montenegro here.) As with some other countries on this list, you may have better luck looking around after arrival than just searching online, especially in rural areas.
Albania may be the best deal overall, with plenty of hotels even in the capital for $20 or less double, a few $15 or less. You could travel almost anywhere in the country and find sub-$20 bargains, especially in the smaller towns and villages.
Other Hotel Bargains in Europe
You can occasionally find double private rooms for $15 a night or less in Romania, especially if the dollar is strong, but under $20 is easier. Again, apartments can average out to less than that per night in some areas.
Otherwise, I believe it's going to take a while for prices to settle in to where they're supposed to be because in some countries they're artificially high right now in hopes that new visitors can make up for two years of not having any. I've seen some hotel prices in Hungary, the Czech Republic, and Slovakia listed at double what they were going for in early 2020 before they had to shut down.
The best bet for bargains right now, besides the ones mentioned already, seems to be the country of Georgia. It's considered Europe by many despite its location east of Asian Turkey. When I pulled up Kayak and put in Tbilisi, I found 18 hotels offering double private rooms for $15 or less, some of them under $10 even.
Hotels Under $15 in Northern Africa
It's been a long time since Egypt hosted the number of travelers it has the capacity to host, so hotel prices there are an eternal bargain. If you pull up any city in Egypt on a booking site and sort lowest to highest, you'll usually find 20+ places that are $15 or less, sometimes much less. This is a good place to splurge though since $20 will get you a room with a view in a hotel with a big resort pool.
It's easy to find a hostel bed or homestay for $15 or less in Morocco and in most locations you can score a double room for that as well if you look hard enough. Two can stay at Riad Meski in Fez pictured below…for $12!
How to Stay for Free When You Travel (Sort of)
There are ways to stay somewhere for even less when you embark on a long-term travel journey. You can carry a tent and camp. You can travel by dirtbag van. There are also ways to stay in a real house or apartment for free, however, that don't require anything more than your backpack.
The old-school way of crashing with random strangers still works, for those who don't mind being assertive and living with uncertainty. But to me this often comes off as a little sleazy, especially if you're a privileged Brit, American, or Canadian crashing with a family that is scraping by on $400 a month. Are you really doing this for a cultural exchange or are you doing it because you didn't save enough money? (Or aren't willing to work to pay for your travels?)
Although you don't hear much about it anymore, Couchsurfing is still a thing. The organization is a shell of what it once was when it was an organization instead of a corporation, but there are still 400,000 hosts around the world and the website still gets a huge amount of traffic. There's a free tier, but they try to get you to pay a verification fee so you can send unlimited requests and get a little checkmark by your name. They have meet-up events and single travelers especially like it because they get a locals' insight into the city and meet new people.
There are a few other homestay operations around, including the original cultural exchange one Servas, but none has near as many members as Couchsurfing.
I know a whole lot of digital nomads who stay in one place for a week or months as a housesitter. This works especially well if your schedule is flexible and you like taking care of pets. It's going to cost you $119 to join, but then you could be staying in a beach house or chateaux that would normally be well beyond your means. See TrustedHousesitters for info and membership fees.
If you own a home or it's okay with your landlord to share, you can join a home exchange program and trade places to stay. I've done that a lot the last few years and had some great experiences. I just spent a week in the San Juan Islands with free accommodation.
As I've mentioned many times before, having the right credit card can also score you many nights of free hotel stays, the kind of hotels where you'll surely have a hot shower, a good mattress, and air-conditioning.
Otherwise, if you do have to pay, I hope you find this list of where to stay for $15 or less around the world to be useful for your travels. Head to the best budget hotel destinations and you'll travel the world for less than you're spending now just existing at home.