How Much Does It Really Cost to Live in Bulgaria?
I've talked before on this blog about how Bulgaria is one of the cheapest places in the world to travel. It's also one of the cheapest places to live, a real bargain by European standards. It has a starring role in two of my books. But don't just take my word for it. Here's the scoop from Maria Stoynova, a blogger who actually hails from there. Take it away Maria!
Bulgaria is the small Eastern European country you've probably never heard of. This is a country with high mountains; great sea resorts, and cute, cozy little towns you will crave to visit once you see them in pictures. This little known Balkan gem has a lot to offer its visitors. There are two main reasons to re-shuffle your travel plans for 2015 and put Bulgaria on the list. #1. It's unbelievably beautiful and charming and #2. It's ridiculously affordable. The first one is obvious through the pictures you may have seen. It's the second that I want to tell you more about.
Accommodation
The minimum wage in Bulgaria is around 170 Euros but the actual average wage is around 400 Euros a month. Bearing that in mind it is obvious that the accommodation costs should not exceed that amount. For a decent one-bedroom apartment in Sofia's city center you can pay as much as 220 Euros a month. Outside of the center the rent decreases by around 50€ and if you venture further out the accommodation is even cheaper. The average monthly utilities would not exceed 50 Euros which includes electric, heating and water.
Transportation
In the big cities there are plenty of transportation options to choose from. One-way tickets usually cost around 1 lev which is around 0.50€. In Sofia, the capital, you can find a metro system which has 2 lines and is again 1 lev. If you're staying for a while a monthly pass costs around 25€ and you can use it on all means of the transportation system.
Taxis in Bulgaria are also fairly affordable, for a good 15-minute drive they will charge you no more than 5-7 Euros but usually it's around 3-4 Euros.
If you're staying a little longer in Bulgaria and plan on buying a vehicle you can find a decent used car for as little as 1500 Euros. The cost of running a car is also fairly cheap by European standards, with one liter of gasoline coming in at around 1,20€.
Eating Out
If you're coming to Bulgaria make sure you pack some bigger jeans because for really reasonable prices you'll get a lot of food. Eating out is very affordable. Bulgarians love having "banichka" and "boza" for breakfast, which costs no more than 1 euro for both. Restaurants, taverns and pubs are not only a local's favorite place for socializing but are also very easy on the pocket. A nice three course meal in an inexpensive restaurant will cost you around 10 euros and with a large beer in Bulgaria costing only 1-2€ you can be wined and dined for very little money.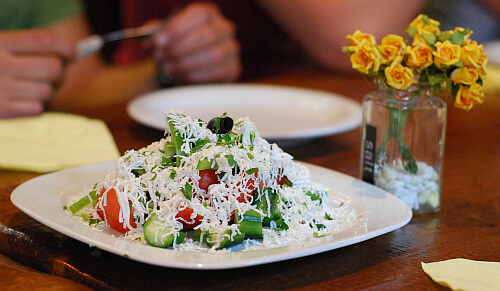 And let's not forget the famous "shopska" salad, which recently topped European Parliament's campaign "A Taste of Europe" (getting around 20,000 Facebook likes). This will cost you around 2€.
Social Life
Bulgarians love to have long coffee breaks with friends that can sometimes last more than 2 hours. It's great to catch up and take our time indulging in doing things like going to the cinema which only costs around 3 to 5 euros. If you're feeling like doing something a little fancier a ticket to the theater can be found for 5 to 10 euros.
There are a lot of night clubs in Bulgaria simply because Bulgarians know how to party. The clubs are full every night and on Fridays and Saturdays it's almost impossible to find a seat. If you want to experience the Bulgarian nightlife you should budget around 10-20 euros.
This is a guest post by Maria, a travel blogger from Bulgaria, who also shot the photos. She blogs at Travelling Buzz where she shares her stories, tips and tricks on budget travels and destinations such as her home country Bulgaria. Find her on Facebook and Twitter.