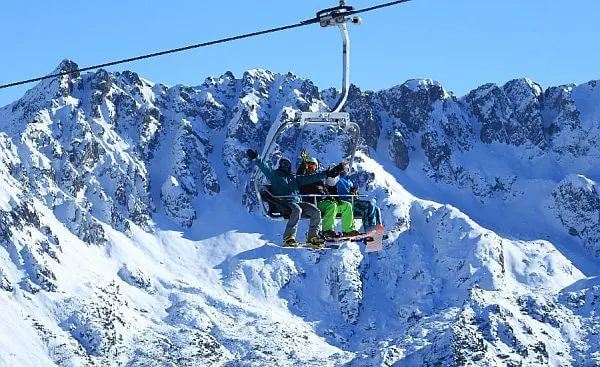 In case you haven't noticed, it's getting really expensive to ski in the USA. There are still bargain regional mountains out there, and we'll get to those, but if you're planning a big skiing vacation this season you may want to consider a longer flight. It's cheaper to ski in Europe for a week than it is to stay in America–even counting the flight difference.
When I went skiing a lot in Vermont in the early 90s while working in New York City, I met a lot of visitors from the UK and Ireland who were on vacation in the USA. Back then it was cheaper for them to fly to the USA for a week of fun at Killington or Sugarbush than it was for them to do the same trip in the Alps.
Now the situation is reversed. It's cheaper for us to go the other direction—and eat better food—than it is for us to fly to Colorado or Utah for a ski trip. That's because lift ticket prices in the states have gone through the roof.
It's hard to compare apples to apples just by ski lift tickets since there are a lot of variables even in that price. There's the weekday price vs. the weekend price, the discount for multiple days, and the package deals. Then it can get complicated fast when you start comparing rentals, lodging, food, and airfare. So for the moment, let's just look at weekday one-day lift ticket prices since that's public information easily available online.
The Most Expensive Ski Resorts in the USA
Starting at the top, your eyes might bug out when you see the single day lift ticket prices in America this year. Keep in mind it's even worse on the weekends, when you also deal with longer lift lines. Granted these are some of the biggest, but here are the ski mountains that will hurt your wallet the most in peak season (2020 weekend ticket window prices):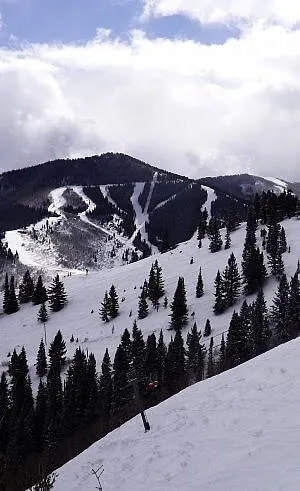 Alta UT – $119
Aspen / Snowmass CO – $179
Beaver Creek CO – $219
Breckenridge CO – $199
Copper Mountain CO – $188
Deer Valley UT – $199
Killington, VT – $130
Mammoth Mountain CA – $189
Mt. Rose – Ski Tahoe CA – $145
Mt. Snow VT – $118
Park City UT – $189
Snowbasin UT – $125
Steamboat Springs CO – $215
Squaw Valley CA – $169
Stowe VT – $139
Sugarbush VT – $129
Sugar Bowl CA – $125
Sun Valley ID – $145
Taos Ski Valley NM – $110
Telluride CO – $149
Vail CO – $219
Winter Park CO – $189
Use this as a guideline but note that the most corporate ski operations are taking lessons from the airlines and hotels by using dynamic pricing. Skiing at Stratton in Vermont may cost you $65 weekday one week or it may cost you $125 a week later on a Saturday. Pull up the resort site to check if they're doing this. OnTheSnow has a lot of information, but it gets out of date fast and they often only show the weekday lift ticket rate if they show a rate at all. You'll have to go to the official websites to check for your planned dates.
Naturally if you're flying somewhere on vacation you're going to hit the slopes for more than one day, so see what kinds of deals are out there on multi-day lift tickets, deals bundles with airfare, or deals bundled with lodging, lessons, or equipment. Using those single day prices as a starting point though, it's clear that you're going to have to lay out a lot of cash at any of these big elite resorts.
The Most Expensive Ski Resorts in Europe
Now before we move on to where the bargains are—and they exist on both continents—let's compare how pricey the high-end places to go skiing are in Europe. Since Europeans get (and gladly take) much longer vacations, travelers there tend to stay somewhere for a week or more. As a result there are clear delineations in who the different operations serve.
Some ski towns are for families, some for partying crowds, some for wealthy upper-crust types who don't want to mix with the riff-raff. (Just look at the Davos gathering each year.) Even the high-end places are a bargain though compared to the U.S. equivalents of Vail, Beaver Creek, and Jackson Hole. Austria's largest connected ski area is a fraction of the cost of the ones in Colorado or Utah. So are the largest ski areas in the world in France. Prices have been converted to dollars from euros or Swiss Francs at the official rate and were updated in 2020.
Arabba Marmolada, Italy – $62
Arosa Lenzerheide, Switzerland – $88
Bad Gastein various, Austria – $61
Chamonix Mont-Blanc, France – $62
Courchevel, France – $64
Davos Klosters – $77
Engelberg, Switzerland – $69
Gstaad, Switzerland – $66
Lech Zürs am Arlberg, Austria – $64
Plan de Corones / Kronplatz, Italy – $65
Saas Fee, Switzerland – $80
Silvretta Montafon, Austria – $61
St. Anton am Arlberg, Austria – $63
St. Moritz, Switzerland – $80
Tignes, France – $68
Val d'Isère, France – $68
Verbier, Switzerland – $80
Zermatt, Switzerland – $83
It's really staggering, isn't it? Did you expect that skiing in the Alps of Europe, at the places with the best facilities, would cost half or less what it does in the USA? And it can be lower still. Stay at one of these participating hotels in St. Moritz, for example, and your lift ticket is just 48 bucks.
I could not find a single day lift ticket priced higher than $88 to ski on a weekend in Europe, which wouldn't get you anywhere close to the "most expensive" list in the USA. Check out these tips on affordable Switzerland—not an oxymoron after all—and you start seeing that the Swiss Alps are looking better all the time. Bring on the fondue!
Granted I left off the resorts of Sweden and Norway, but for a valid reason: most people that go skiing in Sweden or Norway are locals, not international visitors.
A Quick Ski Towns Lodging Comparison
Ski passes alone are only one slice of the vacation expense pie of course. I just focused on those since the differences are so dramatic. The next assumption is going to be that lodging is more expensive in Europe. It turns out that's wrong too.
Again we're dealing with a lot of variables here: condos, chalets, house shares, and dorms to name a few. I'm going to compare hotels though since they're more standardized in what they offer. So here are a few comparisons for February high season from HotelsCombined to give a general idea.
5-star hotel in Vail: $729 – $1,129
5-star hotel in St. Moritz: $530
4-star hotel in Telluride: $288 – $732
4-star hotel in Zermatt: $230 – $632
3-star hotel in Park City: $213 – $448
3-star hotel in Arabba Marmolada: $93 – $179
Bed and breakfast in Killington: $100 – $185
Bed and breakfast in Courchevel: $64 – $104
So not as dramatic, but still an edge to the Europeans. The same held true for Airbnb prices: it was actually cheaper in Europe in all comparisons I did. Housing stock is at a premium in U.S. ski towns and some have passed laws restricting short-term rentals as a result. Try Vrbo too if you're looking to rent from an owner.
In practice, most vacationers are going to get some kind of package deal and this is especially true in Europe. It's not that hard to find a deal with a week of skiing, rentals, lodging, and breakfast for under $1,000 per person double. For a few hundred more you can get full board. That's getting increasingly tough to find in the USA.
Go to the cheapest places to ski in Europe and the rates are something even a working-class stiff can afford. For the Bulgarian resort of Bansko, a recent Post Office report from the UK estimated that a week's ski pass, equipment rental, lessons and lunch would cost about £405 per person—less than $500. Winter flight prices to Europe are usually dramatically lower than summer. Check them at Skyscanner.
Cheap Ski Resort Comparisons USA and Europe
There are plenty of places to ski in the United States that won't require a home equity loan to pay for it. I learned at a small place in Virginia called Massanutten, one we commonly called "Massanuthin'." When we could snag a car and spend a little more we would go to Wintergreen (now $64 weekdays), but when we really wanted to step up we drove to Snowshoe or Canaan Valley in West Virginia. One-day lift tickets at Snowshoe are $59-$119 now.
I'm leaving out the little hills where you take a rope tow to the top, but here are some more down-to-Earth one-day ticket prices for the less sprawling options in America.
Alyeska, AK – $62-89
Bear Creek PA – $55
Bogus Basin ID – $67
Bridger Bowl MT – $64
Brundage Mountain, ID – $73
Camden Snow Bowl, ME – $33-$41
Camp Fortune, ONT – $36
Howelsen Hill Ski Area, CO – $30
Hunter Mountain NY – $79
Magic Mountain ID – $32
Maverick Mountain, MT – $39
Montana Snowbowl MT – $50
Shawnee Mountain PA – $55
Silverton Mountain CO – $79
Smuggler's Notch, VT – $79
Suicide Six VT – $45-$65
Tamarack, ID – $75
When you average out the rates at these mid-tier ski mountains, you'll see it's pretty close to the very best ski mountains in the Alps of Europe. You can pay less than that in nearby mountain ranges, at resorts similar to the ones above for lifts and trails.
So what does it cost at the cheaper ski resorts of Europe, the ones located in Slovenia, Slovakia, Bulgaria, Romania, and the Czech Republic? Much, much less, plus you can be sure your lodging will be cheaper too. These are not tiny hills with three runs though, as you can see from that Jasna trail map above. If you just look at stats for lifts, terrain, pistes or trails, these have some of the cheapest lift tickets in the world. Here's where you can ski in Europe for a fraction of what it costs in the USA at a comparable sized resort. (Weekend rates, updated in 2020.)
Bansko, Bulgaria – $40
Benecko, Czech Republic – $22
Borovets, Bulgaria – $39
Harrachov, Czech Republic – $30
Jasna Low Tatras, Slovakia – $47
Park Snow Donovaly, Slovakia – $35
Poiana Brasov, Romania – $34
Tatranska Lomnika, Slovakia – $46
Vogel Bohinj Center, Slovenia – $37
Those are some of the cheapest places to ski in Europe. Note that you can also find smaller resorts though in Germany, France, and Italy that are under $45 per day. Here's the trail map for Tarvisio in Italy, which is 31.5 euros, or $42 currently.
No matter how you look at it, a ski holiday trip in Europe is going to cost you a lot less on the ground than it will in the USA. Plus you can eat French food in France, Italian food in Italy, or drink Czech beer for cheap in the land of pilsner. Wouldn't that make for a lot more interesting ski vacation?