I have been to Bansko several times now, on a hiking trip, a ski trip, and twice hanging out for weeks around the Bansko Nomad Fest. But I had never come or gone by train. A while back someone mentioned this narrow-gauge train that goes through the forested mountains and then someone else brought it up as "one of the most beautiful train trips they have been on in Europe." When our plans were going to take us from Bansko to Plovdiv, I knew I had to get on that train.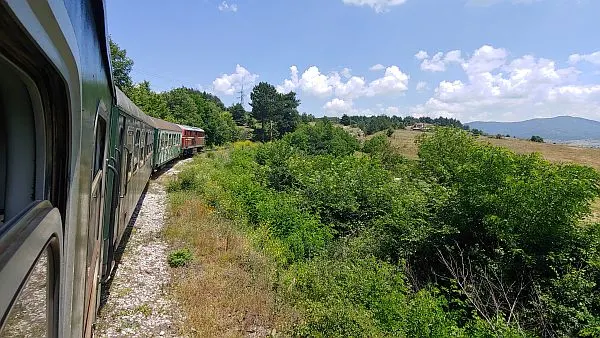 Trains in Europe are a real pleasure overall and in some cases they can get you there faster than a plane. I took some crazy fast express trains in Andalucia, Spain and marveled at how much nicer it was than to travel by air these days. Even the stations were really nice, with cafes serving great coffee and food items you actually want to eat. I just took some lovely train rides this year in Switzerland, through the Czech spa towns, and between Pilsen and Munich.
When you get to the Balkans, however, you're lucky to find a train available at all and when you do find one, it's definitely not going to be the fastest way to get around. Many of the trains and tracks in Bulgaria date back to Soviet times or earlier and people just weren't in much of a hurry back then.
This train ride between Bansko and Plovdiv takes six hours no matter which direction you take it. That's twice as long as it's going to take by bus and driving is only about 2.5 hours. It's not about the speed though; it's about the experience. You know, "the journey is half the fun" kind of thing, travel that's an adventure, not just a way to get to the next place.
If you'd rather watch than read, here's a six-hour train journey from Bansko to Plovdiv condensed to seven minutes in video form:
The Route From Bansko to Plovdiv
The train we took goes between Bansko, a ski village and growing digital nomad hotspot, over to Plovdiv. The city of Plovdiv is the second-largest in Bulgaria, but it's not huge, with a population under 700,000 for the whole metro area. Half that many in the city itself. It is also attracting a few foreign remote workers these days and it's got a fun historic center with happening restaurants, wine bars, and Roman ruins sticking out all over the place.
We were going there to visit with our friends who run Goats on the Road and other sites. They live outside of town but right next to one of the best wineries in Bulgaria. (See this Bulgarian wine tasting article I wrote for more on that.)
So it was me, my wife, and Nathan from Foodie Flashpacker making the journey. My wife and Nathan weren't nearly as psyched about the trip as I was and threatened to take the bus instead. But then they found out that they'd have to get up at the crack of dawn to make the bus and decided they'd rather sleep in and take the more pleasant route with me. In the end, they were glad they did.
That's Nathan with our friendly conductor, who used to work in tech and spoke some English. As you can see, the seats were comfortable, we had plenty of legroom, and there was a shelf to put bags up above. Each car had a toilet that stayed relatively clean. This is a "narrow gauge train" though, which isn't very common, so it only has three seats across instead of four. It's the only one of this type left in Bulgaria, so plan on duplicating this journey if you're a real train enthusiast.
This train ride goes through villages outside of Bansko, like the hot springs town of Banya, then makes its way past small stations and villages in the valley with names like Kraishte and Dagonovo. Each station's sign has the name in the Cyrillic alphabet and one that we can read too. Some of the stations were busy, at others the building was falling apart and the only sign of life was a stray dog.
Eventually after lots of pretty scenes of fields and mountains, the train gets into the mountains and starts climbing and going through tunnels. The air gets cooler and the train barrels through forests, skirting the edge of Rila National Park.
It hits a flat area for a while again after Velingrad. Some people stop in Velingrad because it's a spa town. That's where we saw the only other foreigners getting on. They had spent the night at one of the spa hotels there.
Then the train tracks go up into the mountains again, with more tunnels and forests. The scenery along this whole route is mostly timeless, but with a few scenes pegged in time: abandoned factories from the communist times but also fields of solar panels showing that Bulgaria is distancing itself from the need for Russian oil.
The most dramatic area is when it passes the Milevi Rocks formations and goes through a mountain pass. When it returns to a flat valley after that, the narrow gauge train arrives at Septemvri and that's the end of that section. You have to get off and transfer to another train for the last hour to Plovdiv. That's a faster, wider train that's more modern. The scenery is mostly fields, including one huge swatch of sunflowers that seemed to go on forever.
For this second train leg, we had a lot of trouble finding our seats because the numbers didn't seem to be in any kind of order and the grumpy conductor lady preferred scolding us in Bulgarian rather than helping us to match our ticket numbers to the car we were supposed to be in, much less the seats. We just kept walking through the train cars dragging our luggage until we found the corresponding numbers eventually (we think). The seats turned out to be in a compartment with a door, the kind you sleep in at night.
We got to the Plovdiv train station in the city center and our apartment we rented through Booking.com was only a 10-minute walk away. Then another ten minutes past the apartment building was a huge park and after that the center. We were paying the equivalent of $50 per night and had a sweet apartment in an elevator building that had a washing machine, a modern kitchen, crisp air conditioning, and fast Wi-fi I used from a real desk.
We really liked Plovdiv and although there's plenty to do in Sofia, Plovdiv is a lot easier to navigate on foot and one restaurant we ate at there has been tagged by some as the best in Bulgaria. I'd definitely go back as we didn't do all that much sightseeing, mostly just wandering around Old Town with our friends who had moved there and checking out the Roman ruins—including one set in the basement of an H&M store.
Details on the Bulgarian Narrow Gauge Train Route
There may be a way to buy your train ticket from Bansko to Plovdiv online, but I couldn't find a way to do it and am not sure I would have trusted it anyway. I went to the train station and with some help from Google Translate, got it sorted out a couple of days before. We could have bought them the day of though really: the train cars weren't even half full.
The cost of the tickets was 10 lev for that whole journey, which is 5 euros or about $5.60 US. I've gotten some bargain train tickets in my time, but few that have been a buck per hour of travel. Definitely a great value!
There's heat on this train in the winter, but just open windows in the summer. We were riding in early July though and it wasn't bad at all, partly because we were in cool areas. One station, Avramovo, is the highest train station in the Balkans: 1,267 meters above sea level.
We heard there was a cafe carriage, but there wasn't on our journey. Surprisingly, nobody was coming through selling anything on the train or at the stations either, not even drinks or snacks. So if you do this trip, bring along plenty of water and something to eat in case. We had lots of both so it was fine. The train doesn't stop long enough at any of the stations to get out and go look for food.
Surprisingly, we did have a cell signal for what I'd guess was about two-thirds of the time, but you might want to get all your work and communicating done before as it's seldom a strong signal. Bring a book.
If you're coming from Plovdiv, you could ride this train all the way to the end of the line, which is the town of Dobrinishte. That's only a few miles past Bansko though, so most people just get off in the town of Bansko since there's good infrastructure there for visitors in any season, but especially in winter.
Search Bansko hotel prices here
There are supposedly 26 stops along the narrow gauge section, which is sometimes called the Rhodope Narrow Gauge Railway (because it hits the Rhodope Mountains) and other times the Septemvri Dobrinishte Railway for the two end points. Part of the route dates back to 1926, but the rest of it was completed between 1937 and 1945.
If you're not rushing through Bulgaria, I would highly recommend this trip from Bansko to Plovdiv on the country's only narrow-gauge train.