It's decided. After years of lockdowns and closed borders, all the bargain destinations are open to you again. So you're ready to get out there for that round the world trip you've been dreaming of, and soon.
But having made the first hard decision, maybe even setting a departure date, a new set of doubts and misgivings start to set in. Can you afford it? How can you make long-term or RTW travel work on your budget?
Round-the-world travel takes some planning, and you may have to wrangle some of your more unrealistic expectations into submission. But it can cost less to circle the globe than it costs you to just exist at home. Travel can be quite affordable if you stay on the road and do it right. , and depending on where you've been residing, cheaper than staying home. Here's how to do a trip around the world right.
1) Slow Down Your Travel Pace
Take a breath and relax when putting the framework together for your long-term travel itinerary. And remember, unless a doctor has given you one year to live, there will be other trips in your future. You don't have to cross every place off your dream list in a single journey!
Rushing from one world wonder to the next is really expensive, not to mention exhausting. Travel is hard work; you're much better off picking a few priorities and pacing yourself. Speed is stressful, and stress is part of what a major trip is trying to escape.
Besides, the longer you stay, the cheaper a place usually becomes. Short stays usually mean being limited to vacation or tourist digs booked way too far ahead of time. You can't take advantage of the built-in apartment discounts that come with a booking of a week or more. You're handing over a big chunk of your savings to transportation companies.
Embrace slow travel and take as much time as you can at each destination to really cut your costs and make the most of each stop.
Spending more than just a few days in each location allows you to settle in, get a feel for a place and seek out off-the-beaten-path attractions and authentic local haunts which often have the added advantage of being great values. You have the time to find the best coffee shop, the coolest bar, and the best 5-table restaurant–and return to each one again.
Slowing down also means you'll probably actually remember a place, not just check it off an arbitrary list. Ask anyone who has rushed around Italy, trying to fit in Milan, Venice, Florence, and Rome. They only see the surface of a place. Plant yourself in one spot for a while instead and you're much more likely to make meaningful connections with the locals and the place.
2) Travel Overland When Possible
Zig-zagging across a country in planes has one big perk: the speed. Occasionally it can be cheaper too, but often not when you factor in all the extra fees for baggage and transportation to/from airports. While some legs of your trip might mandate a flight (like when you cross the Atlantic or Pacific), traveling overland offers major benefits and is a big part of slowing down for most experienced travelers. You'll see a lot more of Rajasthan if you traverse it by train than if you just fly through in a hurry.
Taking a train, bus, car, or bike will almost always save you money and give you a chance to get a much deeper understanding of local culture and geography. What makes the difference? Stopping in the in-between places (not just big cities and UNSECO World Heritage Sites) and meeting and making connections with locals who aren't burnt out on tourists.
Some of the most enlightening conversations I've had with local residents over the years have been with other passengers on the train. Nothing gave me insight into the class system and local customs like riding the different kinds of trains through India, at times on a 3rd-class one through the countryside because that was all that would get us to where we wanted to go. From a plane you're seeing the topography. From a train or bus you're seeing life at ground level.
The good news is, many of the world's cheapest destinations are clustered together so not only can you travel within countries overland, you can often travel between them that way too.
3) Work on the Road So You Don't Run Out of Money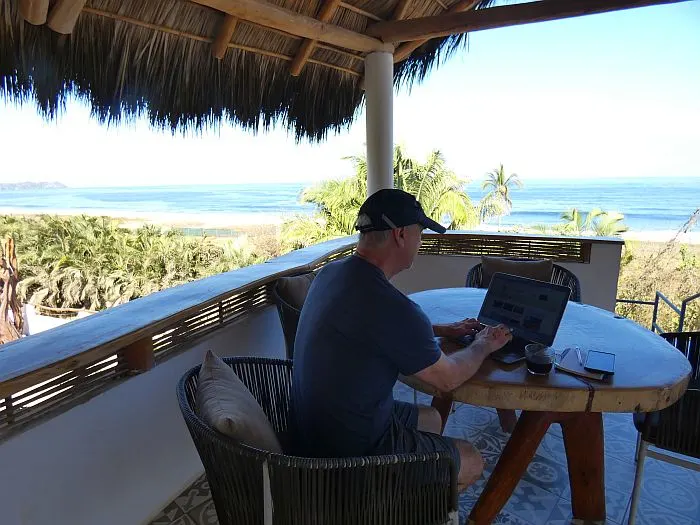 A lot of people's dreams about around the world travel center around seeing new places while escaping the 9 to 5 grind. They're worn out with the schedule, the environment, their coworkers, the commute, and sometimes even the work itself. The one great development that came out of this recent pandemic is that you no longer have a few fringe freelancing or blogging options to choose from now for working remotely. It's now fully accepted by many companies to work full- or part-time from anywhere with an internet connection.
For those with jobs and skills that don't lend themselves to that kind of flexibility or who simply can't bear the thought of logging in regularly to meet project expectations, there are other gigs you can pick up physically along the way. Working the front desk at a hostel in exchange for room and board, teaching English as a second language, or being some other kind of instructor (scuba, yoga, fitness) are all tried-and-true ways to earn some extra cash to extend the travel time.
Many travelers choose to start their own business on the side while they're working a regular job, then by the time they take off on a trip around the world the business is generating enough cash to support them. After all, you could travel the world fairly easily for $1,000 to $2,000 per month if you pick the right countries. See my latest edition of The World's Cheapest Destinations for ideas.
4) Save Money on RTW Flights
This is a biggie. Hands down, your round-the-world air tickets are likely to be the biggest chunk of change you drop in one place for your trip unless you decide to wing it and buy as you go.
So how can you get cheaper flights when you circle the globe? If you can, book your tickets well in advance and be flexible, especially on your dates. Avoid peak season travel if you can. If you're getting some kind of round-the-world trip ticket, then fly in one direction (no back-tracking), cross the equator less, be willing to connect (flying direct is usually pricey), and fill in short trips later on the spot.
The more of your flight segments you can switch out with overland travel, the happier your budget will be. One trick to doing this successfully is the idea of choosing cheap travel clusters wherein you spend substantial time exploring adjacent areas, using mostly overland travel, and maybe some short flights. Another way to figure out the cheapest possible route is using online trip-planning tools like Indie to explore different dates, and routes by adding and subtracting flights and overland segments on your itinerary.
5) Choose Your Travel Destinations Carefully
The places you land in will make the biggest difference in your day-to-day RTW travel budget. A place to sleep or something to eat in destinations like Australia, Japan, New Zealand, and Iceland will cost you multiple times over what they would in Southeast Asia and South America. The U.S. and Western Europe are a bit more budget-friendly, but can't compete with the cheap food and accommodations in Eastern Europe and Central America.
This does not mean you should avoid more expensive destinations altogether, but consider how many expensive locales you can afford to include, and how to offset them with stays in cheaper destinations. Perhaps spend a month in Bulgaria or Albania, but only a week in Italy or France. Because a week in the latter can literally cost you as much as a month in the former.
Remember, there will be other trips, so you don't have to do it all in one go!