I know that moving to Albania doesn't top future expats' lists very often. After visiting there for the second time recently, I'm surprised that it is still so far off the digital nomad radar. I don't think that's going to last much longer because the cost of living in Albania is lower than almost anywhere else in Europe. I would live here myself for sure, well for at least part of the year. It's especially great if you can spend time here between May and November.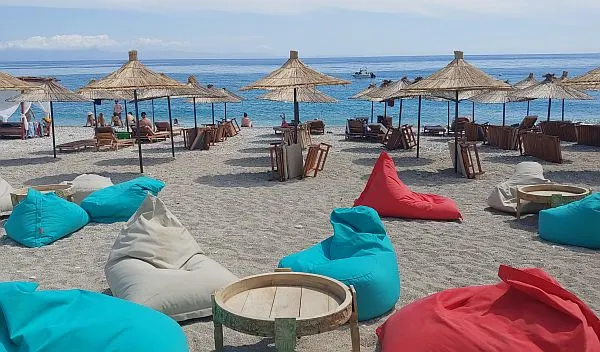 Most people probably can't find Albania on a map, but this formerly reclusive communist country is in an enviable spot on the globe. It's on the Adriatic Sea, north of Greece and south of Croatia. If you had a reasonably seaworthy sailboat you could easily get to the boot of Italy from the coast of Albania. (Or you can just hop on a ferry instead.) So there's a southern European climate, lots of great beaches, and—here's the important part—costs that are half or less what they would be in Italy, considerably less than we spent in Greece all around.
There are loads of beaches, plus mountains to hike, big lakes to explore, and even a few UNESCO World Heritage historic towns and ruins. We went to one of them on this trip and it was amazing. Here's a shot of Gjirokaster.
There are some strange juxtapositions of culture, architecture, and food here. Albania was occupied by various countries over the years, including the Greeks, the Romans, the Venetians, a few centuries under the Ottomans, then the Italians for a while. It became one of the strangest communist dictatorships in the world after WWII, eventually isolated even from Russia. It built the world's largest collection of bunkers (one for every 11 people) and handed out guns to all citizens to prepare for the supposedly inevitable invasion that never came.
The country only shed that leader and his constant surveillance in the 1980s and the transition to a market economy has naturally been a rough one. Albania finally appears to be hitting its stride, however, with low inflation and a rising quality of life. The younger generation is learning English fast, in the cities and in beach towns at least, and there's now a sense of optimism about the future. Unemployment is lower than in many other Balkan countries and the economy is varied enough to provide a wide range of jobs.
On my first visit, I interviewed one Canadian expat who worked in the mining industry in the region before falling in love with an Albanian woman who managed the hotel where he was staying. We had a nice seafood dinner at an outdoor restaurant on a lake, just outside of the capital Tirana.
Terry was quite happy with his life there and now it is his retirement spot. The two of them had just gotten back from Durres beach a couple hours before we met. It's close enough that you can drive there for the day from the capital or have an easy weekend getaway.
This country is catching up fast to the rest of the world and the economy seems to be doing rather well. On both of my visits, construction was in overdrive, there were lots of people driving expensive cars, plenty of construction cranes putting up new apartments and hotels, and a bustling center full of office workers in Tirana. Numbeo says the average salary is the equivalent of $460 though and typical salaries run top out at around $1,000 per month though, so if you come here earning a few grand a month from your virtual business or remote work job, you're going to be feeling flush.
In general, Albania is on the same level as nearby Bulgaria in terms of prices. Albania has a much more attractive coastline though, plus it's easy to get to on a short ferry ride from Corfu in Greece, which has loads of cheap flights. So you'll see higher prices in resort areas and real estate costs there have gone up a lot because of European buyers comparing the prices to see with those of their dreary homes in winter and going, "Where do I sign?!"
Here's some detailed information on the cost of living in Albania and the kinds of prices you'll encounter as a traveler coming to check the place out.
Rent and Property Prices to Live in Albania
As a tourist, I paid less than $35 per night for a nice rental apartment in Sarandë (Sarande/Saranda), probably the most expensive destination in the country. We had a view of the sea from our great balcony, a large living/dining room, fast wi-fi, air conditioning, and a washing machine. If I had rented it for a whole month it would have been under $800. And that's the high end of options.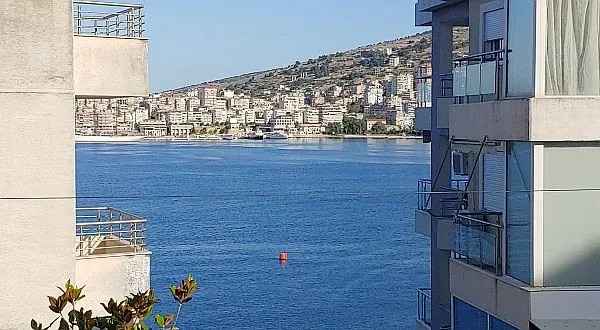 Blogger Anita Hendrieka avoided the two most popular months in Saranda and twice rented an apartment for $180 per month. Once it was a studio, but the second time it was a two-bedroom, two-bath place a five-minute walk from the beach.
James Leithart, who documents his experiences in the My Albanian Life section of his YouTube channel, admits he got a great deal, but he pays a mere $90 per month for his one-bedroom apartment in the lakeside city of Pogradec. Even in Tirana though, you can find a similar sized place for under $200 and get a nice three-bedroom place for $650 in the city center.
You'll get the best deal with feet on the ground and time to look around, but I pulled up a few rental sites just to see what I could find online in English. There were dozens of attractive furnished apartments in the range of $300 to $800. One I would move into tomorrow: two bedrooms, two baths, two balconies, 1,300 square feet, and a 10th-floor view for $540 per month in the heart of Tirana.
Searching year-long rentals on Airbnb, I only found three (very nice) apartments for more than $1,000 per month and most were below $500. There were fewer available in Pogradec, but they ranged from $350 for a small one-bedroom apartment to $755 for a two-bedroom one with a large balcony and a lake view. All of these are furnished and include utilities.
Terry and Eva bought their 2-bedroom, 2-bath penthouse in a new building where they were able to customize a lot of the finishes and appliances. They ended up spending $150K Canadian on the unit itself and another C$30K on the finishing out. This is for a spacious place with an outdoor terrace bigger than most European apartments. "We used to rent a two-bedroom duplex with an office on top," Terry says, "in the most expensive, most prestigious neighborhood in Tirana. We paid 1,100 euros per month. If we had just rented an average place in an average neighborhood, it would be 1/3 of that probably, but I had company money paying, so I didn't have to worry about the budget."
The cost comparison site Numbeo ranks Tirana at 38 when New York City is 100. Rent averages listed on there are currently $329 (1BR in the outskirts) to $1,023 (3BR city center), which is in line with what the owner of Good Albania tour company told me too. According to comments on local expat boards, a typical long-term rental price for a furnished 1BR or 2BR place with a balcony is $400 to $600.
Prices have gone up since the Russian invasion of Ukraine and this is the capital. Any other place in the country is going to be cheaper except busy beaches in the summer. You can buy real estate in Albania as a foreigner as long as it's not agricultural land. Buying real estate gets you on the fast track to residency, with a low minimum.
Apart from some outliers like Sarandë, real estate prices in Albania are a great value if you take your time and get to know the market ranges. In poking around real estate sites in English I found condos in Tirana for less than $70,000, three-bedroom houses for under $100,000, and beach condos with a sea view for less than $100,000. Prices have gone up though as the economy has improved and there's more foreign investment coming in. I'd say the sweet spot for purchases in Tirana now for condos is between $100K and $175K. That's where the bulk of the inventory is on real estate sites now.
Naturally, if you spoke the local language or had a friend/spouse who did, you could find deals that aren't listed on the English sites. You can spend a fortune if you want—I saw penthouse duplex condos listed for 300K euros by the coast at real estate offices—but you don't have to.
Most expats live in the capital, which is a relatively mellow capital since the population is less than 600,000. Only one other city has more than 100,000 people. Other places foreigners settle include Pogradec on Lake Ohrid, Shkodra on a lake near Montenegro, in the UNESCO World Heritage town of Berat, or just part of the year in one of the beach towns.
Albania has a long coastline that's easy to reach, so most expats will at least take frequent vacations to the seaside in the summer, while some rent a getaway house for the whole summer. By the time you get to the bottom of the country around Saranda you're parallel with Corfu Island of Greece, the country's neighbor to the south.
Because of the varied geography, the climate can vary quite a bit here. The warmest parts by the ocean can get hot and sweaty in the summer, while the Albanian Alps in the north stay below freezing in the winter at the higher elevations. In between these two extremes though, the Mediterranean climate is similar to southern Italy's. There's a winter, but it's not a brutal one.
Albanian Food & Drink Prices
Here's where you'll really save a fortune if you live in Albania or if you're passing through as a traveler. "We found food prices in Tirana to be very reasonable," says Jennifer Evans of Venturists, who normally lives in Mexico. "In a typical taverna, a Greek salad costs about $3 US, a medium pizza about $6 and we had a delicious mushroom truffle risotto for under $5. Traditional Albania dishes such as Tavë Kose (Lamb cooked in a thick yogurt sauce) costs about $6 and a large platter of grilled meats, such as sausage, quofte meatballs, chicken kebabs and ribs, for 2 runs about $12, depending on the specific meats selected.
On our first night we went out for drinks and were surprised when the price for a very generous glass of wine ran about $1.50. As our stay progressed, we found that $1.50 – $2.50 per glass for a decent local wine is pretty standard."
We ate at a few tourist spots, including a very nice restaurant that set us back $38 for two, but that was a splurge by local standards. Main dishes at a typical restaurant where locals would go range from $2 to $9, the latter for fish or seafood. Salads, soups, and appetizers were generally $2.50 to $4.
If you indulge in the national pastime of drinking coffee in a cafe several times a day, that's not going to set you back much. An espresso is typically 50 to 90 cents and you'll only pay more than $2 for an Americano or cappuccino if you're at a very fancy place.
The dinner I had with Terry and Eva was $19 for three: fish, vegetables, rice, and three large beers. "This is probably the biggest line item in our budget," Terry said, "but that's because we eat out a lot, several nights a week. We probably spend $1,000 Canadian a month on food and drink, but that's eating out a lot and drinking good wine."
Here are some examples of other prices I found in the south and Jennifer ran into while in the capital.
Eggs $2 to $3 dozen
Liter of Milk $1.50 – $3
Loaf of bakery bread $1 – $1.50
Mixed Salad package $1.50
500ml bottle/can of local beer or Stella – $1 to $1.75
Beer in a restaurant/bar – $1.50 to $3
Peppers & tomatoes- 75 cents per kilo
Apples, oranges, apricots – $0.80 to $2 per kilo
Watermelon – 60 cents per kilo
Potatoes & onions – 60 to 95 cents per kilo
Olives – $2 – $4 per kilo
"We don't go wanting for much when it comes to food," Terry says. "The supermarkets are well-stocked and prices are good. A lot grows in this region plus there are enough imports to get what you're missing if you're willing to pay for it. There just aren't a whole lot of ethnic restaurants though, especially Asian. Albanians meet in cafes, but don't eat out all that much when they're not on vacation. So there's not a lot of variety."
Albania, bordering North Macedonia and Greece, was ruled by the Ottomans, and is a ferry ride away from Italy, so those signposts will give you a good idea of what to expect from the cuisine. You'll see a lot of kebabs, cheesy pastries, and pizza, as well as plenty of stews and great bread. This is officially a secular country and in the last census, 70 percent of the population refused to check a box for the type of religion they belonged to. So, you can easily get a beer or wine with your meal anywhere, generally at prices that are the same or less than a soda.
Albanian wine dates back thousands of years, so there's no trouble finding that here, at good prices. Again, the climate is similar to that of Italy and Greece, so it's a good place for growing grapes. Expect to pay as little as $3 for something decent, or $6 to $10 for something good to serve with dinner. If you're in the countryside, you can get it for less directly at the source, probably in a two-liter jug for a few bucks.
Albania Transportation Prices
If you live in Albania full-time and want to have a car, that part is going to cost you. Automobile prices are about the same as in the USA (but with manual transmission, not automatic), plus gas prices are quite high considering what salaries are like. Gasoline for our rental car was around $1.80 per liter, though at least you won't get hit with tolls on the roads.
A local told us that auto taxes are quite low though so people seem to go for an expensive car when they buy one: I don't think I've ever seen so many Mercedes taxis and large private cars in a developing European country. It felt like the average car doubled in size compared to what we saw in Greece. If you rent a car though for $40 a day like we did, that will be small.
Public transportation is a bargain, though figuring it out isn't easy. The bus system is rather chaotic throughout Albania, with vans and minibuses that don't gather in any large central station. As one website put it, "Tirana remains the last major city in the known universe without a bus or train station." Even traveling between the two biggest cities takes some sleuthing around and you may be shuttled from one van onto another midway. You'll have to travel pretty far to pay more than 10 euros though for inter-city rides.
Taxis are metered in the capital and a bit over two bucks to start, then about $1 for each km. This goes up during the night and if you're going really far they might just quote you a price instead. I paid $22 for a cab to the airport when leaving Tirana, but it was a 30-minute drive in the middle of the night. Jennifer only paid $10 in the daytime from a closer location by booking it in advance with a driver. In Sarande we paid $15 to get from and to our apartment on the other side of the bay.
Unfortunately, there's no Uber or equivalent in Albania anywhere, but at least the taxis are nice cars.
Local buses are 35 to 60 cents if you can figure out the route. A monthly bus pass in Tirana is under $17. Most towns outside the capital are easy to cover on foot, so you could get by without a car in a lot of places.
In the lake regions, there are ferries to other towns. On Lake Scutari in the north, there's an international ferry to Macedonia.
The cheapest way to get to southern Albania is to come from Corfu in Greece, where a lot of budget airlines fly into. We paid 18.50 each way for the ferry, but it can be as high as 30 in high season depending on the company. It's only a half-hour trip, though there's a time zone change between the two countries. Check prices for your dates here.
Utility Prices in Albania
Electricity is priced progressively in Albania, meaning the more you use, the more you pay per kilowatt hour. Terry says their bill can top $100 when they've got the air conditioning cranking all the time, but then it'll drop down to half that in the temperate months. Water/sewer charges are around $12 per month and propane gas comes out about the same.
Most people pay $120 or less per month on all utilities, including a high-speed internet bundle. Wireless charges are quite reasonable in Albania. There's plenty of competition to keep prices low. I saw Sim cards going for under $5 and you can get a plan or go prepaid with nearly unlimited calls and data for less than $15 per month. Utilities and telecom don't drive up the cost of living in Albania very much and speeds are generally over 50 mbps at apartment rentals.
Other Costs in Albania
When you head out to the beach in Albania, you're free to stretch out on a blanket or beach towel, but that's literally a pain sometimes in this part of the world where beaches are more likely to have rocks than sand. We would just rent two chairs and a sun umbrella and never paid more than $10 for the two of us for the day. (One time it was free because it was late in the day and they had stopped bothering.) Eventually, someone will come by and get you what you need for food and drink.
A haircut starts at $2 in a village barbershop, but for $5 to $7 you can go to a nice salon. Albanian men seem to love short-cropped styles that require frequent barber visits, so it's not hard to find a place to go.
If you want someone to clean your apartment regularly or be a nanny, that won't cost you much here. Figure on $3 to $5 an hour depending on experience and regularity. We got quoted a price of $140 to hire a driver to go anywhere for 8 hours, up to four people including gas, but that was in a tourist town. Excursion tours by boat or van are generally $20 to $40, a good value.
Overall, this is a wildcard place to consider for moving abroad, a European destination that's one of the cheapest places to live in the world.
Is Albania in the Schengen Zone?
No, Albania is not part of the EU Schengen Zone, which means you aren't subject to the rules of only staying 90 days in a six-month period. That makes it a great country to head to for a while if you're trying to live in Europe without getting residency anywhere. You can do the Schengen Shuffle by spending 89 days in those countries, three months in Albania, then back again. Maybe combine it with a stay in also-cheap Bulgaria or Bosnia so you're not cutting it too close.
It gets better though: Americans can stay in Albania for a full year just on a tourist visa. Sweet! Georgia is the only other country in the world that allows this. Yes, Americans can stay for a whole year without a residency permit. If they apply for residency after that, the permit is good for five years.
Citizens of most other developed countries can get a residency permit by applying and going through the usual waiting time and paperwork. This is not known as a country where it's any more difficult than usual but they're not part of the EU if you're looking to move easily from Europe. I've heard from a few Europeans and Brits that there are some hefty tax advantages to moving to Albania. As always, check the current rules on the embassy sites and check local expat message boards.

How to Get to Albania
You can reach Albania by plane, bus, or ferry from multiple countries in Europe. There's only one large international airport though, in the capital city of Tirana.
Search flights to Albania here.
If you're headed to the southern beaches, flying into Tirana doesn't make much sense though because you'll be facing a very long road transfer after that.
It's easier just to fly into Corfu, in Greece, then take a fast ferry over from there. It's how I got there on this last trip and it was quite easy. The transfer time is only about a half hour and the fare is €37.50 ($40 or so depending on the euro exchange rate). Corfu has loads of budget flights on airlines you've never heard of plus Ryanair, EasyJet, WizzAir, and the like.
Search flights to Corfu from your airport here.
The other option is to take a ferry over from Italy. This is a much longer affair that will take most of the day or overnight. You're looking at 10 hours or more from Brindisi to Sarande, for instance, with a stop in Corfu on the way. It's even longer from Bari to there.
The shortest ferry is probably Brindisi to Vlora, in the middle of Albania, which takes 8 hours and costs around $60. (More with a cabin of course.) The cheapest way to get to Albania from Italy is to take the Bari to Durres route, which is 10 or 11 hours and costs $35 to $54. Embrace the fact that it's an overnight ferry because it's straight across the Adriatic, with nothing to see but water.
Search ferry times and prices at Omio.
As you can see, the cost of living in Albania is a bargain and it's a cheap place to visit on vacation too. Have you been there as a traveler or done a trial run there? What kinds of bargains did you find?