"I wish I could travel more, but I can't afford it."
I haven't heard this common excuse from a homeless person or someone who has been out of work for years, because then I might believe it. Instead I've heard it dozens of times from people who earn more money than I do. Or they have the whole summer off and just stay home.
In either case, what's holding them back is a misunderstanding of how inexpensive travel can be. Or just not having their priorities straight. Or both. If you want to travel, it's not hard to find a way. But if it's #7 on your list behind gadgets, new cars, a bigger house, weekly clothes shopping, a Starbucks addiction, and your three pets then yeah, that makes it harder.
Traveling more doesn't require winning the lottery, but it does require a little effort and some contrarian thinking if you're not loaded. Here's where to start if you're not ready to chuck everything in storage and become a budget backpacker.
Game the Loyalty Programs: Sign-up Bonuses
If your credit is good enough to get an average credit card, then don't get an average credit card. Get one that will really reward you in a big way for your spending. I've talked before about the Travel Hacking Cartel and how some advice I gleaned from that got me four free international flights in the course of one year. If you don't want to pay for that though, you can spend some time on various reward-oriented blogs and get the lowdown on which credit cards are currently paying the biggest sign-up rewards.
If that's too much effort, here's a simple rundown that's good enough to get started. 1) Get one airline card, preferably for the airline where you already have the most miles or the one you're probably going to fly on the most over the next year or two. If you live somewhere with lots of competition and won't use the card internationally, then get one (or more) of the American Airlines ones from Citi. That's now the best domestic frequent flier program and at the time of writing they're giving you 50K miles just for signing up and completing the minimum spend. That's enough miles for an international ticket or two domestic ones.
2) Then get one that's tied to a hotel chain. You'll get the best sign-up bonus from the IHG one (Intercontinental, Holiday Inn) from Chase or the Club Carlson (Radisson) one from US Bank. After you get the bonus, you'll have several free hotel nights. The Amex Starwood one is good too because you can transfer points to some airline programs if needed.
3) Get (or use one that you already have) that allows you to contribute miles to multiple programs and top off your accounts. American Express has the Membership Rewards program, but better bets these days are Chase Sapphire and Barclay Arrival Plus, which have a more useful array of programs and offer more bonus earning opportunites. Also, they don't levy a foreign transaction fee and they have a chip rather than just a strip—both important factors abroad. I'm not getting a commission from any of these; I just know they're some of the best options at the time of writing.
Game the Loyalty Systems 2: Leverage Your Spending
Once you have one or more of these cards, unless you're prone to rack up a balance you should use them for as much of your spending as possible. First of all, every dollar you spend on cable, internet, phone bills, and gas could be putting more points on your balance. Then there are all kinds of bonus earning opportunities from mileage malls, dining programs, and using the card for purchases at that airline or hotel chain. Add up what you spend in a typical year that you could put on a card and it's probably enough to earn another flight or couple hotel nights.
On top of all that, there are all kinds of spending discount promotions too. In three different countries I've gotten a night at a Holiday Inn where I wanted to go for just 5,000 points because the place was one their "points breaks" listings at a huge discount. I'm likely going from Mexico to Peru and back this spring for just 20,000 airline miles on United (actually flying on Avianca) because of a discounted miles promotion they're running for United Chase credit card holders.
Be Spontaneous
Sometimes taking advantage of these great deals means doing things in the opposite order of most people. Instead of deciding where to go and then figuring out how to jam that place into your budget, save the destination choice for last. If you can use miles and hotel points in Place D but not in A, B, or C, then go directly to D!
Or use a site that specializes in last-minute deals and just see what pops up. Examples in all budget ranges include LuxuryLink, Groupon Getaways (or your local Groupon/Living Social site for local travel), Jetsetter, Hotwire, CheapCaribbean.com, and most of the big online travel agents like Priceline. Or throw it wide open: go to Google Flights, put in your home airport, and see what comes up. If you're freezing your butt off in Chicago right now, for instance, check this out for round-trip prices on an 8-day trip in January to go warm up:
Click to expand, but here are the highlights: Phoenix less than $200, Florida less than $300, Mexican resort areas and Costa Rica around $400.
You can do something similar with the Skyscanner app if you have that, just putting in hour home airport and picking "anywhere" for the destination. Haven't heard of the place before? So what. You can learn most everything you need to know about it in one day online, or just buy a guidebook right before you take off and read it on the plane. You'll probably have a better time than you did on any previous long-planned vacation because there were fun surprises.
Extend Business Trips
When I worked in a corporate job, here are some places I traveled on my own over a long weekend: Montreal, Austin, San Francisco, Cleveland, D.C., Dallas, Richmond, San Jose, and Las Vegas. In all these cases, there was some biz meeting or convention I had to go to, but I always booked my flight back a few days later whenever possible. As long as the price was the same or less (it usually was because I stayed over a Saturday), then they couldn't have cared less. So all I had to pay for was a couple days of local expenses. Could you do the same but you just don't?
When I travel through airports on Fridays, they're always packed wall to wall with people in business clothing coming home from their work on the road. A lot of them have families with kids I'm sure and need to get back. But if you don't, what's your hurry? Sure, Orlando might not be your scene, but you can reach beaches on either coast in a rental care in two hours. If you're in Vegas and don't like to gamble, there are a  lot of cool things to see and do within driving distance. Almost anywhere can be a fun adventure or at least a good springboard to one.
Go Local
When I lived in Nashville I had great vacations in Memphis, Lexington, Chattanooga, Huntsville, the Unclaimed Baggage Center, Hollywild, Birmingham, and some state parks. I can think of a year's worth of cool weekend trips worth taking from where I grew up in Virginia.
There are probably at least 20 places worth visiting within three hours of your home that you've never been to, but have some vague intention of visiting someday. There are probably 20 or 30 more that just haven't gotten onto your radar. Then there are the ones that may not be all that notable, but are probably still going to be an adventure.
Take the commuter train to the end of the line. Pick a town on the map and drive there. Get a local book on strange things to see in your state and start visiting them. You might not think my sometime home of Tampa would have all that much worth checking out nearby, but this book of one-tank trips from there I got from the library once has been through several editions and has 57 entries.
Live Abroad
You want to really expand your travel options? Move somewhere that's already foreign. Then everywhere you go will be exciting.
From where I live now in central Mexico, I can take a direct bus to a few dozen destinations and all of them are going to feel exotic. Who's ever heard of Cuetzalan or Zacatecas? When my wife and I taught English for a year in Korea, we went all over the country, to strange places like Maisan and not-so-strange ones like Cheju Island that still felt very out of the ordinary to us foreigners.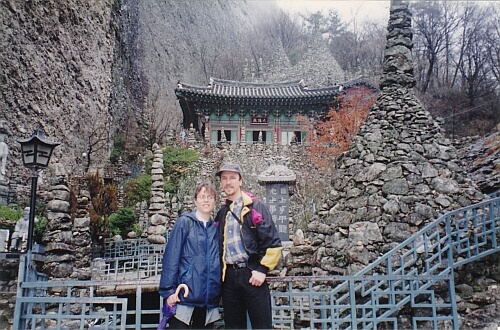 If you already live in Budapest, you don't have to pay $1,200 to go somewhere in Europe. If you already live in Malaysia, you can just hop on a bus or train to get to Singapore or Thailand. Not only are you already living a better life for half the price, you can now travel to foreign lands without flying across an ocean to do so.