One reason I'm not a country counter is that travel shouldn't be a competition, but the other is that I like to return to countries to explore them in more depth. As far as what to see in Colombia, I have really only scratched the surface in my four visits there. I'm sure I'll be back again soon since there's plenty more to visit and experience.
For now anyway, Colombia is a great travel bargain too. It wasn't always this way and it could get more expensive again, but as long as their currency stays low like it has been the past seven years, those visiting with (or earning in) dollars or euros are going to find the destination to be a terrific value. Check out this detailed post on the cost of living in Colombia to get an idea of what I'm talking about.
If you're coming from North America, this is one of the best places to consider if you're looking for a cheap international destination to reach by air. It's a very competitive market, with four cities that have frequent international flights: Bogota, Cartagena, Medellin, and Armenia (in the Coffee Triangle). That's rather unusual for South America outside of Brazil: most countries on the continent make you fly into the capital city and then take an internal flight to go elsewhere.
The country is served by some budget airlines such as Spirit, Wingo, and sometimes one or two of the Mexican carriers, which keeps competition high and prices low. It's the base for Avianca, so they have a vested interest in keeping the number of connections high, plus it is served by LATAM, Copa, and many U.S. carriers.
Then once you've finished your flight to Colombia, it's cheap to get around the country by air or bus. See the last section for details on that, but to give you an idea, you can often fly from Bogota to Medellin for $40 or less. A 5-hour bus ride from Cartagena to Santa Marta is just $11 in a nice bus or $16 in a point-to-point tourist van.
Here are some of the best things to do and see in Colombia, both from my own experience and a few recommendations from other bloggers for places that I want to check out on future trips.
Historic Cartagena and the Nearby Islands
I have been to Cartagena several times and it's a great place I'd like to go back to for a few weeks or a month to really soak it all in. The historic part is surrounded by high stone walls you can walk along and there are several colonial-era forts to explore. Inside the walled city you find streets and parks filled with historic Spanish colonial architecture.
Naturally the city has grown well beyond those original borders and parts of it now look more like Miami, lined with condos and high-rise hotels along the beach. You have several beach choices here branching out in two directions from the city.
Cartagena tends to have the highest hotel and apartment rental prices in the country, but you can mitigate that by getting some kind of package deal if you're just coming on a short vacation. Because flights to here are usually a bargain, a combined flight and hotel package is usually less than you'll spend heading to a Caribbean island.
Located off the coast of Cartagena, the Rosario Islands are part of a national park and they take you from the murky waters of the city beaches to coral reefs and Caribbean crystal-clear turquoise waters. These islands with sandy white beaches are a great day trip getaway from the city and are a popular destination for sunbathing, swimming, and snorkeling. Click here to check prices for group tours if you don't have a friend with a boat.
Santa Marta for History and Beaches
Some people come to Santa Marta on the Caribbean Sea and then have a hard time finding a reason to leave after they find their perfect spot. It's the kind of beach destination region where the days blend together and a day of hammock time, swimming, and sunning is gone before you know it.
If you do get tired of the laid-back beach life in El Rodadero, Bahia Concha, or lesser-known places, there's plenty of history to explore in this area too, especially in the old town of the namesake city. This is one of the oldest Spanish Colonial settlements in South America, founded in 1525. It was also a place where Simon Bolivar spent a lot of time during the independence movement a few hundred years later. Check out the book The General in his Labyrinth by Gabriel Garcia Márquez for more on that and then visit the local museum dedicated to his life.
Santa Marta is also a good base for exploring other areas and it's the jumping-off point for hiking tours to The Lost City. It's also only nine miles from Tayrona National Park, close enough to hire a taxi to reach. To get to some of the best beaches, take a sailing trip or a boat trip to Playa Grande or Playa Cristal at least. This is also one of the best regions in Colombia for scuba diving and snorkeling.
Tayrona National Park
Located along the Caribbean coastline east of Santa Marta, Tayrona National Park is one of Colombia's most interesting natural wonders. This park is home to palm-lined tropical beaches, secluded coves, and a diverse range of wildlife. This is no small protected area: Tayrona covers an area of 30,000 acres, part of it tropical rainforest and part of it dubbed as "the world's highest coastal mountain range."
You can explore the park's different ecosystems on foot or by boat and enjoy activities such as birdwatching, snorkeling, and swimming. If you like to be active in your travels, there are some good hiking trails along the shores and you can get interesting photos of the rock formations from different angles. You can also find your own pocket beach this way for a swim or snorkel.
Barranquilla for the Afro-Caribbean Vibe
Barranquilla is located midway between Cartagena and Santa Marta, only about an hour and a half from each, so it makes a good stop for a night or two between those two destinations. It doesn't get all that much media attention, especially considering it's the fourth-largest city in Colombia, but it's a lively place that a lot of visitors end up raving about.
This is the home of Shakira, the pop goddess of South America, and music is a major part of life here in this Afro-Caribbean city. That is all really on display during Carnaval, where Barranquilla produces the largest celebration in the country.
At first glance it may not grab you: it's an industrial port city in a hot and sweaty delta. But once you start going to hear cumbia performances, eating fish both freshwater and from the sea, and sampling the street food, you might find out why it's worth staying here for a while, especially since hotel prices are less than half what you'll spend in Cartagena.
Museums and Food in Bogota
Bogota gets a bad rap from a lot of travelers and there are plenty of reasons for this. Every building has become a graffiti canvas, the public transportation system seems strained and outdated, and the climate is far from appealing, especially compared to Medellin.
This is the capital and the center of finance and commerce, however, so in Bogota you'll find the best and most innovative restaurants in Colombia, many of them making lists as some of the best in Latin America.
This is also a good city for visiting museums while you're here. There are three major ones that involve very different displays. One is the Gold Museum, which has treasures from around the country from pre-Colombian times. The Botero Museum has paintings and sculptures from the country's most famous artist. And the Botanical Gardens have impressive displays of plants from different climates in this diverse country, set in beautiful outdoor gardens you can explore as well.
The Salt Cathedral of Zipaquira
I've been to this place twice and I'd go again if someone who hasn't seen it was along with me on a future time in Bogota. It's one of the trippiest places I've seen in South America and this is one Latin American church that looks nothing like the others.
The short version of the story is, when much of a salt mine below the town of Zipaquira was tapped out, they decided to do something with it that would attract tourists and create commerce in the area. So they turned the mine shaft into a tunnel and the big pit into a huge church. Lit up with ever-changing colored LED lights and representing Catholic religious icons in a very abstract and subtle way, it's a nice place to visit even if you're a total non-believer.
The whole experience is strangely satisfying, from the nightclub-like entrance to the eerie spaces in the depths of the Earth. When you leave, after having a coffee or drink at one of the cafes, you can exit on a train that runs along the original mine shaft tracks. This is more than an hour outside of Bogota, so you'll need to go on an organized tour (about an hour by road each way), take a bus to Zipaquira (hour and a half each way), or there's actually a slower but more fun train ride to reach the town.
Colombia Coffee Region
The Coffee region of Colombia is actually the first place I visited in the country, flying directly there from the USA. It was a press trip and I remember spending a lot of time in a van: it's a lot more spread out than you might imagine given how many coffee plantations there are in this country. Despite some heavy competition, especially on the low end, this is still one of the world's largest coffee producers and the beans from here regularly win tasting competitions.
You can do your own tasting and see how the whole process works at one of the coffee farms that's set up to receive visitors. It's a bit easier if you're on some kind of organized tour, but several offer drop-in visit options and some are set up well for travelers, with a hotel on site and organized facilities. As in you can join in the picking of the coffee beans, try out roasting, or pitch in with farm work if you'd like. Here's one of those coffee farms that has a real sense of place: Hacienda Combia.
Every Colombian coffee farm visit is going to incorporate a tasting, so it's a good learning experience. There's also a coffee-themed amusement park.
Cocora Valley's Wax Palm Trees
The Cocora Valley is actually part of the coffee region and you'll find some nice places to get a quality cup in the launching point town of Solento, but the main reason people come here is to spend time in the beautiful scenery. The misty mountains are dotted with wax palm trees, not found many places outside of here, trees that can commonly grow to a height of 150 feet (45 meters) and occasionally higher.
The wax palm trees in Valle de Cocora are endangered, so this whole region became a protected part of Los Nevados National Park in 1985. It's now an area where people visit on a day trip and eat some trout or they stay longer and ride horses or go by foot on the hiking trails. It's a gorgeous landscape and both that and the town of Solento might feel familiar if you've seen a recent Pixar movie called Encantato.
To get here you first visit that town and then pay for a Jeep Willy ride up into the mountains. If the weather is good the top goes down and you get a panoramic view while the wind is whipping through your hair. See that photo at the top for what it looks like on the way.
Salsa Time in Cali
Cali, a city located in southwestern Colombia, is best known for a certain white powder cartel a few decades ago, but now it's more accurately described as the "Salsa Capital of the World." This vibrant dance style, popular all over Latin America, has become an essential part of the city's identity. If you don't know where to start when joining the locals who have been doing it since their youth, check out local dance schools. If you're not a beginner, you can join in at a multitude of lively clubs and bars.
If you're a real enthusiast, plan a visit during the annual World Salsa Festival, when local and international dancers perform and compete.
Cali is only about 3.5 hours from the coffee region, so it's easy to come here before or after a visit there. Then it's easy to fly to whichever airport you came in from to return.
Medellin and Guatape
Medellin, once infamous for its crime and drug issues, has undergone a significant urban transformation over the past few decades. Today, the city boasts an extensive public transportation system with a metro and cable cars, vibrant street art, and a buzzing expat scene. This "city of eternal spring" has a temperate climate all year long.
One of the highlights of the city's change in fortunes is the Comuna 13 neighborhood, which showcases an incredible array of street art and offers a testament to the resilience of its inhabitants. Once an area that even the police didn't want to go into, it now gets a steady stream of tourists spending money with the locals and having a good time. You could easily spend hours there, especially if you come late enough in the day to enjoy the bars along the pathway.
Medellin isn't a city filled with major attractions otherwise, apart from a garden of Botero sculptures downtown near the central plaza. Instead you come here for temperate weather, nightlife, and fun. The main expat zone is El Poblado, but it's actually better for nightlife than getting around if you're just visiting: it's a very hilly place to try to walk and it's a long slog from the metro station.
One of the top things to do though while visiting Medellin is an excursion to Guatape, which was much more interesting than I expected. You can climb to the top of the giant rock, but there's a gorgeous lake at the base of it and you can go out on a boat ride to explore that. Along the way you'll see mansions owned by celebrities, a hotel with a shady history, and a few buildings once used by Pablo Escobar and his crew.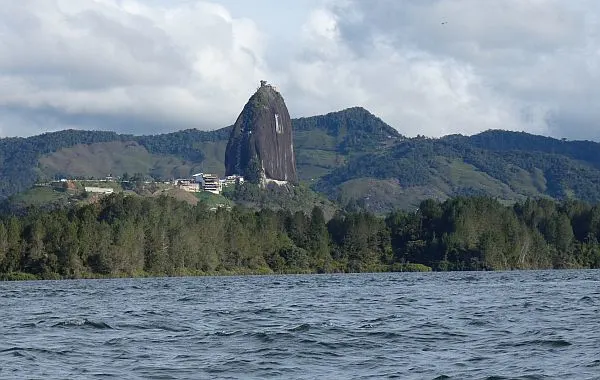 San Agustin Archaeological Park
The San Agustín Archaeological Park is a UNESCO World Heritage site and one of Colombia's most famous archaeological discoveries. It offers a fascinating look into the history and culture of the ancient pre-Columbian civilizations that once thrived in the region. The park is home to over 500 monolithic stone statues, some of which date back to 3300 BC.
In addition to the statues, you can explore tombs, ceremonial sites, and terraced fields that provide insight into the complex religious and social structures of the ancient civilizations.
Just note that this is in a rather isolated area in the south of the country. Cali is the closest city, at six hours away, and it's about the same to Quito in Ecuador. So you may want to make this part of an overland trip if you're headed to that country.
The Lost City of Colombia (Ciudad Perdida)
Ciudad Perdida, The Lost City, is Colombia's equivalent of Choquequirao in Peru, located in the Sierra Nevada de Santa Marta mountain range and only reachable by a challenging multi-day hike through the thick jungle. This ancient was probably built around 800 AD. The area offers a unique opportunity to explore the remnants of the lost Tayrona civilization, which predated both the Incas and the Spanish conquistadors.
Located deep in the Sierra Nevada de Santa Marta mountains, Ciudad Perdida is around 650 years older than Machu Picchu. It is comprised of 169 terraces, circular plazas, and stone pathways spread across a lush, remote landscape.
The journey to the Lost City typically starts in Santa Marta, a city on the Caribbean coast of Colombia. The Lost City Trek is an adventurous experience for those who wish to explore Colombia's rich history and natural landscapes throughout the 3- to 6-day hike. You need to go with a licensed tour operator, which makes sense anyway since you'll need to be supplied and set up for multiple nights of camping and cooking. The trek unveils the captivating beauty of tropical rainforests, river crossings, and indigenous villages along the way, eventually getting you to a set of ruins that you may have all to yourself.
These places I'm suggesting are just the start of course. You can visit hot springs, explore a cloud forest, check out sandy beaches on the Pacific Ocean, visit Rainbow River, or venture into the jungle where the Amazon River gets its start. Or you can venture far offshore to San Andrés island. What did I miss on this list of what to see in Colombia? Was there another highlight from one of your visits? Leave it in the comments at the bottom.
Transportation in Colombia
Flights to Colombia are a bargain, but then transportation in Colombia is not going to bust your budget either. One of the reasons I advocate so much for slow travel is that if you're on the move every few days, in most countries that can double or triple your travel budget. That's not really true in this country, where flights and bus trips are both reasonable. (Unfortunately, for now anyway, there's no real intercity train system.)
Colombia flights can be amazingly cheap within the country, especially compared to the frustrating overcharging you run into in countries such as Argentina and Peru, where there's not much competition. There are multiple airlines plying the routes here, making it feel more like Southeast Asia than South America. This results in prices that are sometimes hard to believe. I just pulled up Cali to Bogota and the prices ranged from $32 to $42, though you'll have to pay more for your luggage. Bogota to Medellin is $31 to $50. So often this is the best way to get around, especially for far-flung cities.
At those prices, you probably don't want to bother with a bus through the mountains over winding roads, but in some cases that will save you a few bucks and in others there may not be a flight option. The buses are generally modern and comfortable though—they have to be to compete with such low airfare rates. Just check the route carefully with the terrain option turned on if you're considering an overnight route and you expect to get some sleep. Apart from the jungle region, there aren't a whole lot of all-flat bus routes in this country where the Andes Mountains start.
Bus prices are generally $2 to $3 per hour of travel, which is about one-third what it costs to travel on a nice bus in Mexico. So an 11-hour trip will be $22 to $33 and the ratio stays around the same for shorter routes.
If there's a group of you or a family, it can sometimes make sense to charter a van or taxi if you're not traveling a super-long distance. Going across a city will only cost you $2 to $5, so a trip to another town or hiring a driver for the day can be quite reasonable. There's Uber in Colombia too if you want to just pull up prices to see. The one costly trip, as in most countries, is from the airport, especially in Medellin where it's far out and through a tunnel in the mountains. The trip back is usually less than the trip from, no matter the city.