Are you taking my travel destination bargains advice and making plans for heading to Buenos Aires, the vibrant capital of Argentina? With its colorful neighborhoods, rich culture, thumping nightlife, and stunning architecture, this city is a favorite with a lot of visitors who have been all over the world. I've been to the city four times now and I could go that many more times without running out of things to do in Buenos Aires.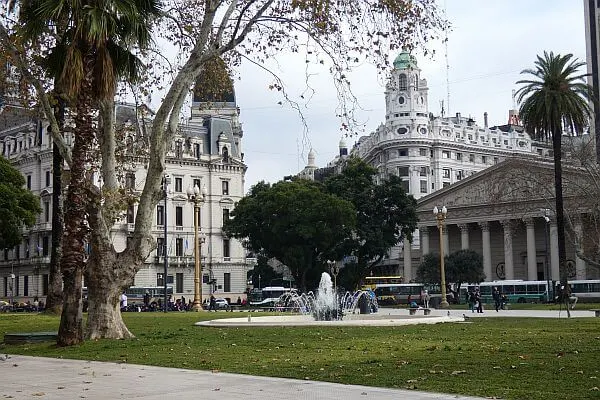 In its heyday it was called the "Paris of South America" and the big joke among other Latinos is that the locals still think they're European, multiple generations later. That European air does help though when it comes to good food, good wine, and interesting architecture.
Whether you're looking to explore local attractions, sample the local cuisine, or explore the many outdoor activities on offer, this South American city has plenty for you to check out, even if you just want to wander spontaneously and not commit. If you want some scheduled activities though, you've got a lot of options. From its iconic tango culture to its diverse dining scene, Argentina's capital can keep you entertained and excited to walk out the door. Here are some suggestions for the best things to do in Buenos Aires.
City Walking Tours
There are many ways to explore the city of Buenos Aires, and a walking tour is great for areas full of historical buildings that are compact enough to explore on foot, areas in the city center. The tours will take you through some of the most iconic and historic neighborhoods, providing you with an immersive experience of Buenos Aires culture, history, and architecture. When I was on a trip to Argentina and Uruguay with Intrepid, this is how we kicked things off on the first day, strolling around the Plaza de Mayo, Casa Rosada (the presidential palace), the Metropolitan Cathedral, and other important areas on a guided tour with a local.
You can join up with a free walking tour—tips are expected—but more extensive ones with a local guide may take in Teatro Colón or the Recoleta Cemetery featured further down on this list.
A walking tour is especially useful in Recoleta, where there's so much layered history in the beautiful buildings, the residential mansions, and Recoleta Cemetery. Whether you are a first-time visitor or a long-time resident, city tours will give you a unique perspective on where the country has been in its complicated past. Take in the sights, sounds, and tastes of that area, San Telmo, Palermo, or another neighborhood as guides lead you through the streets and alleys.
Buenos Aires Bike Tours
The first time I visited this city in the early '00s, I signed us up for a bike tour right away so we could cover a lot of ground and get our bearings. It turns out that Buenos Aires is quite a good city to tour by bike: the place is crammed with parks and there are a lot of wide medians in the largest boulevards where you can ride along without dodging cars the whole time. We went through a lot of neighborhoods including Palermo Soho and Palermo Hollywood that are too spread out to get to on foot from some of the tourist zones.
Of course the other benefit of a bike tour is that you can get some exercise and work off the often not-so-light meals. Or the sweets and gelato that the porteños seem to eat every afternoon. There are tours of different lengths and neighborhoods, but none of them are grueling: this is a flat sea-level city. For the adventurous traveler though, there is no better way to experience the city at a human pace while seeing beyond the tourist areas and getting into various neighborhoods.
Bike tours can take you off the beaten path where the tour groups are headed. Riding through lesser-known historical sites, bustling markets, and neighborhood parks, these bike tours provide an immersive, up-close experience. This is one of the top things to do in Buenos Aires if you want to get a workout and get your heart rate up a little.
City Car/Bus Tours
I'm not a fan of these in cities where there's a wide variety of things to see, but if your time is limited and you're trying to make the most of one free day, it can make sense to explore by car with a local driver or to go on a local tourist bus tour. Many private tour companies offer half-day and full-day tours, as well as private or shared tours.
Additionally, there are a variety of hop-on hop-off bus tours that allow travelers to explore the city at their own pace.
Tango Dinner Shows in Argentina
At one time, watching tango dancers was mostly a local affair, but now there will be mostly tourists at any tango show you go to. It's a must-do on the circuit for many visitors and yes, I went to one myself with my wife the first time we were in Argentina and we had a great time.
This is the birthplace of Tango: it originated in Buenos Aires in the late 19th century. Today, tango is a popular Argentine folk and social dance enjoyed around the world. There are many tango studios and dance halls in Buenos Aires. That's where you will find the locals once you get good enough to join them. To get to that point, you'll have to stick around for a while and take some classes. Some people work on it for years. The city is also the host of several annual tango festivals and competitions if you want to see the experts compete.
There are many options for experiencing the vibrant culture of Buenos Aires through tango though if you're just passing through. From casual milongas and late-night milongas, to intimate dinner shows and grand performance venues, there are a variety of options to choose from.
These shows often offer a full night of food, drinks, and entertainment with a variety of tango performances, ranging from traditional Argentine tango to modern interpretations of the classic dance. Each venue has its own unique atmosphere, with some offering more of a theatrical performance and others offering a more immersive experience.
No matter which venue you choose, a tango dinner show in Buenos Aires is guaranteed to be an entertaining experience. Online you can book various packages at Teatro Astor Piazzolla, Signature Tours, La Ventana and more, with different meal and drink options. If you want just a taste that's more casual, spend some time roaming around San Telmo Market or the colorful streets of La Boca where people are often dancing on the street for tips, sometimes accompanied by live musicians.
Buenos Aires Food Tours
For the foodie travelers, food tours are a great activity to consider. Buenos Aires is home to a vibrant and diverse culinary culture. Popular dishes include steak (of course), empanadas, choripan (grilled sausage sandwich), locro (stew), provoleta (grilled cheese), and dulce de leche (a sweet caramel spread). No local party is complete without a parrilla, with lots of meats and sausages spread out on a grill.
Seafood is also widely available, with grilled seafood platters and cazuela de mariscos (seafood stew) being popular. For dessert, the classic alfajores (dulce de leche-filled sandwich cookies) are a must-try.
With a food tour, a guide will be able to take you around the city to try some of the best delicacies, allowing an array of dishes and street foods to be sampled back to back, as opposed to having to pick and choose between the staples during meals throughout your trip. Or check out EatWith to get a real parilla experience in someone's home.
Argentina Cooking Class
Another foodie option would be a cooking class, of course, if you're interested in learning what goes into making some of these dishes up close and personal. There are a variety of cooking classes that will give you a delicious taste of the city and its culture, learning the secrets of Argentine cuisine from the experts.
This is something else I did on my first visit, getting schooled in the arts of trimming a steak, grilling, and making chimichurri condiment at a well-known steakhouse. Another time in Salta I took an empanada-making course and actually made some myself a couple of times after returning home.
Whether you are a beginner or experienced chef, you will find something to suit your skill level and interests, the perfect opportunity to explore the unique flavors of Argentina and take home a piece of its culture. Hey, the steak place even gave me an apron to bring back!
Wine Tasting Experiences
If wine tasting is more your style over food sampling, this is a top thing to do in the city as well. Wine tasting in Buenos Aires is a great way to discover the many flavors of Argentina's wine regions. Visitors can find a variety of wine bars, restaurants, and shops around the city that offer a wide range of wines from different regions.
There are also several wine tasting tours available, which can take you to local wineries and vineyards to sample the wines and learn more about the region's winemaking process. Of course if your trip includes Mendoza or Cafayate, you can also visit wineries, where you can take private tours, do tastings, and learn more about the art of winemaking.
See prices on local tours with Viator
A Self-guided Craft Beer Tour in Palermo
I tried really hard to join an organized beer tour when I was in Buenos Aires in 2022, but I got nowhere and decided to set up my own instead with the help of Google Maps. When I found out how cheap it was to drink good Buenos Aires craft beer, especially at happy hour, I realized that was probably a good decision anyway because if I'd spent $20, including tips, I would have been falling down drunk.
There are brewpubs in pretty much every neighborhood in the city, but the biggest concentration of breweries and good taprooms is in the various Palermo neighborhoods, which kind of bleed into each other. Our rental apartment was there and I was able to walk to all of them featured in that linked article without even needing to call a taxi. The quality was uniformly high (they grow barley and hops in Argentina) and I don't think I'll ever be able to drink that well for so little money again.
Shopping for Leather, Wine, and More
Like any good travel destination as rich with culture as Buenos Aires, this city is a crowd-pleaser for those who enjoy shopping. Buenos Aires is an excellent shopping destination for travelers looking for souvenirs, high-end fashion, antiques, and more. The city has long been known as a top leather producer, helped I'm sure by the fact that they eat so much beef here week in and week out.
The leather district didn't seem such a good deal this time around to me, probably because they can export it at market rates internationally. But the quality is quite good if you're in the market for a leather jacket, purse, or other items. All I ended up buying was a leather sunglasses case, but my wife picked up some gifts.
Popular shopping areas include the Recoleta neighborhood, Florida Street, and Avenida Santa Fe. Recoleta is known for its upscale boutiques, designer brands, and antique stores, while Florida Street is known for its street vendors, traditional markets, and souvenirs. (It's also known as a place where it's easy to exchange cash and get the "blue rate."
Avenida Santa Fe is a great place to find bargain-priced clothing, accessories, and electronics, though be advised you'll probably find newer and better versions of the latter in the place you call home. Additionally, there are several shopping malls in Buenos Aires, such as Alto Palermo Shopping, Abasto Shopping, Paseo Alcorta, and Dot Baires Shopping that offer a variety of shops and restaurants.
Enjoying the Feria de Mataderos
La Feria de Mataderos, or The Mataderos Fair, is a traditional festival that has been held in Buenos Aires for over a hundred years. It takes place every Sunday in the Mataderos neighborhood in the west of the city. It is a popular festival that brings together thousands of people every week to enjoy music, dances, and typical dishes of the region.
You can enjoy an authentic spectacle of Argentine culture, with crafts, traditional games, dances, and folk music. In addition, you can buy local products, such as meat and cheese to take back to your rental apartment or hotel. Plus you can experience enjoy gaucho and horse shows.
Visit Recoleta Cemetery
Recoleta Cemetery is an iconic resting place located right in the ritzy residential neighborhood of Buenos Aires. It contains the graves of some of Argentina's most famous people, including former presidents, military figures, Eva Peron, and notable writers and artists.
The cemetery was established in 1822 and is now a popular tourist attraction. It features beautiful architecture, lush gardens, and sculptures. The cemetery is divided into sections and contains more than 6,400 graves. It is a unique, picturesque resting place for the people of Argentina.
Carlos Thays Botanical Garden
El Jardín Botánico Carlos Thays, or The Carlos Thays Botanical Garden is one of the main botanical gardens in Buenos Aires and is the perfect place to escape the bustle of the metropolis for an hour or two. It is located in the Palermo neighborhood and was opened to the public in 1898. This was also walking distance from where we rented an apartment last time and I really enjoyed strolling around there.
The garden was designed by the French landscape architect Carlos Thays, who was also the first director of the garden. The garden has a wide variety of plants, trees and flowers, including some rare and exotic species. There is also an artificial lake with an island and a waterfall.
The garden also has a beautiful greenhouse, a library, and a museum of natural history. It is an ideal place to relax, enjoy nature and learn about botany.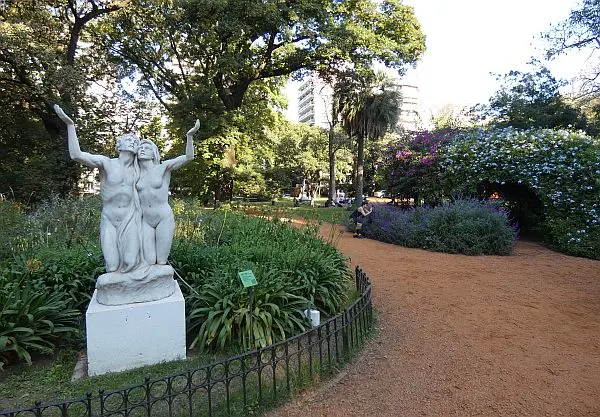 B.A. Museums
As with any big capital city, there are dozens of museums in Buenos Aires where you can explore the history, culture, and art of the city. Some of the most notable ones include the Latin American Art Museum of Buenos Aires (MALBA), the Museum of Memory and Human Rights, the National Museum of Decorative Arts (MNAD), and the Buenos Aires Museum of Modern Art (MAMBA). There's a museum devoted to Evita that I haven't visited, but we did have lunch at the lovely restaurant in the courtyard that's part of it.
If you're a real art lover wanting to dive deeper, check out two galleries opened by female collectors. The Amalia Lacroze de Fortabat Art Collection is conveniently located in Puerto Madero and has an A-list collection that includes works by Dalí, Rodin, Chagall, and Warhol. The Ruth Benzacar Art Gallery is more of an excursion but is known as the place to go to spot what's new and trendy with local artists.
Dine at Some of the Best Restaurants in South America
There are three cities that dominate the lists of world's best restaurants and Latin America's best restaurants: Mexico City, Lima, and Buenos Aires. There are some years when the last one on that list has more entries than the others.
What's unique right now though is that you can dine at these spots, some of the best restaurants in the world, for a fraction of what they used to cost five years ago. That's because Argentina is in economic crisis mode once again and if you bring cash to Argentina or find a way to get the "blue rate" by other means, your cost is half what it is officially. This is probably the best value in the world right now when it comes to restaurant dining since Argentina is such a bargain if you come with dollars or euros.
We walked past one of the most heralded restaurants in the city, Don Julio, on our last trip there and could have easily afforded it. We were just intimidated by the long lines. They don't take reservations so you have to queue up. On the plus side, they serve you champagne while you're waiting.
Other top-rated dining spots that make international lists include Mishiguene, El Baqueno, Aramburu, Elena, La Cabrera, Gran Dabbang, and Oviedo. There are probably 50 good steakhouses though where two of you can pig out and drink good wine for under $20 total.
Is there something you would add to this list of the best things to do in Buenos Aires? Leave it in the comments!