What does a trip to Thailand cost these days? I'm happy to say that prices haven't changed all that much in the past decade and it's still one of the best values on the planet.
Some people are country counters, I'm a country returner instead. I'd rather explore a destination in depth over several visits than to visit a cruise ship port or touch a rock outside an airport and say, "Been there!" One of the countries I have been to the most is Thailand, starting when I was a young backpacker and continuing a few months ago. Despite what you hear from some grumpy travelers pining for the good ole days, a trip to Thailand is still a terrific bargain.
In the past decade I've been there three times: once with my family in 2012, once for a conference I spoke at in 2015, and at the end of 2022 for a glorious post-Covid return as the borders fully opened back up. Sure, things have changed a lot since I first touched down in the mid-90s, back when you saw more backpackers than tourists with money, but thankfully what made it special then is still special now. Thailand has its own vibe, its own food, and a fun-first attitude that makes it especially appealing to people wanting to let go of their stress and enjoy.
It's easy to get by in English there as long as you're not too far off the beaten path. If you fully want to immerse in Thailand's culture and people, of course, it's best that you learn the Thai language a bit before coming on your trip. Even just a few key phrases will be appreciated.
I recently spent a month in Thailand and can say with authority that the country is still a terrific travel bargain. And I was even in an area filled with tourists much of the time—Phuket—so you will probably find it to be a better deal if you're somewhere else.
Thailand always generates a lot of debate among backpackers about whether it's a deal or not. That can partly depend on your perspective, since the country is certainly more prosperous than it was when The Beach book came out and the movie followed. Plus the sentiment can partly depend on the current exchange rate, which has swung from 29 to 39 Thai baht to the dollar over the years since I first started publishing The World's Cheapest Destinations book.
When I visited in late 2022, the dollar was at the high end of the scale, fetching 37 baht or so at an exchange booth or ATM, but now it's down to a more historic normal of 33 or 34. This is almost exactly the level it was at when I visited last in 2015, so I've got a good perspective on how Thailand travel prices pan out over time. Obviously if you are thinking in euros or pounds sterling you should check that rate to get a sense of real prices for your currency.
Since the Thai baht tends to bounce around quite a lot, I'm picking 34 to the dollar for this post to put prices in greenbacks. You may do better or do worse depending on when you read this.
Overall, the cost of a trip to Thailand feels uncannily similar to what I experienced in both 2012 and 2015 when I returned on this trip. Sure, there's been inflation like there has been anywhere, but there were no major spikes I noticed. I was happy to find that the sin taxes on alcohol haven't gotten worse: a crappy 12-ounce Chang beer in a bar or restaurant will still range from 60 (happy hour) to 100 baht. If you want something better it will be more.
Our hotel in Ko Lanta had 100-baht cocktails at happy hour though, which was a great deal at less than $3. But hey, weed is legal now so at least there's some competition! (A Thai-weed joint or brownie was also 100 from a dispensary, FYI…)
Thailand Accommodations Prices
Your trip to Thailand cost will vary a lot depending on where you stay each night. Hotels in Thailand continue to be one of the best values in the world, especially when you take a step up from the cheapest backpacker level on Khao San Road. Private rooms with shared bath for as little as $7 or one with a private bath for a few baht more. You only have to get up to $15 or so though to start seeing places with a swimming pool.
Last time I was there we stayed at the best hotel in Trang when we were down south, a place that came with turndown service and bathrobes in each room, and it lists for $69 per night including buffet breakfast. This time we stayed in a non-beach hotel in Phuket for $23 a night and a gorgeous hotel right on the beach in Koh Lanta for $53 per night including breakfast. Our room was steps from the water with A/C and a nice terrace.
Depending on where you are, Airbnb or Thailand Vrbo options can be a better deal than hotel rooms, especially if you're a remote worker who needs some space to set up and a fast Wi-Fi connection. We didn't actually use the kitchen much in our place since it was so cheap to eat out (see below), but we loved our spacious Kamala Beach town apartment with a terrific view of the mountains, Smart TV, swimming pool, and washing machine.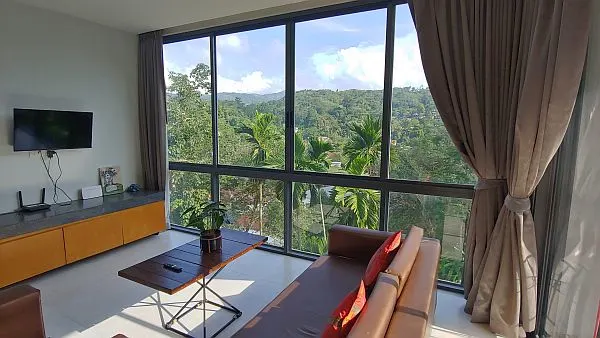 Blogger friends of ours who were staying in the same town were paying $1,000 per month for their apartment. It was smaller than ours but had three swimming pools (one a lap pool on the roof), a co-working space, a coffee shop, a restaurant, and a well-fitted gym. Naturally, apartment rentals cost more in tourist areas, though Koh Samui has some great deals on multi-bedroom villas if you have a group or big family traveling together. We didn't go there just because it was low season, the rainiest month.
There are probably 100 YouTube videos out there about what digital nomads are paying to live in Bangkok or Chiang Mai, so go find those if you want to see what $300 to $1,500 per month will get you—the former being decent, the latter being "pimped-out penthouse." But here's an older post of mine that's still pretty accurate on prices for the cost of living in Thailand.
Phuket tends to be more expensive than other areas because it gets the most short-term visitors on vacation. Most other places to stay in Thailand cost far less and you'll be happily surprised if you're pulling up prices for hotels in Bangkok. It's incredibly competitive there at every level, despite being one of the world's great cities to visit.
Last time I had an early flight out and got a nice airport hotel for $18. This Bangkok screenshot below is from Agoda, which generally has the best selection throughout the country. This one by the airport is $14 with a pool!

Local Food & Drink Prices in Thailand
You can spend a fortune on dinner in Thailand if you want, and it'll be great, but you can also spend less than $3 and it'll also be great. This is a country where the premium is usually buying you atmosphere and prettier carved garnishes instead of fluorescent lights at street stalls. Naturally, the western food is going to cost you more, especially something like sushi, but if you stick with Thai food you'll eat very well here without breaking your budget.
If you're on a tight budget, you can get some street food for a dollar or less, including meat skewers, cut-up pineapple, and mango sticky rice. Usually a real plate of pad thai or a rice dish will start at 40 or 50 baht ($1.50) on the street. Street food stalls are the best places to eat like a local. They're the cheapest option but also the tastiest sometimes. In a month of eating out at restaurants on this trip though, most of the time we were spending around $3 for a main dish in a regular restaurant, sometimes right on the beach, or $6 if we were getting grilled fresh-caught seafood.
I don't think either of us ever ordered anything that topped $8, even at tourist restaurants. (Although I did see prices much higher when we spent a day at the Intercontinental Phuket.) A few times we went to the night market in Kamala and got a little of this, a little of that, usually spending around $5 each to get stuffed, including a coconut shake for a buck.
The Thais love markets and food courts, so it's very easy to find an inexpensive and tasty place to eat, whether you're walking the streets or in an air-conditioned shopping mall escaping the heat. The food court in the mall next to Bangkok's Chatuchak Market has a great selection.
Restaurants run the gamut from simple places where it's all about the delicious food to opulent showpieces run by a celebrity chef. Unless it's a place catering to tourists or Japanese businessmen, however, expect to pay half or less what you would for something comparable in your own country. If you have a group you'll try more things and probably spend less by eating Thai style and sharing multiple things.
As for beverages, as I mentioned before, only beer prices seem unusually high in local restaurants, though a beer to go will be around $1 for a tall boy can at convenience stores. It can be cheaper to drink cocktails with local Thai rum than to drink beer or wine. Coffee is reasonable though you might get stuck with instant if you're not at a real coffee shop. For the good stuff, expect to pay $2 or so.
Fresh seasonal juice prices are terrific, at a buck or two for orange, pineapple, mango, or pomegranate juice. Sodas average around 50 cents, including sparkling water. Bring some kind of water purifier and water bottle to keep your drinking water budget low: you can't usually drink the tap water here.
I've always said that the "Big Mac Index" The Economist uses is not a great measure of real costs between countries. A better one would be the "Nestle ice cream novelties index." Compare the prices here to the ones in your own country (nothing is more than 80 cents).
Transportation Prices in Thailand
Budget travelers don't spend much on public transportation. In Bangkok you want to take the metro or BTS sky train whenever possible as the traffic is brutal. Prices on most routes range from 16 to 42 baht depending on the length of trip (50 cents to $1.25). They top out at around $2 for trips that span two systems, or if you take the Airport Rail Link from the big international airport to the end of the line, that will cost you 45 baht, less than $1.50.
These are all modern systems with electronic touch cards you can load up. You can take the sky train all the way to the international airport. Other routes are served by buses charging 40 to 60 cents. If you do need to take a taxi, they should use a meter and it won't cost too much: we went from the riverfront at the end of Silom to Sukumvit a few miles away for less than $3 on my previous trip. My next driver wouldn't use the meter and wanted 200 baht for a shorter trip than that. We eventually settled on 60. This time I had to suck it up and pay 200 to go not so far because there was a lot of traffic and two other drivers quoted prices even higher.
Tuk tuks don't use a meter so you have to bargain with them no matter what. They're definitely not a pleasant option in Bangkok, where you're breathing in all the street-level fumes while you're sweating. In smaller cities and towns they can be the best way to get from one spot to another.
Prices are similar in Chiang Mai and other cities, though they can be higher on islands where there's less competition. In Phuket it's a lot like Cancun: the taxi mafia colludes to keep prices high and you really have to bargain hard to get them down. We paid 500 baht (almost $15) a few times, even when using the Grap app, which has a minimum of 150 by the way. Thankfully there were 2 to 4 of us sharing each time. There is a nice bus going all along the western coast of Phuket though that's around $3 for as far as you want to ride it.
Inter-city transportation in Thailand is a bargain by train or bus. A few examples:
Shared five-hour van from Satun to Krabi: $6
Train from Bangkok to Ayutthaya (1.5 hours): 50 cents 3rd class, $8 air-con 2nd class.
Bus from Bangkok to Cambodian border: $10
Train from Bangkok to Chiang Mai (overnight): $18 in seat, $25 in sleeper
Bus from Bangkok to Phuket: $20 express to $29 VIP
Train + ferry to Ko Tao from Bangkok (overnight): $36 in 2nd class
Train from Bangkok to Penang, Malaysia (overnight): $34 in 2nd class sleeper
Note that flights within the country can be the best deal of all. They are ridiculously cheap on the many domestic and regional airlines, especially if you book ahead. Even with checked bags and a meal on Thai AirAsia, we paid less than $60 one-way from Bangkok to Phuket. For long distances, you'll be better off with a cheap flight than an overnight bus ride these days since the price difference is often minimal. See this article on Thailand's domestic airlines for more.
We spent around $40 each for a high-speed ferry between Phuket and Koh Lanta that went by Koh Phi Phi. That was worth it to shave off hours of travel and the return trip ticket included a ride from our hotel to the ferry dock.
Other Thailand Travel Costs
There are lots of things to see and do in the different regions of Thailand, with prices (and choices) that vary a lot depending on where you are. Your daily budget will go up a lot if you're taking lots of tours and paying taxis every day. As in most countries, activities in rural areas that aren't tourist hotspots tend to be more reasonable than in places filled with those on a one-week or less Thai holiday.
The average cost of a legit Thai massage will be around $10 for a whole hour of kneading and pulling. I've paid a little less in some places, a little more in others, but it's generally going to be between 250 and 400 baht unless you're at a nice spa or in a hotel. We got several Thai massages right at our hotel, by the beach, with waves lapping the shore nearby for 300.
A first-run movie (English with Thai subtitles) in a theater that will put your home ones to shame runs $4 to $6.
Admission prices rarely top $3 for sites and museums throughout Thailand. The Grand Palace is the main exception. That wonder of the world will cost you around $15 to enter. (But it's worth it!)
It doesn't cost much money to upgrade your wardrobe here if you're a guy who has to dress up sometimes. You can get a custom-tailored suit made in Bangkok for $150 to $350 depending on quality and fabric, with most of the shops run by Punjabis who speak four or five languages.
Thailand is a great place to go shopping, especially Bangkok where you can get some really nice things for your home or to bring back as gifts. This time we loaded up on curry pastes, spices, kitchen items made of bamboo or coconut shells, woven tissue box holders, and loads of beauty creams for my youthful-looking wife.
We went on one tour in Phuket, a snorkeling and island-hopping trip that included some chill-out time at that beach you see at the top of this article. We would have done and Old Phuket tour too but since there were four of us we hired a driver for the day for around $75 total and went to multiple sites instead, the last one being the oldest part. This will give you an idea of tour prices in Phuket:
What About Flights to Thailand?
I'm not spending a lot of virtual ink on this section because the flights to Thailand vary drastically in price depending on how far your journey is and what time of the year you're flying. You could spend $2,000 to fly round-trip from the USA in high season or get there and back for $200 coming from Europe or the Middle East on a promotional deal. So your total Thailand travel budget will vary a lot depending on your origination point.
Check flight prices to Thailand here from your closest airport.
In general, flights from elsewhere in Asia are the cheapest because Bangkok is a major Southeast Asia hub and practically every airline based in Asia flies there. Your Thailand trip cost will be less if you combine it with a trip to India, Nepal, or elsewhere in Southeast Asia. When China is safe to visit again, you'll find cheap flights from there as well. Don't just check Bangkok either: sometimes you can find better deals to Phuket, especially from Europe. As mentioned previously though, domestic flights are almost always cheap flights.
If you're coming from far away, it's best to be a slow traveler to spread that expensive flight cost over a longer period. Coming all the way from the USA or Canada and only staying a week means your trip to Thailand cost overall is going to be much higher than it is for someone staying a month or two.