All year long I plug away with my head down, fingers flying on the laptop, sneaking the necessary desk time in between bouts of adventure and note-taking. I'm taking stock at the end of the year to look at the most popular cheap travel articles on this blog I've been running since 2003.
In a year when travel came roaring back and I tried to make up for lost time, the most popular cheap travel articles and living abroad posts were a mixed bag. As for me, I made it to four continents and could see a fifth from where I walked on the beach in Spain, so I was out and about a lot after not leaving North America for nearly two years.
The sidebar of this Cheapest Destinations Blog always shows the most popular posts over the past 90 days, but of course, if you're reading this on mobile you probably don't see it. On a one-column stream, everything gets shifted to the bottom.
Those most popular cheap travel articles don't change very much because often they're the ones that have had a good search position for years and people keep landing on them for answers on cheap travel and living abroad. Or the ones that get shared the most on social media or resonate with newsletter subscribers. So first up I'm going to list the five most popular overall cheap travel articles from the past year. It doesn't matter when they came out originally.
Then the next list of five will be the Cheapest Destinations Blog posts that came out in the past calendar year only. These had to resonate much faster or get shared a lot on social media to move up the list.
In the last section, I'll talk about where I went over the past 12 months and what I learned along the way.
Most Popular Cheap Travel and Living Posts Overall
I generally update this one every year when a new JD Power and Associates survey comes out, though the changes usually aren't very drastic from year to year. There was some upheaval though when some started using enhanced cleaning protocols to cut back on housekeeping or turn a buffet breakfast into a heaping pile of sugar, fat, and plastic in a box.
Chain hotels and motels dominate the choices in the USA, so it's good to know where the brands rank if you're on a road trip, heading to a big city, or just getting an airport hotel before an early flight out. Be sure to check out the companion post to this if you don't want to pay a lot to stay in these ho-hum chain hotels. Most of them for me are free chain hotel rooms because of what's in my wallet. I cashed in for a dozen or so nights this year.
I wrote this before the pandemic changed the landscape and have to dig around to see if anyone has updated the stats on which countries you can fly out of for the lowest prices now. Prices got wacky when fuel prices and demand both spiked.
Based on what I saw this past year, Colombia is still a terrific value and prices in and out of Spain and Thailand were great when I was in those two countries–though for Thailand they're much cheaper within Asia than they are when you have to head across the Pacific Ocean. I also got some great deals between Mexico and the USA in 2021, but for now there are far fewer bargains around.
Finding local accommodation for a month or more in another country is much easier than it used to be, especially if you're not very price-sensitive. Follow the tips in this article to get a better deal every time though if you're renting an apartment or house for a month or more. With the rise of remote work and digital nomad visas, many people are finding that it's far cheaper to do this almost anywhere in the world than it is to pay a mortgage or inflated rent in their home country if it's a place like the USA, Canada, UK, or Australia.
In the past year I've rented places in multiple countries, changing offices and living quarters just by stuffing my laptop in a bag and opening it up elsewhere. I'm seeing amazing deals out there all over the place, at prices that would be laughable in most desirable parts of America.
I'm going to have to make some slight edits to this post in January as the peso has held its value all year while inflation has led to some price increases. Don't worry though: you can still get a tall boy beer in a store, an ice cream cone on the street, or a couple of local bus rides for the equivalent of one U.S. dollar in Mexico. Take it from me, it's hard to leave and return to the land of my birth after getting used to these prices and really enjoying the fruits of my labor.
Apparently a lot of readers started to realize that housing prices in the USA and Canada are just insane and Mexico had a record number of residency applications next year. Some of those people moving south are trying to escape snow shovels and parkas above all else and they're dreaming of living near the ocean somewhere.
Renting or buying on the coast of Mexico costs a fraction of what it does in California or Florida for the equivalent size and comfort level, but with this handy guide from a guy who lives and travels in the country much of the year, you can find the spots that are an even better value than the famous resort areas. Here's the house I used to own just one casita back from the beach. We sold it after we bought our place in Guanajuato…for less than $60K. (And made a slight profit.)
Some of the runners-up that were quite close were on the cost to go through the Panama Canal, the best 100% agave tequila bottles for $15 or less in Mexico, the cost of living in Colombia, and where retirees can live by the beach on just social security checks.
Most Popular New Posts on the Blog
So which ones came out of the gate the fastest and kept getting traffic? Obviously, ones earlier in the year had an advantage, but these are articles, not horses, so forget the fairness factor in this race. These posts took off quickly and will probably keep doing well next year.
This just came out in December but it has already racked up a few thousand hits. Maybe because unlike most of the articles you read on this subject, my list is actually based on personal travel, extensive interviews, and real data. I didn't write it while sitting in a junior editor's desk chair in NYC to meet obligations for a content mill.
If you're tired of barely getting by financially and would like to live it up without having to earn more money or work harder, changing your address could easily lead to a major life upgrade.
I'm still a working stiff with no plans for retirement, but a whole lot of people who buy my book on moving abroad are getting to that point. I constantly get questions about the best places to retire in Mexico and it's not as easy as answering that question for a place like Ecuador or Portugal. There are just way too many choices and huge climate differences. So I put up this post to refer people to, based on my 18 years or so of traveling in the country and then living here. It has gotten shared a lot and I hope it helps people narrow down their choices.
3) The Mexico Visa Requirements for Long-term Stays
I am a permanent legal resident of Mexico, something I got rolling during the pandemic times after spending years just going in and out on a tourist visa most of the time. It was looking a little dicey there in a lot of countries when borders starting closing and we wanted to lock down our status to make sure we wouldn't get expelled as people did in so many other nations. For a while there Mexico was cracking down on temporary visa stays too, giving people 30 or 60 days on a whim instead of the usual 180.
This article is meant to be a guide to what to expect if you're applying for residency. Just understand that the rules are always in flux and the income requirement will almost surely go up every time the Mexican minimum wage is raised. Consulates and embassies are supposed to adhere to the same rules, but they're run by humans with personalities and agendas, so be patient and go with the flow.
The rules change often when it comes to visas though so I've already had to update this one and republish. See the current version here: Mexican Residency Income Requirements: Temporary and Permanent.
This one was a happy surprise. After seeing so many holes when I tried to find out information about traveling the USA by train, on the eastern seaboard where you can go from Canada to Florida, I wrote the article I wished I could find and it did quite well. I've personally traveled by train from Boston to NYC to DC to the Carolinas to Florida. Sure, it's a less-pleasant alternative to what you find in Europe, but in the car-centric USA, it's nice to have these options. If you live in NYC, there's another post from last year on where you can go from there without a car, including the regional trains and bus options.
Argentina thrilled half the planet by winning a nail-biting World Cup final that finally gave us a soccer match to get excited about. Before that though, they already had the crown as the best travel value in the world for the moment–if you come with plenty of cash on hand. Flights to get there are not cheap, but if you can cash in airline miles like we did, you just might have your cheapest vacation ever and come back stuffed on great food.
So there you have it—the most popular cheap travel articles as we move on to a new year. As I was writing this I looked back at the 2019 version and saw this prescient quote: "I can see with 20/20 vision, but I have no idea what will happen in 2020." Wow, maybe that's a good thing because I probably wouldn't have believed it even if I had seen the future. It felt good to get out and about again.
Where I Went in a Busy Year of Travel
This past year might go down as my most traveled ever since the days when I was a carefree backpacker roaming around the world in the 90s. A year ago I was in Belize, my first venture outside the USA/Mexico bubble I had stayed in when we were dealing with perilous travel and heightened restrictions. I spent a fortune on Covid tests and insurance but it was worth it to cross the border after spending some time on Lake Bacalar in the south of Mexico. I was mostly working and good thing as despite what some articles would have you believe, Belize is no bargain.
In the new year I started a series of travels that took me to South America, Europe, Asia, and North America.
A trip that had been put off over and over again finally materialized and I headed down to Argentina for a few weeks, with bookend times in Buenos Aires and the rest in Patagonia. Lots of hiking around El Chalten, exploring lakes and forests, and finally getting to see the spectacular Perito Moreno Glacier. After arrival I was thinking I didn't want to leave: it was cheaper than Mexico but with better wine and craft beer. We gorged on steaks, seafood, empanadas, and surprisingly more vegetable options than I remembered from previous trips there.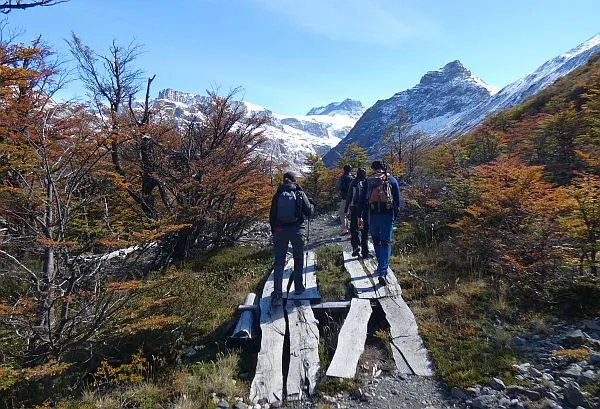 I returned to South America twice more, first to Bogota for a travel writers' conference and then on to Medellin on my own. I didn't love Medellin as much as I thought I would, but I think I just need to hang out in a more walkable neighborhood next time. It was another terrific value though, thanks to the steady depreciation in the Colombian peso against the U.S. dollar. Prices were basically on par with Mexico for a lot of items and some services, including transportation and urban rent prices, were less.
I also returned to Peru and Chile. I was on a writing assignment for a luxury pub so I didn't do the kind of research I would have normally for this blog: it was a cruise (my first on a ship holding more than 60 people) from Lima to Valparaiso. My quick conclusion was that Santiago is looking really rough these days, not exactly feeling like the capital of the wealthiest country in South America. Years of protests and unrest have made the city vie with Bogota as the one in the Americas with the most graffiti on once-beautiful historic buildings. It's like they've given up.
In between I headed off on several trips to the USA, including my first journey to Puerto Rico. You can read a Puerto Rico travel article I wrote for Perceptive Travel and one on skiing in the panhandle or northern Idaho will come out soon and I'll insert a link here. I also drank a lot of wine in Tri-cities, Washington and ate my way through Lafayette, Lousiana (with a day of biking to work off a little of it).
I had only spent one night in Madrid before this year and that was the extent of my Spain experience. So I spent close to two weeks in Andalucia, soaking up the atmosphere, going on a food tour in Malaga, and diving into the history of the Moors. After that I flew direct to Bulgaria, on my first-ever flight on Ryanair, and spoke at the Bansko Nomad Fest. I'm a big fan of Bulgaria. I'm leading a 19-person ski trip there this coming March and then will return to the Nomad Fest in June.
My most recent trip was a verrrryyy long flight to Thailand from Mexico. My wife went on miles and headed west. I went on a flight that the conference organizers covered and headed east. It was my first flight on Emirates and even though I was in economy, it put every other airline I've been on the past decade to shame. Great food, great staff, great entertainment on the screen, and about as pleasant as you can get for a journey that takes an entire day.
I'll be posting soon on prices in Thailand for travelers, which felt pretty much like the prices I saw seven years ago when I was last there.
Yes, I also continued to travel a bit in Mexico but a lot of those trips were either adventures in Guanajuato state, in Yucatan state, or in Cancun/Riviera Maya for work purposes. I hope to branch out more in the new year but the big trip coming up will be a long stint in Europe. Switzerland (the first new country in ages), Bulgaria for the ski trip, Greece, the Balkans, and Germany is the plan over several months. After that, who knows?