Day of the Dead, or Dia de los Muertos, is a special time in Mexico. It has become quite a tourism draw, but back before anyone was coming to observe the festivities, they were still a key part of the culture.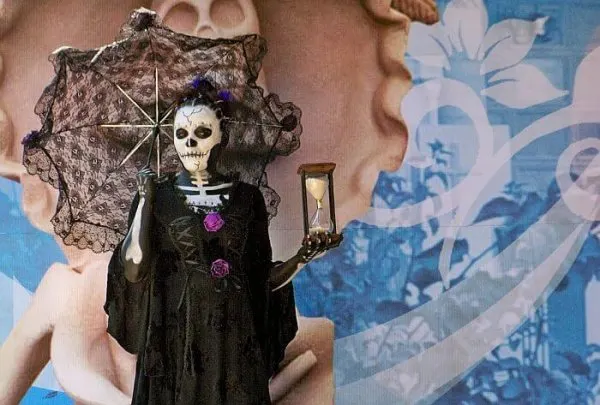 If you haven't seen the Pixar movie Coco, you have really missed out. This would be a good time to find someone with a Disney Plus subscription and stream it. Or pick up one thing you can get for a dollar or less in Mexico–a bootleg CD–and watch it.
The creative crew really nailed it with that movie and it'l give you a lot of insight into Mexican culture. There are influences from Oaxaca, Guanajuato, Patzcuaro, and other spots in the movie and it's a glorious mixture of what makes this culture so interesting.
Halloween bleeds into Day of the Dead in Mexico, making for days of ghoulish fun. Preparations start weeks before, then at the end of October, the kids dress up like something scary, with full-on face painting, and go trick-or-treating from store to store. Only in a few Americanized neighborhoods do you go to houses. Instead the stores—whether they normally sell candy or not—will give out sweets to the kids. For a tienda on a busy street in the center, that can be a real investment!
My daughter did the rounds a few times when she was younger and living with us in Mexico, dressed up like a character from Adventure Time instead of a ghoul, raking in crazy candy like you've never seen before, including some items with hot chili in them. Here kids just walk into a convenience store or ice cream store and say "Dulce o Truco" and out they come with candy.
On November 1 we caught a Catrina fashion show put on by the Guanajuato government workers in a park. It's not widely publicized, so it doesn't get too crazy crowded. When we lived here the first time I shot some great video of it that you can see here:
Later that night we headed to the center of town for a Day of the Dead-themed show that included a great stop-motion animation film made by students at a nearby university, with lots of Catrina figures again making an appearance. Then we checked out the stands selling alfeñiques—sugar skulls and figures purchased around Day of the Dead and sometimes left on alters. (The chocolate ones are obviously meant for immediate munching.)
Some of the home alters are simple affairs, with at least one photo of the deceased, various symbolic elements like pan de muerto (bread of death), and items that the person liked: maybe some tequila, certain foods, or books. Some of the alters in public spaces are extra elaborate, maybe honoring founders or people who worked there who have recently passed on.
This all comes together at the cemetery, where relatives come to the grave with flower displays and decorations. It doesn't stop there though. The visitors will usually hang out for a while, having a snack or drink with the dead and talking about the good times in the past. Sometimes an alter will be set up here as well, with sugar skulls and mementos arranged on or around it.
In the cemetery, Dia de los Muertos is far from a solemn affair. You'll see a cotton candy vendor, musicians ready to play the dead's favorite song for them and the family, and people having a good time together drinking and eating together. Outside the cemetery in Guanajuato, it's like a festival.
You can get lunch, buy some street stall tacos, or purchase a toy from the vendors set up for several blocks. The flower sellers are busy in the cemetary itself and there are men with ladders who will climb up to the high mausoleum-style graves to place the flowers there.
Where to Celebrate Dia de los Muertos
While other parts of Mexico have adopted the celebrations and the aspect has changed thanks to spotlights such as the opening scenes in the Specture James Bond movie, there are a few spots where the traditions originated.
The most famous place in Mexico to see all this in action is Oaxaca, but because of that it's full of tourists. It's a fantastic place to observe the action, with plenty of great food, but reserve well in advance or you might get locked out. Check Oaxaca hotel options here.
That's even more true in the small town of Patzcuaro, which was the original place foreigners used to go to tramp around cemeteries and see how the locals celebrate. For a while people were avoiding the state of Michoacan because of news incidents, so the intrepid had the place to themselves. Now the crowds have come back and you'll need to arrange a place to stay and a driver/guide months ahead of time.
There are plenty of other options though and the holiday follows a similar pattern throughout the central part of the country. There's plenty to see my town of Guanajuato plus San Miguel de Allende, Mexico City, Queretaro, or Merida too. Ask around and keep an eye out if you're fortunate enough to be in Mexico between October 31 and November 2. There will be something going on if you can find the right spots.
Otherwise you can just wander around and take it all in. Or hire a local makeup person, put on some fancy clothes, and take part in the fun. Though you need to be respectful in the cemetery, everywhere else it's fine to be in a party mood and most Mexicans don't mind if you join them in the fun.
On the streets of whatever city you're in, people will be in full-blown makeup, wearing elaborate costumes, and in a festive mood. It's not unusual to see local in full regalia in a restaurant or a bar and most of them don't mind if you take their photo or pose with them. Just ask first to be polite.
Planning a Mexico Trip for Day of the Dead
Although November 2 is the "day" in "Day of the Dead" (Dia de Muertos), the holiday really goes on for days. Events start the week before in central Mexico where I'm living and the stands selling related sweets go up before that. The kids have a four-day break from school.
As I've noted before, especially with this visit to the Museum of Death in Aguas Calientes, Mexicans have a special relationship with death. Some of the traditions go back to Aztec and Maya times, others (like the Catrina figure) have only been around a century or two. There's a serious element in that it's meant to be a time to remember ancestors who have passed on, but this is no funereal affair with lots of crying and depression.
There's nothing somber about remembering the dead here. Sure, a few people in the cemetery will be saying prayers and lighting candles, but most will be chatting away and laughing, some texting on their cell phones and taking selfies in front of alters. Music is playing in the cemetery and kids will sometimes be walking around with costumes on, complete with blinking devil horns or lucha libre wrestling masks. just outside you'll find vendors selling tamales and hot dogs, others selling toys and trinkets. It's a great time to observe all the facets of Mexican culture in all their glory.
Other events around the holiday may include a parade or two, festivals, chalk painting contests on the sidewalks, concerts, or food-focused events. Some years in Guanajuato City they've had underground events in one of the tunnels or a festival by the lake with boats on loan from Xochimilco.
For another perspective from an expat family, see this story in Perceptive Travel about celebrating the holiday in Oaxaca and Merida.
Have you celebrated Day of the Dead somewhere in Mexico? Tell us how it went in the comments!