What is my life in Guanajuato like? How much do we spend on a regular basis? I get asked a lot, so every few years I do a post with actual cost of living prices and try to give some insight into what it's like to make this hilly city a home.
I moved back to Guanajuato, Mexico for the third time in late 2018 and it's now my permanent base. My daughter lived here with us the first two times in the 2010s and spent three years in school in Mexico, but she is now off on her own after finishing university in the U.S. Those first two times were for one year and then two years, so on this stretch we've had a longer run actually living here.
We bolted the USA and headed back to our paid-for house on the fun side of the wall once our daughter went off to college and now we just go back to Tampa Bay and where she lives now and then for visits and business. (And during the pandemic, to get our vaccinations faster.)
Central Mexico is quite cheap, so much so that Mexico is featured in my book A Better Life for Half the Price and in the 5th edition of The World's Cheapest Destinations. As in it's a good value for living and a good value as a traveler.
It wasn't always the case: when we first moved here, the greenback got you around 12 pesos. Now that one dollar gets you 19 or 20, it's a great bargain. The list of what you can get for a buck or less just kept getting bigger until 2022, when inflation hit Mexico like everywhere else. In the past six months as I write this, quite a few items have gone up in price.
One quick technical note: I live in Guanajuato City, the capital of the state of Guanajuato. The cities of Leon and San Miguel de Allende are in the same state, served by the same airport (BJX).
Cost of Living in Guanajuato
If you've got some time, check out the video below to get a sense of what prices are like in Guanajuato and central Mexico in general. Although some items have gone up, especially imported items, I still pay less than 35 cents for the city bus, $3 for a taxi across town ($4 to the bus station), $3 for a haircut, under $18 for a thorough house cleaning, and less than $10 a month for my electric bill.
Going out has gotten a lot cheaper than when I first moved here (you can still find beers for a buck or so in this college town) and it's rare to spend more than $6 for a concert or symphony performance.
The aesthetics of Guanajuato are great and the city has been here since before any English people set foot in America. Most of the traffic moves through tunnels under the city, so it's a very pedestrian-friendly place to live. There are only two above-ground streets in the historic center that have cars on them. The rest are pedestrian-only. Most of the traffic goes through the Guanajuato tunnels.
Second, the weather is gorgeous almost all year. We're at an altitude close to 6,500 feet here, so it can get a little chilly at night a couple months of the year, but the climate is agreeable enough most of the time that houses aren't built with heat or air conditioning and the outdoor cafes are busy for 12 months. It's usually blue skies, sun, and highs around 80F in the daytime. Most days it's in the 70s.
We're usually happy to see a bit of rain in the summer though, when I sometimes get views like this from my house: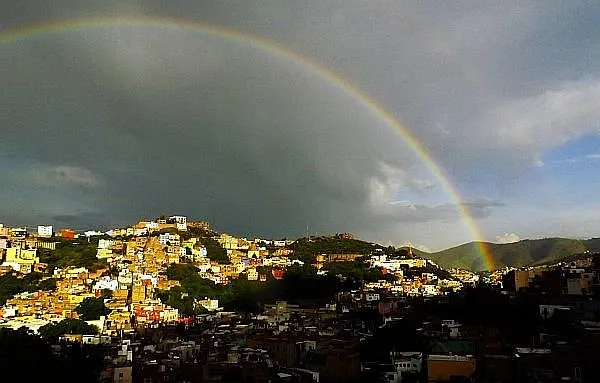 See some more background here in these local insider tips.
I can turn down a bit of the stress in my business here because I'm spending less than half what I did in the USA on basic living expenses. The first time we were here we rented two side-by-side apartments for a total of $800 a month, all utilities and internet included. Rental prices haven't gone up all that much since then. See more on central Mexico rental prices here.
Now we own a house outright, so we put money into expenses like improvements and furniture instead. Here are some hard numbers though for regular monthly expenses when we were a family of three:
– Daughter's private school was a shade less than $300 per month
– We spent about $100 a month on transportation getting her there & back (the school was not within walking distance)
– We averaged about $50 a month on other local taxis and buses when she was here, now it's more like $10 to $30. We only need to take a cab for a big grocery shopping trip or to head to the airport or bus station. It costs about $20-$25 to take a taxi to the airport, so that throws things off when we're flying out more.
Now that there are just two of us, our monthly total expenses in Mexico are usually around $1,500 to $2,000 if we're going out and traveling locally–counting our medical insurance. During the pandemic, however, when we were stuck and home and just buying food and booze, for a couple months we only spent about $800 per month not counting the insurance.
– Food varies wildly, but a liberal estimate is $300 a month on groceries, $200 eating out, not being careful at all. We don't even ask the prices at the fruit and vegetable stands since a lot of things are just a buck or two per kilo.
– Entertainment and fun averages $200 per month, a fair bit of that on my beer budget, with some occasional Mexican craft beer in the mix. Tequila is cheaper: often $15 or less for a 100% agave bottle.
– Medical/dental costs come in spurts, but let's say $200 per month out of pocket max, plus an international expat catastrophe insurance plan that covers us in the USA, another $400 or so per month. (If we weren't going back to the USA for more than two weeks and needing coverage there, we would pay about half that.) More on expat health insurance here.
Property taxes are paid annually and this is another expense that has gone down as the peso has dropped. We now pay less than $150 per year.
Our house repairs, renovations, furniture, and other purchases vary depending on how flush we are that month and what projects we want to get moving on. But it's rare than we spend more than a few hundred dollars even if they handyman is doing a lot of projects for us.
Utility Bills in Guanajuato
Guanajuato City is at 6,500 feet, around 2,000 meters, so the weather is temperate and pleasant all year. You don't need a lot of electricity to cool things down or heat things up.
– Here's a picture of one month's water and electric bills, in pesos. The 114 peso water bill is about average in 2022 also and it's equivalent to $6. The worst we have had is $12. The 324 electric bill is actually higher than we're seeing now with two people in the house and even that is equivalent to $17–for two months! Often it's less than 300 pesos now.
Propane gas for cooking and hot water has gone up a bit this year as worldwide oil prices increased and averages out to about $11 or $12 per month. Someday we'll probably install a solar system to get hot water via Mother Nature most of the year — something that is very common here — but we're waiting until we have stairs up to our roof set up.
Our cable internet/TV/phone bundle is about $27 a month for 40 mbps speed and loads of (mostly Spanish) TV channels. We gladly splurged on that but are still paying half what we did in Florida, a quarter of what my mother-in-law pays to Spectrum.
I'm thrilled to pay a bit more than I used to when I moved here in order to get high-speed internet and I do use the TV channels to watch sports sometimes (in Spanish) and my news junkie wife likes having access to CNN in English. Otherwise, most of the channels are shows and movies that have been dubbed into Spanish and that's just not worth watching in any circumstance. We use the good internet signal for streaming.
– Drinking water in 5-gallon jugs averages about $15 to $20 a month, delivered to our door. Some people who own their home have a full-house filtration system instead but hey, we're supporting local jobs.
– The mobile phone charges for 3 when we had local accounts was $54 for all of us. (Now we've kept our T-Mobile family plan so we don't have a local number apart from the land line via Megacable.)
– Our maid comes once a week these days and cleans the house top to bottom. That's $70 per month in a four-week month.
We enjoy our life a lot more in Mexico without spending as much as we did stateside. We eat out far more than we did in the USA, I don't hesitate to order a beer or two when we're out, and we take advantage of things like $5 symphony tickets and $4 ballet performances.
You could certainly live here for far less if you wanted and many people do. Considering that we were spending $2,100 a month in Tampa just on rent though and another $1,000 on health care, our Mexican living budget feels like a screaming bargain. We can spend another $1,000 on travel, visas, and shopping and still just be up to what we used to spend on those two items alone.
Some expats who have moved to my city complain that rental prices are going up here, which they are in the places that can be rented out successfully on Airbnb instead. You can't blame a landlord for doing the math and maximizing what they can earn.
It's a saturated market here for vacation rentals though, so that problem mostly applies to the apartments and houses right in the historic center. If you look through the local paper Chopper, you can find rooms with a bath to rent for less than $100, furnished two-bedroom apartments for less than $500 including utilities, and full houses with parking space for $800 or less.
This requires some hoofing it around and communicating in Spanish (or getting a helper to do so) though. Most of what's available to rent is not posted online, especially in English. For more on that subject, see this post on how to find a place to live in another country.
There are a couple of local Facebook groups though where apartments for rent are posted, mostly by other English speakers. For a worst-case scenario just to get an idea, check the month-long rates at Airbnb to see what the high end is just for a month.
Our Daily Life in Guanajuato
Every time I move back to Mexico from the USA I lose some weight. I don't diet, drink less, or go to any gym. Getting around in this city requires lots of walking at high altitude though and like most people, we need to climb a lot of stairs to get to our front door. We always have to hoof it up the callejon—the alley that goes up to our neighborhood. When delivery men brought a refrigerator and stove, they had to carry it up these stairs you see at the right.
My day-to-day work life in Guanajuato hasn't changed much when I have moved back, which is a bit of a problem in terms of getting better at Spanish. That's the big disadvantage of being a location-independent worker and I'm a bit embarrassed that I'm not more fluent at this point. I'm just not using Spanish enough each day because I'm holed up in my home office, working in English. I do use it when out and about of course, but during the pandemic that wasn't happening much at all.
I try to take a walk each day or go out for lunch to enjoy where I'm living and I have a glorious view from my office window. I always see interesting things when I walk and we're surrounded by mountains.
Life happens on the streets here, not in front of the TV, which is another thing I like. It's always bustling in the center and people hang out and talk. Mobile phone use goes up all the time, but most locals seem to have the discipline to put the electronics away when they're out with friends having coffee, a meal, or drinks.
The Pros and Cons of Life in Guanajuato
One person's pro is another person's con here, which makes it rather complicated to say what's good and bad. But in general, here are a few aspects to consider, apart from what I've already put into this article.
Pros: Great weather; 330 days of sunshine a year; busy nearby airport (Delta, United, AA, and Aeromexico plus the budget ones); priced for Mexicans, not gringos; university town with lots of cultural events; loads of bars; nice outdoor cafes open all year; great hiking options just up the hills; one of the world's most pedestrian-friendly cities; UNESCO world heritage city.
Cons: VERY hilly and at high altitude, as in not a good place if you have mobility issues or are out of shape. The climate is quite dry much of the year; there are no real expat hangout places and very few social clubs for foreigners; almost no digital nomads here; there's more graffiti than there should be; there's a record of cartel violence in other parts of the state; food is good, but not great in terms of restaurant breadth; if you insist on having a car, it's tough to find parking or to get a house with a space.
I'll continue to write more on life in Guanajuato and living in Mexico on this blog, so stay tuned. You can see photos in my Instagram feed when I'm not traveling elsewhere and here's a video on hiking around Guanajuato.
Meanwhile, if you're passing through, get in touch! If you want to about life in Guanajuato through the eyes and stomach of a local, sign up for my Guanajuato street food tour.
Want to learn more about living a better life for half the price? Sign up for the Cheap Living Abroad e-mail newsletter.