How to find good places to eat when away from home
I've been a travel writer since the early 1990s, back when I took off on my first year-long trip around the world, the start of many epic journeys to come. So from low-tech times to now, I've had plenty of chances to learn how to find good places to eat when away from home.
The advice from this grizzled vagabonder may be different than you see from someone in their twenties though, as I once discussed on a podcast episode with the author of Vagabonding. Since we both started traveling before you could look up anything on a computer in your pocket, we have a different perspective on what "finding good places" means, especially in a foreign country.
Naturally, your budget has a big impact on your definition of good as well. If you're a market hound always seeking out the most authentic local restaurants with a sense of place, you're going to have very different criteria for good food than someone spending $1,000 per day on vacation who seeks out the top-rated gourmet restaurants in each location.
So I'm starting at the bottom, where the local food aficionados and the budget travelers will end up, then going up the food chain for where to find the top restaurants and best food in a given place. In either case, you're almost always going to be better off getting advice from a food-focused local than you are from some travel writer or tourist who just landed there for a week or less and left.
So if you do a search for the best restaurants in Guanajuato for example and get five actual articles on the first page with recommendations, it's good to do a little sleuthing to see if the person who wrote a particular article has some kind of inside knowledge or expertise. If there's no byline or credit, that's not a good sign. Extra points if they live there. In any case, it might be good to read all five articles to make sure some of the recommendations aren't totally out of left field.
Treat every "great place!" recommendation or best-of list with skepticism when you're in a new place. This is true whether that's online from an article or commercial service such as Yelp, or from an offline source, such as a hotel concierge who is normally dealing with people on a different quest than yours. Incentives, biases, family ties, and commercial considerations can all color the results of where people send you at mealtime, especially for sit-down restaurants;
My Personal Favorite: Ask Locals of Normal Means
A hotel concierge is used to making recommendations to business travelers with expense accounts and leisure travelers on vacation. A concierge also may have connections going on behind the scenes that influence where they send people. That's probably not the person you want to ask for advice on where to eat if you want some true local food. It might be a better idea to ask the bellman standing out front, "What's your favorite restaurant?" He'll probably actually tell you where locals go, maybe where to find a bargain-priced lunch menu among the nearby restaurants.
Local travel guides doing any kind of sightseeing tours are better, though you might want to ask, "Is that your cousin's place?" for their first recommendation. The same with taxi drivers and bartenders, the usual suspects that travelers come in contact with when arriving in a new location. The ideal is someone who came into your orbit because they're a friend living there, or a friend of a friend, or at least someone who doesn't have any incentives for sending you to this place or that place.
Do you know anyone there who's a chef? Could you find a way to meet one? Their picks for the best places to eat will often be humble places that aren't pretentious, spots worth visiting where it's all about the food and there's a high chance you'll get a good meal. (I once asked a Mexican chef in my city where his favorite place was to go eat and he named a taco stand out by the bus station…)
Or here's a paid shortcut: book an experience on EatWith, where you have a social dinner in someone's home. That person clearly has a passion for food, so they'll be a great resource for where to go out to eat.
If this all sounds very random and serendipitous, that's because it usually is. Some of the best places I've eaten in—usually far away from tourist attractions—have been recommended by a person with no connection to the tourism industry and no relatives in the restaurant business. They didn't send me to a popular restaurant. They just wanted to help me find the best places to eat in their town.
Take a Food Tour to Scout Out the Options
If you take a food tour of some kind while you're in a city, you'll get a good overview of what's available and discover which places you may want to return to. You can learn about local ingredients, the types of food the locals eat, and maybe where to locate a good food truck. You'll generally eat specialties or the best dishes from places where you stop. I've done these in a lot of travel destinations including Savannah, St. Augustine, Ithaca, and Greenville, SC in the USA, in southern Spain this past summer. On the Greenville one, they gave us a coupon at the end that we could use if we returned to any of the restaurants we visited on the tour. A great idea since we already knew which ones we liked best.
You can book tours like this through Airbnb Experiences, Viator, or GetYourGuide for starters. It's a great idea if you'll be in a city where the good food choices can be overwhelming. It makes a lot of sense to look for a good food tour in New Orleans, for instance. Sometimes you can find tours led by local foodies on EatWith as well.
Don't assume that's all there is in town though. Although my Guanajuato tour company offers a premium walking tour through Airbnb Experiences, the 20%+ we would have to pay a service like TripAdvisor/Viator for our street food tour or bars and tacos tour would have to be passed on to customers. So people have to find us through Google and book direct. This way we can keep the price reasonable for everyone. (If you see "Not available for booking" on TripAdvisor, that just means the tour operator isn't paying them to be featured. Search for it on Google, Bing, or DuckDuckGo.)
Poke around if you don't see one listed online or ask at the tourism office. The food tour I took in Karakol, Kyrgyzstan was actually run by the tourism office! One of their workers was our guide.
Ask Expats Who Love to Eat Out
Often locals eat most of their meals at home, especially in a country where there's not a big culture of going out to restaurants. The locals in Morocco were close to useless when I was there because of that. When I was on a self-guided cycling trip through rural Portugal, it wasn't unusual to find just one single place to eat in a village of a thousand people or more. And even then it was because it doubled as a coffee shop and bar. I didn't ask where I should eat, I asked where I could eat!
When there's not much of a restaurant culture among the locals, then the expats can be a good source of info. They're often eating out more, they've got disposable income for it, and the retired ones have plenty of time on their hands. Trying different great restaurants is like a hobby for them and are the most likely people besides tourists to be leaving customer reviews.
In some cities, such as San Miguel de Allende in Mexico, Cuenca in Ecuador, or Marbella in Spain, it's the foreigners with money who are keeping many restaurants thriving, especially on weeknights. So naturally they have the best insight on the higher-end places. (Though often not so much on the most authentic places where they can't get by in English. Or the markets they're scared to eat at.)
Often you'll find a Facebook group or two and if it's public, you can just search for restaurant recommendations and start there. Otherwise you can join it if you'll be there a while to get access and ask questions.
Find Good Places to Eat by Following the Crowds
The old rule of thumb is that if a restaurant is busy, that usually means it's good. I'd qualify that though by saying if it's busy with local people, or ones who share your preferences at least, then there's a better chance that's true. Otherwise you might end up at Señor Frog's in a Mexican cruise ship port city and Olive Garden in the USA. Cracker Barrel can have a long line to get in, don't forget, if you're in a place in America where that's considered high cuisine.
If you want authentic food, then look for busy places that are full of people who eat that food all the time. This works in Chinatowns of the world and similar ethnic enclaves and it works for foreign countries where you see locals lining up. Some places stay busy just because they're institutions or they have a great PR firm talking them up, but most of the time they stay busy because the food is good and locals keep coming back.
This rule is especially useful when it comes to food stalls and street food stands at the bottom of the price range. You want the food to be good, but also to be fresh. If the stand is busy, and stays that way every day, you're probably going to eat well and avoid any potential stomach problems too. On the coast, you'll be getting fresh seafood instead of what was delivered to the restaurant's walk-in fridge last Tuesday.
I probably use this method the most to find great food in neighborhood restaurants because my favorite way to look for a good neighborhood restaurant is to wander around the neighborhood a while and see what looks inviting. I especially use this method a lot in the cheapest places to travel. The upside is great and the downside is often five or ten bucks if it fails, so no biggie if there's a miss.
That's how I found this place in a neighborhood where I was wandering in Rio and got a great $8 meal: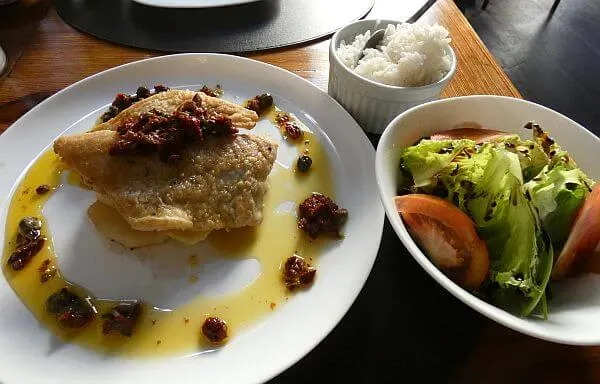 Use Online Dining Resources…With Care
I don't shun the online dining guides as a means to find good places to eat, especially when doing something like one of those "best pizza near me" inquiries. Or "brewpubs in X neighborhood." You'll find the restaurants run by the city's best chefs when you check the fine dining options.
If you do that kind of search on Google, you'll end up with Google Maps results displayed prominently, with links to reviews people have left on Google. This isn't necessarily a bad thing, especially since people will often post photos of the food, drinks, or menu. Sometimes you'll find far more accurate info on there about when a place is actually open than you'll find on the restaurant's own lousy website or Facebook page.
One blogger friend who writes about amazing food a lot says they won't even consider a place without a good number of Google reviews unless it's brand new and someone has recommended it. The other advantage of this platform is that it's in use all over the world, not just in places that are economically viable for a separate app developer.
In this map of my adopted city in Mexico, one restaurant has more than 3,800 reviews and others have more than 500, so you're not exactly taking a big chance if a place has a high ranking. It's too hard for scammers—pro or con—to move the needle at that point.
Which brings us to Yelp, a site that a lot of people rely on for recommendations when trying to find good places to eat, whether it's the best burger, the best fried chicken, or a good taco. While it can be useful, understand that the main way they have made money is through legal extortion. Companies that pay more are more prominent on the site. It got so bad a few years ago that there was a whole documentary about the shady business practices called Billion Dollar Bully. Plus there's a whole shadow industry out there of companies offering to hype your restaurant and trash competitors, which is a hard thing to police.
So I feel like I can never fully trust the ratings or rankings. (To prove my point, the #4 restaurant in all of Tampa right now is one that just opened two months ago and has exactly 19 reviews.) I find it's not too great about recommending the local cuisines: more often you'll find the same kind of food you would find in 100 other cities at the top of the rankings, including some national chains.
The same thing goes for Tripadvisor, which suffers from the same fake reviews problem and has the world's oddest ranking algorithm on top of it. As with Google though, you can see real customer photos, which is helpful. These services can sort by type of cuisine and other factors too, in Yelp's case the kind of view you'll get or whether there is outdoor seating.
For fine dining, an extensive wine list, and the types of restaurants that earn Michelin stars, try OpenTable for special occasions. By nature, the restaurants listed on there are ones where you usually need to get a reservation in advance, so there's some assurance that the place won't be a clunker. Most of the top restaurants that win awards will be on there because it's actually hard to get a reservation and they're often full. In theory it pulls up restaurants near you when you go to their website, but in my experience the "near me" part is very loose: it'll often show restaurants that are two hours away from where I am. It does have reviews though, good and bad.
Alas, the resource that many people turned to in the early days of the internet is now no more. After 25 years, Chowhound shut down in 2022.
Keep in mind that countries or even cities may have their own home-grown ratings app, "best of" list created from polling readers, or lists from local food bloggers who live there and have a reputation to uphold. If you're really choosy, invest some time looking at multiple sources.
In an interview from many years ago in Esquire, the late Anthony Bourdain said he would purposely draw out the opinionated on local food boards to find the best places. He advised that just by naming one of the most popular restaurants, you can draw out good recommendations for the ones that are not so well-known.
Let's say you're going to Kuala Lumpur — just post on the Malaysia board that you recently returned and had the best rendang in the universe, and give the name of a place, and all these annoying foodies will bombard you with angry replies about how the place is bullshit, and give you a better place to go.
How about you? How do you find good places to eat if you're traveling in a new city?