Many times I post pictures of a budget hotel deal I found internationally in my travels, usually somewhere between $10 and $50 per night. A few people inevitably comment, "What?! How did you find a deal like that?"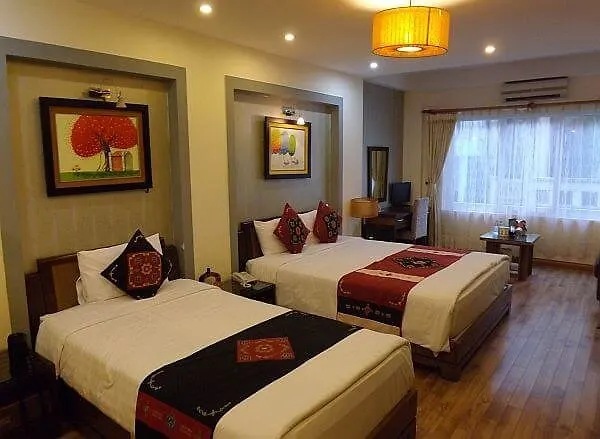 The truth is, I find deals like that more often than not. To many infrequent travelers, it's unfathomable that there are plenty of inexpensive hotels out there that are clean, quiet, and nice. A few times a year I get quoted in some article about finding bargain hotels when you travel because it seems to be a mystery to many vacationers. I've gotten into Travel + Leisure, CNN.com, and Men's Health talking about this subject, so apparently what we regular travelers know is big news to the general public.
It's really not all that hard these days to find a great budget hotel value with all the tools we have at our disposal. It's certainly far easier than it was when I first started out roaming the world in the early 1990s. Back then our information was limited to what was in guidebooks (still sometimes useful), recommendations from other travelers (still useful), physical guesthouse bulletin boards (long gone), and whatever we found just showing up and looking around.
That last one still works, but almost nobody does it anymore. It's too easy to just click a few buttons on a smartphone and be done with it. But it can save a bundle. More on that in a minute.
Keep in mind that the USA is different from Europe and even more different from Latin America, Africa, and Asia. In the USA, chain hotels dominate every city, so you can just look at the best budget hotel chains and figure out which is most likely to be decent within your budget. Then follow the booking advice below to make sure you're not getting a dump.
Here are some obvious tech methods and some not-so-obvious physical methods that can lead to a "What a deal!" hotel value that makes you happy.
Use Hotel Booking Site Review Sorting to Your Advantage
Back in the days before TripAdvisor, bad hotels could get away with being bad because it was hard for the word to spread when guests had a bad experience. There was no forum for you to let everyone know that your room was dirty, the door lock was insecure, and the staffers were all surly. Now everyone who bothers to look at the reviews can see the reality.
I'm a bit skeptical of TripAdvisor though. It's easy to game, both negatively by competitors and positively by the owners' payment or coercion. Also, the algorithm defies all logic when you look at how many positive reviews a place has and how it ranks in the top listings for a given market. (This is true for local tours and restaurants as well.)
I'm much more trusting of the online booking sites because the people leaving reviews are verified guests. If a place scores 9.3 out of 10 on Booking.com or Hotels.com, that means actual guests who stayed there have been very happy with it. If it ranks a 6, you should steer clear. Some of the chain sites have begun to institute reviews too, which is pretty ballsy of them considering how badly some of their hotels rank. I recently saw one on Wyndham's site that was 4.5 out of 10 and there wasn't much written about it that was flattering in any of the reviews.
The aggregator sites are also combining the reviews from various sites to give an overall score. So if you do a search on Trivago or HotelsCombined, you can see which hotels are 6 out of 10 across all booking sites and which are 8.5 out of 10. A big difference in how happy guests have been.
Here's my hack that usually leads to a good outcome. On Booking.com, choose a price filter (say under $50), then pick the function "Best Reviews and Lowest Price." Here's an example above for a two-night booking, though I would skip those first two results because they don't have enough reviews yet. I narrowed it down to El Poblado in Medellin and ended up with more than a dozen options under $40 that had 9.0 or above for the review average and a couple of them even have a swimming pool.
I've used this strategy in several countries outside of the USA and have gotten some terrific values. This photo below was my room in Seville, Spain for around $50 all-in and it had a kitchen and desk. I paid less than that in Cordoba for a fun and funky hotel with a great roof terrace that was in the best part of town for travelers.
Special Hotel Deals for Loyalty Members
There's a perfectly acceptable way to get a 5% or 10% discount on a chain hotel room: log into their loyalty program and book a room. Not only do most hotel chains have a price-matching policy that keeps them from being undersold, but they'll also frequently tack on a discount on top to get you to book direct if you're a loyalty member. If you are one, you'd want to do that anyway because it probably gets you points and a better room. They make more money when you book direct too though, so the companies really don't want you wandering off to Expedia or Priceline where they'll have to pay a commission.
On occasion, they'll offer you some other kind of "members only" discount that you won't find on the online travel agency sites like Hotels.com. On the Wyndham site right now, for example, if you book two nights at almost any property, you can get enough points (7,500) to stay a third night for free. That's like getting 1/3 off on your stay.
It's free to join these programs and it's sometimes the only way to get free WiFi, so you might as well join and book direct if you're going to stay at a chain hotel. For what it's worth, the highest-rated budget hotel brand in the last JD Power and Associates survey was SureStay by Best Western, so don't ignore that program.
By the way, my favorite hotel price is free. I get loads of free hotel rooms every year by using the right credit cards.
Use Hotwire When It's Only for One Night
I don't use Hotwire as often as I used to, but now and then it's still my go-to choice when I'm only going to be somewhere in the USA for one night and I want a predictable chain hotel. You don't know which brand you're getting, but let's face it, they're not all that different when comparing 3-star to 3-star or 4 to 4. I'll often save 20-30% on the listed rate by going this route.
Hotwire is an especially good site for finding a city center or airport hotel on a weekend, when there are few business travelers around. Through Hotwire, a hotel can offer a really low rate to fill rooms without broadcasting that rate in any public way. I've sometimes found 3.5- or 4-star hotels for $65 or less this way.
Again though, pay attention to the review averages. The second hotel below is $20 cheaper, but the people who have actually stayed there hated it.
The More Personal Method of Getting a Great Hotel Deal
A whole lot of interesting hotels are not listed on Expedia and the like, especially internationally, and sometimes you'll have to do a bit of digging to find the good ones. I used to say to use a guidebook, and that can still work, but they're not as thoroughly researched these days since sales and pay have both declined.
If you can find a website that specializes in that specific city, it can often be more helpful and honest than what you'll find on booking sites. Or if you ask people who live there, they can at least guide you to the right part of town.
Walking around still works though, especially at the budget end of the scale where guesthouses for backpackers tend to clump together. If you're going to some Thai island beach for two weeks, you can reserve a place for a couple of nights in advance for when you first arrive, then do some looking around when you get there. You'll almost always find a price that's cheaper than the online one if it's an independent hotel because they don't have to pay 25% to the online travel agency for the booking.
I know of people who traveled overland in Africa for months or years without making more than the landing day's booking in advance. Looking at places in person can take longer, but you know exactly what you're getting because you can see the room first, plus you don't end up making a reservation for a place that's on the other end of a delayed bus, train, or plane.
Or you can plan ahead by making some phone calls and seeing what kind of deal you can negotiate for an advance booking done direct. This is especially fruitful with an independently owned hotel outside of high season if you're staying two nights or more. Get good at this and you might save enough for your next plane ticket.
By using the tactics above, I have found hotels all over Mexico for $25 or less per night, including this one below in Guadalajara that was less than $20. It had maid service, an elevator, purified water, and plenty of steaming hot water in the shower, in a great area near the main plaza and a metro stop.
Much of the time you score by just walking around the right area. You could lose your laptop and phone and still have an easy time finding cheap backpacker hotel rooms internationally. The time and place you really need to book ahead for sure is when there's a festival going on, it's family vacation time in Latin America, or you're in Europe in the summer. In Europe or Latin America, Booking.com usually has the best selection. In Asia it's Agoda.com.
Don't forget that the destination itself still makes a huge difference in the hotel price expectations. I needed a budget of $50 per night to find the kind of place I wanted in Spain, but an equivalent room would have dropped to $25 in Bulgaria, maybe $15 in Nepal and parts of India. Right now we're looking at beach hotels on Ko Lanta in Thailand and we'll probably snag something for $30 per night with a swimming pool and near the ocean.
Have you scored a great budget hotel deal recently that made you smile? What worked for you?