If you're going to try out international living, the whole world is on the buffet table and that can be a bit intimidating. It's like being faced with an entire store full of wine bottles when you're clueless about wine and just want to buy something to bring a friend who invited you to dinner. One place to start is with your ideal climate. If you could pick your ideal place—and you can—which are the cities with the best weather in the world?
As outlined in A Better Life for Half the Price, there are three main buckets that go into decision-making when figuring out the ideal place to live abroad. There are the wallet decisions, the head decisions, and the heart decisions.
The wallet one is key for most people—what can you actually afford? Or how much are you trying to reduce your expenses? If you're starting a business, how long does your runway need to be before you'll be profitable and can stop bleeding cash?
The heart one is hardest. That mainly involves actually going to a place and giving it a trial run. Do you feel happy, energized, and fulfilled there? It's emotional rather than logical. The places with the best weather, however, that you can put on your list of what's important before you ever try a destination out.
The Pros and Cons of a Climate When Living Abroad
Climate and weather are a head decision because although you may get very negatively or positively emotional when faced with a certain climate, you can look up the averages and put them on paper. There will be unusual spikes and dips now and then, but global warming aside you can get a general idea of what to expect. Prague will be cold in the winter. Saigon will never be. Cuenca will be cloudy and chilly for a few months every year. Puerto Vallarta will not be.
So what are you looking for? If you get depressed with a lack of sun, then you probably don't want to be in most of the northern USA, Canada, Europe, or east Asia in winter. If you hate hot and humid weather, you probably don't want to move to Southeast Asia, Central America, southern India, or coastal Colombia. Sometimes it's easier to start striking places from your list than it is to fill a blank page with the possibilities.
What if your idea of the cities with the best weather in the world are those that offer a "Goldilocks" climate–one that never gets all that hot or all that cold? Some of those have become expat havens for retirees for decades. They range from small towns in the mountains to big cities that happen to be in a temperate zone. Some of the most obvious are Boquete (Panama), Medellin (Colombia), Lake Atitlan (Guatemala), and Mexican destinations Lake Chapala, San Miguel de Allende, and Oaxaca.
There are plenty of other cities with great weather but just don't have a lot of expats living there. I have that kind of climate where I'm based in Guanajuato, Mexico, which I'm guessing has somewhere between 300 and 800 foreigners depending on the time of year. Our city is at 6,500 feet in altitude. Our house doesn't have heat, air conditioning, or insulation and that's the norm. Apart from a couple of space heaters we pull out for cold snaps in winter, there's no need. (So as you can imagine, our utility bills are next to nothing.)
Checking the Temperatures in Each Destination
One of the members of my Committed group posted this Weatherspark site in our private Facebook group and it's a great resource for checking average temperatures in a given place. You can find a whole slew of other data on cloud cover, precipitation, wind, and more but here for example is the temperature range for average highs and lows in Medellin, Colombia:
Here it is for one of the most popular "location independent living" magnets of Chiang Mai, Thailand.
I once spent six days in Chiang Mai and it rained buckets the entire time. Sure enough, when you look at the rainfall section for that city, for the months of June through August you've got a 2/3 chance of cloud cover and rain every day. For people coming from London or Seattle, that's probably okay. If I moved there from Florida or southern California, I'd need to find somewhere else to go for a few months a year.
There are other cities with great weather where it hardly ever rains, such as Mendoza in Argentina. If rain and gray skies bum you out, it's easy to find places with 300+ days of sun per year. In others there might be a clearly defined rainy season that only lasts for two or three months. If that's when you leave and go on vacation, you'll never deal with days that aren't sunny.
Another reader pointed me to the Köppen weather classification system. If you can find your ideal color code in that world map system, then you can start looking for other cities with great weather in the same color classification.
Cities With the Best Weather if You Love Heat
Some people have a higher tolerance for heat than others and when they leave their show-shoveling former home to move abroad, the hotter the better for them. If that's your ideal, you're in luck. Many of the cheapest places to live in the world happen to be steamy. Almost any country where you find people sunning on the beach and swimming in the sea all year will meet your criteria.
You could start your search by continent depending on how far you want to get away. Nearly any city in Southeast Asia will fit the bill and you'll find plenty of foreigners living in beach locations there, but also cities such as Bangkok, Ho Chi Minh City, Kuala Lumpur, and Phnom Penh.
In Europe the best bets are Portugal or southern Spain, though they do get some chilly nights in the winter. Cross over the sea to Morocco or Egypt and there are fewer of those.
In Latin America, you've got a span of hot places from Mexico down through Brazil, Peru, and Ecuador if you stay close to sea level. Most of them are going to be hot and humid, though there are a few with desert environments (such as the Baja Peninsula) that are drier.
If you've been inexplicably sad or depressed and you're in a city that's usually cloudy or rainy, it may be more than your job that is to blame. Your best burnout recovery option might be a place where you can have warm sun on your skin on a regular basis.
Plenty of Choices If You Love Four Seasons
Many people grew up watching the seasons change and they get a little sad when they don't get to experience much of that. They actually like having a wide variety of weather throughout the year. If that's you, you're in luck again with the number of choices you have.
As mentioned before, Spain and Portugal do get a bit of winter and there are snowy areas in the highlands. The further north you go, the longer and colder those winters will get. For countries mentioned in my living abroad book, your best bets are going to be in the Balkans or the former Iron Curtain countries that are still a bargain. So perhaps Albania or Montenegro in the first area, Hungary or Romania in the second. In between you've got Bulgaria, which has great skiing in the winter and great hiking in the summer.
I haven't been recommending Turkey because of the authoritarian politics and the death of a free press there (a problem also faced by Hungary). But if you put aside all of that, Turkey is a screaming bargain right now and their weather is temperate on the coast, more seasonal in the interior and in Istanbul.
In Latin America, there aren't a whole lot of four seasons climates until you get down to Argentina, where there's a ski season in their winter. You can easily cool off by heading to a higher altitude though. Any country with mountains offers this option, which applies to Colombia, Ecuador, Peru, and Bolivia in South America, Mexico and Guatemala further north.
What's Your Ideal Climate?
It's hard to talk about cities with the best weather in the world because weather preferences are very personal. True, most of the snowbirds in the tropics are coming from miserably cold places that get lots of snow in the winter. But obviously some people like those winters or they wouldn't keep living there. Others want to live somewhere they'll never need gloves or a winter coat, but they don't want to sweat a liter of water every time they walk out the door. Others are happy if it's hot every day, especially if they live by a beach.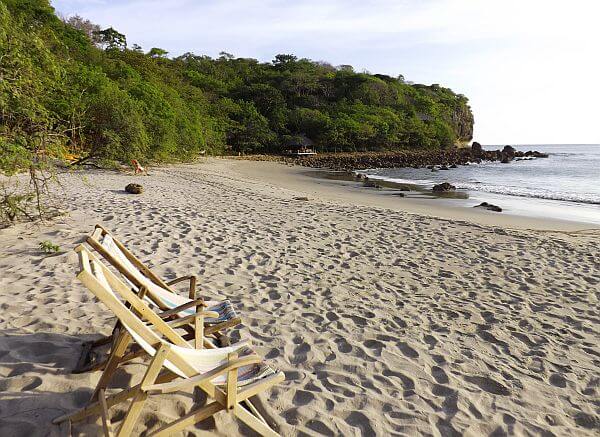 So while you're putting together your list of ideal factors (mountains or beach, isolated or close, urban or rural) don't forget the factor that can really affect your mood: the weather. It's not just a subject of small talk. It could be the difference between you loving a place and hating it.
If you're a couple moving together and you don't share the exact same wish list for weather, consider going to a country where it's easy to change your climate by taking a trip in the same country. When it's 90F degrees on the coast of Mexico, it can be 60F in Queretaro or Mexico City. When it's too chilly for one in the mountains, head down to sea level and start sweating again. Sometimes a drive or bus ride of two hours can bring about a major climate difference, including in small countries such as Portugal and Ecuador.
Last, don't make the mistake of going on vacation during the best time of the year and assuming it's always that way. Ideally, try to do your trial run when you can see some of the worst times to be there. The rainiest season, or the coldest, or the windiest. If you still like it then, you'll really love it when it returns to the norm.
Are you interested in moving to another country and taking advantage of lower expenses, less stress, maybe a better climate? Get my monthly Cheap Living Abroad newsletter! Sign up here.