While the USA is not known for having a great public transportation system, it did in the pre-automobile age, when the trains stopped almost everywhere. Thankfully much of that system survived in the parts of the country that have been populated the longest, so you can still travel the USA's east coast by train, especially in the northeast.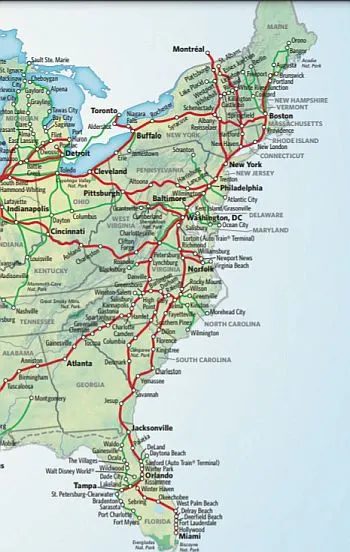 First of all, the big picture. Unlike much of the USA where train service has dwindled to a minimum, there's a robust network of options along the eastern seaboard. This is partly because of population density and history, but also because there are so many cities close together and so many people moving between them every day. People don't just take Amtrak trains in this corridor for fun: they're real transportation links.
Some of the passengers are business travelers. When I lived in NYC, it was faster and far more pleasant to take the train from New York to Boston or New York to DC than it was to fly between those cities. These routes are home to what's as close as we can manage to get to high-speed rail right now: the Acela train. That hits speeds up to 150 mph, so it can get you there faster than flying for sure when you add in the airport commute and security gauntlet. Then you'll arrive in the center instead of on the edge of the city.
There are plenty of regular tourists on these routes too though, including people heading down to Florida and back. There's even an auto train where you can pull your car on in Virginia and pick it up in Florida. Less vehicle wear, no gas to buy, and you can sleep on the way.
If you're coming to the USA on vacation or you're visiting the east from another part of America and want to see multiple cities, here are some train travel options to consider. Don't forget that many of the airports in eastern cities have a train to the city center. So you can fly in, take a local train, and connect to any of the routes here.
Boston to Washington DC East Coast by Train
The most popular train routes in the USA are between three of its major cities: Boston, New York, and Washington, D.C. Because these are in high demand, there are frequent departures and a relatively dependable timetable. In New York, the terminal is the revamped Penn Station and in D.C. it's Union Station, in both cases you're in the heart of the action when you step outside.
The best thing about this whole stretch is you can splurge a bit and go first class, something that is not readily available on many other routes. On the Acela Express train, which is already faster than the norm, first-class passengers get sit-down service with a superior food and beverage menu. Plus there's a dedicated lounge with a wide liquor selection and several craft beer selections.
The Acela train will get you from A to B at least an hour faster than the regular Northeastern Regional train but the extra speed and comfort will cost you. Coach class seats on the regular line start as low as $35 to get you from Manhattan to a few blocks from the White House—one of the USA's best travel values. If your budget is higher though, Business Class Acela seats start at $87, first-class ones start at $258. With lots of legroom and no bag charges like you'll face with the airlines.
Check prices here for the options.
Traveling New York State by Train
You can visit quite a few places in the state of New York by train. The Amtrak Maple Leaf starts in Toronto when borders are open, passes Niagara Falls, then goes from Buffalo through New York state to Manhattan (and vice-versa of course). Along the way, it makes stops in Rochester, Syracuse, and Albany. The Empire Service follows the same route but starts and ends its journey in Niagara Falls.
These trains have food service, and you can bring your pet, there's free WiFi on board, and cafe service. You can bring your bike as well, which would be great for cycling the Erie Canal trail.
Regular coach seats on this route between Buffalo and NYC start at $54 each way, business class tickets start at $163, roomettes start at $207 for 2 adults (good deal), and full bedrooms start at $553—including meals.
The Ethan Allen Express will take you through the scenic Hudson Valley and Catskills Mountains of New York state, which is great during the warm months, but it also goes on to Rutland, Vermont, close to skiing at Killington.
Maine and Montreal on Amtrak
While the Maple Leaf line comes down from Toronto, the Adirondack line connects Montreal with New York City and beyond—when borders are open anyway. This route also passes through Albany, but before that hits Lake Placid and some other Adirondack Mountains spots in New York State.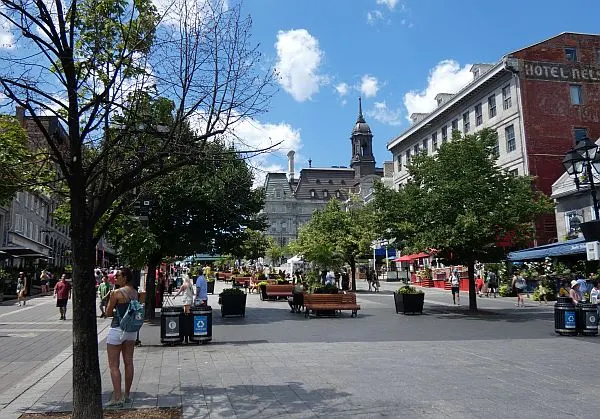 The Vermonter heads up to Vermont from Washington, Philadelphia, or NYC, hitting some spots in Western MA along the way. You could use it for a ski trip to Stowe and a few other mountain resort areas.
You can also travel up to Maine on Amtrak from Boston, to Portland or New Brunswick ME anyway. That's on the Downeaster, which also makes stops in New Hampshire.
DC to Florida by Train (Including Auto Train)
You know how in some coastal cities you can roll your car onto a ferry and then be driving your vehicle around at the other end of the journey? It's the same idea with the Amtrak autotrain. There are train cars carrying automobiles while the passengers sleep, eat, and read a book instead of being behind the wheel.
This is a dedicated train that does not make stops. Your car goes onto the train at the Lorton, Virginia station south of D.C. and your end of the line is Sanford, Florida, which is a nice little town outside of Orlando. From there, you can drive one to four hours and be in St. Augustine, Tampa Bay, Daytona Beach, Ft. Myers/Sanibel, Miami, or other destinations.
The trip takes around 18 hours and cuts out 900 miles of driving. It leaves Virginia at 4:00 p.m. and gets you to Florida the next morning at 8:58 a.m. You travel through the night, but hopefully asleep a fair bit of it.
Prices for a coach seat start as low as $29 if there's a promotion going on, but they're normally $89 to more than $100, plus you have to pay a vehicle charge on top of that, generally $146 for a motorcycle, $208 for a car or truck. Naturally, you'll pay a good bit more if you go for a roomette or sleeper with flat beds. Sometimes the roomettes go on sale too though and I've seen them as cheap as $129. Kids are half-price.
This isn't the only option to Florida, of course. My daughter and I boarded in Richmond, Virginia and rode all the way to Tampa in 2019. We watched a movie on the portable DVD player, ate our snacks, and got drinks from the lounge car. While the seats don't fully recline, they go enough to get a good night's sleep.
The Southeast on Amtrak
A few different Amtrak lines run through the Southeastern states of North and South Carolina and Georgia after leaving Virginia. You can get from D.C. to Atlanta on one line, which then goes on to New Orleans. I've also ridden between D.C. and Durham, NC, and from Richmond to other points. There are also a few branch lines including one to Williamsburg VA and Norfolk.
The easternmost route stops in Charleston and then two southbound routes converge in Savannah, so you can get some history in on your way south before the train goes to Jacksonville and onward in Florida.
Taking the Train to Travel Around Florida
While Florida's idiotic state government creates laughable headlines on a monthly basis, thankfully past ones have created an environment where trains have flourished. On Amtrak alone, you can travel between Orlando, Tampa, Ft. Lauderdale, and Miami easily, plus the lines connect with other ones going two routes northbound in the east.
There are two parallel systems on the east side of Florida, however, that make it easy to stop in other places. The Tri-rail system connects the Miami airport to 17 other places between there and Magnolia Park just north of West Palm Beach. It hits Ft. Lauderdale and its airport, Boca Raton, Delray Beach, and other towns for just a few bucks. So you could land in Miami on a plane and take Tri-rail from there.
The latest development, still in progress, is the private Brightline system. It's currently operational between Miami and West Palm Beach, offering a more upscale experience for those willing to pay for it. They have nice stations with lounges and WiFi, while on board you get leather seats with plenty of legroom and a lounge with food and beverage options. (In Premium Class, the seats are bigger and beverages are included.) Seats have regular and USB outlets. You can bring a pet or your bike.
So far it's mostly working commuters using it, but when the Orlando connection is complete, that will open up a lot of options for travelers. That's coming by the end of this year supposedly and Brightline will make its way to Tampa in the future. And hey, it's a carbon-neutral company.
Scenic Non-Amtrak Train Trips in the East
Sometimes you're trying to get from one place to another, but other times you may hop on a train for the joy of the ride and to take in the scenery. Sometimes you just want to get out of the city and there are lots of train trips from NYC, especially when you add non-Amtrak options to the mix. You can go all the way out to the beaches of Montauk, for instance, on Long Island Railroad.
While most of Amtrak's routes are a lot more interesting outside your window in the west than they are in the east, smaller train routes make up for it. Here are a few to consider:
Cape Cod Central Railway – Gets you out to Cape Cod from Boston. They have brunch and dinner train options.
The Blue Ridge Scenic Railway – Travels 26 miles through the foothills of the Blue Ridge Mountains in Georgia, dipping for a bit into Tennessee.
Great Smoky Mountains Railway – Ride as far as 53 miles on scenic train routes skirting the USA's most popular national park.
There are also a few shorter scenic train trips that are, like the above, where you're just going for a ride for the sake of the journey. These include the Mount Washington Cog Railway in New Hampshire, the Belfast and Moosehead Lake Railroad in Maine, and the 45-minute Strasburg Railroad in Pennsylvania's Amish country.
Have you traveled somewhere along the USA's east coast by train? How did it go?