In general, if you're from a developed country with a long history and you want to visit another country abroad, the immigration requirement is simple: show up with a valid passport. These "visa upon arrival" arrangements are more common than not. It is good to know which countries require you to do something in advance before you make travel plans though. Some of these visa required countries make you apply and get approval before you arrive.
Current health restrictions have added a whole other layer to entry requirements, of course, so research those as well to see what kinds of shots, tests, and mandatory travel insurance you may need. Some countries still haven't opened and others just did this month. So it didn't matter much that you needed a visa for Australia since you couldn't enter anyway, no matter what.
Be advised that you need to check and recheck the current rules. India suspended its long-term multi-entry visas during the pandemic and hasn't restored them yet as I'm writing this. So you can go there on vacation, but you can't take advantage of the low cost of living in India until you can stay for more than 30 days like you could before.
Here are details on where Americans need to take some kind of approval action in advance to get their required visa before entering. Then I've listed the appropriate countries for Canadians and Brits. All prices are in U.S. dollars.
I'm not an immigration expert or attorney, however, so please dive deeper into the research beyond what's listed here to confirm.
An Australia Visa for U.S. Citizens
You can apply for the Australian Electronic Travel Authority (ETA) through a variety of online sites, including the official site of the Australian government. The ETA will cost US$20 and you must have a passport valid for at least 3 months from entry into Australia, a current e-mail address where your ETZ will be sent, and a credit or debit card for the payments. You'll also need to provide some personal information.
An Australian tourist visa online is valid for a consecutive stay of 3 months, has 12 months total validity from the date it is issued, and is a multi-entry visa. The processing time for an Australian ETA is usually about 24 hours and must be done in advance of your travel, then printed and presented to the border or customs agent when you enter the country. The same ETA is good for travel to Ashmore and Cartier Islands, Christmas Island, the Cocos (Keeling) Islands, Coral Sea Islands, Heard Island and McDonald Islands, Norfolk Island, and the Australian Antarctic Territory, which are offshore dependent territories of Australia.
Visa Required for New Zealand Travel
As with Australia, you're not technically applying for a visa, but getting permission to obtain a visa upon arrival when you get there…in advance. You must apply for a NZeTA (New Zealand Electronic Travel Authority) to travel to Australia's neighbor. More info on that is here.
Visa Needed for China (When It Opens)
To apply for a Chinese visa, U.S. citizens must fill out a physical application and either they or a travel agent must submit it to the Chinese Consulate office or Embassy that has jurisdiction over where you live in the U.S. The visa costs $140 and you must specify if you want a multiple-entry visa and for how long (6 months or twelve months). You may be required to attend an interview to confirm your information and your signature.
The visas are processed within 4 business days and there is no express service unless it's an emergency and additional fees apply. You have to provide your signed passport, a photocopy of the data/photo page, and a passport size photo. Your passport must be valid for 6 months after the length of your planned stay in China (so if you stay for 6 months, for instance, your passport needs to be good for at least a year). Appointments for turning in the paperwork are not required and they don't accept cash as payment.
A Russia Visa for U.S. Citizens
The Russian Embassy in the U.S. recommends applying for a three-year multi-entry visa no matter how long you are going to stay. For that you need a valid U.S. passport, passport photo, money order, confirmation of the hotel reservation, and register number from the Uniform Federal Register of the Tour Operators of the Federal Tourism Agency. You might be called into an interview by the embassy to review your current economic or medical situation so be prepared.
Traveling to Russia as a U.S. citizen can be complicated by the fact that Russia doesn't recognize the standing of the U.S. diplomatic mission to intervene in visa matters. If you have an issue while you are there you can't expect much help from the U.S. government. In order to go to Russia, you need a sponsor, which can be a hotel or travel agency, but someone who is the legal entity that is supposed to be hosting you. They are the ones that have to deal with the Russian government in your name if anything goes wrong.
The visas are good for 90 days within a 180-day period and you have to register your visa at any location you stay throughout the county. There are lots of scary warnings about losing your visa or passport or staying beyond your allowed length of stay, or being stopped and questioned by the police. So be sure you really want to go to the land of Putin and do your research.
You may be wondering how Aunt Esther and her friends were able to snap all those photos in St. Petersburg on their river cruise. Surely she didn't go through all this, right? Yes, there's one loophole in the Russian visa requirements. According to their embassy, "You are permitted to visit Russian ports without a visa for a period of up to 72 hours. You may go ashore without a visa during port calls, but only if you are with an organized tour and accompanied at all times by a tour operator who has been duly licensed by Russian authorities."
An India Visa for U.S. Citizens
As mentioned before, the current health crisis threw a wrench into the already bureaucratic workings of the Indian government. Anything written before 2021 about Indian visa options is mostly wrong, at least for now. Also, any visa issued before October 6, 2021 is not currently valid, even if it says you can enter 5 or 10 years from when it was issued. Unfortunately, the country that cranks out 100,000 computer engineers per year hasn't managed to update its website beyond a scroll going across the top of the home page…
U.S. citizens can apply for an eVisa online only through the Indian government's website and will be sent an electronic visa that can then be printed out and presented at the time of entry into the country. You must have a passport with a validity of 6 months from the time of application. For the online application, you must upload an image of the photo/data page of your passport as well as a passport photo and pay the eVisa fee with either a credit card or via Paypal.
On the official Indian government website, it says U.S. nationals can get eVisas good for 180 days, but multiple private service sites are saying you can only get the e-tourist visa valid for 30 days. They take about 72 hours to process once you apply. You can apply as early as 120 days before you travel but no later than 4 days previously. The current eVisa available costs $25 and the longer versions were $41 to $82 when available.
Securing a Vietnam Visa
Both times I visited Vietnam I did it the backpacker way: hand some money and a passport to some travel agency in Bangkok and they send a guy out on a motorbike to wait in line. You come back in a day or two and you've got a visa.
It's a little more complicated, however, if you're doing this from your home country.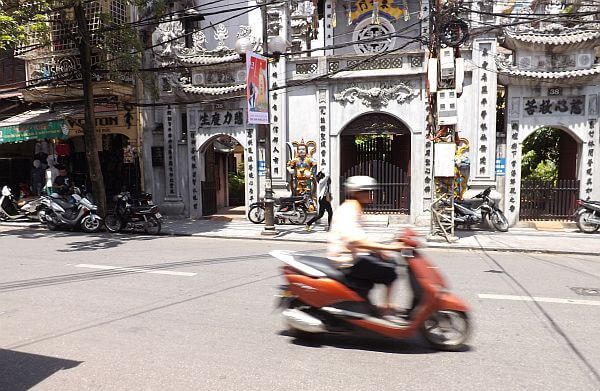 There are some companies and travel agents that have been approved to secure "visa pre-approval" so that visitors can get a visa upon arrival in Vietnam but there have been stories of travelers being charged exorbitant fees once they arrive in order to obtain those visas. The U.S. State Department recommends that you secure a visa before you travel to Vietnam, which you can do via email, online, or in person at the Vietnam embassy in Washington D.C.
The Vietnam Embassy website has a full list of instructions on how to apply in each of those ways. The cost of a Vietnam visa is dependent on the type and length of stay but a 3-month single entry visa costs around $50. The State Department also mentions on their site that if you plan to travel to Laos, request a sticker visa so that Vietnam border agents don't remove it from your passport and you can show it as proof of exiting Vietnam in Laos. If not you may be sent back over the border.
A Visa for Your Safari in Kenya
All travelers to Kenya must get an e-visa before they come which can be applied for on the Kenya e-visa site. There are single and multiple entry visas available, $51 and $101 respectively. The photo requirements are pretty lengthy for the photo you have to submit with the application, so make sure you look before you head to your local passport photo studio.
Tourists have to provide travel itineraries and hotel bookings and visitors going to visit family must have an invite letter from the family member. The e-visa website doesn't say how long it will take to process your visa but the State Department warns that if you are applying for a multi-entry visa it's better to do it way in advance.
You also have to have proof of yellow fever vaccination to enter Kenya. (So no, it's not some new conspiracy or overreach for governments to demand proof of Covid vaccinations for you to enter. This has been going on for decades in countries with Yellow Fever shot requirements.)
Getting Your Visa for Visiting Turkey
Turkey also has an e-visa process that you can do online, and in their FAQ it does say that if you are from the U.S. and meet certain criteria that you can get a visa upon arrival. I was able to do that last time I visited years ago, but I was unable to find that criteria anywhere on their site or the Turkish Embassy site. So best bet, apply for the e-visa in advance.
To apply you will need a passport that is valid at least 3 months after the duration of your stay. Remember to get entry and exit stamps in your passport or you may have problems traveling domestically and reentering Turkey in the future. U.S. citizens can get a multi-entry visa good for 90 days within the country in a 180 day period for $50. The e-visa generally takes 24 hours to process, but you can also get a rush visa in 1-4 hours ($50 extra) or 30 minutes ($70 extra).
As with Russia, there's an exemption for cruise passengers who arrive and depart by ship. If you spend less than 72 hours in Turkey and are only on organized tours (which would be a crying shame by the way), then you don't need a visa.
A Bali Visa and Entering Indonesia
Indonesia shut down for two years during the pandemic and as I write this, is still mostly closed. In theory, people can enter Bali, but only if quarantining at the most expensive hotels on the island. There will likely not be many takers until the rules relax and you can venture out to the other islands.
If you are traveling to Indonesia for 30 days or less you can get a stamp on your passport when you arrive with no advance prep. You can also purchase a visa upon arrival for $35, which can be extended for an additional 30 days for another $35. If you plan on staying longer than 60 days you will have to apply for an Indonesian visa in advance.
The Indonesia website has a lot of broken links and not a lot of concrete information. Most of what's there is probably out of date as well. Information on the internet is also not great in regards to consistency. So your best bet is to call and talk to a real person.
The country of Indonesia is now said to have an e-visa program but in some places it says that a sponsor from the country must apply for you in order to get it. The link to the e-visa website is not in English. Again, if you need an extended stay visa best to call the Indonesian Embassy and talk to someone about the process.
Other Countries Where U.S. Citizens Need a Visa
I've only mentioned a few of the major countries that get more than a trickle of visitors in the sections above, but if you're a country counter trying to tick places off the list, quite a few of them that people otherwise wouldn't go to require a visa in advance. Then there are several like Thailand and South Korea that may have an advance step in place depending on how long you want to stay. Here's the full list:
U.S. Passport holders need a visa or an advance application step to visit these: Myanmar, Afghanistan, Algeria, Angola, Benin, Belarus, Burundi, Cameroon, Cape Verde (for more than 30 days), Central Africa Republic (may depend on your airline carrier), Chad, Cuba, Democratic Republic of Congo, Cote d'Ivoire, Djibouti, Eritrea, Gambia, Ghana, Guinea, Iran, South Korea, Kyrgyzstan (for longer than 60 days), Liberia, Libya, Mali, Niger, Nigeria, Oman, Papua New Guinea, Pakistan, South Sudan, Sudan, Suriname, Syria, Tajikistan (for longer than 30 days), Thailand (for longer than 30 days), Turkmenistan, Uzbekistan, Venezuela, and Yemen.
Where do Canadians Need a Visa to Travel?
The visa rules for Canadians are often similar to those for Americans, but since Canada doesn't get into as many political spats, they have an easier time getting into countries like Cuba and Iran. Here's where Canadian travelers need to go through some kind of advance process:
Afghanistan, Algeria, Angola, Australia, Azerbaijan, Bhutan, Burundi, Cameron, Central African, Chad, China, Congo, Ivory Coast, Cuba, Dijibouti, Equatorial Guinea, Eritrea, Ghana, Guinea, India, Iran, Liberia, Libya, Mali, Nauru, New Zealand, Niger, Nigeria, Oman, Pakistan, Russia, Myanmar, Nauru, South Sudan, Sudan, Suriname, Syria, Tajikistan, Turkey, Turkmenistan, Venezuela, and Yemen
Visa Required for UK Citizens
The Brexit vote to leave the European Union necessitated all-new rules around the world for British travelers and some of those are still in flux. While before it was the same as for EU citizens, now they can't be lumped in with those and require a separate agreement. So double-check the current status for any country, but especially these that require advance approval or a visa application.
Afghanistan, Algeria, Angola, Australia, Azerbajin, Belarus, Belize (for more than 30 days), Bhutan, Cameroon, Central African Republic, Chad, China, Congo, Ivory Coast, Cuba, Djibouti, Equatorial Guinea, Eritrea, Ethiopia, Ghana, Rep. of Guinea, India, Iran, Kazakhstan, Kenya, both Koreas, Liberia, Libya, Mali, Mongolia, Myanmar, Nauru, New Zealand, Niger, Nigeria, Oman, Pakistan, Philippines, Puerto Rico, Russia, Samoa, Sao Tome & Principe, South Sudan, Sudan, Suriname, Syria, Tajikistan, Thailand, Turkmenistan, USA and territories (Electronic System for Travel Authorisation (ESTA) visa waiver or a US Visa), Uzbekistan, Vietnam, and Yemen.