When you're traveling for an extended period or are on a budget vacation, you often choose the cheapest option available for getting to where you need to go. You have more time than money, so a little extra hassle of a crowded local bus or walking long distances isn't such a big deal. In a lot of places though, you can lose out on seeing what's special if you go it alone. Booking a local tour can be worth the money.
This is especially true in big, spread-out cities, ones where getting from one place to another can take forever. It can make a lot of sense to book a local organized tour instead for sightseeing.
I have experienced this first-hand in a lot of locations and I've always been glad I spent the money. I may have been able to save a few bucks by doing it myself on public transportation, but the trade-off in time and hassle wouldn't have been worth it, especially if I was with family members and not traveling solo.
When a Local Tour Makes Sense for Budget Travelers
If you're in a city where you are just going to walk around and visit museums, you probably don't need to book a tour unless you want some extra insight. You also might not need to if you're renting a car or traveling around in an RV.
There are multiple other occasions, however, where you'll learn a lot more, get a richer experience, or spend far less time in transit by joining an organized travel tour. Here are a few examples that I've experienced myself.
When you want to experience a wine district by bike, car, or van, it can be easier to book a tasting tour. I've personally done this in the Mendoza area of Argentina, the the wine valleys between Santiago and Valparaiso in Chile, and the Willamette Valley of Oregon. It's often a similar price or cheaper compared to renting a car, plus you're with someone else who knows the way and has set up appointments. No worries about how much you're sipping either (unless you're on a bike that is). I've also taken microbrewery tours in a few different cities.
The same idea applies if you're doing multiple distillery tours in one day, such as on the Bourbon Trail of Kentucky, the lands of tequila or mezcal in Mexico, or the Scotch-producing regions of Scotland.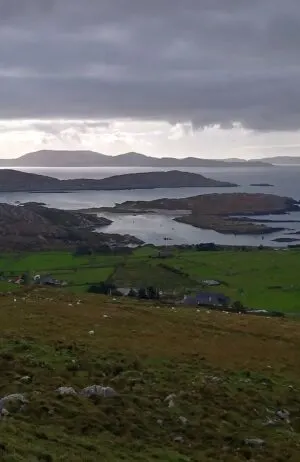 When you want to do some kind of tour of multiple historic sites, castles, or tombs. The Valley of the Kings near Luxor is a prime example of when this makes sense, as is the Sacred Valley of Peru, the tombs of Hue in Vietnam (pictured at the top), or the Ring of Kerry in Ireland. I've hired a driver or signed up for a tour in all of those cases.
If you want to visit attractions that are quite spread out, booking a tour can shave hours off your travel time and eliminate long gaps of waiting for a bus (or even having to hitchhike). Examples of this would include the desert castles of Jordan or the castles of Slovakia north of Kosice.
Places where attractions are not well-served by public transport are prime candidates for booking a tour. This includes much of the non-urban USA, which is tough to explore without your own wheels. You may need to book a tour to see Yellowstone National Park, tour historic plantations in Louisiana, or experience Everglades National Park in Florida.
Whenever there are boats involved, you probably need to book a tour also, such as the islands and lagoons off the coast of Palawan, a visit to Coiba National Park in Panama, Ha Long Bay in Vietnam, or a tour of the Galapagos Islands in Ecuador. Naturally, most good snorkeling and diving spots require a tour to get to.
Some places forbid you from entering if you're not on an organized tour, such as the DMZ that divides North and South Korea. You can't even visit the country of Bhutan without signing up with a tour company and paying at least the minimum per-day amount.
In other cases, booking a tour can get you guaranteed entry or a skip to the front of the line. This is helpful in the most popular attractions and museums in Europe and some elsewhere like the Frida Kahlo Blue House in Mexico City.
In some countries where tours are more common than not, it can actually cost you more money to travel to some places on your own than it would to just suck it up and join a tour. I found this to be especially true during my two visits to Vietnam, but the math also favors tours in such diverse countries as India, Indonesia, Costa Rica, and parts of Mexico.
One Tour Options Example: Mexico City
To pick one example of the trade-offs for a local tour, Mexico City falls into several of those categories above. Sure, you can get to the canals of Xochimilco or the pyramids of Teotihuacán on your own using public transportation, but it's a hassle and it takes a lot of time.
For the former you have to hire a boat when you get there and probably pay more than you would have coming with a company that does this every day. For the latter, you can't just hop in the van and head back in air conditioned comfort when it's time to leave the pyramids and you're 90% on your way to sunstroke. You also won't get dropped off near where you're staying and you'll need a taxi ride.
The other reason to book one of these trips locally in Mexico City is that they throw in lots of other stops that would have taken you another few hours to get to on top. When I took my family to the city years ago on vacation, we booked a Xochimilco trip through Viator and paid $44 for the adults, $22 for the kid. It actually went through a good local company called Olympic Tours that picked us up at our hotel.
On the way we stopped at the World Trade Center, where they have some cool murals that we never would have made a trip to see otherwise. Then we went to Frida Kahlo's blue house and strolled the square in Coyoacan. Finally we took our fun boat ride at the advertised spot. Quite a day!
We didn't book our Teotihuacán trip until a day before, at the Mundo Joven youth hostel right behind the cathedral in the main square. They use Wayak Tours and I'd gone with them before and had a good trip. It was a very reasonable $30 each for that one, which included water, a snack, a good bilingual guide, and again, extra stops. This one first hit the ruins of Tlatelolco and the Plaza of Three Cultures where a church was built with stones from the ruins and a government massacre of student protestors happened.
After that it was the Basilica of the Virgin of Guadalupe, with its venerated shroud on display in a building that holds 10,000 of the faithful. Neither of these is probably worth making a trip to on your own, but can be quite interesting if someone is going to bring you there, explain it all, and whisk you away again after.
I'll admit I get bored or downright exasperated with guides who drone on and on about details you wouldn't care about even if there were a test about it for your college class. But the guides on these trips are used to people like me and will only drone on if people start asking lots of questions. As locals though, they provide a lot of cultural background and manage to hit both the big picture and the small details that matter without overwhelming you.
In both cases, I felt like I got insight that I couldn't have found by just opening up a guidebook (or worse, a smartphone app).
I believe in this concept so strongly that I founded a tour company in my adopted city of Guanajuato in Mexico. Sure, people can walk around here on their own and get a surface-level understanding of what makes the place tick. But our historic Guanajuato walking tours, street food tours, and night bar tours provide much more background info with a big scoop of local culture mixed in.
Have you taken a local tour that was a great value and really enhanced your visit?