Want to figure out where the international travel bargains will be this year? Want to find one of the most popular travel destinations on sale and find a great deal?
Well you've come to the right place. As the author of The World's Cheapest Destinations, I keep an eye on the trends constantly and watch what's happening with exchange rates. It looks like 2022 is going to be another good year to be a traveling American, once you get past all the tests, Covid restrictions, and travel insurance policies.
Despite the dark years we've lived through with first the orange narcissist breaking everything he touched and then a temporary blip from the worldwide pandemic, the U.S. economy has been on a roll. The strong U.S. dollar party has mostly kept rolling, so when you're ready to cross borders again, you'll find a favorable climate for the greenback in most locations.
That's partly because the worldwide economic recovery is not distributed equally among nations. If our problems look bad, it's usually worse somewhere else. Many countries would look at the U.S. problems and say, "You want to trade?" Politically the USA is a mess, but economically the story is still a good one. That means that once we get beyond the health issues and restrictions we have been facing, traveling can be cheaper than staying home.
You don't have to go to some obscure, unknown travel destination to find a great value, however. Some of the most popular countries in the world are often on the discount sale rack, especially after nearly two years of drastically reduced tourism income. If you've been putting off a trip to a place you've dreamed about, this might be the time to start checking flight prices and book that hotel or apartment rental to lock in a good deal.
Here's a rundown then on where to get the most bang for your American buck in the coming year–though in most cases the deals are good if you're earning euros as well. Check out these travel destinations on sale for some potential vacation or backpacking plans.
Argentina Still in Financial Crisis Mode
I'll start with where I'm putting my miles and my money in March of this year, when I head there for three weeks. Argentina has been in and out of favor for bargain-seeking travelers many times since I first went there in the early 00s. It continually lurches from crisis to crisis and just when a new administration makes headway on cleaning up the mess left by the last one, they get defeated by a populist making empty promises. For now it's clearly one of the top travel destinations on sale.
Right now there's continuing high inflation, too much debt, and a declining Argentine peso that keeps tumbling downward in value. The last set of elections have put in candidates who are likely to make the problem even worse. When I last visited in September of 2017, Argentina didn't seem like much of a deal for travelers anymore. Then this happened to the currency and it's been a different story since mid-2018.
The Argentine peso was worth 17 to the dollar during my visit in 2017. A few years later it was 60 to the dollar. As I write this you now get 104 Argentina pesos to the dollar and it'll get worse. Their currency has declined a staggering 87% in five years.
But wait, the real story is even more dramatic. That's the official bank rate. If you bring down wads of actual dollars and trade them on the street, you'll get a "blue rate" that's more like 200 to the dollar. Last time I was in the country the difference between the two rates was only about 5%, but that has widened more and more as the official rate has kept reclining. The problem is, this is one of the few countries in the world where using a credit card or ATM card will cost you far more than exchanging actual cash.
Yes there's significant inflation if you're thinking in pesos, but when you buy what the locals are buying–wine, steak dinners, bus rides, subway tickets–you're going to find some great bargains. Hostel prices have come down a bit there as well during that stretch. Hotels are still priced in dollars, but it's one of the world's best values for apartment rentals. I'm drooling over the swanky apartments I can rent in Buenos Aires when we're there for a price that wouldn't get you a spare room in someone's house in the USA or western Europe.
A Nearby Vacation Bargain – Mexico
I have been based in Mexico permanently now since late 2018 and am seeing my foreign currency go a long way in one of the world's most popular travel destinations. The currency has been bouncing around between 18 and 21 to the dollar the past few years in this vacation paradise but looks to have settled in around 20 most of the time. Easy math to figure out what you can get for a dollar or less in Mexico.
Unless there are dramatic changes in the coming year, Mexico will continue to be one of the best travel values in the world for those at a mid-range or higher budget level. In the interior especially, you can easily find a decent hotel room double or apartment rental for under $30 a night, less if booking for longer periods. Hostels go for as little as $10 a night.
The well-known beach resort areas are priced for tourists, but those too are a great value if compared to norms around the world. Just understand that Cancun and Puerto Vallarta benefited more than any international destination from the pent-up travel demand being unleashed, so you won't find such great bargains in those spots or in Los Cabos.
It is now cheap enough to qualify as a reasonable backpacker destination too, with low admission prices to attractions, lots of street food options at reasonable prices, and cheap bars for boozing it up. The main hits to your budget come from long-haul transportation, so don't try to cram 15 places into a three-week trip.
Colombia is a Travel Bargain Now
I didn't realize until I pulled up Numbeo for research on my post on the cheapest places to live that Colombia is now cheaper than Mexico. I don't think that has happened at any point since I started writing about travel bargains at the beginning of this century.
Once again that's IF you are thinking in dollar or euro terms. The Colombian peso has declined quite a bit against both currencies, in a long slide that started in 2013. Back then, a greenback would get you around 1,800 pesos. Today a buck will get you around 4,000 Colombian pesos. That has brought down the price of nearly everything except what's imported, including labor costs that impact so much of what travelers spend money on.
On top of that, Colombia has great air connectivity. It's the hub of Avianca and is served by most of the carriers in the Americas, including low-frills Spirit Air. I often see round-trip flights to Bogota or Cartagena for $350 or less from the USA.
Unease in Turkey Means Bargains for Travelers
While I'm nearly always touting the advantages of being an opportunistic traveler, I've been leery about going to Turkey since I last visited. The authoritarian, religious-leaning government scares me and as a journalist, I feel like I would have a target on my back at all times. Freedom of the press has eroded massively and there are hundreds of thousands of innocent people in jails because they spoke out against the Putin-wannabe in power.
Dictators usually fall due to unrest though so his days might be numbered. The economic woes are affecting everyone hard: inflation hit a 19-year high of 36.08% in December.
If you can put all that aside though, Turkey will be one of the world's best travel values this year. It's got more things to see and do just in Istanbul than most countries can list, then you've got Greek ruins, Cappadoccia, ski resorts, beaches, Anatolian historic sites, and on and on. Plus this is one of the world's greatest food destinations.
While Turkey's currency slide doesn't look quite as dramatic as Argentina's, it's certainly one of the world's biggest recent falls. It has gone from a few lira to the dollar to 8 last year and is now at 13.5. As with Argentina, this comes with major inflation, but it has significantly lowered the cost of everything from admissions to taxis to shoeshines if you've got euros or dollars you're cashing in.
Enjoying Egypt for Less
About five years ago, Egypt floated its currency freely to secure a bailout from the IMF and the currency immediately went to the level most traders thought it was worth: half. So almost overnight the Egyptian pound went from 9 to the dollar to 18. Against all odds it eventually leveled out below that level though, so the gamble seems to have worked. It has traded in a relatively stable range of 15 to 16 for the past few years.
Egypt has been one of The World's Cheapest Destinations since the very first edition of that book came out and it was a bargain before that when I visited in the mid-1990s. It has never stopped being a travel bargain for a whole lot of reasons, including occasional bouts of terrorist violence, human rights abuses, and political woes. If you're the type of traveler who is not put off by a bit of bad news, however, Egypt is one of the world's best values, year after year.
The site Numbeo.com has Egypt pegged as one of the cheapest places in the world to rent an apartment or house, with an average of $466 for a three-bedroom apartment in the city of Cairo, less than that in any other location. You can see that reflected in the hotel prices too, where you can commonly find a four-star place for under $50 per night, a decent budget place for $15. If you were a digital nomad, you could just rent a hotel long-term and still be living large for half or less what you used to spend in your home country.
Meals for a few dollars, a taxi ride for two bucks, and $1 men's haircuts are just a few of the traveler prices you'll find in Egypt. And you get to see some of the world's greatest antiquities for a song.
Spend Time in India (and Nepal) for Travel Destinations on Sale
India was receiving more than 10 million visitors a year before Covid hit. At first they seemed to be riding it out well, then the Delta variant caught them totally off-guard. It'll be a while before most people feel safe going back, but if you're triple vaxed and got Omricon on top of it, you might be feeling invincible enough to take your chances.
India's problems are well-known and persistent, with a huge population that still gets by on a couple dollars a day. Political and economic challenges have hammered the currency as well. A decade ago you got 50 rupees for a U.S. dollar. Now you get around 75. In a country where a single traveler could get by on $20 a day before as a backpacker, you can now get even more for your budget.
If you're trying to stretch a small amount of money for the longest period, book a ticket to India and explore a vast nation of extremes. Then head over to Nepal: their currency chart looks almost exactly the same and in some aspects—especially lodging—Nepal is even cheaper.
Travel Deals in Thailand
Even though Thailand was the only Southeast Asian tourism destination to open back up (with restrictions) in 2021, its currency fared worse than others in the region. The Thai baht declined more than 11% for the year and it is now trading at around 33 to the dollar.
That's not as great as it sounds though because it has been at this level many times in the past and occasionally has declined to a point over 35–briefly. Still, your Thailand travels at 33 feel a lot less expensive than at 30, so I'm hoping this level holds if my plans work out and I'm back there in November.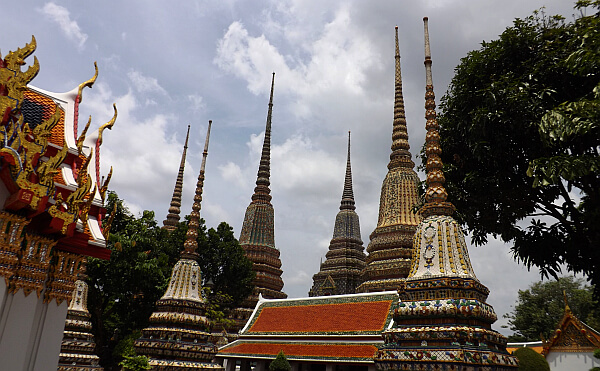 One factor offsetting some of this though is the cost of getting into the country to start with. You'll need your shots, a Covid test, travel insurance, and more. Once you've made it though, you'll eat well, see lots of beauty and interact with an interesting culture. You can do all that while it's not hosting 50 million other foreigners at the same time, for now.
Travel Joy in the Country of Georgia
I have two big travel regrets from the onset of the pandemic: I had plane tickets in hand for Italy that I had to cancel when everything started going to crap there in 2020 and I had to postpone my trip to the country of Georgia. And it's still postponed for now.
Eventually I'll make it though and I'm looking forward to bargain short-term rental prices, terrific meals for a few bucks, and one of the world's best values for wine. Add in wonderful hiking opportunities in scenic countrysides and it ticks a lot of boxes for my personal travel style. As noted in an earlier article, it's also one of the cheapest places to ski in the world.
I won't have any trouble finding advice on what to do there: Georgia has become a major digital nomad hotspot in the past couple years as location-independent workers had to leave many other countries that were shutting borders.
From a currency standpoint, Georgia is flirting with its low point. A decade ago you got 1.65 Georgian lari for a U.S. dollar. Now you get around 3.1. That's a big increase in purchasing power if you're accessing hard currency from your home bank.
As I always say, take advantage of these bargains while you can. These travel destinations on sale now may be premium priced again in a few years. Opportunity windows don't last forever.
Happy trails!