The price of getting from one country to another can be a big factor on a short vacation. The longer you're away and the more ground you want to cover, however, the more the price of travel within a country will impact your budget. So the countries with the cheapest domestic flights could cost you a lot less money for a trip of a few weeks or months than one where prices are far above the norm. They'll also allow you to fit more into your itinerary without busting the budget.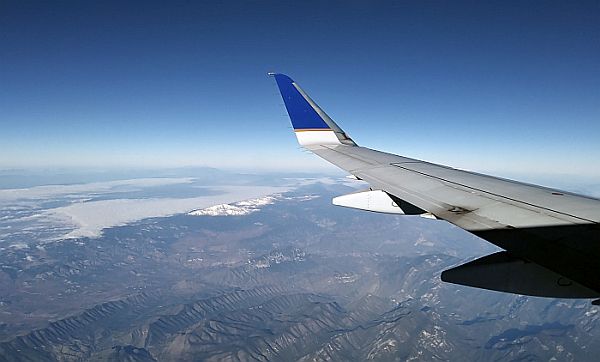 In a small and relatively flat country like Hungary or Cambodia, you can get to where you need to go rather easily overland and there's little to no demand for passenger flights. According to Australian Frequent Flier, there are 94 nations that have scheduled domestic flights. Some countries need at least one for joining popular areas, such as Kathmandu to Pokhara in Nepal or Guatemala City to Flores (for Tikal) in Guatemala. Some need domestic flights to reach an island that's part of their territory. In a big country like China, India, Australia, or the USA, however, you're going to have hundreds of flight routes criss-crossing the nation.
While there are lots of articles out there about countries with the cheapest domestic flights, all of them seem to be from before the pandemic hit. Some of them that rank the highest in Google date back to 2017, which is ancient history in the airline world. So I used some of those as a starting point, but pulled up current data with real prices to see which cheap countries—ones that are actually open to foreign travelers—have bargain domestic flight prices for 2022 and beyond.
Since this is The Cheapest Destinations Blog, I'm ignoring countries that are notoriously expensive, to the point where $50 or $100 saved on flights isn't going to move the needle much. Sometimes a flight in these places can be surprisingly reasonable though. Flying an hour and a half from Oslo to Bodo in Norway, for example, will only set you back $59 on Norwegian Air or SAS. Going two hours and 15 minutes from Tokyo to Fukuoka (airport code FUK) is only $46 on Jetstar or Peach.
I wanted to cover well-traveled places that are a travel bargain overall though, plus the USA since it's where many readers live already. I've listed example prices I pulled off Skyscanner, Kayak, Cleartrip, or the carrier's website. Often this price will not include luggage or an assigned seat, especially if it's a notoriously stingy airline like Ryanair, VivaAerobus or Spirit Air. Now the legacy airlines have joined that race to the bottom with their "basic economy" fares that make an unpleasant experience even worse.
Assume the rate I've listed is only the starting point unless you're a very light packer. Some of them, like Allegiant, will even add on a fee for booking online or paying with something other than cash in person, which in the 21st century is nothing more than a hidden mandatory fare increase.
Cheap Domestic Flights in India
Ask any long-time traveler to tell you a story about something crazy that happened to them on the road and there's a good chance that story will somehow involve transportation in India. With the world's most extensive train system, then buses and tuk-tuks covering every other route, you'll never be short on ways to get to where you're going. It will probably be an adventure whether you like it or not. While that train ride can be interesting and fun, especially in first class, you can save a lot of time and sometimes money too by purchasing a domestic flight in India instead.
Lots of budget airlines have popped up over the years in this country, increasing competition. The prices on some routes are lower now than they were 25 years ago in dollar or euro terms. You can sometimes find a good deal to cities that could take you 10 or 12 hours to reach by land. As India's middle class has expanded, more of the population is taking to the air, which is good news for visitors trying to save some time while traveling in India.
Although this country had some of the fastest-growing budget airlines before the pandemic, don't count out the flagship carrier. Air India tickets can be as competitively priced as some of the low-frills budget airlines, but with better service and perks. Don't forget to check prices for the front of the plane too if you'll be in the air for a few hours. Without as many business travelers out there these days, business class flights can be a good value if you can swing the small premium.
Sample India domestic flight prices:
Delhi to Bangalore – $46 on Air India or IndiGo
Mumbai to Chennai – $25 on Air India, SpiceJet, or IndiGo
Mumbai to Goa – $47 on GoAir or AirAsia India
Take to the Air in Thailand
I've had to update my post about traveling in Thailand a few times since they've opened up in phases over the past year. I hope to be there in November and am happy to see more provinces joining the list of where I can potentially go.
Thailand has a train system and plenty of bargain buses, but flying can save a lot of time in transit. You could be in the huge metropolis of Bangkok at breakfast and have a late lunch by the beach somewhere if you catch a cheap flight in Thailand.
Here are prices on a few routes to consider after landing in the capital of Thailand:
Bangkok to Phuket – $27 on Smile, AirAsia, and Vietjet
Bangkok to Chiang Mai – $25 on Smile, AirAsia, and Vietjet
Bangkok to Koh Samui – $65 on Bangkok Airways
Romania Has Some of Europe's Cheapest Flight Prices
Romania has a few odd claims to fame, including some of the fastest broadband internet speeds in the world. It also has, despite its limited number of airports, some of the cheapest domestic flights on the planet.
While you could easily get to where you need to go in Romania on a bus or train and probably do so in five hours or less from the capital, it's hard to pass up the flight prices there if you're traveling from city to city.
Here are a couple of sample Romania domestic flight prices:
Bucharest to Cluj-Napoca – $35 on Blue Air (sometimes $8 if booked far in advance!)
Bucharest to Iasi – $57 on Tarom or Blue Air
Flying Around Colombia Can Be a Bargain
The country of Colombia has an extensive bus system that's comfortable and bargain-priced, but this is a country full of mountains and jungle, so taking a flight instead can save time and leave you less queasy.
The areas most visited by travelers in Colombia are well-served by local airlines. We can't promise that you're going to be all that comfortable or pampered, but it's hard to complain much with these prices.
Sample domestic flights in Colombia:
Bogota to Medellin – $15 on Wingo, $28 on Viva Air
Medellin to Armenia/Coffee Triangle – $38 one stop on Avianca, $60 direct on Empresa Aerea
Bogota to Cartagena – $35 on LATAM or Viva Air
Cheap Flights in Mexico
I've written in detail before about the Mexican budget airlines and I've flown on most of them myself. I've avoided VivaAerobus because they're the Mexican equivalent of hated Spirit Air, with an equally bad service reputation, plus they're currently breaking Mexican law by charging for a carry-on bag, racking up millions in fines in the standoff. They are often the cheapest option for a direct flight though and in keeping with their name, can be about the same prices as a bus. (But with less legroom.)
I've flown to Cancun for less than $50 on Volaris though with a carry-on, to Los Cabos for about the same on an airline called Calafia, and flew one of Aeromar's prop planes a couple of times to get to where I was going. You'll likely pay more to fly Aeromexico, plus you usually have to go through their hub in Mexico City, but at least you'll usually get a snack and a drink with them. They still serve complimentary beer and tequila on domestic flights! (Except the really short ones.)
Mexico is about as wide as the USA, so flying can make a lot of sense if you're going a long distance. It could save you an entire day of your life to fly from the Yucatan peninsula to Oaxaca, or from central Mexico to Mazatlan or Tijuana (where you can cross by foot and connect to California). Always pay with a credit card though: three airlines have gone out of business here since I first started flying around the country, including Interjet in 2020.
Here are a few direct Mexico flight bargains I found for popular routes:
Tijuana to Mexico City – $48 on VivaAerobus, $58 on Volaris
Leon/Guanajuato to Cancun – $55 on Volaris
Querétaro to Puerto Vallarta – $64 on TAR Aerolineas
U.S. Cheap Domestic Flights
The relative wealth of a country doesn't have much impact on domestic flight prices, as mentioned earlier when it comes to Norway. Since most readers of this blog are from the USA, it's worth mentioning that despite how much we complain about our airlines, we do have to admit that they're generally inexpensive overall. Sure, not all the time on all routes, but considering how large the United States is, it's quite impressive that you can cross multiple states and go a thousand miles or more for a hundred bucks. In inflation-adjusted terms, flight prices are lower now than they were 20 years ago. As a percentage of median income in the country, the USA has some of the world's cheapest domestic flights.
Many would say we get what we pay for though. Seat sizes and legroom have shrunk even as waistlines have gotten larger. The flight experience often feels like being on a sad bus ride rather than something to look forward to. Also, with the budget airlines and legacy ones alike, the fare itself functions like just the starting point in negotiations, something to tack fees onto in order to fleece the customers as much as possible.
Despite all the negatives though, there are bargains galore if you just look at the price of getting yourself from Point A to Point B. (If you want that price to include your luggage as well, fly Southwest or get the right credit card for the airline you use the most.)
A few cheap USA flight examples:
Cincinnati to Key West – $55 on Allegiant
Chicago to Ft. Lauderdale – $59 on American, Spirit, JetBlue, or United
Memphis to Las Vegas – $54 on Allegiant
Dallas to New Orleans – $59 on Southwest
Denver to Los Angeles – $49 on United, Delta, or Frontier
Other Countries With Cheap Domestic Flights
I'm only tossing out a few examples in this article, so do pull up a flight search site to check prices where you're headed. Remember that in much of western Europe, it's easier and sometimes faster even to just take a train, especially if you're staying in the city center. Sometimes the budget airlines land in airports that are so far from the city that they shouldn't even bear that city's name. You may find a happy surprise though if you pull up flight prices between cities in a country where you'll be for a while. You'll sometimes see flights as low as $15 between Madrid and Barcelona in Spain, for example.
I'm posting this at the end of 2021 though, when many countries with cheap domestic flights aren't even open, so it's kind of pointless to include them here. Vietnam has plenty of bargain flights, for instance, as does the Philippines for flights to islands like Cebu and Boracay. But until you can move freely around those places, all you'll be doing is looking at what the locals are paying. Nobody is visiting South Africa these days, but when it's time again, you can get from Joburg to Cape Town for less than $50.
I'm not really thrilled about promoting Turkey as a travel destination right now with their Putinesque leader in place and the war against a free press going on there. Flights can be a real steal though, like Istanbul to Ankara for $17 and Istanbul to Antalya for $20.
Note that some countries charge foreigners double, triple, or even quadruple what the locals pay, so if that makes your blood boil, you might not be happy buying a plane ticket in Peru or Nepal, two countries that are a good value otherwise.