This post on the cheapest ski resorts in Europe was updated in January of 2023.
How much will it cost you to go skiing in the old country? Not so much actually if you hit the cheapest ski resorts in Europe. If you're traveling on a budget, it's no secret that travel prices in Europe come down quite a lot in the winter, when there are fewer tourists around. You might as well embrace the cold if you'll be there though and spend at least a little time on the slopes.
[This article was updated in January of 2023, with current season prices.]
Skiing in Europe can be surprisingly affordable if you stay away from the ritzy resorts in France and Switzerland and head to eastern Europe or just get out of the French Alps. Most Americans probably equate European skiing with high prices, but overall it's cheaper to hit the slopes in Europe these days than it is on the other side of the Atlantic. (Unless you ski Idaho.) Granted you may not get the same breadth of choices on the trail map that you would in Deer Valley or Vail, but most people don't manage to cover more than a fraction of what's available in those places anyway.
Oddly enough, one of the cheapest one-day lift passes I could find in Europe was Willingen, Germany. There you can hit the slopes for €34, or €24 after 1pm. The altitude is only 580 to 843 meters, but they have snowmaking and 18 downhill runs, the longest being a mile.
I wanted to highlight places where everything is a bargain even when you're off the slopes though, so here are the cheapest ski resorts in some of The World's Cheapest Destinations. The cheapest ski resort in Europe on the list below is a small resort in Hungary, coming in at €16 for an all-day lift pass.
Here's what you can expect for the cost of skiing, fun, and lodging. Hotel prices are mostly from Kayak, apartment prices from Vrbo and Airbnb.
Harrachov, Czech Republic
A one-day lift ticket is about €40 for this resort that's less than two hours from Prague. There are just two lifts and a rope tow serving the 5 main runs, but they are long ones good for intermediate skiers and there's also cross-country skiing in the area. Last time I checked, it was pretty easy to get a great Czech beer for a couple euros or less when the day is done and the Czech Republic has some great wine that's seldom exported, also a bargain.
This is a great option for cheaper accommodation by the slopes. On Airbnb or Vrbo you can find chalets or apartments ranging from all different sizes from 50 USD and up a night, depending on how many beds.
Typical 3-star hotel room double: €49 – 89 (Check rates online here)
Typical apartment rental: €36 – 119
Borovets, Bulgaria
Bulgaria's oldest ski resort dates back to the 1800s and is the country's largest. You can start from an altitude of 1,390 meters, but the slopes are only about an hour and a half from Sofia.
Some of the ski lifts will take you above the treeline part of the way and the slopes are wide enough that beginners and intermediate skiers won't feel threatened. Thanks to a young crowd and cheap drink prices, the nightlife is hopping too. A daily lift ticket is usually around €45 (less for half day or with a 2-day ticket) and ski + boot rentals average around €17.
Figure 3 euros or so for a cocktail or glass of wine and it's even cheaper for a big beer or shot of local hooch.
3-star hotel: €36 – 70 (Enter your dates to search here.)
2BR apartment: €26- 108
Just for reference, I'm bringing a group of 19 people including me on a ski trip to Bulgaria in March. Our double rooms in Borovets at this place are averaging us around €64 per night and that's half board—breakfast and dinner included!
Ski in Bansko, Bulgaria
Bansko is not quite as high up as Borovets, but it makes up for it in most other respects with the newest equipment, the most natural snow, the best snowmaking, and fast lifts–including a gondola that comes right into the city below. That city is the best part of skiing here as it's easy to get to and filled with places to stay. It also has a good apres ski scene in the winter.
Ski and boot rentals can be found starting at 12 euros a day, daily lift tickets run 45 euros. The multi-day pass prices don't save you much, but 5 days is about the walk-up price for 1 day at Aspen, Colorado. This would be a good choice for a family ski vacation that won't cost the equivalent of a couple mortgage payments.
You can book a transfer by road from the Sofia airport starting around €80, get a bus from the city center for around €10, or take the much slower thrice-daily train for €7 (with one train change). Even though Bansko has tourist town prices by Bulgarian standards, you can find a filling meal for a few euros and turn your tired legs to jelly for less than 10 with a massage. When you add everything together, this is one of the cheapest ski resorts in Europe.
3-star hotel: €39 -95 (check prices here on Kayak)
Apartment rental: €21 (studio) – 97
You can poke around on Vrbo or just do a search like I did to find a whole ski chalet for rent. We got one that sleeps all 19 of us for €500 per night. They also gave us the easy button option as they're picking us up at the bus station, taking us to the gondola in the mornings, and we're paying them to arrange all the rentals, lift tickets, breakfasts, and a couple of dinners.
P.S. If you'd like to join a future trip with the author of The World's Cheapest Destinations and A Better Life for Half the Price, chime in here and tell me where you'd like to go.
Poiana-Brasov, Romania Skiing
The most popular resort in Romania is nestled in the mountains of Transylvania, near the gorgeous city of Brasov. The slopes have plenty to keep you busy, with nine miles of marked trails. Most slopes are not too taxing and there's night skiing for a lower rate. Romanian food is bargain-priced and so is the wine and plum brandy, so you can probably afford to eat and imbibe to your heart's content at least one big meal a day.
A train from Bucharest train station should be around €8. A day pass to ski at Piona Brasov will run you €30.
3-star hotel prices: the majority are €47 – 70 in Brasov (There are only a few resorts right on the slopes and they are expensive.)
2BR apartment by the slopes: €34 – 150 (2-6 bedrooms)
Jasna Nizke Tatry, Slovakia
Slovakia ski areas are not very famous, but they're some of the best ski resorts in Europe for those who love high mountains and low prices. The biggest ski resort in Slovakia has nearly 50 kilometers of runs on two sides of a 2,000-meter peak and smaller surrounding mountains. There are 17 chairlifts and rope tows to get you up the mountain and advanced skiers will find some serious black runs here.
As I write this, they're offering five days of lessons for €89, or private lessons for just €15 an hour. All-day lift tickets are normally €65 for a single-day pass.
Typical 3-star hotel: €44 – 120 (only a few resorts available)
Rental apartments (much more numerous): €45 – 164 and get a house with 14 beds for €210
Wherever you are in Slovakia, there's probably a ski resort you can get to in an hour or so by rental car. See all of them here.
Tatranska Lomnica, Slovakia Skiing
Jasna may be the biggest ski resort in Slovakia, but Tatranska Lomnica has the longest run. It has a steep vertical drop of 2190 meters to 1300 meters. Another wide slope for less experienced skiers is 6.5 kilometers long. Surrounded by the High Tatras Mountains, the lift rides also have gorgeous views. All-day adult lift tickets are €55.
You can get here by train from Kosice in just over two hours for around €9 or double the time (at least) and price from Bratislava. You can find a double room off the slopes in this region for under €30. Great beers are under €2 and hearty meals are about 1/3 what you'd pay at a U.S. (or French) ski resort.
Typical 3-star hotel: €87 – 208
Typical 2BR apartment: €45 – 140
Zakopane, Poland
Zakopane may win the prize for the cheapest lift tickets for beginners and intermediates, currently coming in at around €20 or under for Harenda, Szymoszkowa, or Nosal resorts. That certainly makes Poland one of the cheapest places to go skiing in the world and it's a great value off the slopes as well. If you want to hit the best ski mountain for experts, an all-day pass for Kasprowy Wierch—only open when there's been plenty of natural snow—is €27. After the ride up, one slope is 2 kilometers and the other is 1.4.
Getting there just takes two hours on a €7 ski bus from historic Krakow. You can find a big beer for €2.50 and a full dinner for under €15 a person. If you like sausages after a full day on the slopes, you'll be in heaven. (To give you an idea, here is a post on the cost of living in Poland.)
This region has some of the best apartment and chalet rental deals in Europe, especially for groups who can rent out a larger place with multiple bedrooms. Check out the prices here.
Typical 3-star hotel: €45- 90
2BR apartment: €51 – 105 (See a selection of them here.)
Kekes, Hungary
No, Hungary's highest mountain won't win over any serious shredders at just 1,014 meters and 8 ski runs, but it's less than 2 hours from hopping Budapest and all-day lift tickets currently come in at just over €16. Their website is now in English, be sure to check out their webcam.
Since it's so close to the capital, this is one of the best budget-friendly ski resorts that you can get to quickly after a cheap flight from another country. You can enjoy some of the best wine nobody has heard of for bargain prices and it's hard to beat a €4 bowl of goulash after a day on the mountain. This would be one of the best cheap ski resorts for beginners that is easy to get to.
3-star hotel: €79 – 200 (or head back to Budapest)
2BR apartment/house: €34 – 96
Ski Turkey in Uludag
I'm cheating a bit since Uludag resort is not really in Europe but it's an easy car or bus ride from European Istanbul to get to Bursa. The lifts are small and creaky, and the nightlife is restrained by the increasingly dictatorial Turkish government, but there are 25 slopes to explore and some backcountry options.
There are also around 30 places to stay in the ski village (not counting the town of Bursa) between hotels and condos, but rentals are more reasonable. The all-day ski passes are around €22. Some hotels have their own lifts that are even less, but then you can only use that one. Renting ski equipment will cost around €12 for skis, boots, and poles per day.
The Turkish lira has nosedived against every other currency in recent years so you can generally get a filling Turkish meal for under €5, but alcohol prices are higher than the European countries on this list thanks to the Islamic government sin taxes. If you want to stay right on the slopes it's not such a bargain here, but there are loads of cheap hotels in Bursa and you can easily line up transportation between there and the mountains.
3-star hotel room: €36 – 75 in Bursa 6 miles away (limited Uludag resorts are more expensive)
2BR apartment/house rental: €15- 70 with lots in that lower range on offer
Gudauri, Georgia
The cheapest ski resort in Europe just might be east of Asian Turkey. Gudauri is the highest and largest ski resort in Georgia and the one with the best infrastructure for tourists. It's also a screaming bargain for visitors who want to ski hard, eat well, and drink good wine. They even have a website in English.
While a flight from the Americas might put you back $1,000 or more, if you're already in Europe you can find lots of budget airline options from there. This is a great stop on a European winter tour for some skiing without the crowds and high prices. And hey, you can stick around for a year on a tourist visa if you decide you love it. It's a popular cheap place to live for those with a laptop job.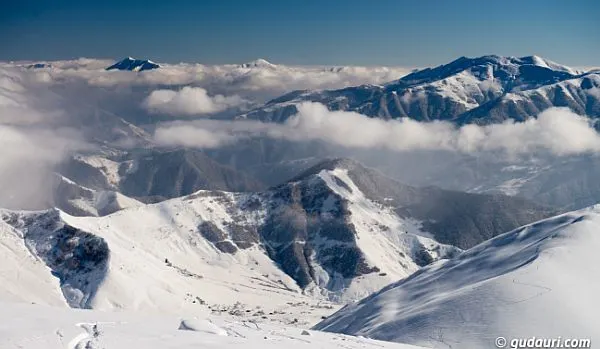 The 34.8 kilometers of slopes run between elevations of 1,993 and 3,276 meters. A day pass is only €24 and we found ski set rental for €11 a day or €67 for a week. You can get a beer in Georgia for under 2 euros and a three-course meal for two for under 20. Even better, get some of that delicious Georgian wine for less than 10 euros a bottle.
3-star hotel room: Most hotels in the area are over €80 a night, so the cheaper bet is to get an apartment or head back to Tbilisi after hitting the slopes.
2BR apartment/house rental: €40 – 85 with lots on offer. I found one chalet with 18 beds in 7 bedrooms going for €421 per night, lots of 3BR places for €200 to 300 per night.
Vogel Skiing in Slovenia
Inside a national park, this ski resort boasts Slovenia's biggest lake and highest slopes, so visitors rave about its natural beauty. There is also the nearby Lake Bohinj (40 minutes) and Lake Bled (one hour) to appreciate on non-ski days. Check out the live webcam here.
There is a ski bus that is free for visitors if you are staying in accommodation that is part of the program (even if you aren't staying in one of the registered places you can still ride the bus, just for a fee). The bus runs through the entire ski area and takes you directly to the lower Vogel cable car station. A day ski pass here costs €40 and €220 for a week.
3-star hotel room: €73-157
2BR apartment/house rental: €55 – 175
Kranjska Gora – Slovenia
Situated in the beautiful Julian Alps, Kranjska Gora has 18 different slopes, with a mix of difficulty levels for beginners and experienced skiers as well as a World Cup black run that attracts slalomers from around the world. This is one of the most popular resort areas in the country and it has a large international crowd every winter. It's only about an hour from Ljubljana Airport.
A day pass here will run you about €40 and you can get hourly passes even cheaper, night skiing passes are €22. Ski rental for a day runs about €15 and an average meal for two is under €15 – 35.
3-star hotel room: Most are over €100 a night but Villach and Klagenfurt, Austria are only a half-hour and hour away respectively and you might be able to find some slightly cheaper options there.
2BR apartment/house rental: €39- 89, a much better deal than the hotels. (Search your dates here.)
Other Europe Ski Bargains Worth Considering
Surprisingly, some of the cheapest ski resorts in Europe can be found in countries that normally attract the rich and famous. There are a few lesser-known affordable ski destinations in Italy and France that are a relative bargain for western Europe, especially if you buy a vacation package deal. Here are two to consider.
Livigno, Italy – Perhaps the best bargain in the Alps, this duty-free zone has lower prices on most consumer goods (including food and drink) and lift tickets are usually around 35 euros for a half day and 60 euros for a day. Livigno has a great terrain park for snowboarders too.
Check Livigno hotel rates here and pay attention to the details: some rates are half-board and others may include lift tickets.
Haute Maurienne Vanois Ski Villages, France – This collection of six ski areas in France in the Southwest of France offers single-day lift tickets that come in under 50 euros, but the longer you stay, the better the deals get for cheap ski holidays. The ski and lodging packages are especially attractive and if you get one for six days, you could ski at a different mountain each day. This is a great affordable ski holiday option if you have a group or family.
If you haven't used Airbnb or Vrbo before, they have changed the game in a lot of ski villages, saving you lots of time finding a deal without going through a resort website. Check prices for any ski town here.
Keep in mind that the ski season in Europe is generally shorter than it is in much of the USA, partly because there's not as much snow-making equipment in use. The high season is generally Christmas (if there's been enough snow) through the end of March. Early April can be great spring skiing time when the ski slopes are not at all crowded, but check on conditions to make sure the place is going to be open. On the other hand, you can expect better food at the lodges, better beer and wine for a good price, and generally more lodging for your money.
Your turn to highlight some affordable ski resorts I may have missed. Where have you found a ski slope bargain in Europe?