Want to know what gift to get a frequent traveler that will be appreciated? But you don't want to spend a fortune or take a chance they've already got it? These practical travel gear gifts and gadgets will come in handy on any trip but they won't set you back more than $25 for your purchase. Most of them are under $20.
They also won't take up a lot of room in your recipient's suitcase or backpack.
Luggage Zipper Locks Are Good Gear Gifts
Even if your recipient has one or two of these TSA-approved luggage locks like you see at the top, eventually they will break or get lost, so it's good to have a few. It's never a good idea to put valuables in your checked luggage (and frequent fliers should always carry travel insurance), but what's checked will stay somewhat safer with a lock. I am also a big fan of meter-long cable locks because then you can secure your bag to a piece of furniture in a hotel, airport, or dodgy bus station.
Comfy Eye Mask
Like sunglasses and luggage locks, eye masks are not something most travelers manage to hold onto until they're worn out. So then we resort to the cheap scratchy ones they give out for free on some international flights. Since even nice eye masks tend to retail for under $20, this is a "luxury for less" gift that will be appreciated by any frequent flier on your list.
That link leads to Amazon, but you can also find prettier ones on Etsy or at local gift stores where you live if you look around. I've got a great eye mask I bought in San Miguel de Allende that has cacti on it and the store also had ones with chili peppers, Day of the Dead themes, and other motifs.
Luminaid or Luci Solar Lantern Travel Gear Gift
Budget hotels almost never have good lighting. Then if you're camping in teh backcountry or in a remote cabin, you've got no power. So a solar-charged lantern comes in handy quite often as a travel gift that will be appreciated.
Retailing for around 20 bucks and often less on sale, this solar Luminaid inflatable lantern will keep recharging with no outlet and will quickly flatten in your bag when you're not using it.
The MPowered Luci lantern is a similar affair but is circular instead of square and charges up a bit faster in the sun—7 hours instead of 10. Both retain their power for a really long time: I pulled one out after six months in a storage container and it still lit up on high. They'll both last 3-4 hours on high or up to 10 hours on low. Great for hanging in a tent because they never get hot.
A Nice Flask
Is your traveler friend kind of a lush? Then a nice flask for discreetly carrying booze around could be a good gift. There are lots of options for $20 or less if you search "flask" at Backcountry or Amazon.
Go for a sunscreen flask to get one that might even make it past the summer music festival guards. It looks just like a bottle of sunscreen, but can be filled with booze using the included funnel!
Quality Travel Socks
Yeah I know, it's kind of a "boring gift" cliché to talk about giving socks as a present, but good socks are something we usually don't get around to thinking about until we're about to take off on a hiking trip. They're as important as good shoes if you're doing a lot of walking, so if you give really good ones as a gift, they'll be appreciated.
Some of them bump up against the $20 mark, but the good news is you can always find name-brand socks on sale at Backcountry or Moosejaw.
Ski Goggles
You can pay a lot for ski goggles, but as with hiking socks, you're pretty much assured of finding them on sale somewhere if you look around, usually with a few to choose from below $40. If you check Backcountry.com or Moosejaw you'll usually find ones from Bolle, Giro, or Smith Optics that fit that criteria.
Obviously this is something you're only going to give a skier or snowboarder, but as with sunglasses, people lose them or they get scratched up, so sooner or later a person who loves snow sports will appreciate the gift.
Power Bank Gadget Charger
The more we rely on our electronics, the faster they run out of juice. Travelers often find themselves on the move, with no time to plug devices into outlets for hours.
Batteries are still the weak point in tech innovation, but thankfully the portable charger banks keep getting cheaper. For less than 20 bucks, you can find plenty of chargers now with 10,000mAh or more in capacity. That's enough to charge a phone 3 or 4 times or a tablet fully.
Follow this link and you'll find some with twice that capacity (20,000 mAh) that weigh just 7 or 8 ounces. Easy to pack, but a lifesaver on long flights or bus rides.
Compact Bluetooth Speaker for Travel
Travel is a social activity, so free your music from the earbuds! Nobody wants to lug around a modern-day boombox, but you can get small Bluetooth speakers for under $20 these days that are good enough for a small gathering. They'll sound better than the tiny speaker on your phone and won't drain your battery. They make a great travel gift that can fit in a stocking even.
Some are as small as the (Chinese-brand) one pictured here, but there's a natural trade-off between size and dynamic range. Larger Bluetooth speakers that are a bit heavier will give you a deeper sound range. Click on the photo for that particular one or follow this Amazon link and you'll find more than 100 to choose from for cheap. Pick the "under $25" option to narrow it down.
Money Belt Gear Gifts for Carrying the Big Bucks
There are all kinds of things you can buy to keep your money and credit cards out of sticky fingers, from Pickpocket Proof Pants to pouches that go inside your clothing. It's hard to imagine anything more secure than a zippered money belt though since you literally have to take it off and unzip it to get to your cash. Not for your daily expenses, but a belt like this offers a traveler a way to carry 500 dollars or euros around in a secure way for when it's needed.
Get the a webbed version for easy walks through airport security, or get a leather one with a hidden zipper back for somebody dressier.
Waterproof Pouch for Valuables
My wife has been raving about this purchase since she got it as one of the best deals of all time and you sure can't beat the price for this waterproof carrying pouch: $13 for two of them through Amazon. We've used it multiple times at the beach in Mazatlan and while kayaking on Lake Bacalar.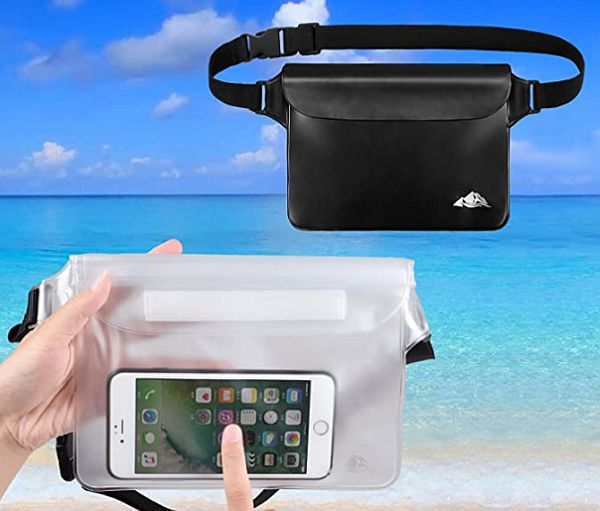 The idea is, you can take this into the water with you and keep all your valuables safe and dry. Unlike those plastic phone holders that hang around your neck though that you see for sale at beach locations, this straps to your body and will hold more. So you can put your wallet, hotel key, two phones, and whatever else you need to into it. Then it can go over your shoulder or around your waist. You could even use it while white-water rafting or paddleboarding. No risk if you take a dip or get splashed.
Follow this link to find a variety of colors and get a two-for-one deal.
ExOfficio Travel Underwear
I've raved about this travel underwear many times on this blog and I never travel anywhere without a couple pairs in my bag. You can sink wash them in the evening and have dry underwear by morning, reducing how many pairs you have to pack.
You'll pay more than 20 bucks for many of the styles, but a few are always on sale and others actually list for that amount. Follow this link to see all the options and the pack light recipient on your list will definitely thank you.
* * *
Are you interested in finding out when the best travel and outdoor gear sales of the year are? And seeing links to the biggest discounts? Four or five times a year—when the deepest discounts are happening—I send out an alert to subscribers who have signed up. It's a way to get all the best deals in one place.
Get on the insider's list here for deeply discounted travel gear and stay tuned for the next one.
Gear Sales Insiders
This post contains affiliate links. You will pay the same price you would if going direct, but I make a small commission for sending a buyer through their virtual door.