Going by what I see in airports and bus stations, most people are carrying at least two bags when they travel somewhere, all stuffed with what they need for their travels. Upon arrival though, do you really want to lug around one of those when you're out sightseeing or shopping? Plus what if you are coming back with more than you left with? Do you have room?
The solution on both counts, one that won't add to your weight or bulk, is to look into packable backpacks, packable daypacks, or stuff pouch bags to use at your destination.
I'm a big believer in the convenience of these items and have been using at least one on every trip going back to when they first started coming out. At the very least I'll bring a packable tote bag for shopping for food or carrying everything in one place if I'm in a car or group bus/van. Those often pack down to almost nothing.
More often I'll bring a packable backpack that I can take out on hikes or long days of sightseeing. One of those will hold my camera, a notebook, pens, a small tripod, any papers I need, and—these days—an extra mask and some hand sanitizer.
There have been other times when it made sense to bring a packable duffle bag. Usually that's because I'm going to a trade show and will be bringing back swag and research materials, but other times I'm planning to do some shopping. Once I even packed one when I flew to Nicaragua without paying luggage fees on Spirit Air, back in 2012. After arrival, I could pull out the expanding duffle bag and carry that for the rest of the trip.
These items are often quite rugged as well. I still have and use that Sea to Summit packable bag I took on that Spirit Air flight to Central America. You can still buy one at Amazon for $50.
Packable Backpacks and Stuff Pouch Daypacks
If you have a favorite backpack brand, there's a good chance they sell some kind of packable backpack or packable daypack that stuffs into its own pouch. Ideally the pouch is part of the design so you don't have to keep track of a separate piece of material for when you're ready to pack it up again. That's the case with most of them, usually using an outside small pocket as the stuff pouch when turned inside out.
That's the case with this packable daypack from Matador, a company that specializes in these easy-to-pack solutions. Their small backpack has been my go-to one the past few trips, like when I was hiking around multiple locations in Arizona recently. It's small, lightweight, and water-resistant, but it holds all of what I need when I'm out and about.
This one is a bit more expensive than its competitors, at $65, but its billed as waterproof and it actually held up to that claim when I got caught in a rainstorm mid-hike. See more on that and some of the other packable bags in this video:
An Eagle Creek stuff pouch daypack I got as a trade show gift a decade ago is still going strong. I don't think it's unrealistic to say I've taken it on at least different trips at this point. I've washed it a few times along the way.
Here it is on someone else who was at that conference, someone I was hiking with two years ago, and it's still rocking for her too. The current version lists for $35 but it's on sale at REI for $22 as I write this.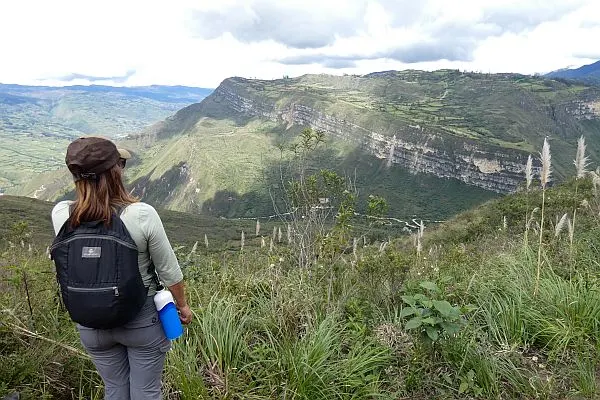 Osprey makes one of these packable backpacks as well, called the Ultralight Stuff Pack. It holds 18 liters and has a water bottle pocket on the side. It lists for $35; see the details here.
Packable Duffle Bags and Tote Bags
I've got a whole collection of packable bags that aren't backpacks. Some are rather large and heavy, ones you would only bring along if you were sure you had a full-on checked bag worth of materials to bring back. (One from Eagle Creek, no longer available, even has wheels.)
Most of them are small and light, however, just meant to do in a pinch when you need a shopping bag locally or will bring home some souvenirs that aren't breakable. The tote bags are quite inexpensive but will help you be a more responsible traveler by keeping plastic out of the local fields and streams. I've even gotten a few as freebies at trade shows, so keep an eye out if you're attending one of those.
The duffle bags are usually a more heavy-duty affair, with a zipper or two and maybe water resistance, but that doesn't mean they're going to take up a lot of room. That Sea to Summit one I mentioned earlier stuffs into a pouch that's basically the size of two golf balls. It weighs next to nothing.
Matador makes 25-liter and 35-liter versions and theirs come with a shoulder strap. Osprey makes one that has a shoulder strap but no handles for just $40. I haven't tried their duffle or backpack, but I'm a big fan of Osprey products and in my experience, they'll last forever.
You can even get one from Oakley on sale at Amazon. I'd be careful with the off-brand knock-offs you also see at that site though. Some are of dubious quality, the stuff pouch is too large, and exchanging them can be a hassle.
REI sells their own 30-liter packable duffel bag for just $35 though and I'd be more trusting of that option.
There are lots of tote bags out there that stuff into a pouch but I like the ones from ChicoBag because they're made from recycled plastic water bottles. So you're doing double good for the planet. You can get them at Amazon or direct from ChicoBag, where you'll also find a travel backpack.
Remember that one of these is probably a safe bet to buy as a gift for a frequent traveler too. The present won't set you back too much and unlike other travel gadget or luggage gifts, you can be pretty sure one of these will get used since they're all lightweight and easy to pack. Or if you put one on your own wish list, it'll give relatives an inexpensive option to pick.
Like I said, I pack one of these items on almost every trip I take and it's a rare case when I return home and haven't used it. In the case of the packable daypack, I'll often use it every day I'm on location.
You can find these and other bags that stuff into a pouch at REI, Backcountry, or Moosejaw.
Disclosure: This post contains some affiliate links, which means I get paid a small referral percentage if you follow one of them and buy something. It won't cost you any more than if you just do a web search and land on that URL, but it helps support this site so we can keep providing free content. Thanks for your support.