Remember when you used to earn frequent flyer miles by flying halfway around the world or taking lots of segments? If you haven't flown for a while, you may need to relearn the system. Now they're called frequent flyer points because miles have nothing to do with them and as you've probably guessed, the changes benefit the airlines, not leisure travelers.
I appeared with several other guests on the ExpertFlyer podcast this week to talk about airline mileage strategies in current times. I decided this would be a good time to look at the current state of these "loyalty" programs which aren't really about loyalty anymore. Unless you're a big-spender biz traveler. And there aren't many of those around these days.
Back in 2016, American Airlines joined United and Delta in giving you frequent flyer "miles" based on revenue rather than distance flown starting mid-2016. So for most of us stuck in the back of the plane, that means we've been earning fewer loyalty points for each plane ticket on the three largest domestic airlines. Depending on which class of ticket you buy, you may only be earning 2X to 5X the price of a ticket, with no reflection of how far you're flying.
So if you fly far away but only spend $400, you'll get just 2,000 Delta "miles" for it, and only then if it's not considered a discounted fare. Sometimes airlines offer more in a bonus promotion, but it's peanuts no matter how you look at it unless you're flying business class and get a premium. You're much much better off earning points on their credit cards instead, getting multiple ones even to benefit from the sign-up bonuses. In the 2020s, it has become really hard to earn points anymore by flying and only on Southwest can you seem to earn a free flight without spending 10 or 12 trips in the air.
What Are Airline Frequent Flyer Points Worth?
The airlines have made it harder and harder to figure out how much your points are actually worth because they want to hide how much they are devaluing this debt on their balance sheets. So they have moved to a dynamic pricing chart for free flights that changes the same way the real prices do. In other words, you don't know in advance how many points you'll need for a given trip.
When the odds are in your favor, this can work out well. I've gotten one-way business class tickets from Mexico to the USA for less than 20K during the pandemic and my wife just got an economy class one from Tampa all the way to Mazatlan for 12,500 frequent flyer points.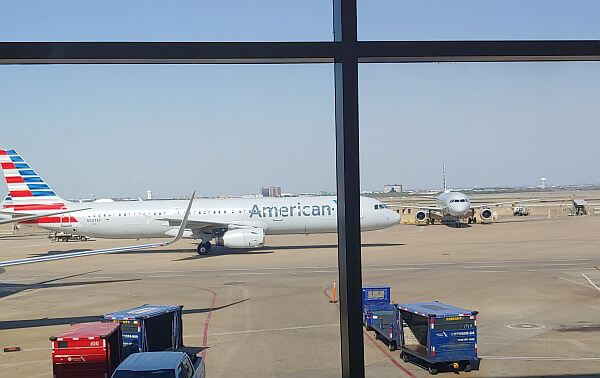 When the economic conditions are not in your favor, however, it could cost you far more points than it used to in the good ole days when you could just consult an awards chart to see how far your miles could take you. Estimates vary depending on which number-cruncher you consult, but the best rule of thumb is to assume every point is worth a penny.
So if you can cash in 12,500 miles for a flight that's going for $300, that's great. You've gotten more than 2 centers per point in value. But you don't want to cash in 30,000 points for a flight that costs $150. Now you're only getting a half-cent each.
Who Still Benefits From Airline Loyalty?
The picture gets much better if you've made elite status and the more you fly the better it gets, as you can see on the chart below. There's just one problem with that: with rare exceptions, the only people who ever reach elite status are people who travel often for their job. And those people usually don't pay for their own tickets. But on American you have to get to Premier Silver just to get the same earnings as Joe Schmo flying twice a year on United.
Here's how it breaks down for Delta, for example:
General SkyMiles Members: 5 miles for every $1
Silver Medallion Members: 7 miles for every $1
Gold Medallion Members: 8 miles for every $1
Platinum Medallion Members: 9 miles for every $1
Diamond Medallion Members: 11 miles for every $1;
Southwest is either slightly better or a lot better depending on your fare. At their lowest "Wanna get away?" economy level you earn 6 Rapid Rewards points per dollar, but at the higher "Business Select" fare level you get 12 per dollar, vaulting past the Gold level of elite status at its legacy airline competitors. Combine that with two free checked bags, the ability for families to easily sit together, drinks, and a snack, and Southwest is a slam dunk choice in most cases. You can even fly them to Mexico, Costa Rica, and Belize, so always check their site when you're pricing out flights—they don't show up on the likes of Expedia.
There's an extra bonus too if you get to their equivalent of elite status: "A-List and A-List Preferred Members earn a 25% and 100% bonus respectively." And they have a companion fare program for people who hit a high level of flights. Use their credit card on top of all that and you'll be awash in Southwest points in no time.
My Advice on Earning and Using Airline Points
Here's my opinionated strategy to follow if you're flying out of or within the United States:
Try to fly on a foreign airline instead of being loyal to any legacy U.S. one. Most will still earn you mileage on one the the three main alliances and you'll get more for that fare, like meals, drinks, and baggage. So to South America, for example, fly Aeromexico (SkyTeam), Avianca (Star Alliance), Copa (Star Alliance), or LATAM (SkyTeam)
If flying within the USA, go with an airline that gives you more like Southwest, JetBlue, or Alaska. You can earn free flights faster and won't get dinged for as many gotcha charges.
Don't hoard your miles unless you're trying to reach a specific goal. If we've learned anything the past decade, it's that airline loyalty points are likely to keep becoming less valuable for leisure travelers over time, not more valuable. Use them before the award chart gets worse.
Assume your best path to a free flight is not flying, but spending. What the airlines want you to do is spend more on your flights. What you want to do is game the system by focusing on the right credit cards instead. Assume loyalty flying only helps if you're able to reach elite status.
The Plastic Travel Hacking Solution
Don't give up on these programs: they're still a great way to get a $2,000 ticket for just the price of taxes and fees, as I did for a trip to the South Pacific we took for a wedding anniversary trip. To really win at this game now though, you clearly need to either be a frequent business traveler or you need to make the most of credit card offers. Probably only 20% of those miles I cashed in were from flying on American and its partners. The rest were from two AA credit cards.
If you're based in the U.S. – or at least have an address and bank there – you can routinely get enough miles for one free ticket just from the initial sign-up bonuses. Often one sign-up will give you enough miles to get to South America or Europe. Then use the card for all your bills and purchases and you can rack up points much more quickly than by flying. (Obviously you have to have decent credit and you need to be able to pay your bills. If neither of those are true, keep working on your finances to get there.)
Follow these links to see the current sign-up bonuses for airline credit cards from United, Delta, and Southwest.
Use the dining programs and online shopping malls and build the points up faster still. Last time I bought something through one of those online malls I got 7 points for each dollar. It's not uncommon to get 3 from Walmart.com or Apple.com, much more from florists or clothing vendors. When I dine or drink at certain local places in the USA, I earn 5 airline miles for every dollar. Pints for points!
The best airline cards even give you many of the perks of elite status, like priority boarding and a free checked bag on domestic flights (or international with United). Watch for good sign-up bonuses and get the one for the airline you fly the most. Then get another like Chase Sapphire Preferred or an Amex one that allows points transfers to top off your balance on various airlines. Most of them (but not Southwest's) now come with no foreign transaction fees.
If you're interested in diving into the weeds on how to squeeze out more points, follow the bloggers who talk about this stuff every week, starting with The Points Guy or the multiple blogs at The Boarding Area. Or just forget about loyalty and get bargains wherever they come from by checking out Scott's Cheap Flights.
Getting mad about program changes won't make you feel any better. Beating them at their own game will.
This post contains affiliate links that earn a commission and referral links that may earn bonus airline points. I only recommend services I have used. Clicking on these links will not cost you any more than if you went direct without me, but this helps support the providing of free content.