Sometimes I hear about a cheap place to live and it's a country that's not on my radar, one I haven't been to yet. That's the case with Lithuania, a Baltic country that's in the north of Europe. It sits between Poland to the south, Latvia to the north, and Russia to the east. Laura Bonner, a blogger friend who hung out with me once in Guanajuato, moved there recently when her boyfriend got a job offer. She's the woman behind the Eternal Expat blog and she agreed to share what she has found so far for the cost of living in Lithuania. Take it away Laura!
I arrived in Lithuania in a haze of jetlag and exhaustion. It was about 6pm and after working out the time difference, I realized I hadn't eaten anything for almost 8 hours. I dropped my bag off at the hotel and crossed the street to a small restaurant. The menu was on a chalkboard and I understood absolutely nothing except the prices on the side of the words. Something was €2.50, something else was €3.50.
I nervously pointed to something on the menu hoping it would be delicious, although the entire restaurant smelled of butter and sauerkraut, so I was feeling hopeful. I paid €3 and was immediately given a tray with soup, a glass of juice, and a plate that was heaped with mashed potatoes, sauerkraut, salad, and two enormous meatballs. I smiled and sat down with my feast.
After spending five years living in Mexico, I was starting to get itchy feet. My boyfriend and I decided to start looking elsewhere for opportunities and options for living in Europe.
Lithuania has one of the lowest costs of living in the EU and also happens to be an interesting and beautiful country to explore. It's relatively easy to get a temporary residency permit if you are a digital nomad or are able to secure a job here before arriving.
Once I got here, I learned that it was even more affordable than I had originally thought.
Of course, your cost of living in Lithuania will vary depending on where you choose to live. The capital city of Vilnius will be more expensive for rent, restaurant, and entertainment costs than smaller cities like Kaunas, Šiauliai, or Utena.
Why Move to Lithuania?
The small country of Lithuania may not be the first country you think of for living abroad. However, for those that are seeking an affordable European base with great internet for working remotely, access to cheap flights to other nearby countries, and a whole lot of nature everywhere, Lithuania is a wonderful option.
In 2019, Lithuania clocked in the fastest internet in the world. While it was recently surpassed by Japan, Lithuania still has some of the best internet speeds you'll find on the continent and all for a very low price.
For €15 you can get a bus to Warsaw Poland and be there in about five hours. You can hop on a €9 bus to Riga, the capital city of neighboring Latvia. Flights to Germany, Italy, Greece, and France all come in at under €35 one way if you plan at least a few weeks in advance.
With over one third of the country covered in forest, the country is a nature-lover's paradise. You don't have to travel far in Lithuania to swim in a freshwater lake, walk trails through towering evergreens, or to get to the coast of the Baltic Sea where you can walk amongst the biggest moving sand dunes in Europe.
Apartment Costs in Lithuania
If you want to live in Vilnius or Kaunas, you can find a one-bedroom apartment for as little as €350 per month. This apartment price will get you something smaller, perhaps on the outskirts of the city in an old soviet era apartment building.
If you can up your budget to €500 per month, you can get a more centrally located apartment in Vilnius or Kaunas in a modern or recently renovated building.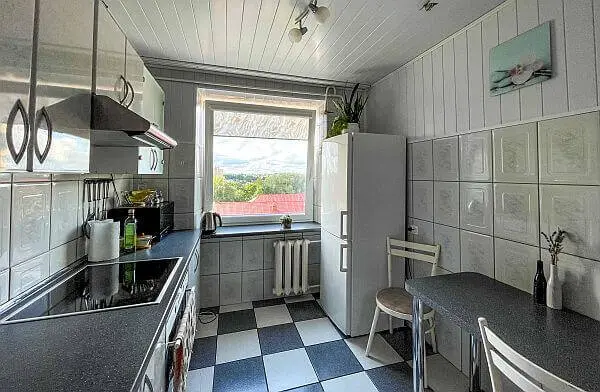 If you want to live in a smaller city closer to nature (there are plenty of these in Lithuania), you can get spacious and newly renovated apartments for between €200 and €300 per month.
Cost of Utilities in Lithuania
Bills are incredibly affordable in Lithuania when compared to countries like the USA, Canada, or the UK.
You pay for water, heating, electricity, and internet in most apartments. If you have a gas stove or oven (which tends to not be as common as electric), then you will also pay for gas.
During the summer months, you can expect to pay about €20 for water, heating, and electricity combined. During the winter months the heating, which is usually turned on by the building manager, can bring your total bills up to about €50 per month.
High-speed internet costs about €10 per month.
Some apartment buildings have quarterly maintenance fees that pay for the communal garbage and recycling collection. This is charged based on the number of people in the apartment and depends on your local council charges. You can expect it to be about €2 per person per month.
Lithuania Transportation Costs
Lithuania has an excellent public transportation network of buses and trains. If you live in a bigger city like Vilnius or Kaunas, you can easily hop on a city bus to get across town. The bus stations have daily services to anywhere in the country as well as to other nearby cities like Riga, Warsaw, Minsk, and even all the way to Berlin.
Buses tend to be the cheapest option and a local city bus costs about €1 in Vilnius and about €0.70 in Kaunas. If you want to take the bus from Vilnius to Kaunas, you can expect to pay about €6-7 depending on which bus company you go with.
The train can sometimes be cheaper, but it tends to be the slower option. A train from Vilnius to Kaunas costs €5.50 for a second class ticket.
Used cars are incredibly affordable in Lithuania compared to other countries. You can purchase a used car in good condition for anywhere between €1,500 and €2,000. Car insurance for those over 25 years of age can be as little as €150 per year.
The most expensive thing about having a car in Lithuania is the price of fuel. Gas prices in Lithuania are about €1.28 per liter or about €4.86 a gallon (that's over $5.50 USD per gallon!).
Cost of Groceries and Eating Out in Lithuania
Food in Lithuania is absolutely delicious as long as you enjoy potatoes. Because you'll find them everywhere.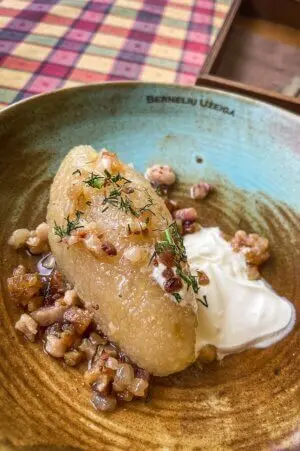 Lithuania's national dish, the cepelinai, is a giant ball of potato that's usually stuffed with pork mince and topped with sour cream and bacon. What's not to like?
Eating out in restaurants in Lithuania can be as affordable or expensive as many other countries in the world. If you want a budget meal, you can grab a doner kebab for €2. If you want to dine at the country's best restaurants like Džiaugsmas or Nineteen18, you can expect to pay about €30-50 per person and a little bit more if you want wine or cocktails.
If you eat what's local, you're usually going to pay less. Traditional Lithuanian restaurants can cost between €10-15 per person. If you want sushi, you can find that at varying price and quality levels, but a meal out there will cost about €15-20 per person.
Groceries are very affordable when compared to other European countries that also use the euro. You can get a kilo of chicken for €1.30, a kilo of pork sausages for €1.50, and a freshly baked loaf of rich dark rye bread for less than €1. A dozen eggs will cost about €1.50, a liter of milk costs €0.80.
Fruits and vegetables, when in season, are incredibly affordable. Bananas cost less than €1 per kilo, oranges just over €1 a kilo.
You can also get plenty of pickled and fermented goods like a jar of pickles for less than €1 or a kilo bag of sauerkraut for €1.20.
Beer at a bar costs about €3 for a pint, while in the grocery store you can buy local beers for €0.99 for a pint-sized can. A glass of wine at a bar similarly costs about €3-5 depending on the quality while a bottle of mid-range wine costs €6-10.
One month's groceries including buying some beer on the weekends tends to cost me about €120 per person in the household.
Lithuania Entertainment and Travel Costs
Lithuania is full of free activities thanks to how easily accessible nature is. If you enjoy trekking, swimming in stunning lakes surrounded by forests, walking along sand dunes, or camping, Lithuania has loads of wonderful, nearly free places to explore.
If you head to the cities and want to visit the museums, you can expect to pay on average about €5 for entry to museums.
Going to the movie theater costs about €7 for an adult ticket to a new box-office release.
Joining a gym can cost as little as €10 a month and as much as €30 a month depending on the location and luxury of the gym.
If you plan to do any traveling around the country that includes staying in hotels or short-term rental apartments, you can expect to pay about €25-40 for a lower-end hotel room and closer to €50-60 for a midrange hotel in places like Vilnius, Kaunas, or Klaipeda (the large beachside city in Lithuania).
I've found that the midrange hotels almost always include breakfast in their prices. See prices for hotels and rental apartments here:
Total Cost of Living in Lithuania
Of course your overall cost of living in Lithuania will depend on how often you want to go out to eat, whether you have a car and use it every day or prefer public transportation and walking, and where exactly you plan to live.
As a couple living in a small city in Lithuania, we spend about €1,000 per month. This includes our rent, bills, groceries, eating out, the use of public transportation, and entertainment like park entry fees and museum costs.
If you live in Vilnius or Kaunas you can expect to pay more, like €1,200-1,500 for two people to cohabitate in an apartment and share meals and other mutual costs.
This post was contributed by Laura Bonner of EternalExpat.com. Find her under the Eternal Expat handle on social media platforms, including Instagram.