As I write this, Europe is opening up to vaccinated travelers after a long tourism drought, so I thought it would be time to highlight one of the best values on the continent that doesn't get all that many vacationing visitors: Slovakia. The country has been in the last two editions of my book The World's Cheapest Destinations. It's not the cheapest country, but Slovakia travel prices are quite reasonable and the lack of visitors means you're seldom going to have to worry about fighting crowds.
I used to think that the Czech Republic and Slovakia split up after the fall of the Soviet Union because of big regional pride issues. In reality, it was mostly the politicians that wanted the split. People I've met on both sides of the line say had it been put to a referendum, the split would have failed miserably. The citizens of the two countries still think of themselves as one, but this way there were double the number of jobs for the people in power.
Unfortunately for Slovakia, much of the big business money and tourism stayed on the Czech side. There was already more industry there as the Slovak side was more agricultural. And the Czechs had Prague, which was 10 times more interesting to visit than Bratislava. So Slovakia is like the plain sister who is constantly overshadowed by her flashy older one. It's also not all that populated: there are only five million people in this whole country.
Slovakia is not as cheap as Bulgaria, Romania, or Hungary, but it does offer better values than most of the rest of Europe, plus you get the advantage of feeling like a pioneer. While Prague and Budapest see millions of visitors each year in normal times, Slovakia subsists on a few tourism scraps in the way of river cruise visitors to Bratislava, a few planefuls of cheap Ryanair flyers, and…little else.
This is a shame because the country really has a lot to offer and Košice, Levoca, Bardejov, Banska Bystrica and Prešov have some of the most pleasant historic centers you could wish for. Here you can eat well, drink well, and find plenty of sights to marvel over at a fraction of the cost of the countries to the west. The hiking trails through the high mountains are mostly filled with locals. Without the loads of tour buses and big groups led by someone with a megaphone or a flag, here you can relax on vacation and not have to work so hard at taking a photo without mobs of people.
Most people don't know the first thing about this country and half get it mixed up with Slovenia, but think of it as the right half of old "Czechoslovakia." As such, it has much of what you would expect to experience on the other side of the border—without the price inflation of Prague and with good ole euros as your currency. You don't need to change currency to some kind of Slovakia money: they use the euro.
Some say it's the country's participation in the single currency that keeps it from being as cheap as the other European countries in this book, all with their own money still. Locals say prices took a hike the week the euro went into effect and never went back down. (I'm not so sure about that theory since euro-using Montenegro stayed about as cheap as Albania and much cheaper than Croatia.) It makes for some interesting cross-border trade in the north though: when the euro is weak, the Poles come across the border to load up on alcohol. When the euro is strong, the tide goes the other direction.
So everything will be priced in euros, but I'm listing prices in dollars since most readers of this blog are in North America. At the time of writing, the rate was around 1.2 dollars to the euro. so do the math for the Slovak currency.
The main attractions here are outdoor ones, so coming in the dead of winter isn't a great bet unless you want to take advantage of excellent but relatively cheap skiing in Europe and snow sports in the High Tatras Mountains. From April through October you can hike in those mountains, explore castles, and see interesting historic cities.
Adventure activities go from tame to wild, with a lot of unpopulated areas to explore on foot, by bike, or on river raft. There are also a lot of caves in this region, including one where you can ride a boat "on the River Styx" and come out a tunnel at the end in Hungary. There's a fun boat ride with great scenery on the border between Slovakia and Poland.
If you haven't gotten your fill of monasteries in Bulgaria or Romania, there are dozens of gorgeous ones here to check out, as well as some historic wooden churches and several UNESCO World Heritage sites. (Remember that the borders have shifted a lot in this region from a century ago: much of what's in Romania or Slovakia now used to be in Hungary-and sometimes vice-versa.)
You'll seldom pay more than six euros for admission to anything, and usually it's more like two. Transportation is reasonable, but not all that well set up for foreign visitors. There's not much of a backpacker infrastructure or a network of fluent English speakers, so this is a country where I would definitely advise carrying a guidebook or a lot of how-to article downloads—and a phrase book or Slovak language app.
Or suck it up and go on an organized tour with a company like G Adventures. The tour will probably start in Bratislava, as there are almost no domestic agencies elsewhere. I had two English-speaking guides in the eastern part of the country when researching an article and supposedly that was half of the total number registered!
Bratislava has somewhat higher restaurant costs because of it being a river cruise stop and part of some coach tours, but it's still far less expensive than Prague. The real values are in the lesser-visited but more interesting eastern part of the country, anchored by the beautiful small city of Kosice, pictured at the top.
The whole main drag is pedestrian-only all day every day and it's filled with cafes and restaurants with a view of the opera house and cathedral. From here you can get to dozens of interesting places, including the High Tatras Mountains, in 1-3 hours. Castles, great manor houses, caverns, monasteries, wineries, national parks with good hiking, skiing, rafting, cycling, and lots more.
Try to stay out of trouble here: the World Economic Forum ranks the Slovakian judicial system 140th out of 144 countries they track.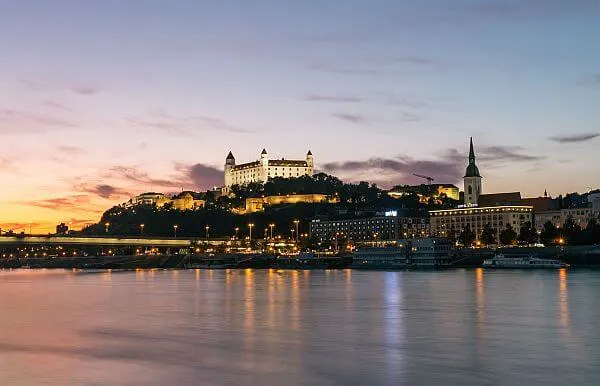 Slovakia Accommodation Costs
The cost of living in Slovakia is quite low if you put down roots, but it's more costly if you're passing through because hotels cost more than they should in relation to everything else. If you can stay put for a bit and rent a place for two weeks or a month, you'll fare better than someone in a hurry.
As mentioned, not many backpackers make it to Slovakia. Apart from neighboring Hungarians and Poles, there aren't many travelers period outside Bratislava. Many who come to the capital are on a river cruise already or joining up with one, so the hotels are used to discounting for large groups. There's not the bustling backpacker scene you find in the Czech Republic or Budapest, with dozens of hostels to choose from and day trip tours going out regularly. Lodging tends to be a better deal for mid-range travelers: almost nothing is more than $125 per night except a smattering of international business chain hotels. On the other end of the scale though, you'll probably pay at least $35 for a decent double or rental apartment. It's far easier if you're a couple, not a single, as hostels are rare.
In some areas, Airbnb has been a godsend as it has expanded the available short-stay options substantially. You can often find an apartment rental for less than a comparable hotel room and you'll have a place to cook. At any given time there are more than 100 rooms, houses, and apartments for rent in Košice for less than $60, in some cases less than $20 for two for a private apartment.
Around the hiking areas you can rent a simple mountain hut for two for under 15 euros, but the popular hiking lodges in the High Tatras Mountains are more like $20 for a bunk bed, including breakfast. Camping at many national parks is $8 for one person with a tent, $12-15 for two.
A hostel bed in Bratislava has gotten a little cheaper in recent years because of expanded competition. Figure on $12 to $20 per person. Often a couple is better off at a 2- to 3-star hotel, pension, or Airbnb unless you're looking for a meet-up space. Hotels in that star range are generally $26 to $70 double throughout the country, usually including breakfast. Sometimes you can find an apartment or house for four with kitchen for $40 to $80 per night. Prices drop a lot for rentals in rural areas: there are a lot of empty houses in Slovakia because the owners are working in Western Europe somewhere to make more money. They'd rather rent it for cheap than have it sit empty all the time.
At the high end, it doesn't cost much to splurge. The best hotel in Košice is often listed for $130 or less for a standard double. In Bratislava, there are typically 30 or 40 hotels for $60 or less double, but only a few listed for more than $150 per night. The most expensive one I could find on Booking.com as I was writing this was $171 a night for a Marriott Luxury Collection hotel.
Slovakian Food & Drink
The best deals in Slovakia are on what you consume: restaurant food, wine, and beer especially. This is a country where you can still get a big multi-course lunch and a glass or two of good wine or a great beer for less than US$10. A soda can cost more than a beer or wine though, as can coffee.
You'll seldom leave the table hungry, with similar fare that you'll find in the Czech Republic. The local cuisine is hearty and filling. Think sheep cheese dumplings, roasted pork, big bowls of pasta, and fried cheese. Maybe with a side salad that has extra cheese, and a plate of bread and butter. Plus some peppers in olive oil and some cheese for good measure. Apart from the odd Spanish oranges and other imports, it's mostly local.
A set meal 3-course lunch is generally $3 to $8. If ordering individual items, soups are commonly $2 to $3.50, main dishes $2.50 to $6. If you're in a place where you can cook, a kilo of seasonal produce is often 75¢ to $2, 100 grams of local cheese is 40¢ to $2, and rolls or baguettes are 20¢ to 80¢ each.
There's not a whole lot of street food here for 8 months of the year, but in the warmest months you'll find street stalls selling snacks, sandwiches ($2-3), sweets, and coffee. For the locals it's generally fast food, a real restaurant, or eating at home in the other months.
For a half-liter draft of the excellent local beer (The Thirsty Monk, for example), you'll pay from $1.20 at happy hour to $3 in a nice place, with the average around $2. In the mountains, figure on a premium of an extra euro or more. In a store, a half-liter bottle is 60¢ to $1. Good Czech beers sell for similar prices.
The wine in Slovakia is a pleasant surprise to many visitors, with the whites and dessert wines on par with what you'll find in Hungary: they share the Tokaj wine region. A good bottle of wine in a bar/restaurant averages $6 to $12. The house wine will often be $2.40 (two euros) or less a glass; sometimes much less. In a store, the majority of bottles are between $3.50 and $8, with only the premium brands hitting $10 to $20. There are some nice wine bars where you can sample a range of them without killing your credit card like you would at home.
Slovakia is a great place to do winery tours and discover things you have never tried before, like Grüner Veltliner, Welsh Reisling, Furmint, and Lipovina. Several distinct wine regions produce soft reds, mineral-rich whites, and good dessert wine. Some of the wineries have inexpensive lodges or rooms for rent.
The Slovakian alcohol of choice is fruit brandy—usually made from plums, grapes, or pears—that's used as a digestive before the meal or as something drunk for hours until you're legless. A small glass in a restaurant or bar is $1.60 to $2 depending on quality, with a bottle of it starting at a few dollars in a store.
Coffee, water, and soda will all cost you more than a dollar at a restaurant or bar. It's economically unsound to be a non-drinker and shun the local tap water here.
Locals generally don't do much more than round up the bill for a tip, so 10% is considered generous.
Transportation and Getting Around
Getting around is the big rub in Slovakia. The train system leaves a lot to be desired, for a start. Bratislava is connected to several other countries, but at the time of writing, from Košice you could go south to Budapest, but not north to Krakow. There's a connection from Košice to the High Tatras Mountains and now a train between Košice and the capital. The Košice – Bratislava night train costs $22 for a seat or $28 for a sleeper, taking 7-9 hours. The faster IC day train takes about 5 hours and is around $25.
The bus system is a better bet for most towns, once you make sure you're on the right one. A short 20 km trip will be around $2. This isn't a really big country to get around and it's not far to many neighbors. Getting from Bratislava to Budapest, Hungary starts at $11.
City trams and buses are usually 80¢ for a short ride to $1.20 for something that will take an hour. It can be cheaper to get a one-day pass for $6 or so in the capital city, or a multi-day pass for less per day.
Taxi fares are less than a dollar a kilometer, but the flag drop can be three euros, so figure $5 and up for all but the shortest ride. Getting to the airport from the center will cost around $13 to $20 in Bratislava, $10 to $15 in Košice. There are cheap bus alternatives to get from the airport in Bratislava and Košice for a fraction of the taxi price, at around $2.
You can rent a bike for a half day for $5 or $6.
Renting a car in Slovakia is relatively inexpensive. As long as you don't require an automatic, you can often find a compact car rental under $35 per day with insurance.
For some reason this Euro26 card seems to be more commonly known here than the ISIC card, but either should get you a discount of 50% off most attractions and trains if you're a student.
What can you can get for a buck or less in Slovakia? Here are a few things: 250 grams of yogurt, a kilo of potatoes, 100 grams of sausage, a salad, a serving of street food potatoes or corn, a glass of house wine in a locals' joint, a shot of basic fruit brandy, a loaf of bread, a local bus or tram ride, admission to some churches and monasteries.