It's exciting to talk about travel gadgets, apps, and cool clothing, but one item that's on you almost constantly doesn't get much attention: your travel underwear.
Except when you're in a bathing suit, you'll probably have underwear on when you're traveling. Which means if you're on a round-the-world trip lasting a year, you might be in contact with this particular item 365 days in a row. That's a lot of wear and a lot of sink washing. Even if you bring 10 versions (which is probably overkill) you could end up washing them dozens of times. Plus they need to be comfortable and ideally not stay wet for hours.
After extensive research packing and traveling for years of long trips and short ones, I've got a good sense of which travel underwear brands will perform well and hold up over time. Here's what to pack that's built for all that, for a round-the-world journey or for a week-long trip where everything needs to fit in a carry-on.
ExOfficio Give-n-Go Underwear
Both sexes will find plenty to pick from in the ExOfficio underwear section. You can credit this company for starting the whole category in the first place, at least in terms of marketing it. There weren't many styles to pick from at first and while us guys didn't care much, the women wanted something that looked sexy, not just functional. So now you can find all kinds of lace and colors, The men have some patterns to go along with the solids.
You can go for boxers, briefs, bikini, or trunk styles here. I tend to go for briefs since they take up less room. Like most ExOfficio gear, this underwear seems to be close to indestructible and I think one pair I own has been to about 20 countries now. They'll dry quickly after a sink wash or you can toss them in a washer and dryer with no worries. As you can see in that screen shot at the very top, they also make a whole range of sleep shirts, which can be very handy for sleeping in a hostel or any other place where you need to be covered up when you get out of bed.
Prices range from $18 to $32 at the official website and are totally worth it. Sometimes you'll find sales there or deep discounts at sites like Backcountry or you can check Zappos.
Saxx
This is a male-only option, as you may guess by the name. Think of the old jock strap design applied to underwear but with thin, lightweight materials. I'll let them describe it.
Every pair of SAXX underwear houses our patented BallPark Pouch construction. Designed for contact-free support, this 3D hammock-shaped pouch keeps everything in place, thanks to mesh panels that prevent skin-against-skin friction, and no exposed stitching for no-chafe comfort.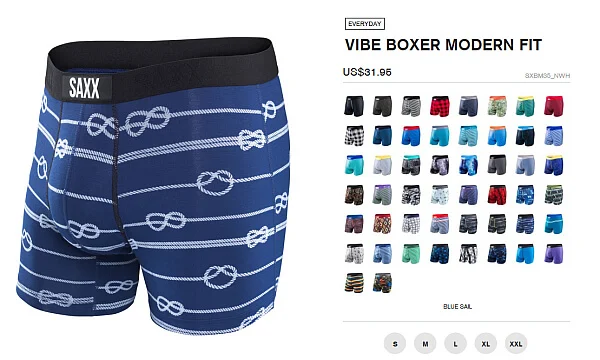 I first tried out the original Saxx when I reviewed them years ago as editor of Practical Travel Gear. Over the years they've launched lots of new designs and colors. Recently I've been trying out two new models: Quest and Vibe. The Vibe ones are billed as their everyday model and come in a crazy array of options, as you can see in that screen shot above. They all have flat seams, stretchy fabric mixes that dry quickly, and a great fit that won't bag up anywhere. They come with a wicking waistband.
The Quest ones are more athletic, for travelers who will be doing lots of workouts or adventure activities on the road. Made from 77% Nylon, 14% Spandex, and 9% Polyester, this version dries even more quickly because of the mesh construction.
This underwear is going to cost you: list prices start at $30 list range, with the merino wool versions listed for $44. Some models are always on sale though on the Saxx site and at retailers like Shoebacca and Zappos.
Wama Hemp Underwear
If you're concerned about sustainability and want to wear natural materials, there are alternatives to cotton that will hold up better and have built-in odor-fighting advantages. One of those is merino wool (more on that later), another is the less fussy and cheaper hemp. Hemp grows like a weed, no pesticides needed, and is a very durable fabric, so it's a good choice if you're trying to lower your impact on our struggling planet.
I've been trying out two pairs of Wama hemp underwear the past month and a half and I really like them. I've been packing a pair of Wama hemp boxer briefs and a pair of shorter trunks. They also make regular boxers and briefs. For women, there's an even wider variety in a wide range of colors.
If you're picturing those hemp bags you've seen for sale, don't worry. They've settled on an optimal fabric blend to keep them soft and to have a little stretch. Most of the options have a mix like 53% hemp, 3% spandex (for the stretch), and the rest is organic cotton. There are pluses and minuses to that cotton percentage. It makes them feel like regular underwear, very soft and comfortable, but they are going to take longer to dry than some other fabrics. On the plus side, you can throw these in the dryer or drop them off at a cleaner without worry. They're tough and durable.
What you get from the hemp part of the equation is wicking properties, natural anti-odor properties, and a huge savings behind the scene in the manufacturing process. Less water, less energy used.
Wama sells direct to keep their prices at a reasonable level. Most pairs are $20 to $25 and their are discounts built in to 3-pack or 6-pack purchases. They'll ship worldwide and first-time customers get an automatic discount. Check them out here.
Tilley Underwear
Hello Canada!
While Tilley hats are relatively well-known outside their homeland, the company's travel clothing is a north-of-the-border thing. In Canada there are actually retail stores selling a whole range, including the underwear you see here. You won't find a lot of flash though as you can see from that photo. The options are about as colorful as a Canadian landscape in the middle of winter. If you want to be sexy, take them off and get naked.
I've been using two pairs of these for three years now though and they're still going strong. Those Travel Briefs have a nice feel to them too: you'd swear they're cotton, but they're really quick-drying polyester that manages a good fake-out. Prices range from $10 (for a close-out model) to $32 for the CoolMax versions. Order direct from Tilley in the USA or try Beltoutlet.com.
Icebreaker
Every week for six years I reviewed new items at Practical Travel Gear and attended trade shows to check out the new lines. If I could go on an unlimited shopping spree with any of the apparel companies, my first choice would be Nau and the second would be Icebreaker. The latter makes a line of underwear and like most everything they put out, it's top-notch.
I love the fit and feel of my Icebreaker Anatomica briefs and I have been packing them for years. Unlike most of the others in this travel underwear round-up, these are made from 83% merino wool. That gives them a fabric feel you don't get from the others, plus they're odor-free naturally, which means this underwear "can be worn for days without washing." Always a useful thing when you're traveling. (Synthetics require a chemical treatment to accomplish this.) The downside is that merino wool is more fragile than man-made fabrics, so you shouldn't put these in a clothes dryer and they could fade over time if you dry them in the sun.
You can get briefs, boxers, or in-between options. For women, they also make nice sleep shirts/cover-ups and sports bras.
See the whole line at the Icebreaker site (where some are on sale right now) or buy them online at Moosejaw.
Cheap Synthetic Travel Underwear
The first secret to underwear that wicks sweat and dries quickly after a sink washing is what it's made of. In general, cotton dries very slowly, while nylon can be dry in a couple hours. What these name brands add to the equation is design that will accelerate this process (thinner fabrics, loose weaves, advanced construction) and more precise, more complicated designs that enable a better fit.
Having said all that, I have to admit that two pairs of underwear I often pack were purchased at TJ Maxx for $3.50 each. They're simple nylon affairs with lots of stretch and…nothing else. They get the job done and will be dry by morning if I wash them at night. Cheap underwear like this is not treated with any odor-fighting anti-bacterial elements though. You can't get away with wearing these for days.
They also don't last as long because they're not made as well. So you're going to have to replace them every couple years instead of every five or ten. If you're on a very tight budget when gearing up for your travels, I'd advise getting two quality pairs when they're on sale and filling in the rest of your needs with cheapies. If your body size is not too large, you can buy replacements later in a local clothing store where you happen to be.
Or if you're a woman who always wears thongs, you can forget all of this. Since those are more elastic than fabric, they take up almost no room and won't stay wet long.
There are a few other brands that dabble in this travel underwear space, like SmartWool, Under Armour, Outdoor Research, and Prana, so shop around if you are a big fan of one of those. Otherwise, check the links in this post for ideas and consider this decision as a key investment for your travels. This is the clothing item you'll be wearing more than any other and the one that will receive the most washings, so it can be worth it to pay a bit more for quality.