The situation is fluid in many countries, including here, so this budget Thailand travel article was update on October 8, 2021.
In a post at the end of Q1 in 2021 I wondered aloud about when we'll be able to travel in Southeast Asia again and the answer was basically, "Who knows, except for Thailand." The favored nation for backpackers is way ahead of its neighbors in devising a reopening plan. So it's looking like budget Thailand travel will be a reality before anywhere else in the region as the world starts opening back up to vaccinated travelers.
The thing to remember, however, is that the country's tourism board is not having meetings about how to lure back scruffy backpackers getting by on $20 a day. Their main goal is to bring back package tourists who are going to come for a week or two, spend freely at the resorts, then fly back home. The planners probably realize that they don't have to try very hard to get budget travelers back–that's just a natural bonus. Luring back the hesitant vacation crowd is tougher.
So it's not in phase 1 that you need to be researching that bus from Bangkok to Ko Phangan so you can go dance all night under a full moon. Save those budget Thailand travel plans for later in the year. Fortunately though, the islands around Ko Samui, including that one, are in phase 2, so if you're willing to fly there I think you can make it happen from late July onward. As I write this in October, lots more cities are coming on line, including the two largest.
Thailand's Phased Tourism Reopening Plan
While most countries around the world have treated border openings as a binary decision, the powers that be in Thailand have clearly had more than a few meetings to figure out the best way forward. Here's where we are right now on the opening schedule, as of October 2021.
Phase 1: Vaccinated and Tested Travelers Welcome Now to 5 Provinces
Back in March, Thailand announced a Phuket opening only, but they've actually expanded that to other areas in the real implementation. If you're willing to jump through enough hoops, you can actually fly to Thailand right now, chill out for two weeks at least a week, then (in theory anyway) be on your way in different spots. The tricky part was, you can't fly into Bangkok until November. You must arrive in Phuket or Ko Samui. Some of the other gateways have been pushed back until the local vaccination rate of Thais exceeds 70% in those areas.
Phuket has the most international flights, so that might still be the easiest option and you won't have a problem finding a place worth staying put in for a week. There's plenty to choose from and you won't have a problem getting a variety of food delivered. In November onward there's no quarantine if you've had your shots, so check this article out for how to spend a week in Phuket after you land.
What do you have to do? Bring proof that you're fully vaccinated, test negative within 72 hours of arrival, get tested again upon arrival, agree to be tracked via a contact tracing app, show proof of sufficient travel insurance ($100K), and self-isolate for 7 days before you go anywhere. This last part is not really a quarantine: you can go out and eat or walk the beach and stop in bars. You just can't leave that area. So while I said that the country is not actively trying to court long-term travelers and digital nomads, the government had to relax restrictions because those travelers were the only ones who were willing to put up with the earlier restrictions.
Phase 2: No Quarantine in Phuket or Ko Samui
The situation started relaxing once that quarantine hurdle became apparent, however, so in the second announcement about Ko Samui, they were only saying you have to stay in a government-approved hotel. Here's the official announcement from the tourism board:
Thailand is reopening for fully vaccinated international travellers without quarantine requirements starting from Phuket as the pilot destination from 1 July, followed by Surat Thani's Ko Samui, Ko Phangan and Ko Tao from 15 July.
For now, no quarantine if you arrive fully vaccinated and test negative if you head to the bubble regions they feel good about. Thailand has flip-flopped on this a couple times with news of spreading variants worsening the situation in countries like India, however, so check the news for the current rules directly at the source before booking anything.
If this holds, their target market of fly-in vacationers can return and have a nice Thailand holiday again. The locals get to be a priority in the country for vaccine distribution too. As the AP reported, "Part of the plan to institute what is being called a 'tourism sandbox' involves inoculating at least 450,000, or 70%, of Phuket's residents before the July reopening." They didn't make it for Chiang Mai and Bangkok, so they pushed those back to November.
What was left out of these early announcements though was what could happen after that. Will travelers be able to rent a car and go exploring? Can they hop a bus to Krabi and onward from Phuket? What about the thriving capital city and its business travelers?
Eventually we got some clarification from the tourism board:
Starting from 1 October, 2021, fully vaccinated visitors under the "Sandbox" programme to Phuket, Surat Thani (Ko Samui, Ko Pha-ngan and Ko Tao), Phang-Nga (Khao Lak and Ko Yao), and Krabi (Ko Phi Phi, Ko Ngai and Railay) are now required to stay within the destination for seven days, and afterwards will be able to continue their journey to other parts of Thailand.
Phase 3: No Quarantine in More Provinces Starting in November
If you want to book a flight to Thailand with the assumption you can easily visit more than your arrival city, the best bet is to probably book one in November or later. Before that, you can visit any of the pilot provinces without having to quarantine: Phuket, Krabi, Ko Samui, Ko Pha-ngan and Ko Tao. It's going to go well beyond that after November 1 though and include Bangkok, Chiang Mai, Pattaya, Ayutthaya, and others.
This is when I expect the digital nomads to return in force since they can arrive in Chiang Mai, get set up in an apartment, and use that as their base. There are plenty of internal flights from there, the internet is fast, and it's a natural gathering place for those location-independent workers and online business owners who can be based anywhere.
There's still not much detail about whether you'll be able to freely visit provinces that are not part of the opening phases, like if you want to go explore Sukothai for some Siamese history, or head to southern Thailand. It would be logical to let visitors go where they want if they're vaccinated since the local infection rate has been relatively low and I haven't seen anything lately that indicated they are prohibiting that.
Phase 4: Back to Normal for Budget Thailand Travel
There's been no announcement on when the final phase will be and it's probably going to depend on how it plays out in the three phases before that. We may never get back to "normal" since there are a lot of signs the anti-vaxxers aren't going to be able to travel internationally except to a few select locations here and there–and Thailand is not one of them.
Some airlines have indicated that they'll require some kind of vaccination passport to step onto their plane. Cruise ship companies are currently fighting with the #Floriduh governor and having to create a two-class system on ships to compensate for the anti-science people in power.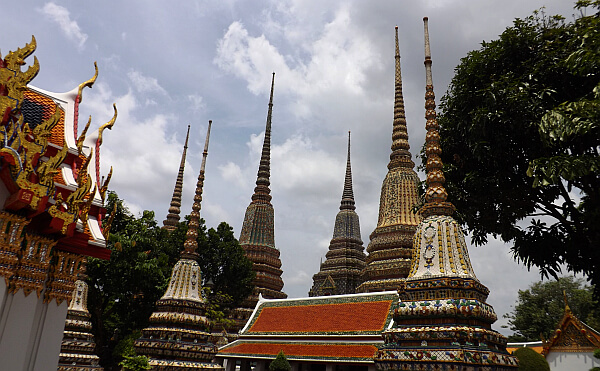 Regardless, at some point the whole country will open back up again, including overland crossings, at least to the majority of travelers who have gotten their jabs. By then we should be able to move freely about the country again and maybe even visit the neighbors. I'm guessing that will be Q1 or Q2 of 2022 since Thailand was one of the most popular countries in the world before the pandemic and Bangkok was the most-visited city. Tourism was a huge chunk of their economy. They used to get more than 10 million visitors per year in Phuket alone. Now they're hoping to attract 100,000 in the third quarter.
If you're reading this months after I wrote it, the rules have probably changed (just as their visa rules seem to do every few months). Go to the Tourism Authority of Thailand site for the official word and check Bookaway.com for the current transportation options from point A to point B.