What's my favorite hotel brand?
The one where I'm getting free hotel stays, whichever one that happens to be when I'm traveling.
There are a dizzying number of corporate logos out there in hotel land. Even someone immersed in the industry like me has a hard time remembering which one belongs to which corporation, especially when you start getting down to the budget hotel chains.
The Marriott hydra alone has around 30 brands and I'm guessing you'd be lucky to name more than five of them. Accor collects brands like a hoarding grandma, with 43 of them at last count, including Fairmont and Banyan Tree down to Ibis and Mamashelter.
Wyndham manages 20 brands, including Margaritaville and Super 8. Hilton has 18 of them, from Waldorf-Astoria to Hampton Inn. Then there's Hyatt, Radisson, Choice Hotels, Accor, Red Roof, Best Western, and all the chains unique to Latin America, Asia, or Europe.
My favorite corporate umbrella is IHG Hotels though, not because I love all their logos, but because so often when I stay with them it's free. I've scored more than 20 stays with them since I first got their Chase credit card, all nights where I didn't pay any money at the front desk. I'm cashing in points for free hotel stays or getting one room each year for just paying my annual fee.
Just last week, I slept at the Kimpton hotel pictured at the top of this post. Nothing due at check-out. Yes, the room was swanky too.
The Advantages of Free Hotel Nights in Your Personal Bank
I once brought this strategy up with a travel blogger friend who didn't have a hotel credit card and he said he didn't see any use for one. "I never stay in those chain hotels," he said. He still had a backpacker ethos and felt like the corporate chain hotels were both overpriced and boring. Since they're so dominant in the USA though where he lives, I found this puzzling.
"Have you ever gotten stuck at an airport overnight?" I asked him. Yes was the answer. "Have you ever gone to a wedding or convention held at a hotel?" Yes again. Have you ever been on a driving road trip and needed a place to stop and sleep along the way?" Yes. "Have you ever wanted to get into a city the day before an early flight the next morning and not have to drive or take a bus in the middle of the night?" The answer was yes again once he started thinking about it.
There are lots of times when a free crash pad with nice sheets, a quiet room, and hot showers can be a godsend. I once spent the night in the Dallas airport when my flight got delayed because of weather problems and I was lucky to manage a couple hours of sleep. When the same thing happened to me in Houston a year later, I pulled up my loyalty account balances on my laptop booked an airport hotel nearby for free. Five minutes later I was on a shuttle and headed to check-in.
Several times I've stayed at an airport hotel before an early flight out, including once in Miami and just this year at one across from the terminal in Mexico City: a nice Courtyard by Marriott. I don't have the Marriott credit card—though the current offer they have out there is enticing—but the program is connected to my American Express Membership Rewards program, so I had enough points to get a room for my family.
Free Hotel Stays Just From Regular Spending
No matter which hotel company you're going to use the most, it's important to point out what a great deal almost any hotel credit card is because of the initial sign-up bonus. If you've got a trip coming up in 4-6 months, it can make sense to sign up for a new credit card and finance more than half your hotel nights for a one-week vacation. No, you won't be in a Ritz-Carlton if you use the points for four nights, but you'll be somewhere clean and comfortable, maybe even in an all-suite hotel.
To give you an idea how this works for one of the other cards I have, follow this link to see the current offer for the Hilton Honors Amex card.
As I write this, the offer is that if you get approved and spend just $1,000 in 3 months, you'll receive 100,000 points in your Hilton Honors account. It's usually 80K, so this is a terrific deal. What that equates to in actual stays depends on a lot of factors, like seasonality, demand, and brand level, but figure it'll get you two nights in a Waldorf-Astoria in some locations or maybe three to five nights in a lower category. Unlike most of their competitors, this one has no annual fee! So you spend $1,000 on your card, for things you were going to spend money on anyway, you've already got free hotel stays waiting for you.
That's just the start though. You'll earn points for what you charged to the card, usually a point per dollar for regular purchases, 5 for promotional categories, 7 points per dollar when you're in a Hilton property. As you keep on using the card, you keep earning more points for free nights. I got my Hilton card five years ago or so, but I've currently got 32,000 points in my account I haven't cashed in yet, from various promotions and spending over the past couple of years.
That's a Hilton Honors free night waiting for me whenever I'm ready, maybe two if there's a point sale going on. Even better, having that card gives me silver status, which means if I do stay with the brand and spend money on anything on site, I earn more points. Apply here.
There are lots of other options out there. You can get a branded card for Wyndham, Marriott, Choice Hotels, Radisson, Hyatt, Best Western, and others. Depending on your travel habits, one may make more sense than another, but my top recommendation is the IHG Rewards card.
How to Get an IHG Stay Every Year – and Then Some
While that Hilton one is a decent deal, especially for the sign-up bonus, my favorite one to keep using for years is the IHG card from Chase. There are three reasons for this:
The points required to cash in for an IHG free night are usually lower than with competitors, so you end up with more stays for your points.
You get automatic Platinum status, which means you almost always get upgraded to a bigger room and get some kind of perk or points rebate each time
Every year when you pay your annual fee, you are rewarded with a complimentary stay at any of their brands except Intercontinental. Since IHG owns Kimpton now, that can mean scoring a room at Kimpton or one step down, at Crowne Plaza or an all-suite hotel.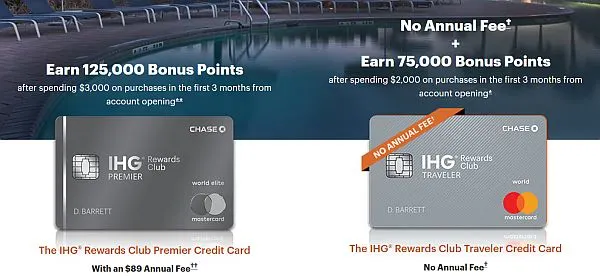 That last one is a huge advantage since the room cost is always going to be higher than the annual fee unless you're doing it all wrong. The grandfathered card I use has a $49 annual fee, but the upgraded current one that awards you up to 25 points per dollar spent at their hotels is $89 per year.
It's not hard to find a hotel that costs two or three times that in their portfolio in any desirable vacation spot or big city. Sure, it's not technically "free," but since most loyalty cards that charge an annual fee don't give you this perk, it is free when looked at that way. Others charge you money just to have the card. IHG actually makes it worth your while. If you don't care about the anniversary night though, there's another version with no annual fee. See the current offers here.
As I said, I'm not a raving fan of all their brands, though I certainly feel pampered at a Kimpton or Intercontinental. Here's where I stayed for free last time I was in D.C., in a gorgeous hotel that I keep seeing as a setting in TV shows and movies. It's the Willard Intercontinental near the White House.
I think the brand I've stayed with the most for the free nights is Holiday Inn Express. The points cash-ins have often been from 5,000 to 12,000 points and they're clean hotels with decent WiFi, free breakfast, and a fridge in the room. Since I have Platinum status from the card, I often end up in a larger room or a suite. Sometimes they have a gym and a pool and parking is usually free, so it's a great road trip stop.
I've also stayed in a Crowne Plaza in Mexico City for 12,500 points, a Staybridge Suites in Guadalajara for 12,500, and a Hotel Indigo in the USA for 15,000. The airport Candlewood Suites I chose in Miami was 13,000. Several times I've scored an IHG hotel for just 5,000 points though when there was some kind of promotion going on. Plus sometimes I'll find discounted stays that are a great deal, like right now the Intercontinental Doral in Miami is going for just 22,000 points.
How to Rack Up Free Hotel Stays With Targeted Spending
To put those points in perspective as currency, remember that you get anywhere from 50,000 to $125,000 from these various card offers just as a sign-up bonus. Then you earn points for every dollar you put on the credit card, sometimes 2X, 5X or more depending on where you're spending. You can double or triple-dip by eating at a restaurant that's in their dining program (I've even gotten points from downing craft beers in a brewpub) or shopping somewhere that will earn you extras.
They will regularly send you new opportunities to get extra points. I got a 10,000-point bonus last year from a targeted promotion to stay in one of their hotels if I did it that month. I recently got 1,000 points just for tapping my new contactless credit card three times at merchants instead of swiping or using the chip. Because I put a lot of business expenses on that card and haven't been traveling much this past year, my balance is more than 50K right now. It's like money in the bank that I can withdraw when needed.
Some people go a bit nuts with all this and obsess over which card to use for each transaction to maximize their earnings. Others treat it like a game or a side hobby, reading points blogs and message boards to find out the latest strategies to squeeze out a few extra points. I think my time is better spent elsewhere, so I like to advise the basic strategy approach for travel hacking if you're new at this. Once you have a couple cards, you'll get better at maximizing.
I mostly use the appropriate airline cards when buying airline tickets (check sign-up deals here for United, Delta, and Southwest). Then I use my Amex for recurring subscriptions and my mobile phone bill (they give a rebate each month) and my IHG card for everything else.
If there's a bonus for gas or groceries that month, great, but the best way I've found to rack up the points is to just use the card for things you were going to buy anyway and then pay the bill when it's due. It's especially fruitful if you can pay your regular bills with a loyalty card. Add up how much you're spending on phone, cable/internet, streaming services, Amazon, etc. and it's probably a hefty sum. If you run a business, even better. We even paid our kids' college tuition on an airline card and earned enough for an international flight. Anything you can put on a card without incurring an extra fee is a good target for points accumulation that leads to free hotel stays.
If you don't want to be tied to a specific chain, you can get a credit card that lets you transfer points to different programs. You can top off a balance to get to where you need or transfer the whole amount and book your night(s). Or you can transfer them to an airline too.
The most common ones are the various Amex cards (I just have the green one these days) and several Chase Sapphire< ones. As I write this, Amex is giving a 30,000-point sign-up bonus on the green card with a $2,000 initial spending minimum and Chase Sapphire preferred is giving 80,000 points with a $4,000 initial spend. Get the latter if you've got some big purchases coming up that will get you there because that's a lot of points!
How about you? Got any great free stays success stories from using a hotel credit card?
Disclosure: There are no affiliate links in this post, so I don't have any financial stake in which card you use. For the ones I own myself though, I can earn a referral bonus in the form of points if you get approved. You'll get the same deal you would just searching on your own, however.