I highlight my favorite travel gear brands on this blog now and then, ones that have stood the test of time and haven't let me down. Few items you pack are as important as your footwear, especially for long-term travelers, so it can be worth it to invest in quality with ECCO sandals and shoes.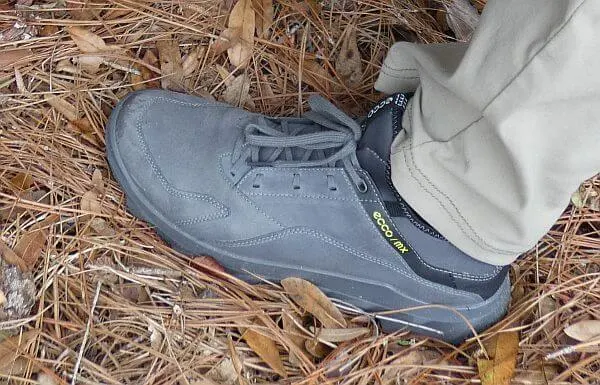 ECCO was founded before I was born, in Denmark back in 1963. When a company has been around that long and is still thriving and innovating, they're clearly doing something right. When they're able to command a price premium as well, in such a competitive category, it shows that they're getting a lot of repeat business from loyal customers.
This Scandinavian company has expanded into a lot of different lines for men and women over the decades, so you can get dress shoes or golf shoes from them. For travelers though, they've got you covered with quality sneakers and hiking shoes.
ECCO Walking Shoes
I've put thousands of miles on various pairs of Ecco walking shoes and have only managed to wear out one pair in the past decade. And that was partly because the shoes sat in a hot Florida garage for a few summers and I think that degraded them faster.
One pair I've used continuously since 2014 is an earlier version of the Men's Biom shoe, which is a staple of the 100+ offerings the company has out there. The design changes a bit here and there with each iteration, but you can't go wrong with that modal as an all-around walking shoe for travels. Their various sneaker versions, like the CS20, are good too if you don't need something waterproof.

Lately I've been doing a lot of walking in a pair of the ECCO MX. That MX seems appropriate since I spend most of my time carless in Mexico, walking everywhere. This is the "Titanium" color, which also seems like a good fit for something so strong. They say the outsole was "inspired by motocross" and it's definitely meant to hold up for years on a variety of surfaces.
These are stitched leather shoes with solid construction and lots of tech touches that make them comfortable and rugged. There's a soft Neoprene section around the ankle that feels nice and it makes them easy to slip on and off. the laces haven't come untied on me once and these felt great right out of the box. There are reflective ribbons in several places for night visibility.
Part of the reason ECCO shoes are priced higher than others is that they oversee the whole process instead of just farming out production to some far-flung factory in Asia. They even have their own tanneries for the leather these are made of. See more details here.
ECCO Sandals
I used to have two different pairs of closed water shoes that I wore in multiple countries for kayaking, white-water rafting, paddleboarding, and other adventures. I searched around my hard drive and found this shot from 2013, when I was paddling around Tampa Bay in my Advanced Elements inflatable kayak.
One model I used then that's still around is the Terracruise and I would definitely recommend it. The top is an open mesh design that breathes well on hot days, plus with the stretchy "speed laces" they're easy to pop on and off, something I like since we always leave our shoes at the door in our house.
Lately I've been enjoying this open-toed X-Trinsic Sandal on the water and off. I've taken walks of several miles in the suburbs and I'm sure they'll do well on the cobblestones of Mexico too.
There are three adjustable straps with Velcro to get the fit just right hooks that will allow you to attach them to your hiking pack with a carabiner. The straps dry quickly and the sole doesn't absorb any water, so you don't have to worry about carrying around wet shoes after portaging your canoe or paddleboarding.
This is a timeless design that works well for a variety of conditions. Back when I was a full-time backpacker, I usually had some kind of travel sandals like this in my backpack because they're great for hot climates and you don't need socks. They're supportive enough to wear when you're lugging around a backpack, however.
That's especially true with these premium ECCO sandals with a thick sole and fast-draining footbed. Mine are the sea port color, but they come in two other colors as well. See the men's version here, but they also come in a similar look for women.
At their website you can read all about the proprietary technology used in the sole, complete with TM signs next to the names, but I'll just tell you they're well-built and very comfortable.
ECCO Shoes Are Built to Last
No matter which ECCO shoes for travel you choose, they're probably going to cost you unless you time it right with a good clearance sale at Dillard's, Nordstrom, or Zappos. They rarely have anything for sale below $100 and some of the more advanced ones can cost double that amount. Just as with premium luggage with a lifetime guarantee though, you're paying for a product that will hold up far longer than many of its competitors.
There's no other footwear brand in my closet that comes close in terms of durability. In the time I've put thousands of miles on one pair of ECCO shoes, I'll blow through two or three pairs from a lesser brand. (One pair of four-year-old hiking boots from a well-known shoe company literally fell apart on me when I was hiking in Nepal. I had to repair them with duct tape and super glue to make it back to Pokhara.)
All this company's shoes come with a one-year warranty, which is pretty rare in the footwear world.
Here's a video with some more info:
For more details on particular options, see the USA site for Ecco sandals and shoes, or the European home page here.