Want to know where you can live large in a capital city, getting a thriving urban life without the skyscraper-high prices? Some of the cheapest big cities to live in around the world are capitals with plenty of culture, great food, and nightlife.
Yeah I know, this past year there's been a population move away from big cities in many developed parts of the world. Some of this is driven by a desire to get away from crowds temporarily. More often, people are trying to reduce their living costs after a change to remote work. When they don't need to show up at a physical office every day and most indoor social places are closed, expensive city costs are harder to justify in a place like Toronto, New York, or London.
For location-independent workers around the globe, however, leaving an expensive capital city for a cheaper place is nothing new. They just went all the way and moved to any city they wanted to instead, not to the sleepy suburbs that still come with first-world prices.
If you live in an expensive capital city like Washington D.C., Paris, Dublin, or Singapore, you could be spending thousands of dollars a month just on rent, before you get to utilities, transportation, and healthcare. Cities are not created equal when it comes to costs though. You could cut that D.C. rent price in half–or more–by moving to a capital city in a cheaper country. You'll likely even get an upgrade in the process, like more space, more amenities, or a better view.
Here are a few bargain living costs cities to consider for upgrading your life while cutting your expenses in half. About half of them you can move to right now if you want, while a few others will hopefully welcome expatriates again once it gets safe to move freely across borders again.
Bargain Capital Cities in the Americas
Most of Latin America is relatively cheap to get to by plane from the USA or Canada and you get the benefit of being in a similar time zone if are working remotely or running a business. Since Brazil is frequently expensive in dollar terms (though it's gotten better the past few years), you can get by in any of these with a single common language: Spanish.
Mexico City
The most populated city in the Americas doesn't feel so overwhelming when you're in an attractive neighborhood for walking like Condesa, Roma, or Coyoacán. American expats here like to say they get "a New York City life without the NYC prices" since Mexico's capital city is a thriving center for the arts, museums, and gastronomy. Most gourmands would say this is the best foodie city south of the USA, whether you're dining at high-end restaurants or humble taco stands.
This capital city (pictured at the top) has the best hospitals and schools in the country, an extensive metro system, and a never-ending list of things to do. It's also a major flight hub, so it's easy to jet off to foreign continents from here, often at prices that are significantly less than those from the USA or Canada.
You can try Mexico on for size with a six-month tourist visa or apply for residency at a recently lowered monthly minimum earnings of around $1,450 depending on the current exchange rate.
Panama City
The "Crossroads of the Americas" sits next to the canal that cuts across the isthmus joining North and South America. The expanded canal contributes to a thriving economy, but this is also a major banking center and the modern airport serves as the base for Copa Airlines. You'll find more skyscrapers here than in the rest of Central America combined, many of them hosting spacious apartments with a view that can end up costing a third of what a comparable place will in Miami.
You won't have trouble finding a cocktail bar or restaurant with a panoramic view, but the bill will be down to earth. This land of low import taxes has bargain-priced cocktails, wine, and beer, so eating out or a night on the town will be a fraction of what it would cost in even a mid-sized city in the USA or Canada. You can upgrade your life with affordable domestic help and taxis cost just a few bucks if the shiny new metro system doesn't get you where you need to go.
Panama has the best hospitals in Latin America as well, but at prices that won't give you a heart attack. Getting residency is relatively easy here and it comes with some perks as well if you're retired. See more here on the cost of living in Panama.
Quito, Ecuador
Most retirees who head to Ecuador end up in the smaller city of Cuenca, but the metropolis of Quito is a more enticing option if you want to trade your urban life for something equally urban. The historic center was one of the first to be designated a UNESCO World Heritage city, so there are great living options there if you want a place for strolling pedestrian streets. Fan out a little in any direction though and there are modern apartments with all the amenities.
Rental prices in Quito can run from $350 for a one-bedroom apartment in the historic center to $2,000 for a luxury three-bedroom place in the best neighborhoods. Condo purchase prices generally fall in the range of $75 to $150 per square foot.
Quito has a variety of international schools if you're moving as a family and air connections are good for getting back to see the relatives. Ecuador has one of the lowest income requirements in the world for getting residency and the process is both fast and straightforward, with several options according to your situation. If you're old enough, you also get a slew of discounts as a pensioner, including 50% discounts on flights. Taxi rates are some of the cheapest in the world, but bring in your own booze if you love to drink: sin taxes on imported alcohol are more than 100%.
Buenos Aires, Argentina
Often showing up in magazine readers' polls as a favorite city in the world, Argentina's capital exerts a strong pull on many who visit and then vow to return to live. Despite its seemingly endless financial and political troubles, this remains one of the world's great capitals of culture. The atmosphere can feel as electric as Toronto or London for those coming from other famous cities, but those pulling from a euros or dollars bank account find prices that are a third of those in the city they left.
Expats I've interviewed in Buenos Aires have been paying between $400 and $1,350 per month for rent, the latter being "a posh two-bedroom apartment in Recoleta," the most upscale neighborhood in the city center. If you like red meat and wine you'll be in heaven in Argentina, but nearly everything consumable is significantly cheaper than in any similarly sized city in the USA, Canada, or Europe.
Anyone living in Argentina has access to free essential healthcare, even on a tourist visa. When it's time for a break, head to Patagonia, the Salta desert, or Iguazu Falls, or go overland to neighbors Chile, Uruguay, or Brazil.
European Capitals With a Low Cost of Living
The famous capital cities of Europe that everyone dreams of visiting on vacation can be priced like Italian luxury goods. Some are also jammed with tourists in normal times and for housing, you're competing with well-heeled locals and moneyed business travelers too. There are still bargains in Europe though if you pick the right capital city, like the ones I've highlighted here.
Lisbon, Portugal
Lisbon has become one of the most popular expat destinations in Europe in recent years, especially for Brits looking for sunnier weather and better property prices. This has led to a rise in real estate rates, though it's still cheaper to rent or buy here than in the other EU capital cities.
You get the buildings of old Europe, good healthcare, well-maintained infrastructure, drinkable tap water, and great wine when living in Portugal. Plus it's an easy drive to attractive beaches or castle hotels in the countryside when you want to get out of the city.
In recent years, the country has taken several steps to make it easier for non-EU citizens to live in Portugal, including remote workers and online business owners. If you were living on $6,000 per month in urban USA, Canada, or UK, assume you'll have a similar standard of living here for $3,000 per month.
Budapest, Hungary
If you're looking to cut your city living costs by even more than half–while enjoying European architecture, culture, and food–then Budapest might be your city. The capital of Hungary is an attractive city with a grand opera house, wine bars, and a gorgeous skyline by the Danube.
Apartments under €900 per month are relatively easy to find in the city center, even in the prime areas, or you can spend a few hundred more and get twice the space you probably have now. Public transportation is excellent and you can get to nearly anywhere else in Europe on a train or direct flight. Hungary is not known for being welcoming to immigrants, however, especially if you don't look European, so expect extra time and expense to get long-term residency. It can work better as a three-month temporary home.
Sofia, Bulgaria
The capital of Bulgaria is not on par with the hopping European capitals like Prague and Berlin, but it certainly is one of the cheapest big cities to live in on the continent. According to some of the local residents I interviewed on the cost of living in Bulgaria, a decent two-bedroom apartment in Sofia averages €350 to €400. Pull up online real estate ads and you'll find dozens of attractive condos for sale between €50,000 and €90,000.
You'll find ample nightlife, culture, and restaurants in Sofia, but the real draw of Bulgaria reveals itself when you board a bargain-priced bus or train and head elsewhere. There are some stunning mountain ranges for hiking and skiing, some Black Sea coastal beaches, and pretty stuck-in-time villages where every house seems to have a grape trellis in front for making wine.
Tirana, Albania
Even among avid travelers, it's hard to find many who have spent time in Tirana, the capital of Albania. It's got a lot going for it though: a lack of traffic, not much noise from its half-million residents, and astonishingly good rent prices. When I was doing research for the second edition of A Better Life for Half the Price, I found dozens of nice furnished apartments in the range of $300 to $800 per month. One I would move into tomorrow: two bedrooms, two baths, 1,300 square feet, and this 10th-floor view from the balcony for €500 per month in the heart of the capital city.
Albania finally appears to be hitting its stride, with low inflation and a rising quality of life. The younger generation is learning English fast, in the cities and in beach towns at least, and there's now a sense of optimism about the future. Unemployment is lower than in many other Balkan countries and the economy is varied enough to provide a wide range of jobs.
The average monthly salary here is under $500 in the capital though, lower in less populated areas, so if you land here only pulling in $1,200 a month from retirement or a fledgling online business, you can still live quite well by local standards.
Tbilisi, Georgia
Georgia is geographically in Asia by some standards (it's east of Asian Turkey), in Europe by others, but culturally it has more in common with the countries of Europe so I'm putting it in this section. Coming on strong as the new hotspot for digital nomads, Tbilisi has gone from unknown to world-famous among travelers in the space of a decade. For location-independent workers it has one huge advantage: you can stay for a year on a tourist visa. Georgia also recently instituted a location independent worker visa for those who want to get official.
Tbilisi won't win any awards as being the prettiest city in the world, but you can't argue with the prices: $500 to $800 here gets you quite a nice apartment and you can buy a condo for less than $50,000. Restaurants and bars with delicious food are a bargain and Georgia has a history of winemaking that stretches back thousands of years, with immense variety. The mountains present great options for hiking and winter skiing, plus there's a stretch of Black Sea coast with beaches.
A Low Cost of Living in Asian Capitals
Asia has a few capital cities that make top-10 lists as some of the most expensive places to reside on the planet. Take a sub-$100 flight though, or even a train from Singapore, and you could end up in a capital city that's one of the cheapest places to live instead.
Kuala Lumpur, Malaysia
Currently reigning as the best capital city value in Asia for those earning dollars, Kuala Lumpur offers hundreds of modern 2- and 3-bedroom apartments to choose from for less than $1,000 per month. It's not uncommon to hear of couples paying $700 or less per month for a modern apartment with a view, a big swimming pool, gym, covered parking, and 24-hour security.
This is also one of the best foodie cities on the planet. The ethnic Malay, Chinese, and Indian populations ensure plenty of variety. You'll seldom spend more than $3 for a street food meal and it will probably be amazing.
The "Malaysia My Second Home" program provides an easier path to residency than you'll find in most other Southeast Asian countries and English proficiency is the highest outside of Singapore. Kuala Lumpur is a major flight hub, including for Air Asia and Malaysian Air, so in normal times it offers bargain flights to nearly anywhere in Asia. See more details here on the cost of living in Malaysia.
Bangkok, Thailand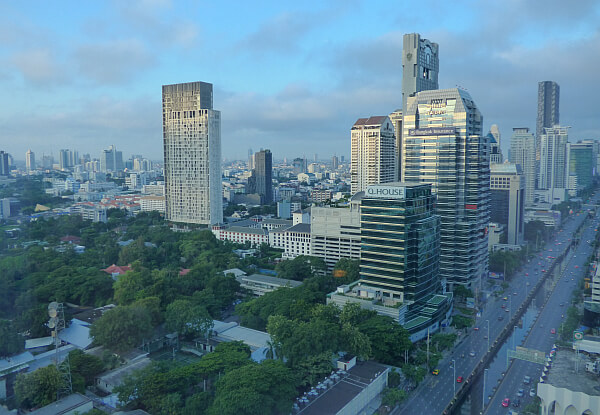 Bangkok has been attracting foreign residents since hippies roamed the planet. While Chiang Mai gets more attention as an expat hub, Bangkok probably has even more foreigners when you add in professionals working for corporations or embassies. While it's harder to get by on a shoestring budget here like you can in Chiang Mai, Bangkok still has reasonable prices when compared to other Asian capitals like Tokyo or Singapore. Plus you've got the added perks like bargain massages, good shopping, and some of the best street food in the world.
Bangkok is a major medical tourism destination and it has some of the best hospitals in Asia. Some feel more like a five-star hotel than a medical facility, but with prices that seem minuscule compared to U.S. rates. Many expats live well here for less than $1,500 a month, though this is a city where you can easily spend three times that if you get a penthouse apartment and go out all the time.
Even when going crazy, however, you'll still spend half or less what you would in Ottawa even-with no snow to endure. The main downside for Thailand living is residency difficulties. If you're retirement age and have some cash to put in a Thai bank, it's not so hard. Otherwise, it's next to impossible to stay continuously for years on end.
Phnom Penh, Cambodia
This may just be the cheapest capital city in Asia that you'd actually want to live in, with bargain prices on everything from rent to housekeeping to restaurant meals. You can buy a round of five cocktails here for less than you'd spend on one in D.C. or London and the top restaurants for locals are priced like a trip to a lousy chain restaurant in the USA. There's a big playground of vacation options in other countries nearby and beaches on the southern coast.
Health care here is best classified as "decent but not great," so most expats keep a bit of cash aside for a quick flight to Bangkok for anything serious. Getting residency here is straightforward, though as in Thailand, there are restrictions on owning property outright apart from condos. Since most expatriate couples coast by on less than $2,000 a month living in Cambodia though without trying very hard, this is a great option for stepping up your lifestyle while drastically cutting your monthly bills.
Hanoi, Vietnam
I've only talked with a few people living in the capital of Vietnam over the years, but those who do live there tend to stay on for years and they're happy with it. There are plenty of good dining, drinking, and coffee options, plus a good number of easy excursions nearby when it's time for adventure.
Hanoi has cheap flights to the rest of the region, so it's a good place for nomads who like to wander Southeast Asia on a regular basis. You could easily live a rich life here for less than $1,200 per month: the comparison site Numbeo says rents in Hanoi are 82% less than they are in New York City, the average cost of a draft beer is less than a buck, and a meal at an inexpensive restaurant will set you back $2.03.
This interview is with someone using Saigon as his base instead, but see my living in Vietnam interview with James Clark.
What Other Cheap Capital Cities Are Out There?
These aren't the only attractive half-priced capital cities around the world, of course. They're just some of the cheapest big cities to live in that are also the seats of government. Other expats have made their home in the capitals of Bogota, Montevideo, Sarajevo, Prague, Bucharest, Casablanca, Cairo, Amman, Istanbul, or Kathmandu. Check into those options if none of the above seems like the right fit.
Just understand that some capital cities are more expensive than other locations in the country (the case with Delhi) or they're just far less attractive than other places you can choose in that country for your expatriate life (like Guatemala City or Jakarta).
Reducing your expenses by half or more can enable you to save more, invest more, and enjoy life more if you pick the right location. Unlike too-good-to-be-true diet plans though, this strategy provides instant results. You just need to change your address.