That photo above is the two-page spread from a cover story of mine nine years ago in a travel magazine called TravelWorld. It was a piece on the top colonial cities in Mexico, places to visit away from the beaches that are more interesting and are a better travel deal.
This is the old part of central Mexico, the historic part, the area with the most interesting architecture. And for most of the spots profiled, these are great value destinations as well. Even in San Miguel, which has some 10,000 foreigners living there, you'll see as many or more domestic tourists as foreign ones. That means prices that the locals can bear, not prices meant for celebs and dot-com millionaires like you find in Los Cabos.
It's not uncommon in these colonial cities to find $10 hostel beds, $30 hotels, and "meal of the day" options for a few bucks. Get a bucket of six beers for six dollars and see a cultural performance for $5. A taxi ride will be single digits no matter where you're headed in the city limits, only $3 in my own city highlighted here.
That photo from the magazine spread is of one of the many pedestrian-only streets of my home city of Guanajuato, the capital of the state of the same name. It was images like that that entranced me the first time I visited and make me say, "This is the place I want to live." There are more pedestrian streets than ones with cars on them and I eventually bought a house on one of them. Now Guanajuato is my permanent base.
That article, which is accompanied by some nice photos I took while living there for a year, are the spots you should head to if you have some time to move around. These are the real gems of the region, places with Spanish colonial architecture, outdoor dining in plazas, and temperatures that are nice all year.
Here are some details about the colonial cities I highlighted, plus one I've been to since that is definitely worth a stop.
Zacatecas
I'm continually baffled about why this city gets so few foreign visitors and almost no expats moving here. It has a lot of similarities with Guanajuato, including the silver mining history and the climate, but for whatever reason, it has never gotten much press. While my fellow foreigners in my home town would be happy if nobody ever wrote about it again, the residents of Zacatecas should really band together and hire a good publicist.
For one thing, the city has one of the greatest Mexican museums you'll find outside of the capital: the Rafael Coronel Mask Museum. There you'll find masks from all over Mexico, from gruesome to comical, arranged in different rooms by theme. Follow that link for a slideshow.
You can ride a cable car across the city, stay in a hotel that used to be a bullfighting stadium, have a drink in an old silver mine, or tour some interesting ruins outside of town. See my Zacatecas article here.
Morelia
I haven't been back to Morelia for a while and want to change that in the coming year, maybe combining it with a trip to see the monarch butterflies in the same state when they pass through for a while during their migration. The state of Michoacan has been the problem though: for a while there it was a no-go zone because of brazen violence by a particularly nasty drug cartel.
Too bad because it's a gorgeous city that looks a bit different than the others on this list. It has lots of grand, stately, imposing stone buildings that look like they will last another 500 years. The grand church in the center is especially beautiful at night when it's all lit up and, like most of the cities in the center, it has a pleasant climate all year that never gets too hot or too cold during the day.
Thankfully the situation seems to be on the mend there and I personally know of two Americans who have moved there in the past year. While you're visiting this colonial city, build in some time for the next one that's nearby: Patzcuaro.
Patzcuaro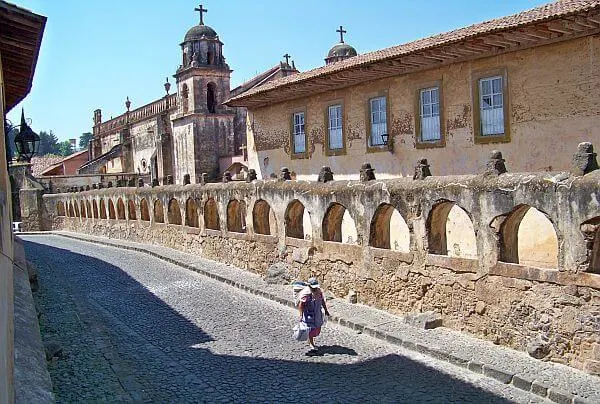 This is more of a town than a city, one of the original Pueblos Magicos to be designated before the list got so diluted it became meaningless. It's not just the town itself that is worth a visit though: it's the center of a region known for its variety of well-made handicrafts. That's all because of a Jesuit priest who encouraged the practice and pushed the idea of certain towns specializing in certain goods.
Now you can rent a car or a driver and spend a day or two shopping in the different villages. Then return to Patzcuaro and watch some dancers, drink some charanda, and enjoy some good food with ingredients from nearby farms.
San Miguel de Allende
If you want to see what "colonial Mexico" means in colors and images, put San Miguel de Allende in your image search and prepare for lots of beauty. Because tens of thousands of foreigners live here–mostly retirees from the USA and Canada–the city has plenty of resources to support the infrastructure and keep everything looking spiffy.
This city is also increasingly popular with urban Mexicans who come here for weddings and romantic getaways, it's a major magnet for artists, and it has some of the country's best hotels that aren't on a beach. It's one of the best places to shop for Mexican handicrafts in the country and the restaurants are excellent for a city of this size, thanks to all the free-flowing money here.
The city has been showing up as "the best city" or "the best small city" for years in the glossy travel magazines and it has done a much better job than most in putting precautions in place for safe travel during the pandemic. It helps that you can eat outside all year and enjoy the nice plazas dotted all around the city.
Guanajuato City
I've written plenty about this place since I've lived there on and off for a decade now, including this piece on insider information for Guanajuato. Not much has changed in that time, which is part of its appeal. It's a UNESCO World Heritage city that was founded as a silver mining center.
It later gained fame as the site of the first battle for Mexican independence, then became a university city of culture. It hosts the largest music and arts festival in Latin America each October (though sadly they had to skip 2020).
It's not a huge city, less than a quarter-million counting the 'burbs, but to me this feels just right. There's no sprawling industrial area, not many chain fast-food places, and most people walk to get their errands done. Listen to my interview about my home city on the Amateur Traveler podcast and if you come to town, book one of my company's Guanajuato food tours or historic walking tours.
Puebla – The Biggest of them All
This city wasn't in my original article because I hadn't been there yet at the time. Now that I have spent a few nights there, I'd say it's a must-see if you have the time to tour multiple places in colonial Mexico. It's actually the biggest Spanish Colonial city in Mexico in terms of area and buildings, many of those buildings covered by the famous talavera tile of the region.
Many foodies would put Puebla in their top-5 for Mexico, sometimes #3 behind Mexico City and Oaxaca. Puebla actually sits between those other two, so it's often part of organized Mexico food tours like the one offered by Intrepid Travels. It has its own mole versions, chalupas, and some great street food.
We saw a great lucha libre wrestling line-up there, in the biggest stadium for it outside of Mexico City. We also took a cooking class, toured some pottery shops, and took a trip out to the giant pyramid of Cholula where you can walk through the tunnels underneath it. See my earlier post about Puebla here.
Read the original article for the rest of the story on the colonial cities of Mexico in the interior. In this part of the world, you're seeing blocks that haven't changed a whole lot in 200 years, so none of it is really out of date.
Hasta pronto!