Which are the best cheap hotel chains in the USA? According to the most reputable consumer satisfaction survey out there, it would be Drury Hotels, Sonesta Simply Suites, Wingate by Wyndham, and Woodspring Suites in the four lowest-priced tiers.
It was a close race in some of the categories though, plus it's always fun to look at who came out on the bottom too, so let's dive into the results based on hotel guest satisfaction.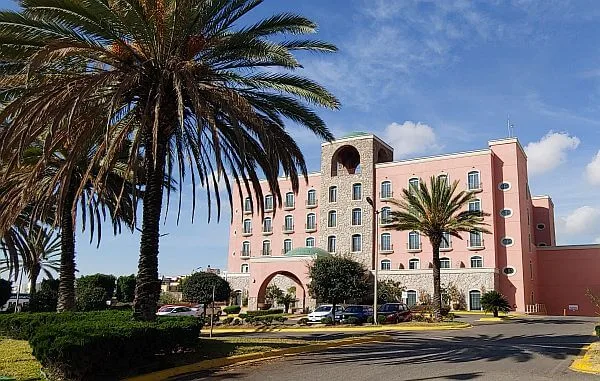 This latest batch of data is from the latest J.D. Power and Associates hotel brand satisfaction survey in the USA. As the list of hotel chains seems to grow each year and it's harder to keep track of them all, it's good to see a survey that has the hotel brands ranked. What changed in this latest one is that guests are less likely to feel like they got a good value—overall scores went down.
When travel came roaring back in the USA after lockdowns ended, many so-so hotels filled up and consequently raised their rates, especially in resort areas like Florida and the east coast beaches. At the same time though they were often cutting staff or cutting back on services like housekeeping or breakfast. So the overall rankings took a hit and more disgruntled guests expressed their displeasure.
People love ratings and satisfaction surveys, especially when it comes to services that are going to potentially cost them hundreds of dollars. It's understandable that people want some kind of shortcut, even when choosing between economy hotel chains and economy motel brands that all seem very similar in what they offer. Plus we've all stayed at some terrible, dirty place that was a "name brand" but independently owned and poorly run. The "free breakfast" was undrinkable coffee, fake juice, and stale pastries wrapped in plastic. These are the kinds of places you see the host trying to fix on the TV show Hotel Impossible.
There's never a sure thing, so if you're booking a cheap hotel, this is when you should invest 10 minutes to look at the online reviews. You can go to TripAdvisor of course, but also the hotel booking services themselves have been nagging customers to death to review the places they've stayed. Enough of them have done that now that you can often see right on the booking site which places are lousy.
I once booked a city airport hotel on Booking.com for a layover stay where the $65 place 4 miles from the airport had a review score of 5.5. The $59 place 8 miles from the airport had a review score of 9.8. Easy decision; I didn't even need to read the individual reviews to know it was worth a longer taxi ride.
HotelsCombined gives you a meta score based on the aggregate reviews of the different booking sites they're pulling data from. If you're headed to Asia, you can probably just book with Agoda and be assured you have the best selection and review depth. In the USA it's not so cut-and-dry, so HotelsCombined or a full lodging aggregator like cozycozy may send you to Priceline, Expedia, Hotels.com, or the property's own site.
When you get the final booking site, almost all of them will have some kind of user ratings for the options in your hotel budget and the reviews will probably be from actual guests. With Tripadvisor you never know if they actually stayed there or not. I've seen reviews where someone was clearly paid to post something and they used the same template as another review, raving about a great fitness center in a hotel that doesn't even have one, for instance.
Cheap Chain Hotels With a Good Reputation
Consumer Reports hasn't done one of these cheap hotel chains surveys for quite a while. When they last did, in 2016, they had this in the intro after saying the average hotel price was $111: "Upscale and moderate hotels give a lot of bang for the buck, but most budget hotels earned low scores for value, comfort, service, and upkeep." Ouch.
They also noted this oddity, which makes many self-employed business owners take their business down a notch out of principle. "Oddly, luxury hotels are most likely to nickel-and-dime guests on such basics as Internet access (usually $10 to $20 per day)." Or they fold it into an annoying "resort fee," whether they're really a resort or not. The cheaper hotels will almost always provide Free Wi-Fi, though see the reviews to see if it's actually fast enough for getting real work done.
Unfortunately, the resort fee rip-offs have gotten even more widespread since then, so don't believe the first room rate you see on the booking site: many hotels will then reach into your pocket again for services that should be included in the rates, but aren't. You won't run into that much in the very cheapest categories, but in some locations like Las Vegas and Clearwater Beach, it's a widespread plague. The only major resort in Sin City that doesn't reach in your pocket twice is the Virgin Las Vegas.
JD Power & Associates releases the results of their travel industry studies each year so it's more current than most. We'll use that one for this update on hotel brands at the lower end of the scale.
I'll skip the luxury and upscale categories since those are predictable and if you're reading this blog, you're probably not a frequent guest of Ritz-Carlton (#1) or Four Seasons (#2) anyway. Here's who came out on top in the bottom three categories, where the cheap hotel chains compete.
The lowest category with low-cost hotel chains is called Economy in this survey. It tends to be more volatile than the others from year to year. Former winner Microtel slid down to third last year and fourth this time. Last year's winner, Surestay by Best Western lost its crown to one I've never stayed with and rarely seen: Woodspring suites.
You can see that it's a really tight race though at the top, close to a statistical tie. All of the top choices are part of larger brands like Wyndham, Best Western, or Choice Hotels. America's Best Value Inn is now part of Sonesta.
You'll see Wyndham's name on here a lot in different categories, good and bad, as they've been on an acquisition spree over the past six or seven years. If you travel a lot in the USA, it's probably worth joining up with their loyalty program, also highly rated. More on that in a minute.
Be advised that the "micro" part of the Microtel motel chain name is there for a reason. In my experience, their guest rooms are about half the size of those at a Holiday Inn Express. You get what you pay for. But when people just want a cheap place to crash, they're happy with the value for money. At Woodspring Suites, however, you get a kitchenette and if you stay for a week or more the rate goes down.
In the J.D. Power rankings, the overall score comes from the booking process, check-in, the room, price, and other factors. So this is meant to reflect the full experience from booking to checkout.
In the USA, these lowest category entries are not always in a convenient location if you don't have a car. They're seldom in the city center and tend to be roadside motels better suited for a road trip than a city vacation where you arrived by plane.
Up a Notch for the Best Budget Hotel Brands
When we go up to the Midscale category, the reigning champ for years, Wingate by Wyndham, reclaimed the top spot after it got knocked off its perch last year and slipped to the second spot. It switched places, barely, with Tru by Hilton. Best Western took the third spot and Sleep Inn took the fourth.
JD Power split the regular midscale and the extended stay midscale this time, which makes a year-to-year comparison problematic. In the latter category, the ones on top were Sonesta Simply Suites, Home2 Suites by Hilton, and TownePlace Suites by Marriott. Unlike in the lowest economy category, you can sometimes find these brands right where you want to be instead of by a highway in the middle of nowhere.
The next category up, called Upper Midscale, is often where you can find the best overall value, especially in foreign countries where overall rates are lower. These are often under $100 per night in U.S. cities and $40 to $75 in Mexico and Central America. These discount hotel chains offer affordable prices and are generally clean, well-run, and not at the level where they try to charge you for WiFi or tack on a rip-off resort fee.
The winner in this category was Drury Hotels, an independent chain that has been winning this category for longer than your average high school student has been alive. They get high marks for nice rooms, a great complimentary breakfast buffet, and friendly staffers.
The next two entries I've stayed with quite a bit, usually because I'm cashing in loyalty points for a free hotel stay. These would be Wyndham Garden and Holiday Inn Express. These are often surprisingly nice and either new or renovated, with a breakfast of some kind included and no gotcha charges on top. As you can see, the next few entries are not far behind in the satisfaction score.
Hampton Inn by Hilton has slipped quite a bit since I first started updating this post, however, and they're now just rated as "average."
The Worst Budget Hotel Chains in the USA
If you ask me what the worst chain hotel I stayed in over the past decade was, I would have vividly bad memories of a Quality Inn motel in Virginia that was the opposite of quality. I'm not surprised they're scraping the bottom of these categories, along with Ramada, Rodeway Inn, and Knights Inn. (Something heard never: "That Knights Inn we stayed in was really nice!")
The bottom of the Economy level entries, with the lowest overall scores of the 102 brands in the survey, were (starting with the very worst) Knight's Inn, OYO Hotels, Rodeway Inn, and Motel 6. Extended Stay America used to be scraping the bottom but is now rated above average.
In the next category up, the worst scores went to Ramada by Wyndham and the misnamed Quality Inn, and Baymont by Wyndham. It should be noted though that the average score in this Midscale category is above all of the entries in the Economy category. Another $10 or $20 per night can make a big difference in the cheap hotel and motel world, even if you are trying to get around as budget travelers. The option with the best rates is not always a great value.
In the Upper Midscale category, the worst hotel chain brands were La Quinta, Clarion, and Country Inn & Suites by Radisson. If you're looking for an easy rule of thumb, no Clarion or Ramada brands scored well in any category. They often seem to be old and poorly maintained. Holiday Inn moved up many notches, but many of the other brands that have been around a long time seem to suffer from inconsistency.
The Best Hotel Loyalty Programs
Most people get a little thrill out of getting something for free. If you show some loyalty with a specific hotel chain, you can earn points that will get you a free hotel room and/or extra perks. You can really upgrade your vacation if you bank points and miles for future travels, especially by getting the right credit cards.
I've personally had a tough time earning much with Hyatt, have gotten quite a few nights with Hilton Honors, and have scored over and over again with the IHG group. In the past two years I've booked more than a dozen free nights at an IHG property (Holiday Inn, Holiday Inn Express, or Candlewood Suites usually) for 5K to 20K points a night—quite a bargain. Because I have their credit card, I also get one free stay a year upon renewal that I usually cash in for a splurge at InterContinental, Kimpton, or Crowne Plaza.
I also got the Hilton Honors card a few years ago and while their point redemption levels are much higher, they award points at a higher multiplier on the credit card than most, including for gas and groceries. It has no annual fee at the bottom level, so that one is a no-brainer if you travel a lot.
Looking at this data-driven report from Wallethub, Wyndham Rewards is always in the top 3 and they were the winner in a lot of individual categories too. So I think it's safe to say if you can stay at Wyndham brand hotels a lot, you'll probably be on your way to freebies faster than with any other chain. Their report noted that "Wyndham Rewards offers up to $12.84 in rewards value per $100 spent."
I actually added the Wyndham Rewards credit card to my wallet in 2021 and got a 60K points bonus after meeting the initial spending requirement. I kept spending and staying, so I've still got that many points in my balance, but I cashed some in for an airport hotel in Houston, an Orlando hotel for my family, and a great Wyndham Esplendor in Patagonia, Argentina.
Who else topped this list? Fortunately for you, mostly not the most expensive brands. The one that took the top spot in the latest survey was Radisson and others were World of Hyatt, Marriott Bonvoy, and Hilton Honors. I've personally found Marriott points to be worth less than with the other chains, a situation that seems to get worse each year when they recategorize properties and make the program even more complicated. Wyndham, on the other hand, only has three simple tiers.
With all of the hotel loyalty programs–which usually assure free Wi-Fi by the way–the way to really rack up points in a hurry is to get their credit card. That changes the whole equation on who is "best" because you get a big sign-up bonus and then points earned depend on your spending. As I mentioned, IHG also gives you a free night at any property each year when you renew—which means paying an annual fee can pay you back 2X or more. Marriott also gives you a free night on renewal if you have one of their premium cards and with them you know you'll be able to find one of their hotels almost anywhere: they've got more than 30 brands at this point covering the globe.
Yes, You Can Bargain on Hotel Rates
Don't forget that you have the power to bargain for the lowest price they'll accept, especially if you're staying multiple nights or it's outside of high season. That's true for budget hotels and upscale ones alike. Here's what Consumer Reports had to say on that subject:
Only 28 percent of survey respondents tried bargaining, yet 78 percent of those who did won an upgrade or a lower rate. (Success rates were higher for people who haggled over the phone than for those who did in person.) When we challenged 16 students at the Columbia University Graduate School of Journalism to get hotel rates reduced, all succeeded, scoring discounts of 5 to 32 percent.
Hotels aren't allowed to publish rates that are lower than they offer on the booking sites like Expedia, but they have ways around that. First of all, they are not "publishing" a rate when they discount it on Hotwire. That's because you don't see the exact hotel until you book it. They can also offer a lower rate to their loyalty members. So sign up and maybe get their credit card for good measure.
But in the "It doesn't hurt to ask" category, calling up a hotel to get a better deal can often pay off. This is especially true of franchises or independently owned hotels. Even if it says Marriott, for example, it's probably not really owned by Marriott—just managed by them. The actual owner wants to fill every room. You may not get an actual cash discount, but you'll almost surely get something else if you ask enough: a bigger room, a suite maybe, some kind of extra perk, or no charge for something that usually has a fee.
I can't promise picking the best chain in this satisfaction survey will help you find cheap hotels near Central Park in New York or in the heart of San Francisco, but you'll know which ones are less likely to disappoint.
How about you? Any great experiences at the cheap hotel chains in the USA?
This post on the best cheap hotel chains in the USA was updated in January of 2023.