Editor's update: This post is went up at the end of 2020 and was pointing out a rare opportunity to see an empty Machu Picchu and other normally busy sites around the world. Alas, in 2022 things got back to normal and the site is selling out all its daily tickets again. If you're just seeing this now, too late I'm afraid! (But it's still worth visiting…)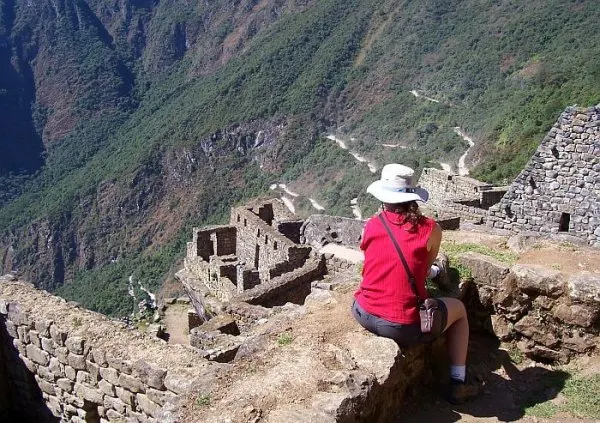 The November issue of Perceptive Travel is out and one of the stories is from me. It's about my first visit to Machu Picchu in 2005, back before the "wonders of the world" designations, before Instagram, before the rush of the crowds to come. We didn't have the place completely to ourselves, but it felt that way in some spots as we wandered around.
By 2019, the place was so popular that the government had to institute strict crowd control measures, ticket limits, and rules that squashed independent exploration without a guide. Only 400 people a day could hike up Wayna Picchu, in two shifts. "Empty Machu Picchu" was a concept that was seemingly gone forever.
But then it shut down for months. Completely.
The citadel is open again though, with much smaller crowds. For a few rare souls willing to fly to Peru, it's going to feel like going back in a time machine for a while. Capacity is restricted to 30% now at the citadel and the transportation methods to get there are capped at 50% capacity. So you should still check out this older article on how much it's going to cost you and where to reserve tickets, then start making travel plans. (It's the rainy season now though and February is the wettest, so plan accordingly.)
Here's the Perceptive Travel feature story I wrote to go check out: Visiting Machu Picchu Without the Crowds.
A Reprieve from Overtourism
Many people are playing it safe right now and not traveling anywhere. I'm not doing much myself as we wait for vaccines to get into distribution. Staying home is prudent right now, especially since most airlines are packing their planes every chance they get.
If you're going to mask up well and follow all the right precautions, however, there are some rare opportunities out there in your own country and elsewhere. One of the most frequently heard terms in the travel media in 2019 was overtourism. You're not hearing that word anymore. Places that used to be jammed with tourists are suddenly empty, so you can pretend you've gone into a time machine if you are a happy resident of Amsterdam, Barcelona, or Venice. Or you live nearby and you can road-trip it to there.
If you're looking to travel now though, or will as soon as a vaccine is available, you might want to do the opposite of what I was advising before this pandemic: go to the most famous places! This will be a rare chance to see Petra mostly empty like I did in the mid-90s, to walk through the ruins of Luxor, the ruins of Ankor Wat, or the Grand Palace of Bangkok without encountering busloads of other tourists. You'll be able to see Aya Sofia or the Parthenon in their quiet splendor, or feel like a real explorer as you walk around Tikal.
This rare opportunity won't last long, so make the most of it when the borders open. Some of them are open now, from Chichen Itza to Torres del Paine, from Dubrovnik to Sukothai. Just understand that there are restrictions in place for traveling to open countries. There's a good chance you'll need fast PCR test results and you may need proof of a good travel insurance policy. Choose your airline carefully if you need to fly. Only a few are looking out for their customers by blocking middle seats—like Delta.
Armchair Travel Reading Meanwhile
Click the link near the top for my empty Machu Picchu story, but there are others to check out in this month's issue of Perceptive Travel.
What do we do when we can't hop on a plane to another country whenever we want? Marco Ferrarese decides to explore the wild side of Penang where he lives, walking across the whole island in Malaysia.
Beebe Bahrami looks back on her first magical journey to Provence, where the great river road of the Rhone transforms travelers into pilgrims.
Stephen M. Bland travels to northern Azerbaijan, to the town of Quba. There he discovers holiness mixed with a history of bloodshed, bootleg goods, and ganja.
Susan Griffith reviews three new travel books. There's a lost region of Europe stretching from the North Sea to Switzerland, a painful account of making a new life on a Scottish island with only nature for company, and an inspiring selection of adventure ideas for children and their parents. See them all here.
Are you on the monthly newsletter list for that publication? You should be if you like free travel gear. Each month we give away something cool to our subscribers and this time it's a $229 gimbal from FeiyuTech that holds a full-sized camera. Get in on the action here.