Travel has gotten a lot more hazardous lately and we've seemingly got 100 more scenarios to plan for to stay healthy and safe. It's clear that we need to invest a bit more time and money to address the "What if?" questions when planning a vacation. You can add a layer of travel safety on your phone by installing the right apps and loading the right documents. That way you've got options and answers at your fingertips.
The carefree days of bopping around the world wherever we want to go are gone for now and most of the trips people are taking are ones where they don't have to go very far. This has been a year of road trips, domestic travel, nature, and home rentals and those trends are probably going to continue into next year.
Even a weekend getaway in your own state or province is not as simple as it used to be though. It's hard to just hop in the car and go, especially if it's a holiday weekend and you're planning on keeping your distance from #covidiots where you're headed. Here are a few steps to take and a few apps to consider to lessen your chances of trouble.
Load Key Documents Onto Your Phone
Either in your downloads or via a cloud service you can access with an app, you should have copies of all key documents with you in case of trouble. This would include your passport, driver's license, loyalty program numbers, Global Entry number, and all insurance policies.
This includes your policy info for travel insurance, of course, which is now an essential purchase. Many countries are requiring travel insurance to even enter now and it's a pretty sure bet that most tour companies and cruise lines will require it too. I just get an annual policy each year so I can set it and forget it.
It also wouldn't hurt to make sure you have all the phone numbers, confirmations, and details about where you're staying handy if you don't have them in a travel app.
Add a Travel Safety App
If you have a travel insurance policy from one of the leading companies, there's probably some kind of app you can download to access your policy info. The Allianz Travel Smart App goes further than most though and has gotten regular updates and feature additions over the years. One of the key benefits is an alert center, which will let you know about looming natural disasters, major weather events, or a security threat in your area. If you're in Louisiana during hurricane season or demonstrations are breaking out in the city you're visiting, you'll know the story quickly.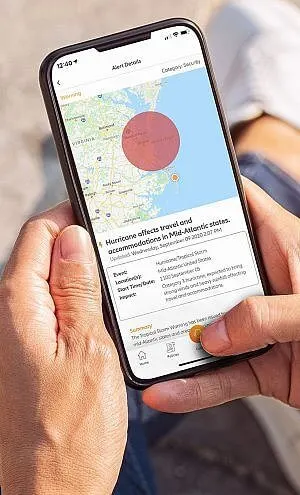 The latest version also features a "what's around me" function, which will tell you where emergency offices vetted by Allianz are in relation to your location. These include urgent care locations, police stations, and embassies.
It's easy to remember "911" when you're in the USA, but what if you're exploring the Yucatan Peninsula or you're on a French-speaking Caribbean island? The TravelSmart app gives you quick access to local police, fire, and ambulance numbers, but it also gives you access to a 24-hour hotline where multilingual experts can provide assistance in medical communication, passport replacement, embassy contacts, or reaching family members.
While you're meeting with that doctor trying to explain your problems, you'll have access to a medical dictionary on the app. Drugs often have a different brand name in different countries. With TravelSmart's Medical Translator, you can look up universal names for common medications to supply to a pharmacist. You can also use the translator to find first aid terms for common medical issues in 18 different languages.
Plus this app will let you know about flight delays if you've fed in your info and you may even be able to get approved for an incidentals payment while you're stuck. Available for Android and iPhone. See more info on it here.
Have Your Travel Information Handy
I've used the TripIt app for many years and find it relatively seamless for keeping all my travel confirmation info in one place: flights, rental cars, hotels, train tickets, whatever.
I also find it useful to have both Lyft and Uber on the phone because I'd rather use Lyft, but sometimes the latter has more drivers around and it works in Mexico too. On a recent trip I found Lyft to be $15 cheaper on one route, Uber a whopping $30 cheaper for a trip to the airport.
I don't have an app installed for every airline, but I always give them texting permission so I can get updates if a flight is delayed or canceled. For some hotel chains it can be worth downloading their app because you can use it to check in or out and in some cases you can get keyless entry to your room, bypassing the front desk entirely. Here's how Hilton's works, for example.
While I can understand why some people don't want to have the bloated Facebook and Messenger apps on their phone, these do offer other avenues for reaching friends and family in an emergency and you can check yourself in as "okay" when there's a natural disaster and people are worried about you. It also pays to have WhatsApp on your phone, maybe Skype too for good measure. As with banking and credit cards, it's good to have multiple back-ups available.
How about you? What else have you found helpful to have on your phone for travel safety and being prepared?
This post was sponsored by Al Centro Media advertising partner Allianz Global Assistance (AGA Service Company) from whom I have received financial compensation. I also use them as my travel insurance provider. As always, all thoughts and opinions are my own.