I've been to Romania a couple of times. I had plans to get back there this year at some point, but it was not meant to be. So I hit up a local expatriate who is living there now to give us the rundown on the cost of living in Romania. Violeta Metai lives in the capital city and runs the informative site Bucharest Inside Out. Here's her take on what it will cost you to live there as a self-supported foreigner who's not on an international corporate posting. Take it away Violeta!
Is Romania really a cheap destination for living abroad? Well, with a minimum wage of about $550 before tax, Romania is one of the most attractive destinations for expats seeking a cheap yet comfortable place to live. Since about 24% of all working individuals are paid the minimum wage, it's easy to see that food and lodging prices can't escalate without leading to social problems.
When a quarter of the working population brings home about $330 of net income by the end of the month, chances are that travelers and expats coming from better-paying areas can enjoy a good life at a lower price than in their home countries. The average net income across the country is $650 according to Numbeo, so even if you're only netting $1,300 a month you're twice as well-off as the average Romanian.
The Cost of Rent and Utilities in Romania
Since most Romanians own their homes, the financial burden of lodging isn't as heavy as in countries such as Germany and France, where most people pay rent. Younger generations, though, can't afford to buy. Unfortunately, many of them can't afford to rent either, so they share flats to make ends meet. According to some studies, about 70% of men and about 50% of women between 18 and 30 years of age live with their parents. Accommodation prices are higher in big cities and in developed areas, where people have more opportunities to find well-paid jobs.
Even though Romania has its own currency, the Romanian Leu, we publish and negotiate our real estate prices in Euro. This keeps prices stable in the event of a severe devaluation of our currency.
When seeking out a home in Romania, keep in mind that a two-room apartment doesn't mean that you'll have two bedrooms, but one living room and one bedroom. The living room is always included in the number of rooms. So a three-room apartment will generally be two bedrooms unless the kitchen and living room are separate. Studios are called "garsoniera."
In Bucharest, the capital of Romania, the average rental price for a 2-room flat (one living room and one bedroom) is 450 euros.
At the lower end you can find apartments for 250 euros per month. You'll either live far from the center, in a very small space, or in a building with high seismic risk. High-risk buildings bear a red disk above their main entrance, so you'll know at a glance what kind of property you're going to visit, should you want to rent an apartment in Bucharest. The last major earthquake was in 1977, and the one before it was in 1940. I experienced the 1977 earthquake first hand, so I wouldn't live in a building with seismic risk. Most foreigners, though, seem to be perfectly fine with the risk.
At the higher end, you can find luxury apartments located in an upscale neighborhood or in the city center. Renting one of these will cost you between €1,200 and €1,800 per month. Many of these upscale apartments are in stylish villas or in newly built residences.
A two- or three-room apartment in a desirable area, well connected to public transport and close to nice restaurants, coffee shops, and museums, may cost between €450 and €800. (Multiply by 1.2 to get the approximate dollar equivalent.)
Cluj-Napoca, in Transylvania, home to well-known universities and IT companies, is the second most expensive city in Romania, with an average monthly rental price of almost €400. Before the pandemic, the average rent in Cluj-Napoca was slightly higher than the Bucharest average. Prices dropped as a consequence of students switching to online education, and therefore not needing to rent accommodation near the university. For now, there's a good temporary window to lock in a better deal.
Travelers and digital nomads willing to find good value for money in Romania might want to consider Brasov. Conveniently located towards the center of Romania, Brasov can be an excellent base camp for visiting the entire country. The average rental price for a one-bedroom apartment in Brasov is €350 per month. While the best neighborhoods of Brasov cost above average, they provide a great value for money. In Brasov, life unfolds at a much slower pace than in Bucharest, the air is cleaner, and the surroundings are wonderful. There's also a ski resort area nearby in winter, good hiking in summer.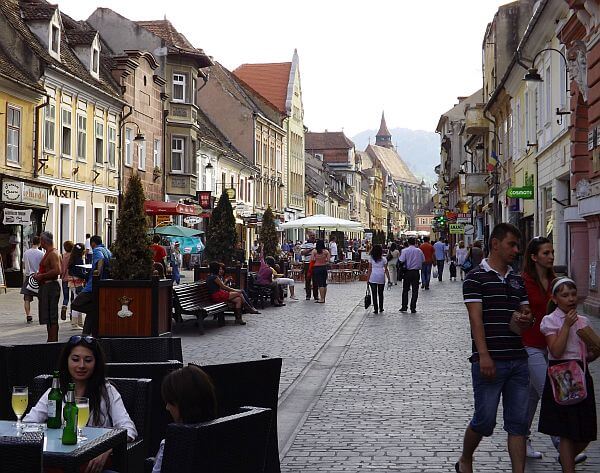 The cost of utilities may vary quite a lot with the season and with the location. In the cold season, you can expect to pay anywhere between 60 and 120 euros, with heating accounting for the most part of this cost. If you don't use the air conditioning or electric heaters, electricity shouldn't cost more than €15 per month. On a very hot summer month, though, when you have to sleep with your air conditioning on, you can expect a monthly electricity bill of €80-100. The cost of heating also depends on the location, as local providers have different prices.
In addition to the above, there's the internet and cable TV cost which averages €15-20 per month—for some of the fastest internet speeds in the world.
Transportation Options and Their Costs in Romania
Taxi fares in Bucharest range between 1.6 lei and 3.5 lei per km, so it's just a few euros to go four or five kilometers. There's also Uber in Bucharest and in all other major cities. Their fares are similar to the taxi ones, with the mention that they can get much higher by night and during rush hours. In Cluj-Napoca and other cities, taxi fares are higher, but distances are smaller, so you end up paying similar amounts to get around.
Public transport will be a small line item for your cost of living in Romania, but the quality often isn't good. A one-way bus ride in Bucharest costs 1.5 lei (less than 40 U.S. cents). A metro ride costs about 65 cents. The city center has good connections to all neighborhoods of Bucharest. Living far from the center may require the changing of two or even three buses to get to certain places. Most expats and foreigners here use taxis and Uber, one of the reasons being the impossibility to find English information on how to use the public transport system and where you buy tickets from.
Romanian trains are slow. The only routes worth it are Bucharest – Constanta and Bucharest – Brasov. Anything farther than these will take ages, so you'd better take a bus or a local flight. (Editor's note – the night train between Transylvania and Bucharest will allow you to arrive refreshed though!)
Romanian Food and Entertainment Costs
The price of groceries varies only slightly across Romania. Global chains of supermarkets are widespread, and they dictate the prices. Smaller grocery stores can only follow or go out of business.
The groceries for two people for one month cost around $375 – $500, but this is something that naturally depends on your food choices and personal preferences. A nice French baguette is $1.50, but you can also buy a loaf of bread for 50 cents. A 250-gram pack of Lavazza Mattino coffee costs around $4, but you can find brands that are either cheaper or more expensive than this.
In order to keep your food costs low, consider buying in accordance with the seasonality of produce. Many seasonal fruit and vegetable options are less than $1 per pound, including apples, oranges, potatoes, and tomatoes.
You can find bottles of wine for under $5, but a decent bottle is more like 35-50 lei ($8.50 – $12.50). Anything cheaper than 30 lei is probably not good. This is the supermarket price. If you order the same wine in a restaurant, you can expect it to cost about 2.5 or three times the price. There are better bargain wine destinations in Europe these days.
Beer is easier on the wallet, at around $1.50 to $2 in a bar. A good coffee will often be less than $2.
Eating out can be as expensive as you want. A good meal for two at a fancy restaurant can cost $50 – $100. For this kind of money, you'll get a starter dish, a main course, and a dessert each, plus a bottle of wine and one of water. A good pizza costs around $10, the same as pasta or pork-based dishes. Chicken dishes are slightly less expensive. Beef is the most expensive, with prices that may vary between $15 and $30 per dish.
If you are happy with a pizza and a glass of wine, you can eat very well for as little as $15-18 USD. If you're on a shoestring budget, you can eat a shwarma for about $6-7, right in the center of Bucharest.
Despite the relatively high cost of cigarettes (around $5 a pack), there are many smokers among Romanians, particularly low-income ones.
When entertainment resumes again, tickets to art exhibitions, festivals, and open-air cinema projections cost around $12 USD. A stroll through the Botanical Garden of Bucharest costs $2.50. The entrance to the Village Museum in Bucharest costs almost $4 USD.
The Total Cost of Living in Romania
At a bare minimum, a couple can live in Bucharest or in Cluj-Napoca on as little as €1,200-1300 a month (under $1,500), without having to lock themselves in or eat only canned foods. Nevertheless, if you want to eat out twice a day, every day, and drink well, you'll need a lot more.
The cost of living in Romania is as cheap as your living standards, but to give you some comparisons, the crowdsourced site Numbeo.com says Romania's living costs are less than half those of the USA, about 20% cheaper than Lisbon, and on par with those in Budapest and Sofia.
Editor's note: I have Romania in the "Other Places to Consider" chapter of the upcoming 2nd edition of A Better Life for Half the Price. While it's one of the cheapest places to live in the world, the visa hassles keep it from having its own chapter. It's easy to get set up permanently in Romania as an expat if you are European. For other countries, not so much. Since Romania is part of the EU, Schengen zone rules apply for non-Europeans. So you get three months within a six-month period to just hang out as a digital nomad.
To stay longer, you need to arrange a long-term residency permit. Since there's no "freelancer" visa or even a retiree visa available at this point, staying here permanently involves forming a company through an attorney and paying local taxes. You'll need to shell out for a lot of documents, translations, and an accountant to make it happen, but with enough patience, it's a straightforward process.
Violeta Matei writes for people who seek for independent travel experiences. After a long and rewarding journey through advertising and marketing, she decided to pursue her two passions, to travel the world and to write about it. See Bucharest Inside Out for info about the capital city and you can find her on VioletaMatei.com.
Are you interested in moving to another country and taking advantage of lower expenses, less stress, maybe a better climate? Get my monthly Cheap Living Abroad newsletter! Sign up here.