If you're longing for open spaces, beautiful scenery, and easy distancing, put a Montana road trip on your list.
Ever since the start of the pandemic in 2020, road trip travel has become the most popular kind of travel for Americans it seems. It's one of the best ways to travel safely and you can control your environment much of the time.
I spent a few weeks road-tripping around Montana right before all hell broke loose in a rental car with my wife, hitting a lot of highlights of the state. This was an ideal time to go: after the summer rush for families and before the Going to the Sun Road of Glacier National Park closed for the season after the first snowfall. (That comes early here.)
Here are some things I learned first while trying to make this one of the best road trips ever, then some highlights of our own road trip there.
What to Expect on a Montana Road Trip
When I landed in Montana in September, this was my first time in the region. I grew up in the eastern USA where interstate highways get crowded, speed limits are enforced with glee, and you might end up getting charged to go through tollbooths. On the eastern interstate highways, everything looks the same beside the road much of the time, the exits just a series of logos and chain restaurants.
It's a whole different story in Wyoming, where you're not sharing the natural beauty with many other drivers. At least a dozen times we exclaimed, "There's nobody on these roads!" We would routinely go for 10 or 15 minutes without seeing one other car, even between two of the largest cities.
The trips between those cities usually took less time than we thought they would because we were legally hauling ass. The speed limit was 70 mph more often than not and up to 80 in some places. You get the feeling it doesn't much matter if you top that as long as you're keeping an eye out for scampering animals.
Montana roads are in great shape overall considering the harsh winters they have to deal with sometimes. I didn't worry about hitting a pothole when I was cruising along at 80.
When I lived in downtown Tampa in Florida, I would sometimes see somebody driving a Lamborghini or Maserati and think, "What a frustrating experience!" They never get to floor it. The car is able to do 200 mph, but the driver can seldom top 65 even on the highway. Then I got to Montana where you could really speed in one of those $200K cars and didn't see a single one. It's all pickup trucks, big SUVs, and Subaru Outbacks. They're a practical bunch in these parts.
The distances can be kind of long when you're rolling through cattle ranches and lonely mountain ranges. A cell phone signal is never a given. So it's a good idea to bring a paper map or download one you can get to offline.The largest city in Montana only has a population of 130,000, so the cell towers are not always in close proximity.
Last, there's nothing pretentious about Montana, so you won't have to pay a fortune no matter where you stop for lunch. Real estate is surprisingly expensive though, so the hotel and Montana house rental prices can be higher than you'd expect. Plan ahead and maybe try to work out a house sit or a home exchange if you're on a budget. Many travelers have a different idea though, traveling around in an RV and taking their place to stay with them. You can rent one here no matter where you start.
Billings the Big City (Sorta…)
I started and ended my own road trip in Billings and there's a good chance you will too. It has the biggest airport in the state. It's the biggest city, though that's a relative term in sparsely populated Montana. The metropolitan area has a population of around 172,000.
It makes a good base for exploring other areas or you can spend a little time here after arrival and then you can reach almost everywhere from Yellowstone to Missoula to Glacier National Park the same day you leave. You could make it to the Devil's Monument in Wyoming or Mount Rushmore in South Dakota if you've got the energy. For historical reasons and modern ones then, Billings calls itself "Montana's Trailhead." See the official tourism site here.
You've got lots of fun outdoor activities outside of town and some great craft beer breweries in Billings itself. A cluster of them are within walking distance downtown.
Cooke City, Montana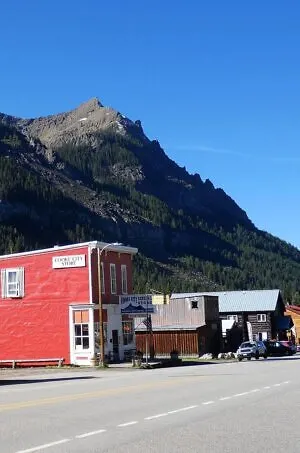 If you head south from Billings toward Cody, you'll pass through Red Lodge. All I did was pass through though, so all I've got on that is a little footage in that video above and assurance that Red Lodge Ales is a reliable craft beer brand.
The closest you can get to Yellowstone National Park without being in it though in Montana is Cooke City. Calling it a city is a bit of a stretch since it's mostly a collection of buildings beside a road that leads into Yellowstone, but it's also close to the Beartooth Highway, so by proximity alone it's worth visiting if you are yearning for Montana scenic drives and wildlife.
This is a cool place to hang though, the kind that you have a meal in and wish you could stay longer. Something tells me the kind of people who live in an isolated location like this have some good stories to tell at the bar at night.
Chico Hot Springs
I wouldn't normally list a hotel by itself as a one of the places to see in Montana, but this is no ordinary place to stay. For one thing, Chico Hot Springs Resort has been here since 1900 and it's on the National Register of Historic Places. For another, they have individual cabins you can rent and you can even sleep in your own covered wagon!
The scenery on the approach is fantastic, cruising by the Yellowstone River. There are some scenic hikes around here and you can rent bikes or horses to explore with. On the way here you pass through the closest town of Pray, MT. Soaking in the hot springs is nice after a day of exploring Yellowstone National Park nearby and the resort has one of the best restaurants we dined at during the four weeks we were road tripping around the region.
Virginia City, Montana
Named after a city founder's daughter, this was once one of the fastest-growing towns in the country after a few lucky prospectors struck gold in 1863 and prospectors flooded in by the thousands. Eventually the gold petered out and Virginia City became a ghost town stuck in time. It's now a restored beauty that will make you feel like you stepped into a wild west movie, the real thing and not a Disneyfied version. The team behind the restoration projects painstakingly built everything that had fallen down and turned some of the buildings into museums showing what they looked like in their heyday.
We spent the night here and I was really glad. Most of the visitors are here on a day trip or on the way to somewhere else. Most who remain end up at the Brewery Follies show or a play and variety show at the Opera House. There are a few good restaurants and saloons on the main drag.
Before we got to Virginia City we passed through Ennis, which is worth a lunch stop or a place to spend the night. The town has a brewery, a distillery, and lots of tackle shops and guides since this is fly fishing heaven.
Nevada City, MT
While nearby Virginia City was faithfully restored, Nevada City is kind of like one of those folk villages you find in countries around the world. Charles Bovey and his wife saved lots of historic Montana structures that were abandoned or ready to be torn down and moved them here. He created a village scene to arrange them logically and you can stay in some of the cabins.
Many of these buildings in both cities were abandoned during the Great Depression by people who went looking for work or assistance elsewhere. Many times they locked the doors with inventory still inside, like wagon wheels, shoes, or music players. Those items are now on display inside various buildings. See more details on these two towns (connected by a tourist train) and two others that follow in this story I wrote: Mining the Past in Southwest Montana.
Butte
It's easy to make Butte the butt of jokes, especially since the whole city was built on top of a giant copper mine. It's worth spending the night in this historic place though, especially if you can sleep in the Copper King Mansion or at least take the tour there.
We had a fun dining experience at a Chinese restaurant that's been around for a century and visited a great brewery that, unfortunately, since closed because of a fire in their building. Our visit to the World Museum of Mining was more interesting than I had expected, with a town set up to resemble what an 1800s mining village looked like. You can go up into one of those "headframes" that loom over the city and are lit up at night.
Philipsburg
The cool town of Philipsburg is the epitome of a boom-bust-boom cycle that some forward-looking investors have rounded off in some of these towns built on the riches of tapped-out extraction industries. It had become a sad shell of its former glory before some business owners started investing a bit of money and a lot of sweat equity in fixing up buildings and pulling in travelers.
Now it's got a fantastic candy store, an award-winning brewery, a great coffee shop, and the nice Broadway Hotel. I felt a pang of regret when I pulled out of there after just one night.
Missoula: College Town 1
Unlike what you find in rural Montana, Missoula is liberal, lively, and young, thanks to the University of Montana. If I had to pick a place to live in this state, Missoula would be the one. Unfortunately, I don't have a few hundred grand sitting in my bank account and my wife hates cold winters, so that won't be happening anytime soon.
This is a great city for walking or biking when it's not freezing and you don't have to go very far to find a great Montana brewpub making excellent craft beer. There's a clear river flowing through town and if you're with kids, there's a fantastic playground beside it and this cool carousel you can ride on: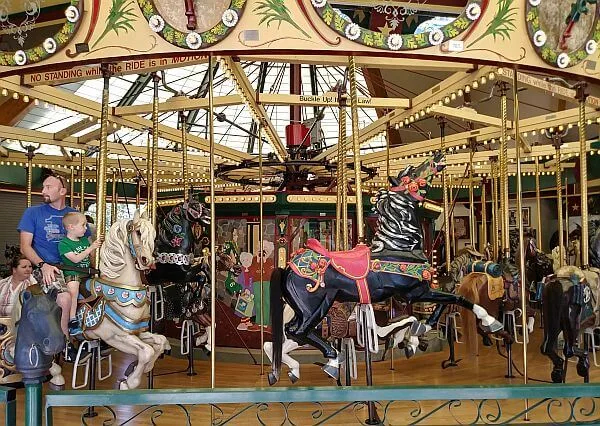 On the way there from the south, stop off at the Ohrmann Museum and Gallery to see some giant metal sculptures outside and some thought-provoking paintings inside from the late Bill Ohrmann. This is not your typical "western art."
Flathead Lake
While the lakes around Glacier National Park to the north get packed with visitors in the summer, it's serene and mellow on Flathead Lake. Most travelers just pass by here on the way to somewhere else. The campground by the lake where we parked our car and hopped on a boat was only 1/3 full. We took a nice short hike around Big Arm State Park from there with gorgeous views.
We spent a few hours on the water with captain Dalon Proban, who pointed out what we were seeing on the shores. There's a cliff where the native Americans may have run bison off for an easy hunt. There are orchards that are home of the famous Flathead cherries. We saw ostentatious mansions set off on their own and islands inhabited only by bears or wild horses.
There are a few communities around the lake where you can stay and two of them have well-known breweries. That campground looked the most inviting to me though, with the kind of lakeside views you dream about.
On the way to the lake from the south, there's a must-stop place for lovers of antiques or kitsch. The Miracle of America Museum is presented as a sincere collection built up over a lifetime, but we couldn't help but find it hilarious. It clearly illustrates that there's a fine line between "collector" and "hoarder" and we found ourselves saying, "Come here, you've got to see this!" a dozen times. For a good laugh. There are too many funny things for any one photo to do it justice since this indoor/outdoor museum is a sprawling thing of wonder, so check out the website here.
Kalispell
We only spent a little time in Kalispell, arriving late after dinner and a couple beers in Lakeside. Most of what we saw there was on a morning stroll down the main drag and then from the car window on a drive-by of some of the main sites. As with Philipsburg, if I return I'd like to stay a little longer here.
There's a nice view of the mountains here, Kalispell Brewing, some good restaurants, and a historic mansion to check out. This would be a good base for skiing at Whitefish or before heading into Glacier National Park if you're on a budget. Lodging is more reasonable here than when you get closer to the ski hill in winter, the national park in summer.
Whitefish, Montana
Whitefish is probably the most "touristy" place we visited. It's the last city stop before Glacier National Park in the summer and turns into a ski town in the winter when people head to the namesake mountain complex for snow sports.
In the summer you can go hiking in those mountains though, so I climbed all the way to the highest summit on the Danny On Trail. I saw some deer and a snake, but thankfully no bears. I had the summit almost to myself, with just a group of three up there besides me. Coming down I got views like this:
In the town of Whitefish itself, we stopped by the Great Northern Brewery, with some beers I had sampled in cans before I got there. They have cool artwork that lives up to what's inside. The local Fleur Bake Shop was scrumptious for breakfast and soaking in the big rooftop hot tub at the Firebrand Hotel was divine.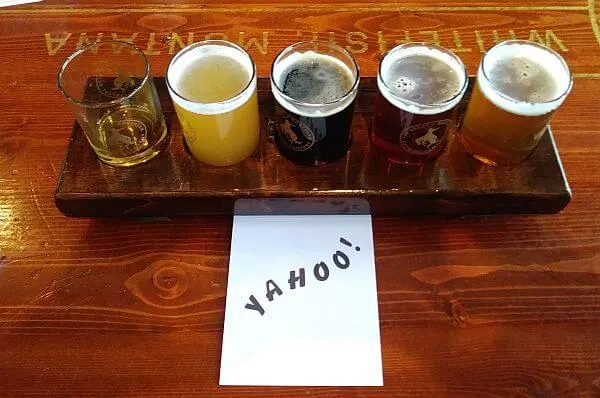 Glacier National Park
This national park is is Montana's biggest draw and it is one of the most spectacular places you could hope to visit. It's the most crowded spot in Montana in high season though, especially the southern part of the park where the Going to the Sun Road travels through. This is the one place where your Montana road trip will actually run into bumper-to-bumper traffic.
It's very easy to get away from the crowds though: just park and take a hike. On the main route it may be tough to find a parking space if you don't come early or late, but in the less popular stops on the offshoot roads it's relatively easy all day. The more fit you are and the more willing you are to get off the beaten path, the easier it is to feel like you have the whole park to yourself. As you get up north toward the Canadian border, there are fewer and fewer visitors. Just be prepared if you're heading into the backcountry, including bear spray or at least a bell!
We spent the night near West Glacier in western Montana before heading inside though, going white-water rafting on a river between that park and a nature reserve. We wore wetsuits (provided) to stay warm but in September, the rapids were pretty tame. We also checked out Glacier Distilling Company and sampled a flight of their whiskies.
After spending time in the park itself, we stayed in the famous Glacier Park Lodge on the east side with its giant whole-tree columns and thick beams from more than a century ago. This lodge is no bargain (and is often sold out anyway), but it's worth popping in for a meal, drink, or coffee just to experience the lobby.
My main regret from this trip is that we didn't spend enough time in Glacier National Park exploring the lesser-known areas away from the quick-trip tourists that we unfortunately were. No empty trails and no bighorn sheep for us unfortunately.
Bozeman: College Town 2
After we left East Glacier, we drove for quite a while through rolling hills and more beautiful scenery on the next phase of our Montana road trip. We passed by Great Falls but kept going to make it to Bozeman while it was still light. This was a pretty full day of driving, but it went by quickly.
Along the way, we passed places where important things happened but you wouldn't know by looking: a lot of giant dinosaur skeletons have been unearthed in these parts, including a nearly full T-rex. The greatest dinosaur museum in the world is in Bozeman as a result, the Museum of the Rockies. It houses multiple T-rex, Triceratop, and Allosaurus skeletons. Then it goes into the age of huge mammals as well. There's usually some kind of notable rotating exhibition as well. It's an incredible place.
Bozeman is the home of Montana State University, which naturally makes it a fun and lively place. Then a lot of students find a way to stay on after graduation, keeping the local breweries, tour companies, and coffee shops humming. There's a nice downtown area that's great for strolling and we had some excellent meals in this city. I also loved the view from MAP Brewing to go along with their excellent brews.
Other Montana Places to Visit
You'll notice that some Montana attractions and places to visit are missing from this road trip rundown. I spent a good bit of time in the state, but I had to prioritize and didn't make it to Big Sky, Great Falls, Helena (the capital), or Livingston. And no, I didn't see any grizzly bears. Besides Big Sky, there are a few other ski areas too in winter. There are some gorgeous towns in the mountains north of Whitefish as you head toward Canada.
I do hope to return at some point, but you'll have to discover those places on your own.
Almost anywhere you drive in this state, you'll enjoy some great Montana scenic drives along the way. Given the lack of traffic, you can really enjoy it too. I never really felt worn out after hours of driving here because it was so pleasant to be behind the wheel here. Eventually we made it down to neighboring Wyoming too, spending some time around Cody and Yellowstone National Park. No Grand Teton National Park on this trip, but next time hopefully.
I can't claim this is the ultimate or perfect Montana road trip itinerary, but I don't have any regrets from it except wishing we had more days and could have taken it a bit slower. There's a lot to see and experience in Big Sky Country, so the more time you can set aside to explore the national parks and best places, the happier you will be.