What's the cost of living like for expats in Ho Chi Minh City—Saigon—in Vietnam? I got on a call with James Clark of Nomadic Notes before the first edition of A Better Life for Half the Price came out. Now that I'm researching the second edition, I wanted to catch up and see how things have changed. James is a digital nomad that uses the Vietnamese city as his base, keeping his possessions in a cheap apartment while he travels.
Vietnam is certainly is one of the cheapest places to live or travel in Asia and it has great air connections to other cities in the region. Here are some highlights of our conversation, with the inside scoop on living expenses in HCMC.
How did you end up making Ho Chi Minh City your base?
I found that I liked traveling a lot once I started and liked working on the internet, so I figured out a way to work for myself and keep doing both by running websites and working from various places around the world. I'm from Australia, but I haven't had an address there since 2010. I've mostly been in Southeast Asia.
I moved to Ho Chi Minh City about eight years ago. I tried out a lot of places on for size while traveling, using different spots as a base. I knew a friend who lived here and liked it, plus there were some other online friends I knew were based here. So it was easy to move to Vietnam and make this my new home. There are probably 15 people I know here who are working online, on businesses. It's nice to have people to go out with and bounce ideas off of.
How have things changed in the last five or six years in terms of the cost of living in Vietnam?
There's been inflation here, but the dong has devalued at the same time against the world's main currencies. So if you come with dollars, the factors have probably canceled each other out and prices are the same as they were five or six years ago. It's still a great value.
If anything, it's probably cheaper when it comes to apartment rentals because there's so much more competition. There are so many Facebook groups with agents listing serviced short-term apartments to rent that there is a lot to choose from.
What are housing prices like in the biggest city in Vietnam?
Many new apartment buildings have gone up that are catering to a wealthier clientele. You might spend $1,000 for a two- or three-bedroom apartment in one of those, but you'll have a big place with a common pool, gym, and 24-hour security.
I'm paying less now on rent than what I did when I first moved here. I have a studio in a serviced house where someone cleans regularly, they do the laundry, and fast internet is included. I pay about $20 a month for electricity and otherwise it's around $220 per month for rent. You can easily find a bigger furnished apartment in a desirable area for $500 or less per month.
It'll probably only take you a day or two to find a short-term rental in Ho Chi Minh City, especially in District 1 where I live.
What is the visa situation for living in Vietnam?
When you fly in you can get a one month visa on arrival or a three-month one you apply for online before you come. I have a multi-entry visa. Some friends have business visas, but that's more complicated to get and you usually need to be employing people or you are sponsored by a company.
I have to leave the country periodically and return to start a new three-month cycle, which isn't difficult here. Much easier than for people living in Thailand.
Give us some examples of prices to travel around from there.
Flight prices are the main reason I love living in this part of the world. Air Asia is kind of the backbone but every country has its own budget airline or two. The ones here are Viet Jet Air and Jetstar Pacific. Even just a week out I can get a flight to Bangkok for $100. If I plan ahead I can get it for $50. I've picked up flights to Kuala Lumpur for $30 or $40.
For domestic travel, a flight to Danang is $50 return. I've gotten flights for $12 when they do one of these "$0 plus tax" here in Vietnam.
What do you spend on a monthly basis?
I can usually get by for less than $800, living rather frugally. You could spend more on a bigger apartment and go out more, but still, for $1,000 you can live quite well in Ho Chi Minh City.
Getting around doesn't cost much. Here they have Grab Bike, which is a motorcycle taxi. To go to the airport on one of those with just a carry-on will cost you $2.50. If you go in a car it'll cost around $6 to the airport. There are two reputable taxi companies—Mai Linh and Vinasun–that always use the meter. You just jump in a go for a couple dollars for a city ride.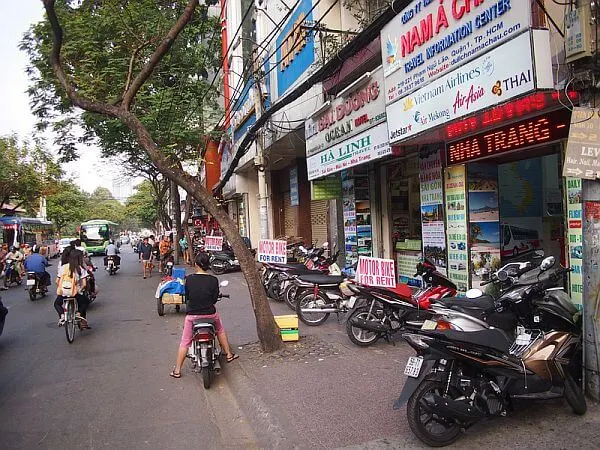 I spend about $8 a month on my mobile phone plan and never have to add any extra to it, even when I'm on it all the time.
It's so cheap to eat great food there, that's probably not a whole lot out of your budget, right?
You can go out for a $1 lunch or you can go out for a "western" lunch that's going to cost the same as back home. I mix it up. I'll go for a normal restaurant lunch with soup or a noodle dish that's maybe $2 and then later I'll go to a nice sushi place and spend $10.
Sometimes I go to a nice vegetarian all-you-can-eat buffet place that's around a dollar for rice and whatever vegetables you want to pile on. So I don't even have a kitchen. Sometimes I'll eat breakfast at home, something that doesn't need to be cooked. Otherwise, it's too cheap to bother. It's better to just eat out all the time.
[Side note, Vietnam is one of the cheapest countries for beer in the world and cocktails aren't too pricey either.]
I assume you're okay with the tropical heat?
I'm used to heat and sometimes it's hotter in Australia where I'm from. I spent three winters in the northern hemisphere and that was enough for me. If you're walking around in the daytime here though, it's very refreshing to visit an air-conditioned shop. April and May are usually the hottest months, before the rains come.
I don't use A/C in my apartment because I have good ventilation and fans.
Have you had any trouble with internet censorship or site blocking?
Here it's really easy to get around on the web; it's not like China. The blocking here is much lazier.
BBC and Radio Free Asia are blocked. They must have published an article the government didn't like. The government tried to get Facebook to move their data center here so they could exert more control, but it didn't happen. I don't think they'll ever be able to censor everything like China does. Everyone is too used to using social media daily and it's a key part of their lives.
Have you had any experience with medical care in Ho Chi Minh City?
I had a back injury here and needed treatment. I ended up with a physical therapist who got me back on my feet for $8 an hour—with acupuncture and massage therapy.
I went to the dentist a couple months ago after way too long. He did a thorough cleaning and x-rays for about $22.
You can go to the local clinic for super cheap but if you want better facilities and a foreign-trained doctor you pay more for a nicer place. When I was having some strange ongoing headache, I went to the western medical clinic here for a consultation, which was$60. They said it was going to be $500 for an MRI and when my jaw dropped they sent me to another location where it was $100!
There's always a worry of how good the health care here is if something really serious happens though. Expats usually go to Bangkok or Singapore if they're well enough to get on a plane.
How easy is it to get by in English when living in Vietnam as a foreigner?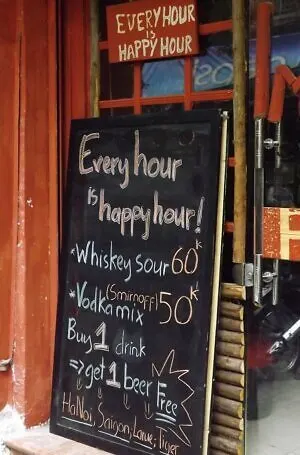 If you live in the city center of Saigon, it's no problem. This city has one of the youngest populations in Asia and they all learn English in school. So as long as you're in urban areas, you can get by in English fairly easily. It's a different story out in the provinces of course.
Vietnam seems to have kept this worldwide pandemic under control. What does it look like from your perspective?
I think the good news is for real. Every morning in the news they list all the open cases, with the age of the person, where they live, and who else they have come in contact with who is infected. Every case is diligently recorded. I've also walked past several hospitals and there's not much going on.
Vietnam knows it has limited resources, so they were on to it from the start. As soon as the virus broke out in Wuhan, flights to China stopped, schools closed, and virtually everyone was wearing a mask. (A lot of people were used to wearing a mask anyway because of pollution.) The country stopped the threat in its tracks.
Nearly everything closed for a while except for takeaway and essential shopping. At the end of April, things opened up again and in mid-May we hit 30 days with no new cases from within the country. The only new cases were from incoming flights and those people got forcibly quarantined. Who knows when the border will open back up though.
My main question now is, what happens when I have to do a visa run? Should I just assume I'm going to need to go into quarantine for two weeks if I go elsewhere? That's what would happen if I went back to Australia right now.
Otherwise, this is not too different from my normal life. I had a quite productive April actually! Domestic travel is open here again though, so I think I'm going to fly up to Danang and go to the beach.
Find travel and living abroad posts from James Clark at NomadicNotes.com and on Twitter @NomadicNotes. He also runs a site on transportation and infrastructure in the region at LivingInAsia.co.
All photos by Tim Leffel and James Clark.
Interested in learning more about this kind of lifestyle? Get on the Live Abroad for Less monthly e-mail list.