After you've found a cheap place to live in another country, how do you keep a US or Canadian mailing address? How do you continue getting what you need in your former home for taxes and banking when you don't have a foot in that home anymore? A mailbox rental service might be the answer.
What if you need a virtual business address in the USA for your online company you're running from elsewhere?
Thankfully, as more and more people decide to obtain A Better Life for Half the Price by choosing international living, plenty of expat mail services have sprung up to meet the need. We're not the only ones driving the demand either. There are also people living out of their RVs, with no fixed address, so they also need some kind of mail collection service and a place they can use as their "permanent address" for tax filing and banking. Then you've got all the digital nomads living out of a backpack and roaming the world.
The virtual mailbox choices can be kind of daunting though. There are simple mailbox forward services, more involved mail scanning services, and full-blown programs where you can use the company's address as your home or office address for IRS filings. In some cases, you can use that U.S. address to obtain a driver's license, to get vehicle plates (as for an RV), and your voting address.
Most companies that provide mail forwarding for expats and travelers do basically the same thing. They receive your letters and packages at a physical address that's open at least during regular business hours, sometimes 24/7. Depending on what you're paying for–there are different tiers–they will toss out the junk, scan what's not junk, and hold/forward your packages.
Most good companies have some kind of portal, maybe even an app, where you can go online and look at what you've received. With some you can choose to trash it, scan it, or forward it for each item.
I'm going to start with the most obvious choice–one that's free or close to it–then look at the best options for virtual mailing address services when you're really cutting the cord for good. I'll also go over a related service that you may find a need for later: companies that allow you to order from online companies in your former country but have the goods shipped to where you are now via a middleman.
The Cheapest Expat Mail Service: Yo Mama
OK, it doesn't have to be your mother, but any relative or good friend who is willing to let you use their address as your home one will do the trick. If your tax forms and other official documents are coming to a relative's house you'll actually be staying at when you return, or at least someone you'll see on a regular basis, that's the ideal situation.
This is the option I've been using every year I've lived abroad. My wife and I were already living in the same metro area as my mother-in-law, in the same no-income-tax state of Florida, so after we packed up our place and got rid of almost everything, we stayed at her house for a few weeks before taking off. We made that our permanent address, changed the address on voting forms and drivers' licenses, and carried on. This won't last forever and it's still a pain when an old-school check or bill comes in the mail, but for the most part it works okay.
All our new credit cards come here when the old ones expire, I was able to renew my driver's license online using this address, and we use it to vote. Just sometimes I get a photo with a text from my relative asking, "Throw this away or keep it?"
If you go this route, just understand that it's going to be an imposition. Bring gifts from abroad and take them out to dinner at least! And stay out of trouble…
Mail Receiving and Forwarding Services
In the old days, you signed up with mailbox services and they would hold your mail for you until you came in and picked it up. That's fine for a business in the same city, but not so great for expats or long-term travelers. Later mail services for travelers came along that operate as virtual mail forwarding services. They "hold" your mail as a scanned copy and you can then do what you want with it after accessing it online.
The best ones will let you set up a kind of "If this, then that" workflow where junk mail gets automatically tossed, what looks worthwhile gets scanned, and if a check comes in they even forward it to the right place to get deposited. When you get a new credit card in the mail, they'll hold it or send it to a pre-determined place you have selected.
Some services can even generate and mail a check from your bank. Naturally, the more services you need, the more it's going to cost you, but even the premium plans are less than you'd pay for a small storage facility for your stuff you left at home.
Will the address of one of these places work as your "permanent address?" Well, yes and no. You'll probably need to dig around or even call them to see, but in most cases just paying for a mailbox rental somewhere is not going to give you legal residency unless it's paired with a physical location of a relative that you can use for tax purposes. Otherwise, every out-of-state parent of a college kid would be doing this for $15 a month to save thousands on in-state tuition rates. Wealthy people would do it to instantly lower their tax burden. So more on those higher-level services in a later section further down.
Here are some reputable mailbox forwarding services to consider if you just need a place for your regular mail address, forwarding of packages, a place to get official notifications, and an address for new credit cards to go.
Traveling Mailbox – Multiple locations in a variety of states to choose from (click on "addresses," most plans $15 to $55 per month not counting outbound postage.
Anytime Mailbox – With physical addresses in 47 states plus 13 offices in Canada, Anytime Mailbox can probably meet your needs for mail receiving, scanning, and escapees mail forwarding. They also have locations in India, Malysia, Thailand, and Puebla, Mexico where they could forward packages.
iPostal1 – One of the largest virtual mailing address services around, with 900 real street addresses and discounted international pick-up locations for mail forwarding. Most services are $10 to $40 per month without add-ons.
US Global Mail – They get extra points for having the words "expats" and "digital nomads" on their site and they say they've served more than 80,000 of us. They're mysterious about locations but very transparent on prices, including discounts for paying for a year or two and illustrations of their discounted international package shipment prices.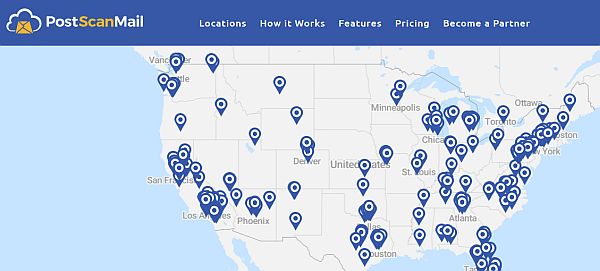 Post Scan Mail – As you can see from that map above, if you live in a populated area in the USA, there's probably a Post Scan Mail location nearby. This mailscanner company has cheaper base rates for people who don't get much mail, but actually opening and scanning your items is extra for each piece over a set maximum.
USA2Me – Around since 2004, this USA mail address service handles mail forwarding for expats, can ship to RV parks or marinas, and can even fulfill orders for a virtual e-commerce company. Offers a 30-day free trial.
Canadian Address – This mailbox rental and forwarding service is clearly geared to those in Canada and has simple a la carte pricing that's idea for occasional users who don't need a monthly service. Only one location though, in Montreal.
The Network Hub – If you need a business address in Vancouver, this physical office can be your virtual mailing address and package delivery location. There's a monthly fee plus additional fees for all mailing or check depositing services, so better for a business than an individual.
eSnail.ca – Also in Vancouver but better for individuals, this service supplies all the usual receiving and scanning services for your mail for a monthly fee that depends on volume. The $35 plan allows for up to 100 pieces of mail scanned per month.
Permanent Residency Address Mail Receiving Services
A mailbox rental and postal forwarding service is nice, but what if your real home is going to be outside the country now? Or what if you need an RV mail service while you putter around the USA and maybe head to Canada and the Baja Peninsula?
Many people use mail services for travelers but only beause there's an end in sight. If you're going to move abroad as an expat, there's a good chance you're not coming back unless you're a snowbird. Unfortunately, it's hard to maintain U.S. bank accounts, keep your credit cards active, and have a place to receive official government correspondence if you don't have a physical U.S. address. If you run a virtual business but it's registered in a U.S. state, both the state and your business account bank are going to require you to have a real address. All that's much easier if you've got one where you've established residency.
As I mentioned earlier, you can just pay a mail address forwarding service and pretend you're now a resident of that state. In many cases that's not going to cut it when you file taxes, renew your driver's license, apply for student loans for your child, apply for government assistance during a disaster, or a myriad of other tasks. Fortunately, if you step up to a higher level of virtual mail service, some can take care of all that for you.
I'm no attorney, so I can't give advice on establishing residency somewhere you don't live. Ideally though, it's in one of the seven states with no state income tax. Among those, I have heard that it's quite hard to establish residency in Florida unless you can use a relative's place, reasonably difficult in Texas and Nevada, and downright simple in one state…
Dakota Post – You've always dreamed of living in South Dakota, right? Well, don't laugh. It happens to be the best option out there for establishing residency when you don't actually live in America. This is the RVers mail service of choice, which is why you see an oddly large number of recreational vehicles out west with SD plates on the back.
It's perfectly legal to establish residency in South Dakota even if you don't live there. After going through all the right steps, you can get a South Dakota driver's license, get vehicle plates if you need them, register to vote from here, and file your taxes from here–in a state with no income taxes. I personally know several people who have gone through the process here and have high praise for it.
You will have to physically go there to set all this up, so plan a trip to the Badlands and Mount Rushmore while you're at it. There's an explainer video on their site
Your Best Address – This is another South Dakota residency and mailbox rental combo to check out to compare prices and services. They lay out everything you'll need to do and the rates for each step. I like the transparency in the pricing and what you'll need to do. If you pay annually it can be as low as $12 per month.
Escapees Mail Forwarding Service – Does Texas work better for you than South Dakota? We can again thank the RVers for making that an option since the Escapees RV Club has had a mail forwarding service set up in Livingston, Texas since 1985. Hey, before the internet! Since a bazillion members have set up Texas residency since that time, they're well-versed in the steps you'll need to take and have a whole network of members who can guide you through the process.
St. Brendan's Isle – If you want to set up residency in Florida, then St. Brendan's Isle near Jacksonville is probably the best bet. Their Cruiser's Home Port service is designed for those who live on a boat, whether that's a big motor yacht or a sailboat, and they'll assist with the paperwork to get residency and a driver's license. There's an RV pictured on their home page as well, so you can be a landlubber or digital nomad as well and still make it work.
PhysicalAddress.com – Although they don't tout the ability to get a driver's license or voting registration on their site, I do know a couple of people who have managed to work that out for their Las Vegas location to have a permanent address in the USA in a state with no income tax. Apparently it involves some kind of legal statement of residency that's filed, then you get a driver's license and register to vote. So you might have to move there for a while first and get a utility bill going.
Otherwise, PhysicalAddress.com provides all the usual virtual mailbox services in multiple locations, including in the no-state-tax locations of Dallas and Orlando as well.
Getting Packages Sent Abroad
Most of the mailbox rental services mentioned above have some kind of package forwarding service and the majority get volume discounts from DHL and the like that they can pass on to you. It's still going to cost you more than paying for an extra suitcase on your flight, but could be worth it if you need something specific or time-sensitive.
Few places in the world have as wide a selection as e-commerce companies in the USA, however, so some people want to shop there and get their goods delivered in a foreign location. Only a few companies do this directly, so there are middlemen organizations to work it out. These companies can combine multiple items to lower your costs.
Ship7 will handle packages from both the USA and UK and will pass on tax-free savings from the former. They pull that off by having a warehouse (and therefore your address) in the state of Delaware. From either country, they combine multiple orders into one box before sending your orders off to you with a reputable international shipping company with tracking. See how it works here.
I have never done this myself and have found it easy enough to use the "mule" system of relying on friends since I'm only one country away in Mexico. Here are a few other to check out though: ShipItTo, US GoBuy, and Planet Express.
If you live in Mexico, you might be able to get an address in Texas or Arizona that someone drives up to once or twice a week to get mail. I used to belong to one of these services back before Amazon Mexico started and know people living in San Miguel de Allende that still use them.
I hope you've found this helpful. If you have a recommendation of your own, leave it in the comments.
There's one thing I get asked about even more than mailbox rental options though: international health insurance for expats. Go there to get the lowdown.