Want to find hiking clothing, shoe deals, or discount outdoor gear where you'll pay far less than the retail price? Want to pick up new travel gadgets, luggage, or a good waterproof jacket at a deep discount? It's easy if you don't have your heart set on one specific brand and model that came out last week. You just need to know where to look.
I've talked many times in the past about how going to the right retailer at the right time can save you a small fortune on quality travel gear. Unless you have to have the absolute latest, hot off the assembly line greatest, you can usually find an alternative from last year's crop that will do the job for half the price. This way you can still get good workmanship (and a warranty) from companies like Eagle Creek, but you don't have to pay prices that are on par with a plane ticket or two weeks of lodging.
When I ran Practical Travel Gear for more than six years I used to send out a newsletter a few times a year that gathered all the best sales and coupons in one place. I still send one out periodically when the deals are terrific, so you can get on that list here.
Look for Sale Deals on Outdoor Clothing and Gear
I only send that newsletter out when the pickings are really good, like in between seasons when prices drop by half to get rid of whatever inventory hasn't sold. In between those times though, it always pays to look at the sales pages from the likes of REI, Eastern Mountain Sports, Moosejaw, and Backcountry.
Sure, you can poke around for coupon codes or, if you've bought from one of those online gear stores before, they'll probably send you one every time they run a big gear discount sale. Some of them, like Moosejaw, EMS, and even manufacturer sites like Columbia, will give you points when you purchase that you can then apply for freebies or discounts. Join REI as a member and they'll send you a rebate each year.
Often these coupons are 15-20% off, but it's not unusual in the spring or late summer especially to see sales for 50, 60, or even 80% off. I think I've bought every base layer and pair of socks on deals like this. Why pay retail unless you really care about the color–even when most people won't even see it?
Most outdoor clothing stores online have some kind of sale section of their site that's open all the time though, like REI Outlet or EMS Outlet.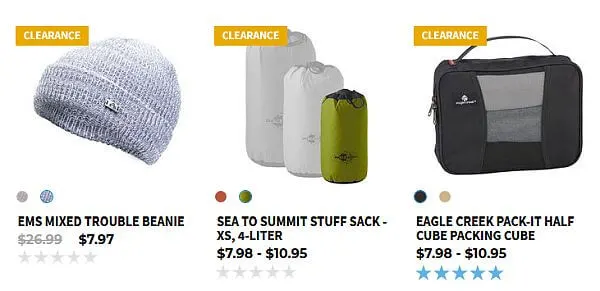 You can search by brand on these clearance pages if you really love Mountain Hardwear, Osprey Packs or The North Face and you want to see if any of their items are on sale. Frequently they will be because those big brands are often the ones changing things up the most every season and every year.
Or you can go straight to your favorite brand's own site and for some of them at least, you'll see all their current offers. Many brands seem to be allergic to sales on their own sites and they leave that dirty work to the online apparel retails are gear stores. Others will aggressively discount though when a style isn't selling or a particular color or size isn't moving out the door.
In my experience, the sites doing this the most often are those for Columbia Sportswear, Craghoppers, Prana, and Mountain Hardwear. It's not unusual to see discounts of 25% or more on well-made items that will last and at the end of the season, even deeper.
Remember that some sites have a better selection for specific things. Shoebacca is all about shoes. Ebags can be the best place to go for bags and luggage.
Brand Name Discount Outdoor Gear
It's worth it to buy quality travel items that are not going to crap out on you while you're running through an airport, on a biking tour, or hiking through roadless villages. And as I've found many times, having good gear that's really warm or waterproof can be the difference between being a little inconvenienced and being miserable when the weather turns. You don't have to spend a fortune on it though just because of the brand name.
When you log onto a website like Backcountry or REI, you have to get to the right section of the site. Ignore the flashy home page highlighting what's brand new and go to "Outlet," "Clearance," or "Sale." On all of these sites, there's a place they dump what isn't selling fast enough, just like the clearance rack in a physical store. In this case though, you're normally just seeing items that are imperceptibly different than the brand new version.
Fundamentally, it's the same North Face jacket or pair of Keen shoes that just came out, but maybe with a zipper in a different place or a range of colors that's "so last year." Unless you really care about which shade of blue you get, buy last year's version and cut your price in half. Do you really think styles and performance fundamentally change that much at Carhartt?
This strategy is especially useful for things you're not going to use very much (a hiking pack), ones where appearance doesn't matter much (like sleeping bags), or when the item is mostly hidden anyway (socks, base layers, and underwear). There are certain times of year when the clearance desperation is higher, but you can find great travel items, clothing, and luggage on sale at any time.
Get notified when the discount outdoor gear pickings are especially great though: get on the insider's gear deal list for occasional updates from me.