These are tough times to be a travel writer. Or work in the travel industry. Or own a travel business. Nobody is going anywhere, countries are closing their borders, and many people I know are stuck in a foreign country, unable to get home to be with their relatives.
I'm stuck in Mexico, but by choice. I'm pretty happy about that since my house is paid for and I've got a nice view from my windows. The sun is shining every day and I can go for walks without being around a bunch of other people. This weekend I'll probably spend some time in the mountains surrounding our city, where it looks like this:
As with nearly anyone writing about something we can't do right now, I'm seeing my daily page views take a nosedive as everyone hunkers down and watches TV all day. If you get tired of that, here are some articles that cover other aspects of life. I write a lot about living abroad, so some are related to that, on planning for a better future. Others are more general.
Take a little time to read some of these on the blog and I'll be grateful. With no page views, I earn no money.
Otherwise, stay safe, keep washing those hands, and check in on the people you love in these troubled times.
Do You Know What Those Spanish Place Names Mean?
If you live in California or the U.S. Southwest, the land your are walking on was once part of Mexico. That means a lot of town and city names are in Spanish. I'd bet most people in the region have no idea what the translation is in English though. Here's a quick primer on what those Spanish place names mean.
Buying Good Outdoor Gear at a Great Price
For six years I ran a blog that was exclusively about travel gear, so I know a thing or two about buying good apparel for outdoor activities. Right now is a great time to shop around for deals and stock up for the future—or to just order some new hiking shoes and pants for the outdoors while you're stuck at home twiddling your thumbs. See my posts on the travel gear I couldn't kill, why you should buy quality clothing and wear it out, and how to always find a great deal on outdoor gear.
Where to Cut Your Monthly Expenses by Half or More
A whole lot of people are going to find themselves in a tough spot financially when this is all done, if they're not there already. One way to escape that sinking ship in a hurry is to find a new version of dry land. Each year I do a rundown on the cheapest places to live in the world. It won't give you as much in-depth info as my book on the subject, but it'll give you plenty of places to consider while you're hanging out at home pondering the future.
How to Cut Your Housing Costs by Half or More
One big advantage you feel right away when you move abroad is the drastically reduced price of housing. Remember, you're free to leave the asylum as soon as the planes start running again. You can easily buy a place for a third of what a comparable place costs where you live now, especially if you're in a desirable, high-priced city in the USA or Canada. It's the same for rentals too, even at beaches and in mountain towns. See For Cheap Apartments, Look Abroad.
Retire at a Beach on Social Security Checks
As I write this, the stock market is down by 1/3 and we're back to the Obama gains, losing all the ones made during #45's term. Hopefully, if you're close to retirement, you had the sense to shift most of your portfolio out of stocks as you got older. But if you didn't, or you don't have much savings at all, here are 10 international beach locations where you can retire on social security checks alone.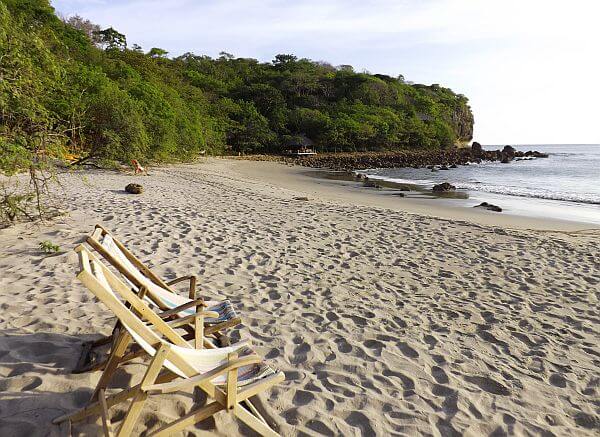 Get a Water Purifier
I've seen photos online and in the news of people filling up entire shopping carts with bottled water enclosed in throwaway plastic bottles. They might as well name the local landfill after these people because hardly any of those bottles are getting recycled these days. This is incredibly selfish and short-sighted in a country where you can drink the municipal water almost anywhere. (Cases like Flint, Michigan aside.)
If you don't like the taste, install a sink filter, get a $20 Brita pitcher, or just add flavorings to it. If you're worried about the safety of the water, buy a good water filter or purifier then you can also use it when you start traveling again, in countries where you can't drink the tap water.
Rent a Car to Get out of Confinement
If you live in a city and don't commute, you can probably cut your monthly expenses down by hundreds of dollars by just using taxis/Uber/Lyft (plus your bike or public transportation) instead of owning a car. But what about when you want to take a trip to head to a beach or go camping? Those are still allowed in this time of social distancing if you're being sensible. Here's how to find a bargain rental car deal.
They really want your business right now. Hertz just waived their extra fee for young renters and you can now rent a car from them at 18 years old for the same price.
The Expat Life
I've got a lot of articles posted on soul-searching and self-analysis when figuring out how and where to move abroad. If that's in your future at some point, check out What Kind of Expat Would You Be? Or 3 Factors to Scope Out When Choosing Where to Live. Or the Pros and Cons of Moving Abroad.
Plus I have two posts that answer questions I get a lot. Where to start when you're thinking about moving abroad and health insurance options for expats.
Real Costs for Living Abroad
As I'm researching the next edition of A Better Life for Half the Price, I'm finding prices are usually the same or better than they were five years ago, thanks to a strong dollar and low inflation overall. I'll be doing cost of living posts on some more countries in the coming months as I complete more expat interviews, but here are some past ones. See actual expatriate costs for living in Colombia, Argentina, Ecuador, central Mexico, Bulgaria, Hungary, Portugal, Cambodia, and more. (See the "Related Posts" at the bottom or click the "Living Abroad" tag.)